Behind the Scenes of EatSure: How It Became a Leading Food Delivery App
April 14, 2023
Harjyot kaur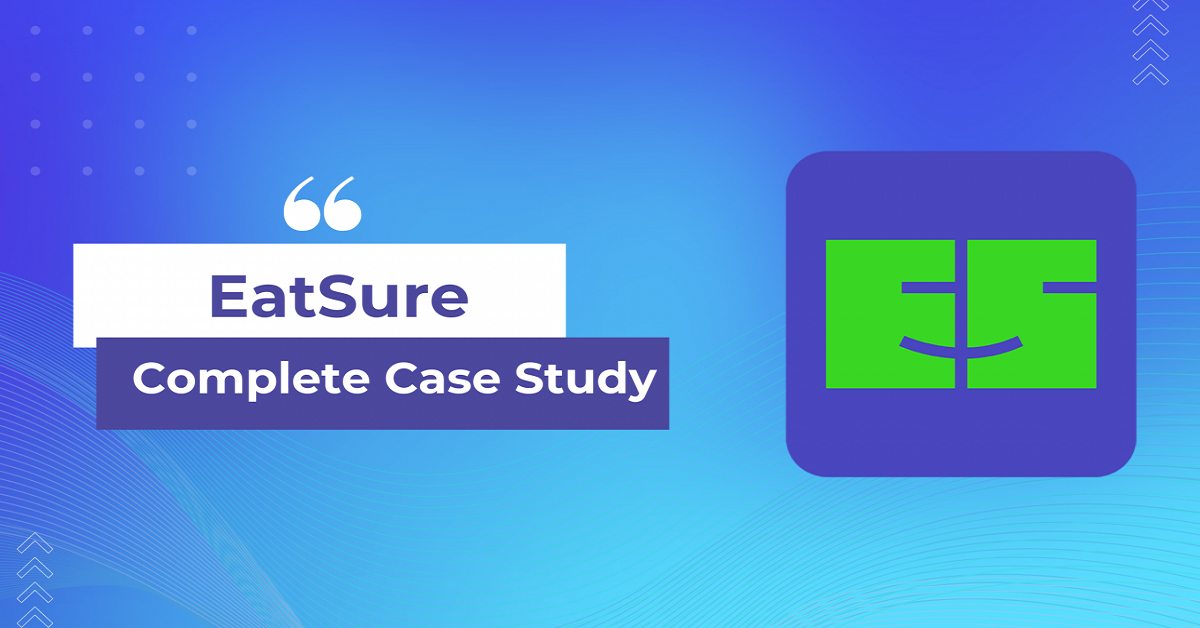 Summary: The rise in the number of food delivery apps has made the competition tough. Each player in the market has to come up with different ideas to fill the gap in the market. EatSure is one such food delivery app that brought solutions to the unsolved problems of customers. Learn how EatSure gained popularity and what makes it so successful.
The food ordering and delivery sector is a trillion-dollar industry globally, and this market is only to rise in the coming years. With the rising demands of the customers, the on-demand delivery apps have to be scalable enough to meet the customers' expectations. 
For instance, food delivery apps like UberEATS and Zomato have made it possible for users to get their orders delivered in a few minutes. On the other hand, EatSure has allowed its customers to order from several eateries under one single order. It has removed the tension of paying a different delivery fee on each order placed through the platform. 
EatSure has emerged as one of India's fastest-growing and most successful food delivery apps. With its USPs like fast food delivery, 100% food safety, and the ability to place different orders at one time, it has acquired a special place in the market. 
In this blog, we will discuss in detail about the story of EatSure and how you, too, can get an online marketplace just like theirs.
From Faasos to EatSure- How it Began?
EatSure is an Indian on-demand food delivery company headquartered in Mumbai. EatSure lets its customers order anything and everything to satisfy their taste buds. How did EatSure begin its journey? 
Their journey started with Faasos, a food on-demand platform incorporated in 2004. Faasos is an online restaurant company owned by Rebel Foods and founded by Kallol Banerjee and Jaydeep Barman. It provides services in more than 35 cities in India and has reportedly invested more than 50 million in the cloud kitchen network.
Jaydeep Barman and Kallol Banerjee created Rebel Foods in 2011 as a physical restaurant franchise with an online ordering system. It introduced its first cloud kitchen in 2015 and changed its focus to cloud kitchens in 2016. In order to outsource its cloud cooking platform to other restaurant chains, the company launched the Rebel Launcher Program in 2018. EatSure, a centralized food delivery service for its brands and partner restaurant chains, was introduced by Rebel Foods in 2020. Additionally, it started using EatSure Express food trucks.
The way people buy food and have it delivered to their doorsteps has changed thanks to EatSure. The company currently serves thousands of consumers who place orders using the app, and this number is continuously rising.
USPs of EatSure
One of the top USPs of EatSure that sets it apart from other on-demand food delivery apps is that it enables users to enjoy cuisines from all over the world from a wide variety of reputable restaurants in a single order, which is presently not feasible on any other platform, online or offline. 
Further, its features allow customers to place a single order from several different eateries and share meals. The four pillars of EatSure are:
No artificial colors or flavors

Medically certified people

200+ stringent quality checks

Double sealed-packaging
The radical transparency of information regarding food, its handling, preparation, and delivery is another goal of EatSure. Additionally, Eat Sure distinguishes itself from other food delivery services with its unique function of bringing the "food court" experience to its smartphone.
1. Quality and Safety
Quality and safety are the top priority of EatSure. It promises that all the food delivered through this platform is prepared in a hygienic and safe manner, and also its partnered restaurants maintain high standards of food safety.
2. Quick Delivery
EatSure also promises quick and timely food delivery, with most of these orders being delivered within 45 minutes. It makes it a convenient option for customers who are looking for fast food deliveries. 
3. A Broad Range of Options
The on-demand food delivery app provides a wide variety of options, from vegetarian to non-vegetarian dishes, desserts, and beverages. It also allows users to choose from several cuisines like Indian, Chinese, and Continental.

How does the EatSure model work?
To understand the success of EatSure, it's also crucial to know how exactly their model works. For any food delivery app solution to reach more customers and enhance their retention rate, their working has to be hassle-free, quick, and reliable. Below is the step-by-step flow of EatSure.
Customers visit the EatSure website or app and browse through the different food options available in their area.

Customers select the food items they want to order and add them to their carts.

Customers then proceed to the checkout page, where they can review their order and make any necessary changes. They also have the option to apply any available discounts or promo codes.

Once customers have confirmed their order, it is sent to the restaurant or food outlet for preparation.

The restaurant prepares the food according to the order specifications and packs it for delivery.

EatSure delivery partners pick up the packed food from the eatery and deliver it to the customer's location.

Customers can track the delivery in real-time using the app or website and receive notifications about the delivery status and estimated delivery time.

Once the food is delivered, customers can rate their experience and provide feedback on the quality of the food and the delivery service. 
EatSure Market Study in Detail
To understand the success and growth of a brand, it's crucial to know its market stats in and out. Here are some of the most important statistics of EatSure that will prove what makes it a leading food delivery platform in India. 
1. EatSure Audience Demographics
EatSure's audience consists of all age groups ranging from 18 years old to 65 years old. The highest number of their users are aged between 25-34 (36.69%), followed by 18-24 (36.61%). Further, the number of males on the app is more compared to females. The gender distribution is 66.52% and 33.48%, respectively.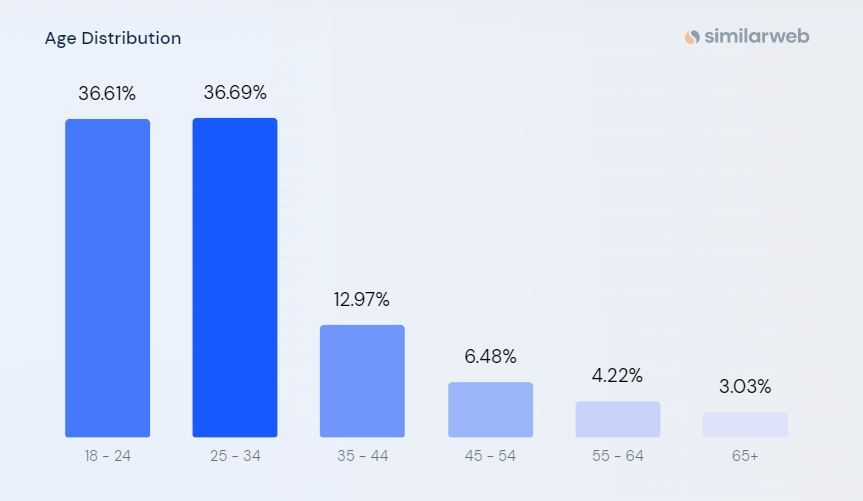 Source: SimilarWeb
2. Cities Covered by EatSure
As per the official website of EatSure, it is currently present in 35-45 cities across India and is planning to expand its reach both nationally and internationally. Some of its major cities include Bengaluru, Delhi, Mumbai, Indore, Gurugram, and Ahmedabad.
3. Revenue Generated 
As per Wikipedia, EatSure generated revenue of ₹859 crores (US$110 million) in the financial year 2022. 
#FoodCourtOnAnApp- A Campaign Launched by EatSure
In 2022, EatSure launched its #FoodCourtOnAnApp campaign to promote its USPs. With this campaign, it aimed at getting the target audience's attention towards their unique features that no competitors of theirs provided. 
The campaign focused on creating a new "food court on an app" category to allow users to order from various restaurants under one single order. Sagar Kochhar, the co-founder of Rebel Foods, said that online food ordering is an emerging choice for customers. However, there still are several unsolved problems that lead to a bad customer experience. He also added that the EatSure platform allows its users to mix and match from multiple trusted restaurants in a single order, and this is what the campaign is all about. 
Several on-demand food delivery companies like Zomato and Swiggy restrict their customers to order from one restaurant at a time. It becomes a problem when users want to place food orders from more than one eatery. Further, when all these orders are placed separately, it adds up the delivery charges, making it even more expensive.
It is one of the biggest problems that EatSure has solved with its #FoodCourtOnAnApp campaign. With EatSure, users can order a burger from Wendy's, a pizza from Oven Story, a wrap from Faasos, coffee from SLAY, or biryani from Behrouz, with no delivery fee. It is the most prominent feature that makes EatSure an ideal choice for food lovers and especially for those who love to eat in a group and want to order different cuisines. 
EatSure Revenue Model- How it Makes Money?
Along with being one of the most used food delivery apps, EatSure also generates a handsome amount of revenue from its services. How does it make money? Below are the revenue models followed by EatSure:
1. Commission fees
Commission fees are one of the best ways to generate revenue through the on-demand food delivery app. EatSure charges a commission from restaurants that have partnered with the platform. For every order that the restaurant receives, a part of the commission goes to EatSure.
2. Advertising fees
The advertising fee is another revenue model followed by EatSure to make money. It charges a small fee from the brands wishing to advertise on the platform to attract more customers. 
3. Transaction fees
The third revenue model adopted by EatSure is transaction fees. It charges an amount on any online transaction that is done through its platform. 
4. Listing fees
Every restaurant that partners with the food delivery app wants to ensure that it avails a top position on the platform to attract more customers. EatSure charges listing fees from those eateries that want to be on top of the list.
Build Your Marketplace Model Like EatSure
To build a marketplace model like EatSure, you must create an online platform connecting customers with multiple restaurants and food joints. Just like EatSure's USP, the model should enable users to order food from various different restaurants in one single order. 
Further, you need a team of talented and skilled mobile app developers who have a thorough experience in food delivery app development. At ValueAppz, a leading food delivery app development company, you can find the right resources to help you build a solution like EatSure. Our on-demand food delivery app development model is designed to meet the demands of different business verticals.
Contact us today and build an on-demand food delivery app with top-notch features to quickly catch the attention of your target audience. 

Key Takeaways
Innovative Business Model: Discover how EatSure's unique business model set it apart from competitors and fueled its growth.
Tech Stack and Scalability: Learn about the technology stack that powered EatSure's rapid expansion and scalability.
Customer-Centric Approach: Understand how EatSure prioritized customer satisfaction and loyalty to build a strong user base.
Market Insights: Gain insights into the strategies and market trends that contributed to EatSure's success.
Challenges and Growth: Explore the challenges EatSure faced on its journey to becoming a leading food delivery app and how it overcame them.
Frequently Asked Questions
Q1. Who is the owner of EatSure?
In 2020, Rebel Foods launched EatSure for its brands and partner restaurant chains. Jaydeep Barman and Kallol Banerjee are the two founders of Rebel Foods.
Q2. Is EatSure an Indian company?
Yes, EatSure is an Indian food court and is headquartered in Mumbai, Maharashtra. EatSure is available in more than 35 cities in India and plans to widen its reach.
Q3. Is EatSure app safe?
Food available on EatSure is 100% safe and hygienic. The company promises that the foodstuff available on its platform has no artificial colors or flavors.
Q4. How does EatSure work?
The users place an order through the EatSure platform, and they can also place food orders from different restaurants at one time. Once the order has been placed and the payment is made, the delivery guys ensure delivery within the minimum time. All orders are double-sealed and triple-checked with a single-minded focus on safety.
Q5. Is delivery free on EatSure?
EatSure free delivery is available on all orders above rupees 99. It is one of the top features that have attracted users.
THE AUTHOR
Harjyot kaur
As a technical content writer my focus is on creating high-quality, engaging, and informative content that simplifies complex technical topics. Throughout my career, I have continuously pursued opportunities for growth and development, refining my skills and expanding my knowledge base.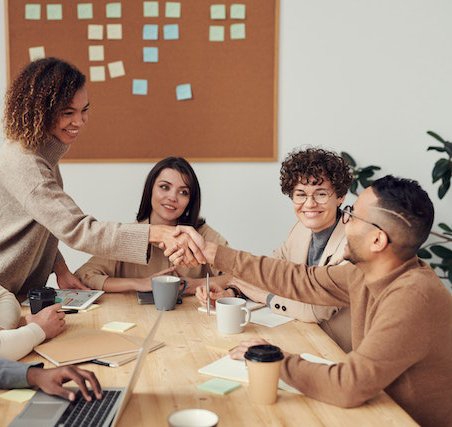 Get ready to digitally transform your business.
Let our team help take your business to the next level. Contact us today to get started on finding the perfect solutions for your business needs.