The Cost of Developing a Food Delivery App
November 24, 2023
Amrita Singh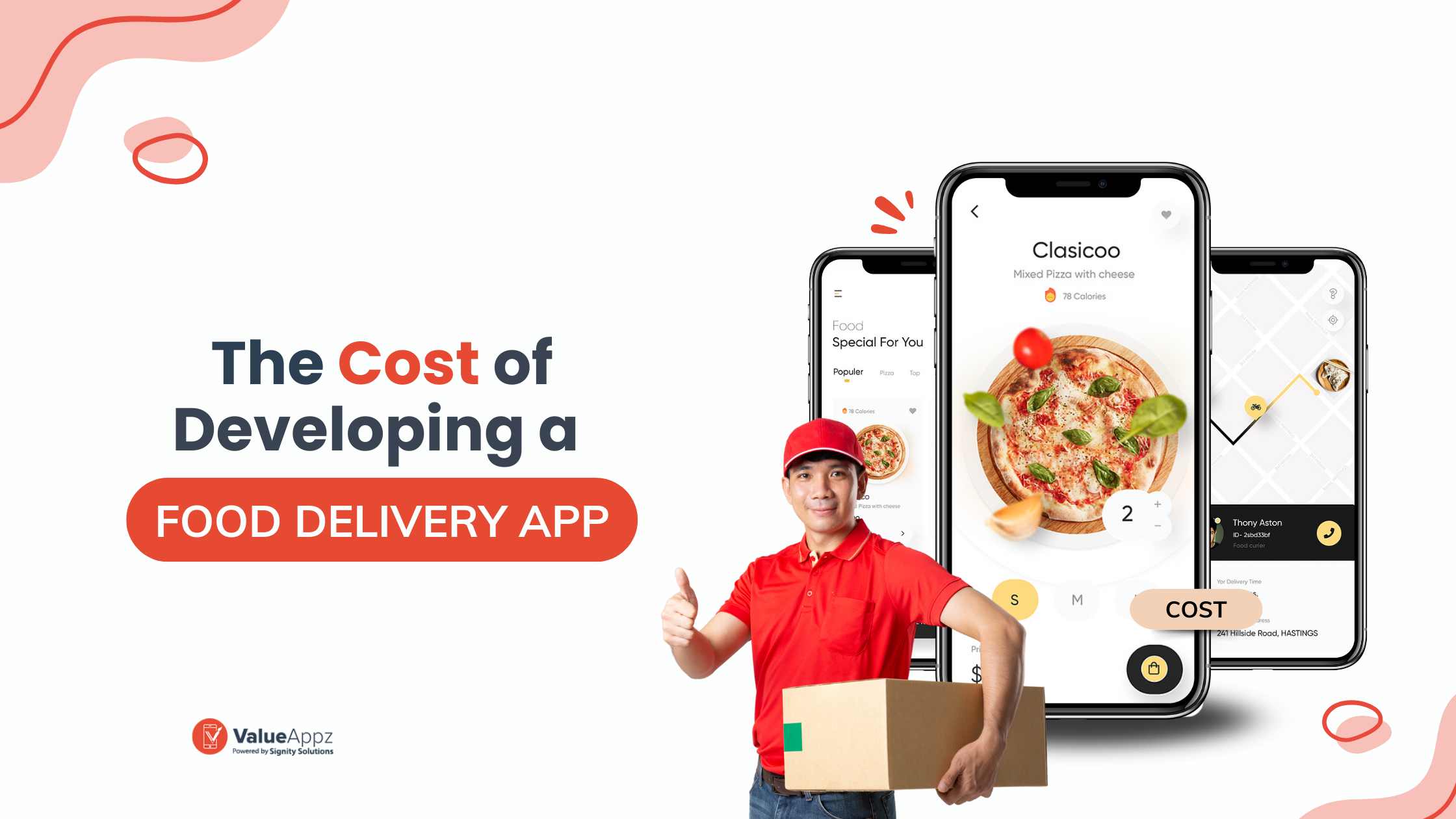 Quick Summary: When you plan to build a food delivery app, probably the first thing that comes to your mind is, "How much will it cost?' and yes, considering the cost is without a doubt one of the first steps towards the development process. Discover the food delivery app development cost and what factors affect it with this blog.
Are you thinking of launching a food delivery platform? It's an exciting venture with great potential, but the development cost can be a significant hurdle for any startup. The cost of your app will depend on many factors, such as the food delivery development company you choose and the features you want to include.
But don't worry! We are here to help you calculate the food delivery development cost and plan your budget accordingly. In this blog, we will discuss all the insights you need about the cost of building a food delivery app and the factors that affect it.
Let us dive into the text to see the rising demand for food delivery apps and how you can leverage this trend to create a successful food delivery app within a budget.
Is the Demand for Food Delivery Apps on the Rise?
Even though several on-demand solutions are available for food lovers, the demand for such platforms is still rising. People often ask, "Are food delivery apps profitable?" Let's look at some interesting stats to know where the future is headed.
The number of users in the food delivery industry is expected to reach

2644.2 million

by 2027.

The revenue of on-demand food delivery apps is projected to reach US$1.45 trillion by 2027, with an annual growth rate of 12.33%.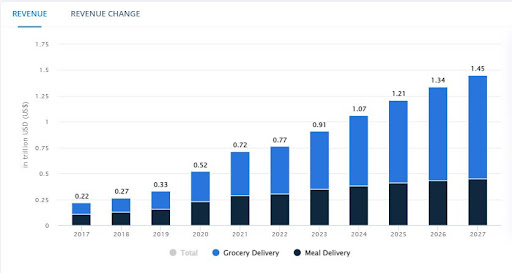 Source: Statista
The entire food delivery app industry is expected to reach $165 billion market size by 2029.
Did you know China's meal delivery market is worth $42.5 billion? It's true! And what's even more interesting is that the two most prominent players in this market – Meituan and Ele.me – control over 90% of food delivery in the country. But wait, there's more! According to projections, China is expected to generate the most worldwide revenue in the coming years, with a staggering $395.9 billion expected in 2023! That's a lot of delicious food being delivered to people's doorsteps – Data Source.
Now that we have looked at the stats related to the food delivery industry, let's dive deeper into the cost breakdown of developing a food delivery app.
Breakdown of Food Delivery App Development Cost
To answer it quickly, the cost of making a food delivery app ranges between $15,000 and $60,000. Firstly, the complete food delivery business involves four apps.
Every app would require a step-by-step development process that includes designing, development, testing, and fixing. It is also true for a food app. The table below represents the hours needed and the basic cost calculation for it.
| Aspect | Hours Needed | Approximate Cost |
| --- | --- | --- |
| UI/UX design | 40-60 hours | $1200-$3000 |
| Front-end and back-end development  | 200-400 hours | $1000-$15000 |
| Technical documentation  | 30-40 hours | $1000-$2000 |
| MVP testing  | 60-80 hours | $3000-$5000 |
| Bug fixing  | 30-50 hours | $1500-$3000 |
1. Customer App
Approximate development time- 600-900 hours.
A customer app will help your target audience connect with local restaurants and place an order. The app's functionality should be such that it lets the users easily search their restaurants and dishes, place the order, and track the order.
Must-have features in the customer app:
Hassle-free registration via social media

User profile

Geolocation

Restaurant/dish search

Placing the order

Quick payment

Real-time order tracking

Customizing order

In-app messaging

Ratings and reviews
2. Vendor App
Approximate development time- 700-900 hours.
The vendor app will be used by the restaurants that have been registered to your app. The app functionality should allow them to upload food photos, videos, and complete outlet information so that they can attract buyers.
Must-have features in the vendor app:
Admin dashboard

Easy registration

Content management

Order management

Upload food menus

Manage payouts

Manage several locations
3. Delivery Agent App
Approximate development time- 500-800 hours. 
The third app you would need in the on-demand food business is for delivery guys. This particular app will help them know the restaurant's and customer's precise location so that they can pick up and deliver the order.
Must-have features in the delivery agent app:
Get approval from the admin

Receive order

Accept/reject order request

Complete booking and earn more

View total earning
4. Admin App
Approximate development time- 400-500 hours.
Admin is the main person behind the app, so the admin app should include everything from managing orders to food deliveries, customer engagement, stores, and so on. 
Must-have features in the admin app:
Manage user, delivery, and merchant

Restaurant location management

Promote offers and discounts by advertisement

Manage transaction

Backup and restore option

Application security

History and notification

Area-wise map location

Manage claim restaurant

Refund/order cancellation
It must be noted that the food delivery mobile app cost mentioned above is not fixed. It can vary based on factors like design, time required, and features, to mention a few. 
The section below explains in detail about the factors that influence the food delivery application cost.
👉 If you want to learn more about the architecture and functionality of food delivery apps, be sure to check out our blog. 
Factors that Affect the Food Delivery App Development Cost
When planning to build the app, it is vital to consider all the factors that affect app development costs for food delivery. These factors will help you understand how to plan your budget and where you can cut down on the cost. Let's look at these one by one.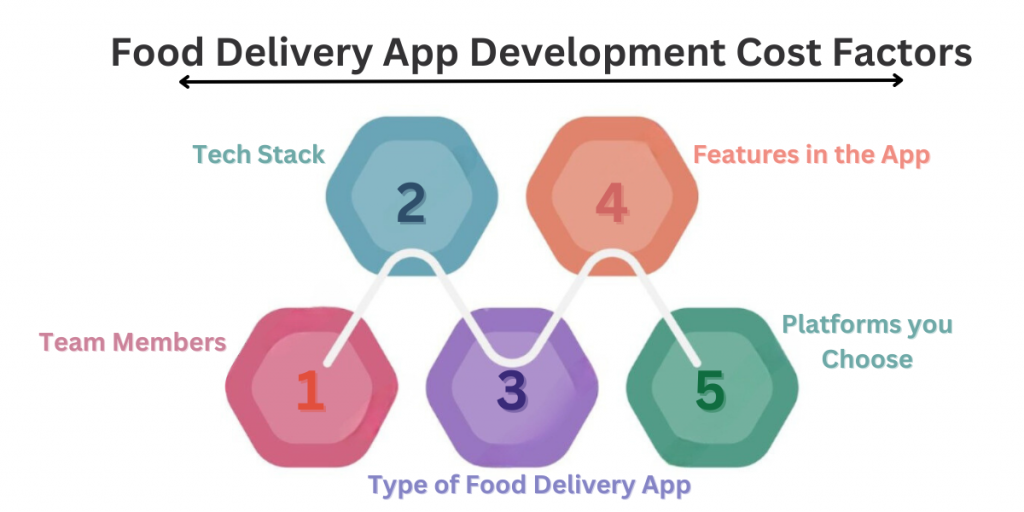 1. Team Members
One of the most crucial factors is the team that you choose. For example, hiring a team in the USA will be expensive compared to one in India. But you also need to ensure that you hire a complete and talented team for quality. 
Generally, the team member should include the following:
UI/UX designer

4-5 developers

Quality assurance engineer

Backend developer

Team manager/project manager

Admin panel developer
The bigger and more experienced the team, the higher the cost. Remember that every company has team members skilled in several technologies. Their experience would vary, and so would the development cost.
2. Tech Stack
The type of tech stack you use for creating your app directly affects the food delivery mobile app cost. But that doesn't mean that you can compromise over the technology.
Technology is an essential part of app development. There are several technologies that an app developer can work with based on the client's needs. Below is the list of the technology stack to help build the food delivery app.
Cloud Services:

Azure, AWS, Kahu, Cloud Sigma.

Registration:

Google Sign-In, Facebook Login SDK.

Online Payment:

Paypal, Stripe, Amazon Payment, Wepay, Braintree.

Geolocations:

Google Maps, OpenStreetMap, Mapbox, Mapkit JS.

Restaurants Listing:

Foursquare API, Grubhub API, Yelp Fusion API.

Analytics Data:

Google Analytics, Localytics, Apple Analytics.
Hence, when hiring a team, you can look at the technologies they use and if they align with your business goals and needs.
3. Type of Food Delivery App
There isn't only one type of food delivery app. You might be a restaurant looking to build a dedicated app or an eatery that wants to collaborate with a third party to expand the services. So, the type of app you create will also directly affect the app development cost for food delivery.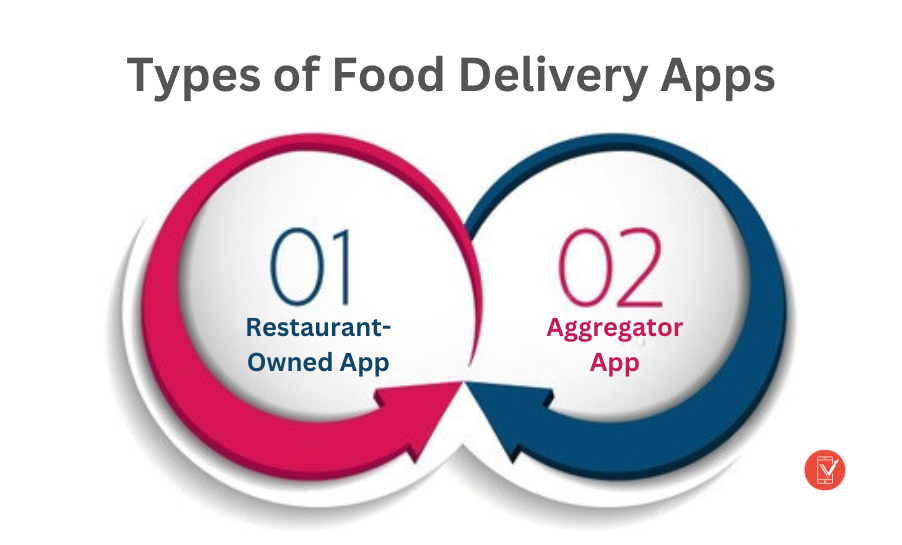 -> Restaurant-Owned App
These are the apps developed and managed by individual restaurants or chains. Hence, they offer their own delivery services to their customers. This type of app helps restaurants build a more direct connection with the users and offers loyalty programs and exclusive deals. Some popular examples include Domino's and Pizza Hut.
-> Aggregator App
Another popular business model in the food delivery industry is the aggregator app. It helps customers connect with their favorite and local restaurants through a few clicks. On the other hand, it provides a place for the eateries to expand their services and reach. Some popular aggregator models are Zomato and Uber Eats.
4. Features in the App
Features play a significant role in the app's success. It ensures that customers, restaurants, and delivery partners can smoothly connect with each other to fulfill an order. As a startup, you can add just the necessary features in the app that helps the users take important actions like placing order, tracking order, making and receiving payments, etc.
As the app gains popularity and engages more customers, you can add advanced features to enhance the user experience. The food delivery application cost is directly affected by the number of features you add to the platform.
5. Platforms you Choose
Whether you want to create the app for Android users, iOS users, or both audiences is another factor affecting the development cost. Before you decide on a platform, you must look at the demand for these platforms in your area. Choosing the right platform will help attract the target audience quickly.
6. Development Process
Several companies provide full-cycle development where they can help you from discovering to designing, developing, and so on. On the other hand, you could opt for standalone services. The table below presents a rough breakdown of the development process:
| App Stages | Cost (USD) |
| --- | --- |
| UI/UX design | 11000-15000 |
| Development (Front-end and back-end) | 30000-60000 |
| API integration  | 5000-7000 |
| App testing  | 10000-15000 |
| Deployment and launch  | 1000-2000 |
Choose the Leading Food Delivery App Development Services
So, are you ready to develop your food delivery app? We understand that proper guidance on the cost can make things easier.
At ValueAppz, we will help you right from the start. With our on demand food delivery app development services, we ensure that our clients get the exact solution to get the desired results. From building the solution at a reasonable cost to developing a quality platform, we have helped various clients launch their food delivery apps.
Contact our team today to discuss the best food delivery solution for your brand.

Key Takeaways
The number of users for food delivery is expected to increase to 2644.2 million by 2027.
The average cost to make a food delivery app ranges between $15,000 to $60,000.
Some factors that influence the cost are design, platform, number of features, tech stack, time required, and development team.
Two major types of food delivery apps are restaurant-owned apps and aggregator apps.
Frequently Asked Questions
Q1. How Much Does it Cost to Develop An App Like DoorDash?
Building a food delivery app like DoorDash can cost between $15,000 to $60,000. Further, factors like customization, design, features, etc., can vary the cost.
Q2. What Factors Influence the Cost of Developing a Food Delivery App?
Several factors like technology, team members, features, design, platforms, and time required to develop the app influence the food delivery application cost.
Q3. What is the Cost of Developing a Food Delivery App?
The food delivery app development cost can range between $15,000 to $60,000. However, the final cost can only be decided after considering factors like app design, features to be added, development team, and so on.
Q4. Does the Choice of Platform (iOS, Android, or both) Impact Development Costs?
Yes, developing for multiple platforms increases costs. Native apps for iOS and Android may have separate development teams, leading to higher expenses compared to cross-platform or hybrid development approaches.

THE AUTHOR
Amrita Singh
With a background in Digital Marketing spanning over five years, I bring a unique perspective to my writing and have developed a keen understanding of the ever-evolving digital landscape. I focus on creating content that is relevant and easy to understand.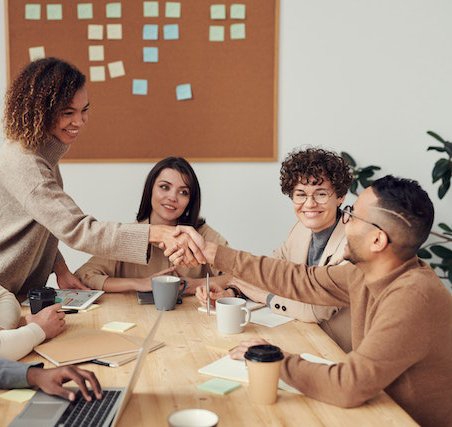 Get ready to digitally transform your business.
Let our team help take your business to the next level. Contact us today to get started on finding the perfect solutions for your business needs.