Dubai's obsession with food is not a well-kept secret. People are obsessed with food, and they're not to blame, the food in Dubai is toothsome. With irresistible delicacies like Harees and Madrooba, it's hard not to be foody around here. And the thriving food delivery market in Dubai is a testament to that. According to a report by Statista, the revenue of the food delivery market in Dubai is expected to grow at a CAGR of 14.90%, contributing to a projected market volume of $3.36 by the end of 2027..
However, a thriving food delivery economy doesn't necessarily mean that every food delivery business turns out to be an instant success, on November 24, 2022, Zomato UAE shut shop in Dubai despite being one of the biggest players in the Indian Food Delivery Market. This underscores the importance of taking the right steps in this space. That's why we decided to curate a list of top businesses in the food delivery segment in Dubai so that you can learn what they did differently to survive the cut-throat competition.
Here are the top 10 food delivery apps in UAE loved and trusted by people in Dubai.
Careem Now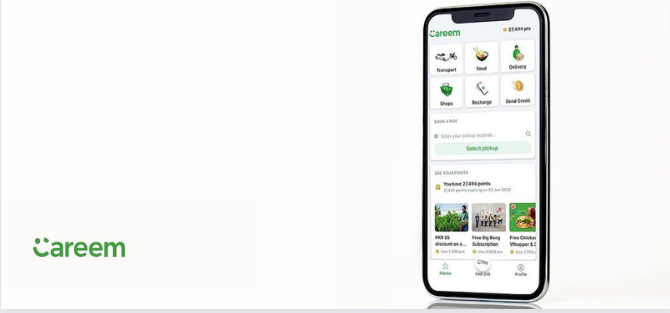 Careem Now, the food delivery arm of the Dubai-based ride-hailing super-app Careem, is one of the most loved food delivery apps in Dubai. Offering scrumptious delicacies from thousands of restaurants across Dubai, the platform processes a majority of online food delivery orders in Dubai. Careem launched back in 2012 and later expanded into food and grocery delivery. It was acquired by UBER back in January 2020 at a valuation of $3.1 billion. The minimum order value on the Careem Now app is limited to 7 AED.
Features
Real-time order tracking 

Tracks preferences for greater convenience 

Thousands of restaurants to choose from

Dynamic search options(search using a restaurant name, dish, or ingredients)

Available for Android and IOS
USP
The Careem Now app has a dedicated tab for offers and discounts to help you save big on every order.
Talabat

Talabat is a leading online food delivery platform based in Dubai, offering a diverse array of dining options from local restaurants. The app offers a wide selection of cuisines, including Middle Eastern, Asian, European, and American. Talabat was founded in Kuwait in 2004, and since then it has spread its wings to several other countries in the Middle East, including Dubai, Bahrain, Oman, Qatar, and Saudi Arabia. Talabat's popularity among the emiratis is the result of its pocket-friendly delivery charges and the variety of restaurants and cuisines it offers. 
Features
Modifies suggestions based on activity 

Prioritizes the most popular restaurants based on your location

COD-orders available

Saves your preferences for convenience in the future

Track your orders in real-time

Available on IOS and Android
USP
Users can simply order from the app or website without having to share their personal details using a guest account. 
Deliveroo

Deliveroo is one of the most widely used food delivery apps in Dubai, offering a gateway to thousands of local, national, and international cuisines spread across hundreds, if not thousands of restaurants. The app was founded back in 2014, and since its inception, it has expanded to 200 locations across the globe including the UK, Singapore, Hong Kong, Australia, Europe, and UAE. It is a popular choice in Dubai thanks to its pocket-friendly delivery charges and less waiting time.
Features
Track orders from the kitchen to your doorsteps

Available on IOS and Android 

Exclusive offers and Discounts

Hundreds of restaurants to choose from 

Less Delivery time 
USP
Deliveroo is one of the most affordable options among all food delivery apps in Dubai, with the minimum order value clocked at 7 AED and a nominal delivery fee of 5 AED.
Noon Food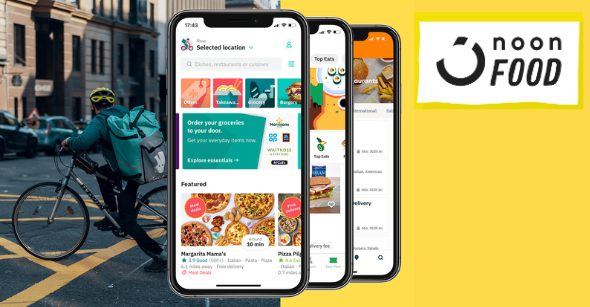 Noon Food is a comparatively new entrant in the food delivery market serving at locations across Dubai, Abu Dhabi, and Sharjah. The app started with a bang and acquired a chuck of the market by offering a straight 50% off on the first order for all customers. The platform offers a simple user interface and flexible payment options making it a convenient choice for users.
Features
Central dashboard to track live updates

Nominal delivery charges

Available on Android and iOS

Thousands of dishes to choose from
USP
The best feature of the Noon Food App is the silent delivery mode called the "Good Morning Mode" which allows users to schedule food delivery between 5:00 AM and 9 AM, wherein the food is delivered to your doorsteps without any phone calls or doorbells. The delivery is confirmed via a text message.
EatEasy

EatEasy is a hybrid app that offers food, grocery, and medicine delivery services, but make no mistakes it is one of the most promising food delivery apps in Dubai, offering local delicacies from across 9,000+ restaurants in your region. The app has a dynamic interface that updates references based on your location. The best part about the app is that you can simultaneously shop for groceries or satisfy your candy or chocolate cravings while ordering your food.
Features
Segmentation based on the user's location

Easy to use

Huge cashback

Flexible payment options(Credit/Debit cards, Cash)

Available for Android and IOS

Live order tracking
USP
The app is super easy to use and the flexible payment models make it a bliss for every user.
Eat Clean
Eat Clean is another food delivery app that focuses on providing healthy and nutritious meals to customers. The app offers a variety of meal plans that are tailored to meet different dietary needs, such as gluten-free, low-carb, high-protein, and vegetarian options. The meals are prepared by professional chefs, and the ingredients are sourced from local farmers and suppliers, which promises high quality and freshness. The app is available in Dubai, Sharjah, Abu Dhabi, Al Ain, and Ras Al Khaimah.
Features
Meal plans for weeks/months

Meal scheduling

Custom food orders

Available on Android and iOS
USP
It is perhaps one of the only health-centric food delivery apps on the list, that allows users to schedule healthy meals for upto 3-4 weeks in advance. The app also allows you to customize your meals based on nutritional requirements.
Munch: On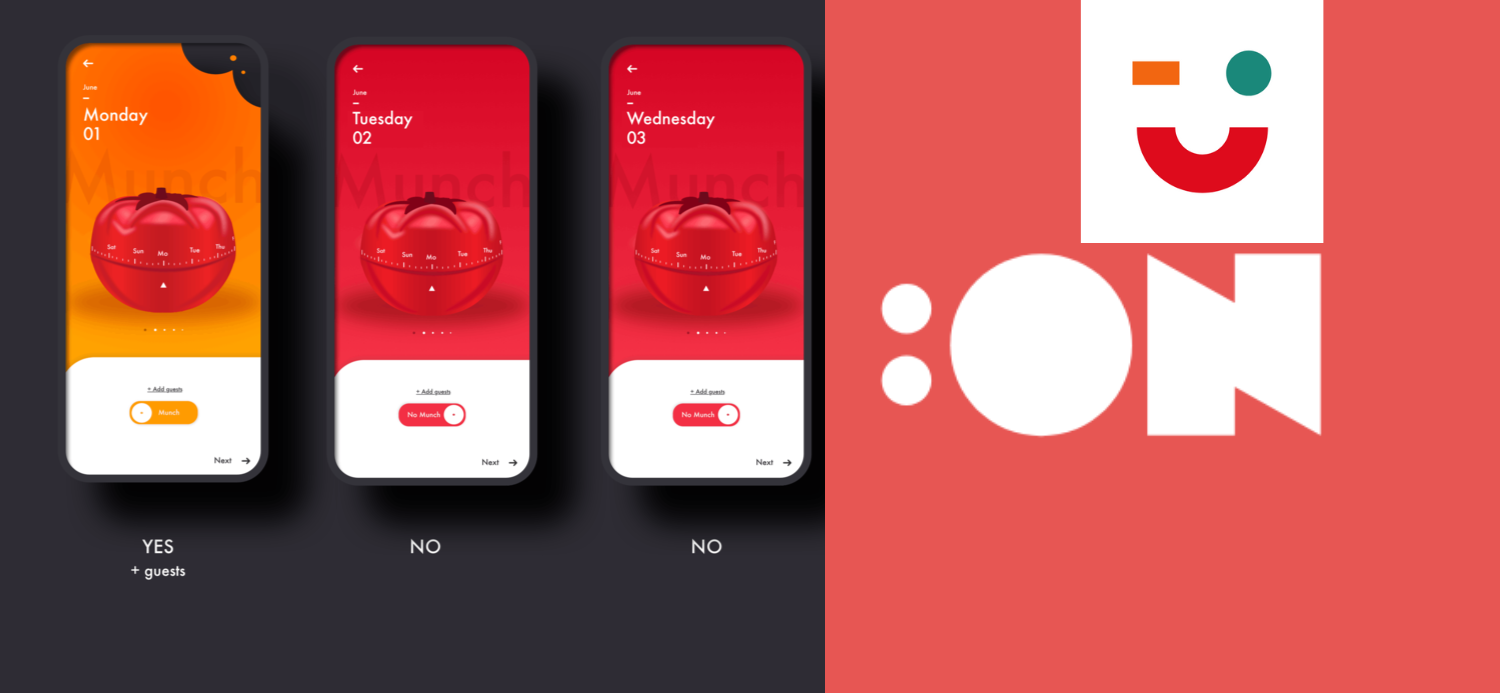 Munch: On is the go-to app for people with jobs who are too busy to carry their lunch, but still want to eat well. Interesting combinations and fresh recommendations make it the perfect app for employees and university students. The app offers a flexible payment model and affordable pricing. The app has been very specific with its approach to scaling in the competitive food delivery market, they've chosen the working class demographic as its target audience and have been sticking to it since its inception. 
Features
Huge discounts and offers

An interesting mix of exciting meals

Affordable and easy to use

Delivery Scheduling

Available on Android and iOS

Weekly recommendations
USP
The app allows you to pay weeks in advance and schedule your lunch every day saving you the hassle of ordering food daily.
Carriage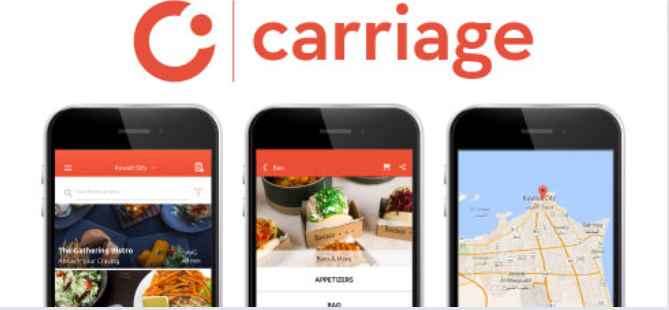 Carriage is a great alternative to other food delivery apps in Dubai, primarily because it is one of the fastest among the ones on this list. When you're craving Madrouba or Biriyani, the last thing you want is to be drooling over your screen while you wait for it to arrive, and that's why people prefer Carriage over other apps despite having a smaller cohort of restaurants and a constricted menu when compared to other apps on the list. Carriage offers meals across 200+ restaurants in Dubai.
Features
Live order tracking 

User-friendly interface 

Pocket-friendly pricing

Available for Android and iOS
USP
The platform claims to have an average delivery time of 40 minutes, the fastest among all delivery apps on this list.
Locale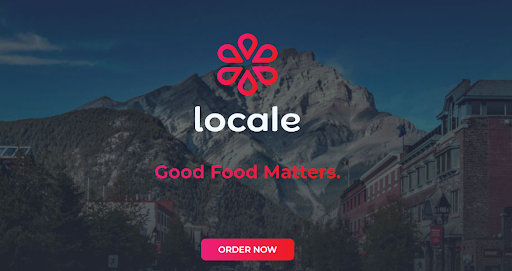 Locale is all about communities, relationships, and great food in your area. It has a smaller collection of partner restaurants with delicacies on the menu, but that's the whole point of it. Every other food delivery app shows you thousands of restaurants and dishes from across UAE, but no platform tells you what's great in a particular region. Locale does just that for you, it helps you discover local delicacies and offers you the opportunity to try exciting new dishes.
Features
User-friendly Interface

Recommends local delicacies

Community networking opportunities

Available on Android and iOS
USP
The platform is the perfect choice for tourists looking to explore the local delicacies in UAE.
InstaShop

You might be surprised to see InstaShop on a list of the best food delivery apps, but the grocery delivery app can now deliver delicious meals from your neighboring restaurants. Being a comparatively new addition to the service stack on the app, people aren't familiar with the food delivery side of things, but that's a big mistake because users can also order their groceries along with their food and save time. The platform also offers free delivery offers on your orders, and you can club your grocery and food orders to avail of this offer and save a couple of bucks every time.
Features
GPS-based live tracking

Order from the website or app

Fast delivery 

User-friendly

App available on both Android and iOS
USP
InstaShop is a super-app that allows you to buy stationery, groceries, electronics, cosmetics, games, toys, and ethnic articles along with their food.
The Common Link
There's a reason why these businesses have thrived despite stiff competition: they have strategically targeted the new-age customers and offered them exactly what they crave: convenience. 
Having a food delivery app changes a lot of things for your business. First of all, it instantly magnifies your reach. As digital natives, our smartphones are an extension of our bodies, we carry them around 24×7 everywhere we go, and we spend most of our time on them. So it's only natural for food delivery businesses to engage their customers at the very core of their interest and that's why having an app helps.
Listed below are some of the inherent benefits of having an app as a food delivery business:
It allows businesses to raise investments easily

It makes scaling much more convenient because all you need is an update to go international

Makes it easier to target the GenZ audience

Businesses with apps have been proven to grow exponentially faster
The Next Step
The logical next step would be to get an app for your food delivery business as soon as possible because every second you operate without an app, a competitor with an app is growing much faster than you, reaching more people than you, and delivering more orders than you.
You can hire a team of developers to natively develop your app in-house and take care of its maintenance, which is a fairly risky choice assuming you're at an initial stage of your business. 
A smarter decision would be to hire a Company was not shared with me and let them do the job for you.