The Go-to Guide to Create Food Delivery App like Postmates
April 14, 2021
Rohit Madaan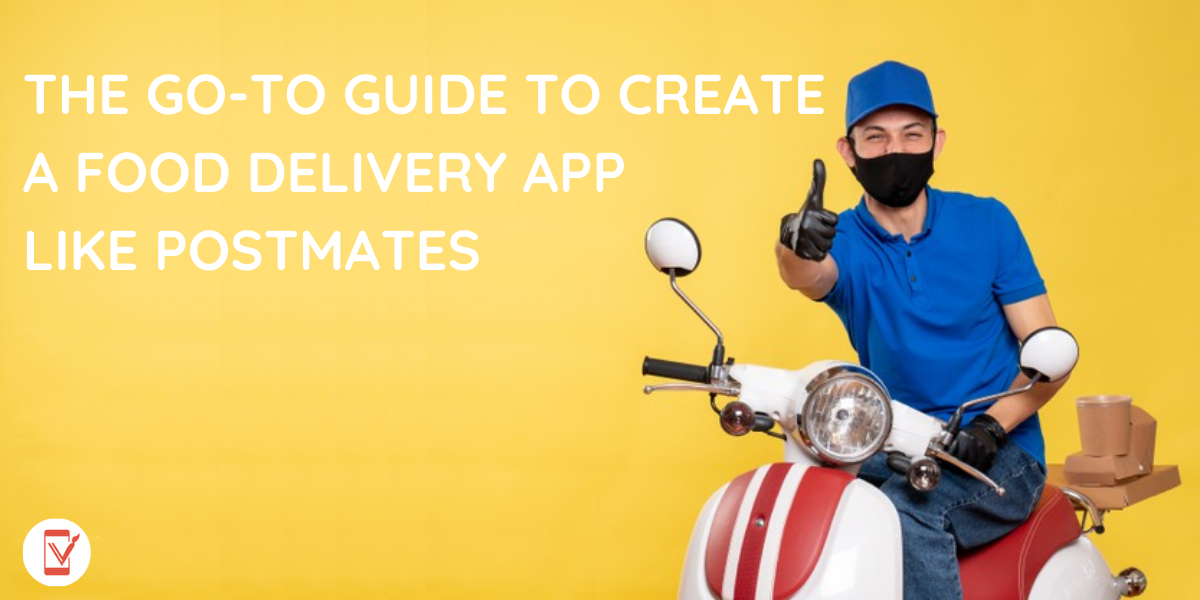 Table of Content
Follow Us
We all have a busy lifestyle, and this resulted in the increasing popularity of various on-demand delivery apps around the world. With the entry of food delivery app like Postmates, Zomato, Uber-eats, DoorDash, and much more into the picture, the on-demand delivery marketplace has drastically transformed as well.
These applications have hugely impacted our lifestyle, making us more dependable than ever before. For this reason, we now hate going through the hassles of cooking meals, waiting in long queues, or purchasing groceries from the supermarket. 
And why waste time when we can have everything just a click away?
In general, this attitude of the consumers created the notion of having tons of apps in the industry. Henceforth, many companies now prefer to offer on-demand app services to stand ahead of their competitors. However, it is becoming the next big thing when we talk about digitalization and consumerism.
Fact: Revenue in the Online Food Delivery segment is projected to reach US $28,486m in 2021.
Looking into the Benefits of On-Demand Delivery App Marketplace
Customers can have anything they want, at any point in time regardless of their location. 

Being a business owner, you grow when your clientele grows. Yes, that's right!! You will make a profit with every client registering on your app. 

You can fetch maximum information about the partner restaurants, hotels, and grocery stores without any hassles. 

Everything is at your fingertips.

You build a network where your users advertise information about you.
But what business should you go for? Confused about where to start and how to start? Worry not – we have got you covered! Below is the list of businesses you can go for to develop an on-demand delivery app:
If we got you right, and you are looking to create an on-demand delivery app like Postmates, then you are at the right place! Here, in this write-up, we are going to highlight everything that you must consider when developing a successful on-demand delivery app.  
So, tighten up your seatbelt as we are diving in!
About the On-Demand Delivery App Like Postmates
Postmates is a courier service company headquartered in the USA. Altogether, it is currently operating in almost 2940 cities of the country. The company promises the fastest delivery services to their customers without making them leave their comfort zone.  
The application is based on a highly efficient GPS system to match the inventories with the demands of the customer. Additionally, you can also work in Postmates by just filling in a simple form. The good news here is that you do not need a car to do your job (any vehicle would do!).
For the customers, the process is as simple as ordering a cake. You can place an order via the mobile app, and the nearest courier associate will receive the request and will complete your order.
Get in Touch With Our Team Now.
Simple and Steady!
In our opinion, on-demand food delivery app like Postmates is a boon to the industry. It comes with a flexible working sphere, so you can place or fulfill all the orders quickly and effortlessly. With this business approach of prioritizing the clients as well as their requirements, Postmates has become the most loved service provider in the USA.
This is How the Company Works
Well, handling a crowdsourced platform is not a joke. Postmates makes sure to solve problems of the retailers, market at the right place, and make sure that the customers are satisfied. Also, finding a viable working model has been more like a stumbling block for many companies out there. Accordingly, Postmates stayed firm and successfully gained the trust of the investors.
But, what makes their working model so strong?
Let us take a closer look.
Postmates is not just a company about delivery as it delivers everything at nearby places.  The working of the company is to provide a one-stop delivery solution to the customers. For the most part, the company is a combination of the top food delivery app like UberEats and the courier delivery services like Amazon and TaskRabbit.
Postmates also serves as the right hand of the companies like UPS, FedEx, US Postal Services, and more.
This is why Postmates is the most talked-about on-demand delivery app around the country!
Facts & Figures of Postmates App
The company has provided the enthralling numbers in a report published on their official website, mentioning the following stats:
The company delivered 35+ Million orders in the country. 

The application successfully saved 11 million hours for its customers.

The company also generated a revenue of around $1.2 billion-

Woah, that is huge, isn't it?
Now that you know about the company. Let us now move to the factors you need to consider to create an app like Postmates.
What To Consider Before Gearing Up?
So, gearing up for the development of an app like Postmates, you need to study and analyze your idea to figure out the best ways for you- Paving out the ways to success, as we say!
It is not rocket science, though!
You just need to follow these steps to minimize possible errors. 
1. Market Comes First
Always start by conducting thorough market research to analyze your competitors that are into on-demand service for food delivery.
This will take you a step ahead to create an app like Postmates. Here, UberEats, Bootler, DoorDash, and Grubhub will stand tall among your direct competitors. Once you know your competitors, look into the brand's journey, what they promoted, and how they promoted!
Do not forget to check the insights of their applications, metrics, and more. Remember that thorough research can help you to compete with such leaders of the industry. You can also start by considering the following aspects (these will make your research easier):
Look out if there is a real demand for your app like Postmates.

Are there any applications similar to yours available in the market?

Read all about the customer feedback of such apps, if any.

Are there any local cafes, restaurants, and grocery stores using your service for on-demand delivery?
2. The SWOT Analysis
Once you are done with your market analysis, use the information to build a SWOT analysis for your business.  This will help you find out the most cost-effective ways to start with an on-demand food delivery app development solution. Here, we have created a sample SWOT analysis to guide your on-demand delivery application process in a better way. 
SWOT Analysis
Strengths:

For Business: Deliver every size package, initiate group order, same-day delivery, Fleet management, and quick deliveries.

For Application: Availability and package size checkbox, various delivery option, GPS Tracking system, delivery schedule

Weaknesses:

For Business: High delivery expenses, delayed deliveries due to lack of resources or weather conditions, high peak load hours.

For Application: the high cost of development and marketing, scarce advertising possibilities

Opportunities:

For Business: Ever-changing technologies, growth of on-demand delivery services depending on the market size, value, business expansion, and addition of new services or products.

For Application: Gaining trust in the delivery marketplace, high conversion rate, and vast clientele base.

Threats: 

For Business:  High competition rate, poor monetization strategy, issues related to operations and management, poor execution of strategies and planning.

For Application: High level of Competition, software glitches, errors, and malfunctioning.
Remember, such analysis must help you to determine the choice of the Unique Selling Points along with features of the app. To simplify it a little more, it should help you to find the best solutions to the question you have while building an on-demand delivery application. 
To do so, you have to find the right audience, list your competitors, collect all the required information, and analyze the whys and the hows from the perspective of the user. Even though a delivery app development is more than just the technical stuff, try considering the quality of your off-line services as well. Also, ensure that your services are fast, well-managed, and safe. 
3. Sketching Down a Business Model for your On-Demand Delivery App like Postmates
Paint up your business canvas with a unique business model!
This step basically includes the visualization of your business model. 
What you have to do?
Just start by creating small segments and work on them. Here, outlining a model first is useful if you are a newbie in the industry. It will help you to reach a little deep into the process of planning efficiently, and you will be a pro-level expert in no time. 
Before starting up with the development of an on-demand delivery application, it is best to consider all the possible issues that might pop out as a challenge during the process. Try to connect with the service providers and add their services to yours. 
Try to focus on the service providers who are executing their own deliveries as they might show some interest and let you add them up. Explain to them all the features, benefits, and services with an idea of profit they will be able to make by working with you. 
Let's Build Something Awesome Together.
But, before you go for that, here is an outline of the must-haves of your business model!
Creating a Unique Value Proposition
Are you looking for the right solutions to build something unique yet competitive? If so, then try to come up with a set of unique features or bonuses/offers/services that are not available in the market- Try to think out of the box! To execute this, we recommend you do your homework carefully and define your target audience accordingly. Once done, create a unique value proposition that makes your product or services stand out and lets your customer go crazy to use the app!
Take a look at the sample we created just for you:
For the Service Providers
High savings on your own delivery

Additional or large orders

Large customer base
For  Delivery
Flexible working hours

Extra income

Stable and hassle-free 
For the Customers
Social distancing

Service right at the doorstep

User-friendliness

Transparent Policies

Special discounts, bonuses, etc
Building Connections in Food Delivery Marketplace
A cordial connection is something that no company can survive without. For a delivery app like Postmates, your main partners will be as mentioned below:
Restaurants, cafes, hotels, grocery stores- this depends on your business idea, model, and requirements. 

Courier, logistics- these can be either contractors or you can hire your own personnel. 
Services & Activities
List down all the services you provide and tasks to create a checklist. For instance:
Build up a cooperative connection with experts and software developers to develop a high-quality application 

List down the service and market you want to hit

Hire delivery staff

Plan to get a hold of your first orders

Go for online promotions by creating a campaign
Please note: You can also add other sections as shown in the business model above.
4. Conduct a Business Analysis
Business analysis is performed to understand the demand for your product, service, or apps available in the market. It helps you to build a buyer persona, selecting a promotional method, and choosing the right monetization model (there is a lot more to the list as well). 
Here, at this stage, you will get a precise cost estimation before starting up with the development and related process. To do so, you first need to understand the various types of customers available in the market. Various types of users prefer using many delivery application based on their requirements, and they are: 
Individuals who can happily pay a little extra to have products, services, or food delivered at their doorsteps

Restaurants, cafes, and hotels, who are looking for an opportunity to promote their services, and products without spending extra on building an in-house application

Individuals who want a job that comes with flexible hours
Creating a buyer persona will help you get through the process. It will help you cover all the information you need to understand the features you need to implement and navigate the process in general.
5. Being A Little Trendy with your On-Demand Delivery App like Postmates
The On-demand delivery marketplace is rapidly evolving. Business owners should always keep an eye on these trends to stay ahead of others. Here is you can go for adding the below-mentioned features:

Mobile payments:

Features such as in-app payment are essential for the on-demand services as well as the e-commerce marketplace. We all are moving towards a cashless society. Therefore, stuffing your delivery staff with the POS terminals- is a big no, no! You should implement a mobile payment gateway system. Companies like DoorDash, UberEats, and Postmates implemented the same so that their customers can pay at their convenience without facing any cash-related hassles.

Artificial Intelligence:

Artificial Intelligence is in trend these days. AI is known to provide user-friendly applications to individuals out there. What and how to implement?

Here are the essentials:

You can add speech recognition technology so that your customers can use voice commands to place orders. 

Various machine learning platforms make automatic predictions by analyzing the inputs. Such inputs can be used to offer advice based on customer preferences in the future. 

Push Notifications:

Push notifications are very easy to use, as they are less intrusive. When a customer places an order from a place from where he/she might not be able to call or get in touch with ease. Push notification, in this case, is a great way to establish effective communication with them. You can also utilize push notifications to let your customers know about upcoming events and ongoing campaigns.
What Does it take to Create a Food Delivery Application?
Any on-demand delivery application starts with outlining the best features that would meet all your business-related requirements efficiently. With this in mind, always choose the right technology to make sure that your app can withstand the loads and scales efficiently. Make it as user-friendly as you can.  
An app like Postmates has three basic versions, and they are for:
Customers to order meals

Courier service providers to process orders

Restaurants to manage and execute their meal-related orders
To create a Postmates clone, you need to adopt everything related to the business model of this company. Besides the other things, Postmates never limit itself to only a single version (it keeps evolving).
So, let us now talk about all three in-depth!
VERSION 1: CUSTOMER 
The Registration: 

The registration process of your Postmates clone app should be very straightforward. Try to keep the section minimal so that your customers can register easily. Try to limit the features to:

Email ID

Contact Number

Password

The Order Details: In this section, the customer should be able to view a detailed graph of his/her order. You add the GPS tracker, pictures of some food items, restaurant reviews in your mobile app to enhance user satisfaction.
GPS Tracking: 

This robust feature allows your customers to track the orders. They can also contact the delivery executive through their preferred mode(call or message).

The Mode of Payment: Try adding the digital payment methods that are the must-haves for every successful mobile app. So, while investing in an on-demand delivery app, include methods like Paypal, Mobile banking, eWallet, etc. You should also maintain the security standards to secure the transactions of the users.
Order History: This segment provides your customers with complete information about their previously placed orders. Let your customers avail the leverage of this functionality and repeat the orders if required.
Reviews and Rating: Customer reviews are the most essential aspect of any business. Therefore, your on-demand delivery app should allow the users to rate and review the services or food ordered by them. This will also allow you to track the areas of improvement in your app or services as well.
VERSION 2: COURIER
This version of the Postmates clone app includes only the crucial features required to execute a smooth delivery process.
The Registration Process: 

The registration process is quite similar to that of the customer version. Just keep in mind to keep it minimal and ask for the relevant information of the user. 

Order Processing: 

Once the customer has placed an order, a notification should pop out for the courier service to accept and fulfill the job. 

Live Delivery Status: This is one of the most important aspects of a successful delivery system. Here, the service provider should be able to know the live status of the delivery. You can also add functionality that allows the service providers to update the delivery status to keep the customers well-informed.
Order History: With this option, the service providers can access the past orders to do the needful in situations like the [package return and more.
VERSION 3: RESTAURANTS
Admin Panel: 

This refers to the dashboard that helps the restaurants to keep track of the orders. It also allows them to access the required information on the food delivery app. They can also update the daily deals, discounts, new dishes, and more using the admin panel.  

Order Processing: Through this feature, the restaurants can confirm the orders and complete them accordingly. You can also include functionality like:

Delivery Time calculator

Preparing, Dispatch, and Delivery of the order

Payment Methods: So, when a user places an order, they can opt for the desirable payment options without worrying about the hassles of paying the amount in cash at the time of delivery.
The Push Notification: 

This is a unique feature that you must consider adding

to your

on-demand delivery app

. Push notifications allow restaurants or service providers to keep their customers updated with the available deals and promotions.

Review and Ratings: Well, if a customer can rate the services of a restaurant, why a restaurant cannot do the same? You can let the restaurants rate the customer profiles based on their behavior, cooperation, and much more throughout the process.
Let us now Talk about the Backend of your Delivery App Like Postmates
Keep in mind the following features, and you are good to go!
Keep a database of all the restaurants along with menus, delivery options, and more. 

As mentioned above, try implementing a push notification for everyone.

Implement chatbots to guide the customers. It will help you build a better customer relationship.

Get yourself a logistic tracker

Data Management system
Well, this is your go-to list of MVP features for a delivery application. Moreover, try adding features like quality control, customer support, and returns. However, this all will depend on your business needs, services, and research.
You can also hire full-time employees along with part-time freelancers. This will provide your business with much-needed flexibility while keeping everything sorted and within the budget. Additionally, if you have decided to develop an on-demand application, getting in touch with a professional app developer is a good idea. An expert can provide you with the best solutions as per requirements and company standards. 
How Much Does it Cost to Develop a Food Delivery App like Postmates?
Even for a version of MVP, the cost estimation will include a few stages of development. Not to mention, this also involves UI/UX designs. However, the cost estimation below is based on three versions of the delivery apps we mentioned above to provide you with a rough outline.  
Conclusions
Lastly, it seems like online delivery applications are ruling the marketplace. As a result, their availability in the market keeps growing at a super-speed pace. Somehow, mobile applications and web services that have unique or new features incorporated are always seen in demand. Make sure that you hire a professional developer or a company for the development of your on-demand delivery app that meets your expectations.
In case you need a consultation, feel free to get in touch with our experts here!
Good Luck!!
THE AUTHOR
Rohit Madaan
I am an enthusiastic internet marketer. I have expertise in PPC, SEO, Social Media, Google Analytics, Google Business Page Optimization, and Content Marketing.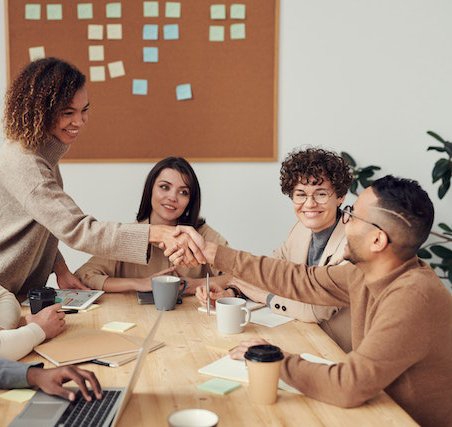 Get ready to digitally transform your business.
Let our team help take your business to the next level. Contact us today to get started on finding the perfect solutions for your business needs.