Your Comprehensive Guide for How to Build an App Like Postmates
October 12, 2023
Amrita Singh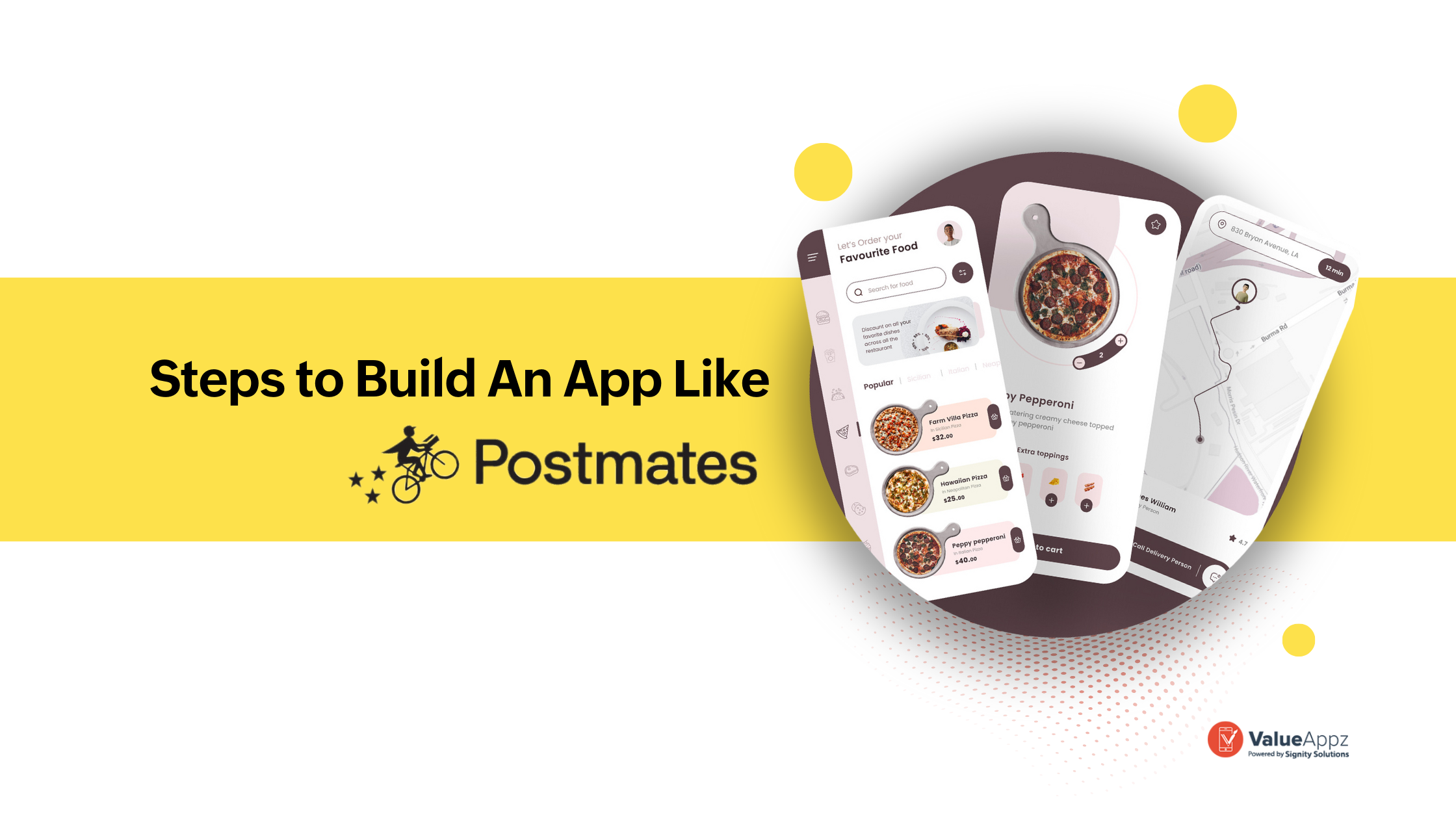 Quick Summary: Are you inspired by the growth of the Postmates food delivery app and want to build a similar platform? Get detailed answers to steps to create an app like Postmates, essential features, revenue methods, and app development costs. Also, know the best food delivery app development company to help you achieve your startup dream.
The food delivery market is taking a turn with the latest technology and quickly adapting to customer needs and trends. A number of food delivery apps are available now, giving customers a massive choice for availing services.
Whether you own a restaurant or are an entrepreneur planning to enter the online food delivery industry, building an app like Postmates is essential for your food business growth. Sticking to the traditional methods will give your competitors an advantage in acquiring a larger target audience.
You may have several questions regarding how to build an app like Postmates, features to add, revenue and business models, and technology stack for building an app like Postmates. 
Do not worry. This blog will answer all your questions in detail one by one, from why you should choose a Postmates clone app to how to build and discover everything you need.
Check our TOC to get a glance at this comprehensive guide.
Interesting Facts About the Postmates App
Before moving on to how to build an app like Postmates, let us look at some numbers that prove Postmates is a successful on demand food delivery app. Launched in 2011 in San Francisco, California, Postmates is available in over 4,200 cities across the USA. In 2020, the company was acquired by Uber for $2.65 billion.
Before moving on to how to build an app like Postmates, let us look at some numbers that prove Postmates is a successful on demand food delivery app. Launched in 2011 in San Francisco, California, Postmates is available in over 4,200 cities across the USA.
As per the reports from Business of Apps, Postmates has 9.3 million monthly active users who order five million items a month. The app further has over 6,00,000 merchants partnered with it, giving its users a wide range of food to choose from. 
Hence, developing an on demand food delivery app like Postmates can bring your startup the boost it needs. 
Want to take your food delivery business to the next level with an app like Postmates? Understand the app architecture and functionalities with our guide.
Postmates Business Model Explained
To create a food delivery app like Postmates, it's essential to understand that their business model is quite straightforward. The whole process allows users to easily search for nearby restaurants and grocery stores, place their orders, make payments, and track the order. 
Below is the whole process followed by Postmates to deliver a seamless user experience:
Easy Ordering: By allowing users to start with their location, the Postmates app makes the process of ordering meals or items simpler. Once the app locates their location, it displays a selection of nearby restaurants and stores that offer delivery. Users can look through these choices and choose whichever one they like. 
After deciding on a restaurant or shop, customers can carefully select the food or items they want to order by looking over the menu or product selections. This step is all about giving users easy access to a wide range of options and enabling them to start making the purchases they want quickly.
Item Selection: Consumers can easily browse the menu or product listings after deciding on a restaurant or shop. Customization becomes essential here. Users can customize their orders by defining item amounts, choosing options (such as picking the spice level for a dish), and adding additional details to process their order. 
Customers can customize their choices to suit their interests and preferences via interactive procedures, guaranteeing they get precisely what they want.
Checkout: Users proceed to this stage after carefully selecting their orders. Here, they formally seal the deal. Picking a preferred payment method is required, and options like credit or debit cards are frequently available. Users securely enter their payment information within the app to finish the order. 
The checkout procedure ensures that payments are seamlessly incorporated into the app, providing a quick and safe payment process and securing the user's commitment to their order.
Order Processing: Now that the order has been approved and paid for, Postmates organizes the logistics to ensure it gets to its destination. The app sends the user's selections and any specific instructions along with the order information to the selected restaurant or retailer. A Postmates driver is simultaneously assigned to pick up the order from the restaurant or shop. 
This process illustrates the behind-the-scenes cooperation that connects the user and the items or food they've requested.
Delivery and Tracking: The real-time tracking feature of the Postmates app is a standout feature. As soon as the driver accepts the package, users can keep track of the progress of their order. They are informed of the pick-up time for the items by the courier and the estimated delivery time. 
After that, the courier starts the delivery journey to deliver the order to the user's designated delivery location. The tracking feature improves transparency and lets users know precisely when to expect their deliveries, enhancing the entire user experience.
Payment and Rating: The last transaction occurs after the delivery is complete. The total amount of the order, which includes the items, delivery costs, and any relevant taxes, is charged to the user's preferred payment method. Users have the choice to give feedback on the driver's performance and share their opinions. 
This rating system allows customers to express their happiness or complaints while also assisting in maintaining the quality of the service. It's essential in promoting accountability and trust within the Postmates ecosystem.
Revenue Models of Postmates
Postmates made a revenue of $1.0 billion in 2022. How is this brand able to make so much money? Well, it has adopted various revenue models that help Postmates make good money. Below are the monetization methods followed by Postmates.
1. Delivery Fee
Delivery fee is a standard revenue model followed by all on demand food delivery apps. Every time a user places an order on the Postmates app, the brand charges some delivery fee, ensuring they earn with each order. It helps them cover the cost of the delivery service. The fee is based on factors like distance, order size, and demand.
2. Commissions from Service Providers
The second most widely used revenue model is the commissions from merchants. Postmates takes a commission fee for each order that the merchant receives. This fee is a percentage of the order value and helps compensate Postmates for facilitating sales and delivery.
3. Postmates Unlimited
Postmates also offers a subscription service called Postmates Unlimited. It provides subscribers free delivery on eligible orders for a monthly or annual fee. This subscription revenue helps the brand generate recurring revenue.
4. Surge Pricing
Another popular monetization method used by Postmates is the surge pricing. It involves temporarily increasing the delivery fee. It further incentivizes more drivers to participate and ensure efficient order fulfillment. Surge pricing also allows the brand to adjust prices dynamically based on supply and demand.
5. Advertising and Promotional Opportunities
Postmates also allows its service providers to advertise their services and products on its platform. In exchange, the brand charges a specific amount. This way, both service providers and Postmates benefit. Service providers get a chance to increase their visibility and reach more customers.
When you plan for app development like Postmates, you can choose one or more of these revenue models and see what suits the best for your brand.
Features Required for an App Like Postmates
To build a successful app like Postmates, you need to add features that make the app experience seamless and engage the users better. From placing food orders quickly to be able to track them and receive them within the estimated time, your food delivery app should include it all.
Below are the necessary features to include in the customer, delivery, and admin app when building a Postmates clone app.
| Feature Category | Customer App | Delivery App | Admin App |
| --- | --- | --- | --- |
| User registration | User registration and login | Courier registration and login | Admin login and dashboard |
| User profiles | Manage user profiles and settings | Update courier profile and availability | Manage admin settings and user roles |
| Menu browsing | Browse restaurant menus and listings | Access to delivery requests and order details | Manage restaurant and courier accounts |
| Order placement | Place and customize food orders | Accept/decline delivery requests | Monitor overall app performance |
| Payment options | Secure payment processing (credit/debit, wallets) | View earnings and payment history | Manage payment processing and settlements |
| GPS tracking | Real-time order tracking and ETA | Track and navigate to delivery destinations | Monitor delivery operations and analytics |
| Delivery addresses | Save multiple delivery addresses | Update delivery status and provide feedback | Manage delivery zones and geofencing |
| Order history | Access order history and reordering | Review and rate customer experiences | View order and transaction histories |
| Push notifications | Receive order updates, promotions, and offers | Receive delivery requests and updates | Send notifications, promotions, and announcements |
| Ratings and reviews | Rate and review restaurants and delivery service | Rate and review customers and restaurants | Monitor and manage ratings and reviews |
| Restaurant integration | View restaurant profiles and menus | Communicate with customers for order details | Onboard new restaurants and manage menus |
| Promotions and offers | Receive discounts, deals, and loyalty rewards | Access promotions and incentives | Create and manage promotions and discounts |
Steps to Create an App Like Postmates
The numbers above prove that Postmates is a successful and widely loved food delivery app. You may want to create a similar app as a startup and small business. But what is the Postmates app development process? 
This section will explain the steps to develop an app similar to Postmates in detail.
1. Research and Analyze Your Niche
The first step to creating an app like Postmates is deep research and analyzing the niche. Your research should be area-specific. It means that you must be aware of everything in your area—the latest food trends, restaurants, target audience, preferences, and tastes. 
Once you have this data, planning the next steps will be very easy. You must also figure out what type of eatery places you want to register for your platform.
For instance, Postmates identified the growing demand for on-demand food delivery services. They conceptualized a platform that connects customers with local restaurants and couriers.
2. Choose Your Business Model
Once you have researched, you need to pick a suitable business model. Do you want to stick to on demand food delivery or wish to provide other services like grocery and product delivery like Postmates?
Introducing other services will help you gain a broader audience that demands both food and grocery delivery. By providing food, drinks, groceries, and more under one name, Postmates has engaged a more comprehensive range of people, engaging them with their top-notch services.
3. Revenue Models
The next step is to choose the right revenue models. One way that Postmates makes so much money is that they have implemented various monetization methods like delivery fees, surge pricing, Postmates Unlimited subscriptions, etc. 
So, you must identify the revenue models you would include in your food delivery app. We have listed the monetization methods above that are used by Postmates. When you launch your app, you may add one or two methods; as the brand grows, you can keep adding more methods.
4. App Features and Functionalities
Adding the right features and functionalities to the app is a crucial step. Because of these, customers get attracted and are motivated to keep using the app and its services.
We have listed a complete table about the necessary features to add to the customer, delivery, and admin app. Further, adding advanced features like smart search, subscription, voice search, etc., will make your food delivery app even more engaging.
For instance, Postmates offers unique features like guaranteed one-hour delivery, pick-up options, in-depth order tracking, and ordering anything from anywhere.
5. Design the Food Delivery App 
Once you have decided on the target audience, business model, and features for your food delivery app like Postmates, you need to build a blueprint for its design. While designing the app, you must remember that it matches your brand's needs.
Some factors to consider when designing your app are:
User Interface (UI) and User Experience (UX) design

Menu and item presentation

Order tracking and real-time updates

Payment and pricing transparency

Delivery logistics and couriers

Customer support and feedback mechanisms
Further, choose the right colors that match with your brand voice. The design should be simple so that users can easily navigate through the app and quickly place orders.
6. Select a Tech Stack
Choosing the right tech stack is another crucial step. There are several technologies available for app development, and one must be aware of all these. Further, picking the right technologies that will not cost you much is also important.
Technology stack for building an app like Postmates:
Programming Languages: JavaScript (Node.js, React Native), Swift (for iOS), Kotlin (for Android)

Backend Framework: Express.js (Node.js)

Database: PostgreSQL, MongoDB

Cloud Hosting: Amazon Web Services (AWS), Google Cloud Platform (GCP), or Microsoft Azure

Real-Time Features: WebSockets, Socket.io

Geolocation Services: Google Maps API, Mapbox

Payment Integration: Stripe, PayPal

Push Notifications: Firebase Cloud Messaging (FCM), Apple Push Notification Service (APNs)

Version Control: Git

Development Tools: Visual Studio Code, Android Studio, Xcode
7. Develop Your App
It's time to start building the app now that everything is in place. For this stage, you must look for the best on demand food delivery app development companies with years of experience.
When selecting a company, look at their portfolios and testimonials. It will give you a better picture of their work and if it matches your project needs.
Further, you can divide your development process into various stages for easy work. Also, you must constantly communicate with the development team for updates and ensure that the project is going as planned.
Postmates developed user-friendly apps for customers, couriers, and restaurants. These apps allow customers to browse menus, place orders, and track deliveries. Couriers can accept and fulfill delivery requests, while restaurants can manage orders and menus through their respective apps.
8. Test and Enhance the App
Once the team has developed your app, it must be tested thoroughly to avoid errors and mistakes. Try the app with a small group of people, get their feedback, and improve it as per the reviews.
This step is critical as you do not want to provide an app to your customers that lacks features and functionalities.
Before launching in a new city or region, Postmates conducts extensive testing to ensure app functionality. Once proven successful in one market, they scale to new locations, continually analyzing data and user feedback to make improvements.
9. Launch Your App Like Postmates
Finally, once the app is ready and tested, you need to take it live on the App Store and Play Store. The development team will help you take your app live on the platforms you want. Once the app is live, you need to work on solid marketing strategies to attract the target audience and convince them to use your services.
The Cost of Developing an App Like Postmates
During the Postmates app development process, considering the cost is essential for startups and small businesses. On average, the cost of developing an app like Postmates can range between $15,000 to $60,000.
However, the final cost for app development depends on factors like app design, complexity, number of features, development team, etc. Hence, when choosing a food delivery app development company, you must look at the development cost in detail to ensure that it aligns with your budget.
Build a Postmates Clone App With ValueAppz
Now that you know everything about Postmates, you may be eager to get started with the Postmates app development process. You need a team with experience, skills, and great technology to help with your project.
ValueAppz is a leading on demand food delivery app development company, and our Postmates clone app services will help you right from the start to launch and post app maintenance. With over 12 years of experience, we have delivered over a thousand projects across various countries.
Contact our team now, and let's launch your startup.
Key Takeaways
For business owners and restaurateurs to stay competitive, they must develop a meal delivery app similar to Postmates.
Millions of monthly active users, global availability, and an extensive partner merchant network all attest to Postmates' success.
Postmates uses revenue methods like delivery fees, merchant commissions, subscription services, surge pricing, and advertising options to make money.
While developing a successful food delivery app, you must consider elements like UI/UX design, menu display, order tracking, payment transparency, delivery logistics, and customer support.
Research, picking a business model, selecting revenue models, designing the app, selecting a tech stack, programming, testing, and launching are all steps in the development of an app like Postmates.
Depending on several variables, a Postmates-like app can be created for anywhere between $15,000 and $60,000.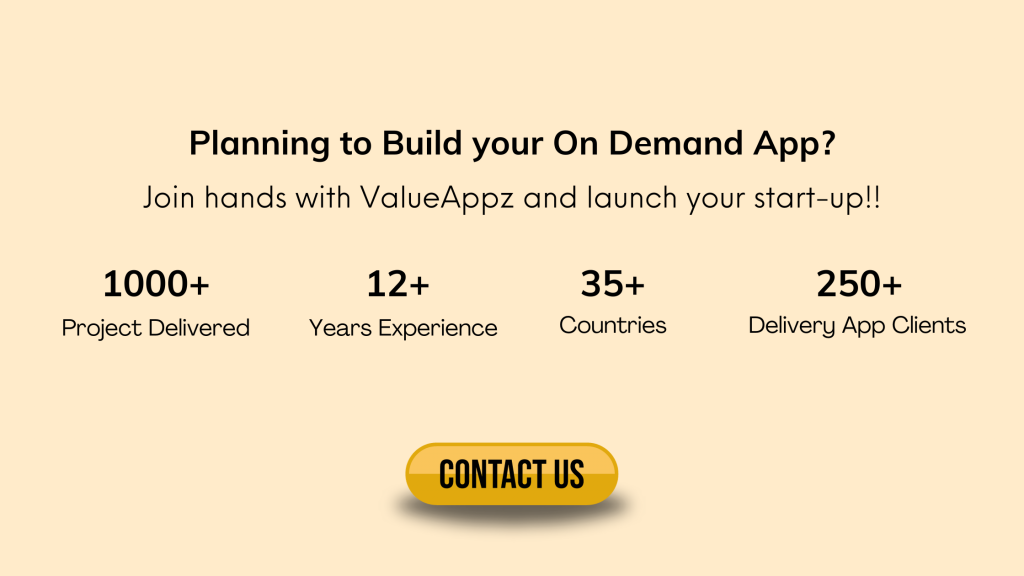 Frequently Asked Questions
Q1. How to build a food delivery app like Postmates?
Steps to build a food delivery app like Postmates include:
Market research and conceptualize

Define your USPs

Choose the business model

Complete legal and regulatory requirements

Design the app

Develop the food delivery app

Third-party integrations

Test and launch the app
Q2. What features should I include in the app, like Postmates?
Features required for an app like Postmates include easy user registration, menu browsing, order placement, GPS tracking, push notifications, online payments, ratings, etc.
Q3. How long does it take to create a food delivery app?
As per ValueAppz, creating an on demand food delivery app like Postmates can take between six and nine months. Further, the timeline also depends on the project scope, tech stack, etc.
Q4. What makes Postmates unique?
Postmates is unique because of its wide range of delivery options like food, grocery, alcohol, and non-physical items. The app also allows delivery from both local restaurants and popular chains.
Q5. What is the cost of developing an app like Postmates?
On average, the cost of building an app like Postmates can range anywhere from $15,000 to $60,000. The final price can only be decided after completing project details like design, features, platforms, etc.
THE AUTHOR
Amrita Singh
With a background in Digital Marketing spanning over five years, I bring a unique perspective to my writing and have developed a keen understanding of the ever-evolving digital landscape. I focus on creating content that is relevant and easy to understand.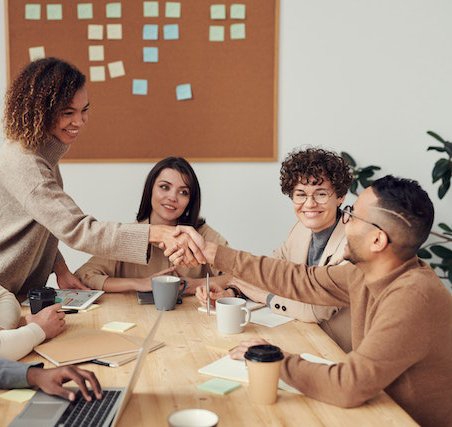 Get ready to digitally transform your business.
Let our team help take your business to the next level. Contact us today to get started on finding the perfect solutions for your business needs.