Complete Guide on How to Create a Dietitian App In 2023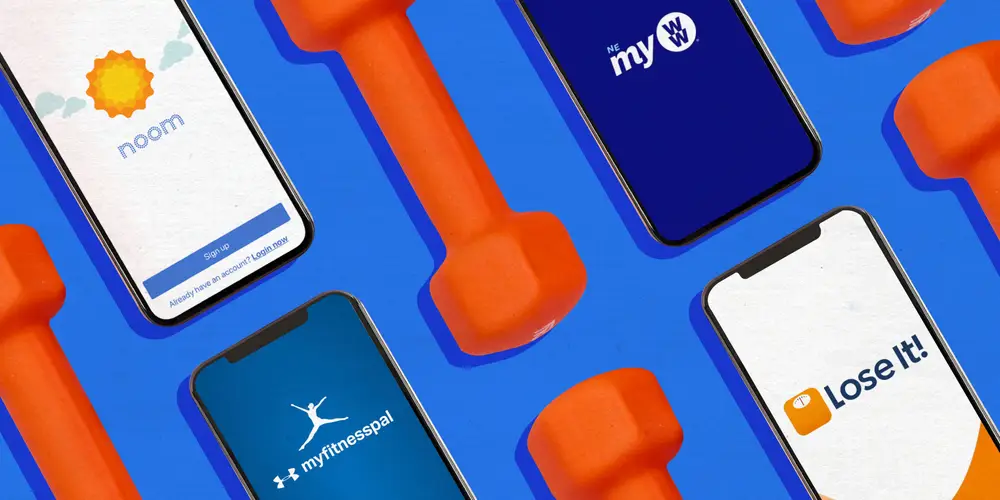 Table of Content
Follow Us
The popularity of on-demand dietitian apps is on the rise. The blog will help you discover everything about how to create a dietitian app, from its essential features to the market, revenue model, and the cost of making the app.
Gym and fitness classes have become a trend, especially among the younger generation. What people often forget is that diet, too, plays a crucial role in ensuring well-maintained health. The role of a dietitians has always been neglected, but they are now being hired at a fast pace. 
Also, the lifestyle has made everyone more inactive than before, which further leads to several diseases. Obesity is the world's fifth biggest health problem, and 38.9% of adults worldwide suffer from it.
There are multiple other major health issues, but the solution for it is one– a good diet.
A dietitian app is the best way to reach out to the audience in search of valuable tips, a good diet chart, nutrition tracking, and access to more useful nutritional information. It provides a platform for professionals to widen their reach to an audience that would be otherwise difficult to reach.
Before diving into building a dietitian app, let's look at its market size and discover why it is in so much demand.
Market study 
Investing in a diet app in 2023 is the best idea for business people. We researched the latest studies and found that revenue in diet and nutrition apps is anticipated to show a yearly growth rate (CAGR 2023-2027) of 6.74%. Further, it will generate US $0.89 billion in revenue by 2027.
Moreover, user penetration is expected to hit 10.30% by 2027.
This market size will surely provide an excellent opportunity for entrepreneurs who want to build their business in the diet and nutrition app.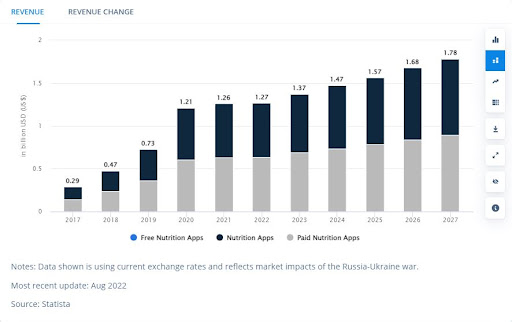 Discovering the target audience
The primary reason startups fail is that they do not meet market needs. According to an article published by Forbes, fitness apps manage to retain only 15% of users in the first thirty days. It is why discovering the right audience for the app is crucial.
Defining your target audience before building an on-demand diet app is critical. Are they diabetic people? Or working professionals? Under what age group do they fall? Answering all such questions creates a clear image of the target audience. Targeting certified nutritionists, trainers, and fitness coaches can be a good idea as they can answer all health and diet-related questions of your app users.
Now that you have the right target audience for the app, you have to pick the features for it.
Key features to keep the users engaged
What makes one app stand out from the rest? The types of features and the usability of each element engage the users. Before you plan an app, it is vital to understand the must-have features that would make it worthwhile. Every feature that goes on in the app should provide significant value to the users. 
For any app to be a user-engaging app, its UI/UX design should be engaging and easy to work with. Hence, you must ensure that the login is brief for the users. Often it should require a few details like name, mobile number, location, etc., to register the users quickly. Other features include: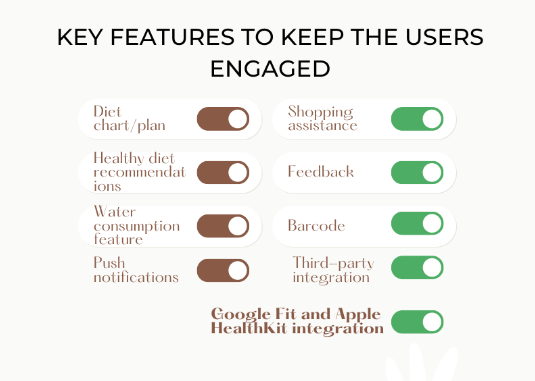 Diet chart/plan 
When users log in to the app would want to get personalized help regarding what they should consume on a daily basis. A diet plan feature will help them connect with expert dietitians who will make personal diet charts.
Therefore, your app should connect with certified and professional dietitians who can then communicate with the users through the app. It is the diet plan that will bring the users into healthy eating habits, and that would be accessed the most by them.
Healthy diet recommendations
Healthy food recommendations are a top feature of building an excellent dietitian app. Any user that comes to the app would want smart suggestions every day as they don't want to invest time in researching.
These suggestions could be in the form of a live consultation, blogs, or a fact shared by professional nutritionists. The feature will keep the users engaged, and they will look up more such information.
Water consumption feature
Water consumption feature has become a popular feature. Proper water consumption plays a significant function in weight loss– one of the top reasons people register on diet apps.
Once the user puts in all the details regarding weight, height, body mass, etc., your app can suggest the right amount of water consumption. With this feature, you can send reminders to consume sufficient amounts of water regularly.
Shopping assistance
Often diet conscious people try to make themselves. Firstly, you could provide recipe books and guides that cover meals with proper nutrition. 
Secondly, the shopping assistance feature will help them identify the perfect ingredients that they would need to make the dish. This add-on feature will ensure they are on the right track and build better trust in the application.
Feedback
Feedback features also hold a valuable place in the diet app. Let your users provide their ratings and reviews for the app freely.
It will help the new users discover why they should use this particular app and how each feature will help them personally.
Barcode or QR scanner to identify calories
People are getting calorie conscious. They want to count their calorie intake before they even take a bite.
Adding this feature to the diet app will give another reason for your target audience to use the app. Let them scan the calories, record them on the app itself, and ensure they consume just the right amount.
Push notifications for delivering messages
Notifications are the most crucial part of any app's growth, as everyone checks their phone when a notification pops up. You, of course, don't want your users to miss out on anything latest and essential.
So be it the latest offer, any promo code, a special discount, or a personal reminder to the user, every message can be delivered beautifully through push notifications.
Third-party integration
The app must allow for third-party integration. It will be helpful when the user wants to make a payment for any purchase, subscription, or consultation with a nutritionist.
Also, integration with apps like MyFitnessPal and BigOven will give them top nutrition feeds. Such information will help them stay updated with the latest health trends and tips.
Google Fit and Apple HealthKit integration
Apple HealthKit and Google Fit monitor and store a user's fitness details like weight, height, step count, etc. It helps the user keep track of their physical activities every day.
Integrating these apps with yours will prove to be very beneficial as with these insights, you would be able to provide better suggestions for their diet and physical activity. 
5 ways to make money through a diet app
There are five revenue models for a diet app. You can choose the model that fits your business demands and later integrate other revenue models into the app. If you start with a freemium model, you could also add the subscription model in the future. The subscription could be to the article, guides, etc.
Likewise, you could practice this exercise with other revenue models and discover what works best for your brand.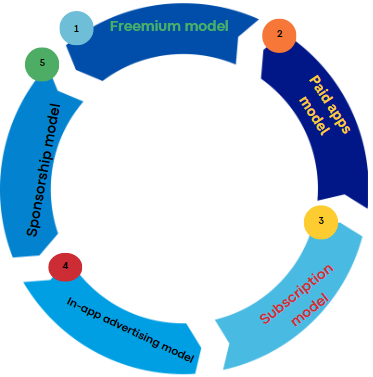 Freemium model
Who doesn't like free services? Freemium is an excellent way to pull in more customers. You could start by providing basic services of the app free of cost. Once the users are satisfied with the services, they are most likely to purchase a plan in order to access premium services. 
Paid apps model
This model works by paying only once for using the application. It is always better to provide a free trial to the users so that they know that the app is exactly what they need. The trial period could range from a few days to weeks or even months. 
Subscription model
One of the most practical methods to make money off a diet and nutrition application is through a subscription or membership business model. Users will be encouraged to extend subscription validity and select more expensive membership packs if they have the option to customize their membership packs and receive regular discounts. To gain their trust and lower the rate of app usage termination, give customers the choice of a range of subscription lengths, such as weekly, monthly, or yearly.
In-app advertising model
Smart advertising through the app is a good way to generate revenue. For instance, you could run ads promoting fitness events, food supplements, sportswear, and more. For every ad you run, you can charge a fixed amount of money from the clients but ensure that the ads are relevant for your users.
Sponsorship model
You can promote other businesses that are not your company competitors by adding only the logos of various brands to your app. Exercise facilities, sportswear manufacturers, food producers, supplement manufacturers, and other businesses are ideal for emphasizing nutrition-related applications. Under mutually beneficial terms, you can market yourself and receive advertising.
Top Three Health Apps in 2023
To give a better idea about the diet and nutrition app, we have listed below the top three apps that the audience loves. Take a look and discover where they stand and what makes these applications irresistible to their target audience.
MyFitneesPal
MyFitnessPal is an ideal app for those wanting to reduce weight. With a rating of 4.2, it has over one hundred million plus downloads. The app is available on Android and iOS and works on the in-app purchases revenue model. 
MyFitnessPal has top features like a personalized dashboard and calorie tracker that make it so lovable by the users. Furthermore, it helps the users calculate and consume the right amount of calories.
Headspace
Headspace is built for customers seeking mindfulness. With features like daily meditation, sleep meditation, stress and anxiety relief, and meditation music for focus, Headspace has over 10,000,000+ downloads.
The app is an in-app purchase model where users can purchase various items. It has a rating of 4.9 and is available on Android as well as iOS.
Lose it
Headquartered in Boston, USA, Lose It is one of the top-rated apps to set goals, track food, and lose weight. Additional features include water tracking, nutrition tracking, progress report, etc.
It has over 1.4 million monthly active users and a rating of 4.7 in the app store. It generates an approximate revenue of $23.1 million annually.
How much will it cost to build a dietitian app?
Ultimately, it all comes down to the cost of on-demand dietitian app development. You might have a fantastic idea for the app, but if it does not fit your budget, there is a low scope for you to implement it.
Estimating the exact cost of app development is difficult as it depends upon various factors. Every business would want its app to have unique features that set them apart from others. The following factors need to be considered for estimating its cost.
Features and functionality of the app

Tech stack needed for it

Workflow requirements

The complexity of the diet app
Further, it also depends on the team that you would work with. Hiring an in-house team would cost you more than hiring a professional team. Furthermore, the team size, skills, location, and other factors would also affect the cost of building the app.
The app can generally cost from $15,000 to $60,000, but it can be even higher depending on its complexity.
Our expertise in developing on-demand dietitian app
There is a broad scope for a diet app as it is a hot topic for all generations. Everyone wants to track their healthy habits, food intake, physical activity, water consumption, and so much more through the phone itself.
Got a great idea for the app? Make sure you get it just as you have thought with our help. At ValueAppz, we have great teams working with us who understand business needs. Our expertise in developing on-demand dietitian apps will help you quickly get your engaging and attractive app at the cost that fits your pocket. Get in touch with us now.

FAQs
Are nutrition experts in demand?
Yes, without a doubt. Instead, nutrition coaches are in demand more than ever. Especially after COVID-19, the audience has become a health freak and is looking for good health coaches to help them.
How long will it take to build a diet app?
On average, the app can take up to 6 months, but it also depends upon the business needs and complexity of the app.
What does a nutrition app do?
A diet and nutrition app helps its users get fit, lose weight, control food habits, and so on. Various apps have different features, but all focus on keeping the user healthy.
THE AUTHOR
Shailza
I am a passionate Digital Marketer and writer whose biggest obsession is to explore the latest marketing technologies and growth hacks for helping businesses! I love to write about different marketing strategies!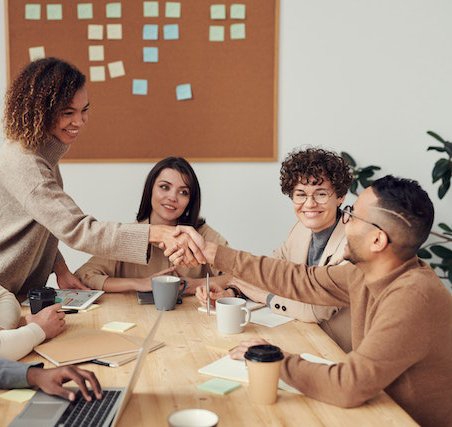 Get ready to digitally transform your business.
Let our team help take your business to the next level. Contact us today to get started on finding the perfect solutions for your business needs.