20 Effective Tips on How to Start a Lawn Care & Maintenance Business
January 23, 2020
Rohit Madaan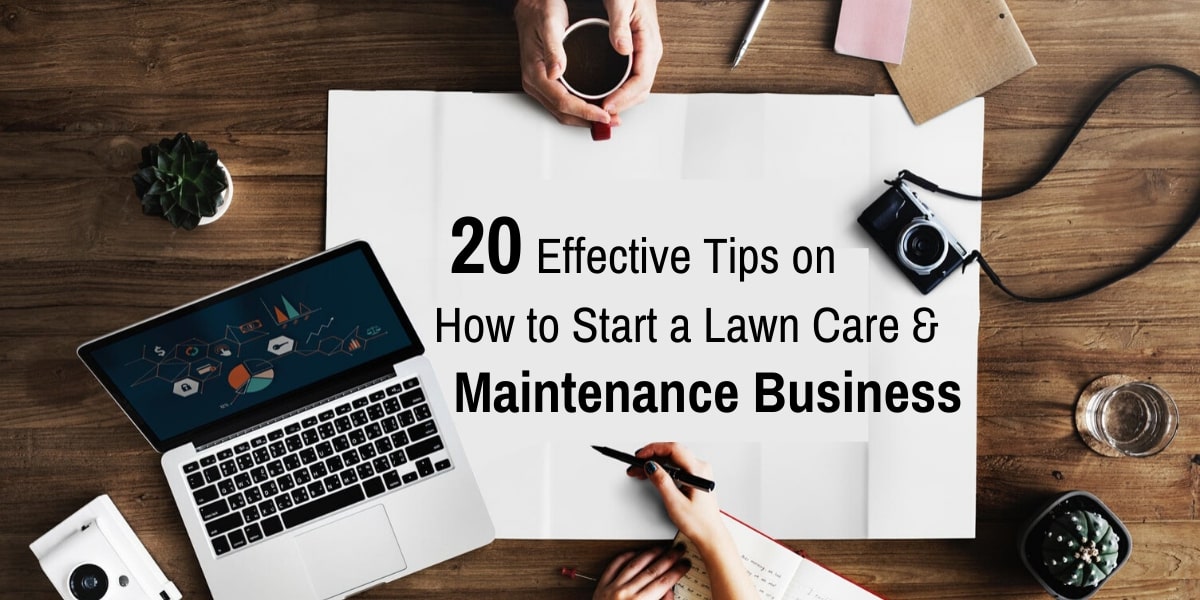 Are you an entrepreneur who has the potential to identify and grab business opportunities?
While a lawn care and maintenance business may sound like something lucrative venture, it is in high demand right now. 
Lawn care and maintenance business is not only about growing plants and trees.
You should own a marketplace solution as it involves careful planning, designing, management, and preservation.  
Today, lawn care is a booming business that is very competitive.
If you feel you have the zeal in you and are willing to start this business, don't wait for anything.
Before starting this diverse business branch, here are few tips on how to start a lawn care business and make it successful:
1) Identify Priority Goals
As a startup, the initial step is to identify what you are planning to accomplish with the new lawn maintenance business. Ask yourself the following questions:
Why do you want to start this business?

Are you planning to work full time or part-time?

How will you manage your team?

How big do you want to grow?

Will you be able to manage taxes, legal, sales, and

marketplace marketing

?

What is different in your business from the already existing competitors?

Are there any mandatory goals?
When you clearly define your goals, it will help you keep your morale high.
It is important that your mission statement should give purpose to your business. 
2) Give a Reality Check
Everything sounds quite appealing, right?
Well, every Eden's Garden has a serpent. Lawn care business has few strategies waiting for you to strike.
To start with, you should have adequate knowledge about mowing, trimming and pruning. This means you have to give some time to learning the basics.
You should be a disciplined self-starter. You also have to be physically fit for handling the rigorous job that has heavy equipment.
In addition to this, you have to be a tech-savvy manager that can administer cash flow, invent advertising and marketing campaigns. 
You will agree that having a successful lawn care business requires a crystal clear marketing plan and marketplace marketing tools.
How will the potential clients be able to find you if they don't hear or read about you anywhere?
From creating professional social media pages to creating a marketplace online, you should take the help of experts.
But before that, make sure you have a list of strategies that you want to tackle. 
3) Know Your Services
Starting a new business as lawn care providers is always exciting as you encounter many doors of opportunities. 
But there is one major mistake that almost every business owner makes that is entering the market too quickly.
Don't be Jack of all trades and master at none. Stick to one thing and reach heights.
Before the kick-start of custom lawn care, sit down and think about what you are passionate about.
If you are unsure about the start, take help from the professionals.
4) Identify Target Audience
Identifying the target audience as you start a small lawn care business, in the beginning, is a part of your mission.
Who do you plan to target? The corporate office lawn maintenance or home lawn care maintenance.
In what areas will you be providing your services? Do you want to be a low price leader like Wal-Mart? Or you plan to go organic like Whole Foods?
Get in Touch With Our Team Now.
Do you know who your potential customers are?
Here is the list:
Those homeowners who don't have a vision, skill or tools to maintain the lawn.

New homeowners who don't have the time to take care of their lawns.

Homeowners who want to improve the curb appeal of their lawn.

Owners who are frequently out of town because of their respective businesses.

Elderly who are unable to take care of the lawn.

Golf course managers who need constant maintenance.

Facility managers having botanical gardens, historic monuments, municipalities.

Government entities, universities, cemeteries, public and green spaces. 
Make sure you have an idea about what your ideal client will look like.
There are companies that help you develop a buyer's persona by providing you a snapshot of your ideal buyer.
Having a buyer persona in green acres lawn service helps in an effective marketing campaign. 
5) Choose Equipment Wisely
You will not enter the battlefield without a gun, right?
Once the goals are developed and you have researched the target market, it is high time you start purchasing tools for your business. 
So, how to begin?
Firstly, have equipment that is going to help you get things done at a faster pace professionally and also require minimum maintenance.
Have an idea about the overall cost of ownership. Only because you are getting a cheaper mower doesn't mean it will be fruitful in the long run.
There may be a possibility that the quality is not as good as per your expectations.
So, how will you be choosing new equipment? The best thing to do is take help from experts and you can leverage the power of the Internet.
Also, consider the guarantee/warranty and customer after-sale services of every equipment before the purchase.
In the beginning, make sure you don't buy absolutely everything as you are a startup company.
Wait for some time until you get a positive cash flow. This is a good way of competing with other lawn service companies.
6) Create Impressive Brand Name and Logo
The brand name of your commercial lawn care company has to be unique and catchy.
This doesn't mean you will take weeks to decide the name.
This business name will be everywhere-on quotes, emails, invoices, trucks, marketing, and advertising. 
Have a logo that is sweet, simple yet appealing. Building a logo will help in brand awareness.
When you place in your company's material, clothing and vehicle decals can help with lead generation and brand awareness in the surrounding. 
It is great when it comes to advertisement. Utilize the free design website like Canva to create one. 
7) Maintain Decorum and Wear Uniform
There is no need to boost your company by wearing anything fancy. The best is to have a uniform that has a company name and logo.
A simple white shirt (with a company logo) and blue jeans would do. Don't forget the cap. 
Make sure your team wears something that you are comfortable working in.
Continuity helps the business look absolutely professional. Especially when the team is small and it stands out.  
8) Understand, Learn & Grow 
You can never improve your business if you are not eager about growing.
We recommend you to take help of online marketplace model.
The team includes a panel of experienced specialists that translate your project into reality.
This will help you in efficiently managing your clients, prospect information, schedule jobs sequentially, collect relevant data and automate billing.
You will be surprised to know that the marketplace strives miles ahead in improving your business workflow.
It allows you to collect data that will help you in making smart business decisions.
Are you getting less for a specific property?

How many jobs per day is the company performing?

Are you able to route more efficiently for saving time and money?
Answering all the aforementioned questions is very important. 
9) Build a Client Base
Now, you should create a marketplace and start building the client base via acquaintances, friends, family, and word of mouth appreciation. 
Know who they are, what type of services they expect.
This will further help you plan and craft the brand, service style and shape your business accordingly.
This will shape your business making it easier for you to provide the best services to potential clients. 
Let's Build Something Awesome Together.
10) Have a Trustworthy Team of Professionals
As the business grows, there is a possibility that you build an experienced and passionate team that helps run your business in a hassle-free manner.
Whether a part-time employee or full-time technician is associated with you for lawn care maintenance service, anyone you hire will have a powerful impact on your business. 
Also, perform a background check before hiring new workers. Many reliable companies solely work on background checks at genuine rates.
Also, ask them to give references. This will give you a clear picture of how reliable an employee is. 
11) Communication and Organize Your Team 
An organized team is at the core of any type of business. You should aim at getting efficient work with high-quality service.
You have to consider what works for your company. Make a schedule in a way that maximizes efficiency and profit. 
As the work takes place in different locations, communication with the workers becomes a challenge. Look for ways to improve internal communication.
This further includes scheduling changes, upsell opportunities, job delays, etc. Always make sure that your complete team is on the same page. 
12) Leverage your Clients 
The best way to expand your business  is by using the word of mouth approach.
Ask your clients to write testimonials or reviews on social media sites.
If they are happy with your services, they will certainly take out some time to write a note and recommend you to their friends.
You will be surprised to know that 82% of the consumers trust online reviews rather than personal recommendations.
This clearly means as soon as your business goes online, ensure that customers start posting good reviews about your services. Having an online eCommerce marketplace is easy.
Follow this approach:
a) Quality reviews matter
Create a strategy that will help you get plenty of reviews. Don't get multiple reviews at the same time. Implement a scalable plan. 
b) Get high-value review content
Ask your customers to post pictures along with the reviews. 4-5star reviews are great but rating with additional comments is the best.
c) Aim loyal customers
Start sending your regular customers a follow-up email once the service is complete.
Notify them about the upcoming offers available. This will have a very good impact on your business. 
Make sure that sites like Google reviews and Angie List have positive reviews about your services. Don't forget to track your activities to see which one is most profitable. 
13) Provide Support 24/7
Connecting with the audience is important. So, make sure you have easy access to email and phone numbers for your lawn service business. 
When you start investing in a domain, you should create a branded email address. It costs you approximately $45 for the email address.
Don't want to be in a custom domain? A normal email will do. The only tip is to make it sound professional.
For example [email protected]
Looking for a free domain route? Be careful about what domain host you use. Gmail looks more reputable than Yahoo and Hotmail.
As an entrepreneur, develop a reputation is the industry as a responsive and caring brand via different channels:
Create a system that tracks customer comments, questions, and complaints.

Respond as quickly as possible to customer concerns.

Go the extra mile to be positive and helpful.

Listen to criticism patiently and work on it.

Know the tactic of resolving public issues in private messages. 
14) Powerful Social Media Presence
Social media platforms are one of the simplest ways to establish a brand and grow the client base.
Make sure you collaborate with a team that updates the content of social media.
With the help of marketplace marketing tools, you can advertise your business as well. 
One thing is for sure, social networks are great for prospecting and gathering the lead intelligence.
It is very easy to get connected with the influences and potential customers on social media e-commerce marketplace platform. 
Marketing your services is always a person to person endeavor. There may be similarities in how the service is promoted.
In this commercial landscape, having a picture-perfect idea about the target audience via the buyer persona and building thought leadership is important.
15) Have a Responsive Website
Having a professional and responsive website that works well on various devices plays a major role in making the business successful.
With a lot of people availing services via prior booking, you must have an online presence.
When there is a lead on the website, direct him to fill out the form or client testimonials.
Some website hosts have free domains. It is your wish to buy or not to buy a branded domain. 
Peer to peer marketplace solution makes sure that your business website says the right things about your business.
Simply having a professional website is not enough. Make sure you have a site that aims directly to your target audience.
The images, colors, and functionality everything has to be carefully considered. 
Another great platform is Google MyBusiness. It is the simplest way for the leads to find your business. This listing is one of the first search results to populate in Google.
This includes the contact information, logo, customer reviews, and service area.
16) Implement Email Marketing
Email marketing is great as mails can be sent to a specific list of clients. Emails should be sent to customers: 
After the service is completed, don't forget to send an invoice.

When you plan to determine client satisfaction.

When you want to update your existing customers about current offers.

When you want to share informational content with customers. 
17) Establish Your Business
Make your lawn maintenance and landscaping business more reputable by registering it with the local government. 
The course of action is directly proportional to the area where the services are being provided.
Also, get commercial insurance for your business and rely on an online marketplace platform. 
18) Pre-plan Business Goals
Whether you are into lawn care business or simply lawn mowing service, you should have long-term business plans from now onwards. Don't think you will plan about this later. 
Planning helps you set and raise the bar, especially for a sustainable business thereby maintaining a work-life balance.
Sometimes people run out of money before paying themselves.
You can increase the amount of paid overtime. The point is, create the right environment for sustainable growth. 
Online marketplace solution will help in giving you an idea about how many more employees you require while keeping track of your overall business.
Eradicate all the loopholes and make sure the business runs smoothly.
Clients help your business grow so investing in them for the long term will pay you.
Have a plan regarding how to expand your lawn services in the next six months and year or two. Start working towards your aim right away. 
19) Have a Solid Pricing Engagement Model
Before providing services to your customers, you need to create a pricing engagement model for your business.
Make sure you provide budget-friendly prices to your customers but don't factor in your overhead, expenses, gas property size, route and competitor's pricing. 
Collaborate with a professional who will go for in-depth market research of your competitors and come up with a great marketing pricing model and plan. 
What will be the ongoing expense for the lawn care & maintenance business?
The expenses of the lawn care maintenance include the labor cost, truck and equipment maintenance and operating cost. A typical monthly expense budget:
Labor – $15/hour (minimum)

Employee Taxes – 7.65%

Internet connection – $50-$100 monthly

Promotional business cards – $75 per monthly

Insurance – $50 to $200 monthly

Truck – $299 monthly

Truck insurance – $100 per month

Gas – $200 monthly

Equipment maintenance – $50 per month
Note: These are average expenses that may vary from place to place. 
Depending on various expenses you have to come up with your pricing policy.
The best advice is to take the help of professionals that can guide you in the right direction.
20) Start a Referral Program
Having a referral program in place means you will be able to pour in more clients. Clients that contact you will have a sense of trust and confidence in your business. 
Understand the referral programs within a marketplace solution as it will help  you to reward your existing customers for bringing new clients to you.
Start giving away discounts, gift cards, and complimentary services. But make sure you don't go in loss.
You can also move a step further by spending some amount to generate referrals.
Have content to see who will be able to generate more referrals while giving them a gift. You can send business cards, posters, stickers, etc.
Get set go: Start working today!
Enough of research, now start working towards your goal.
Don't expect clients to start calling you as soon as you start.
Stop expecting that your lawn care business will suddenly become viral and you will have a queue of clients. 
There is a lot that goes into running any kind of business.
While you are working, make sure you know what the common services your clients are demanding are. 
Keep asking yourself if your company can provide high-quality services by adhering to the standards and guidelines. All of this will help you a lot in your business.  
It's Time to Get Right Help
Marketing cost keeps adding up and every business can't afford huge campaigns.
But you can get a lot of value for the amount that you spend on your business with an online marketplace.
Your business regardless of the size of the budget has an amazing opportunity to grow and reach the objectives. 
Do you have questions like:
How many hours will you be working per week?

What does your ideal client look like?

How to hire qualified and experienced employees?

What will be your profit margins?
It is high time that you  take professional help
Start growing affordably!
Finally, starting a lawn care business shouldn't be difficult.
As long as you keep following the aforementioned lawn care business tips and tricks, you feel it is a lot easier than you ever expected.
The key to success is collaborating with online marketplace builders thereby offering quality customer service and implementing marketing techniques.
Once you get accustomed to working for yourself, you will know how to grow and promote your business.
Talk to Our Experts Now And Give Your Business a Digital Makeover.
THE AUTHOR
Rohit Madaan
I am an enthusiastic internet marketer. I have expertise in PPC, SEO, Social Media, Google Analytics, Google Business Page Optimization, and Content Marketing.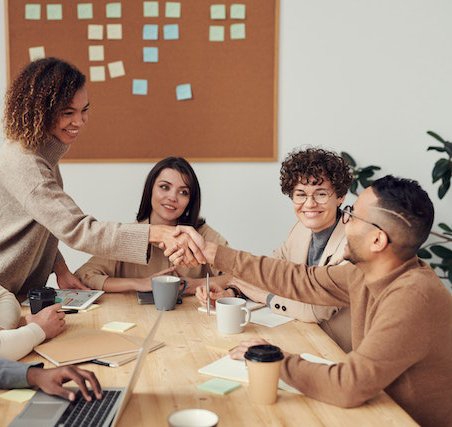 Get ready to digitally transform your business.
Let our team help take your business to the next level. Contact us today to get started on finding the perfect solutions for your business needs.