Learning from Uber Eats to Scale Your On-Demand Delivery Service
August 4, 2021
Harjyot kaur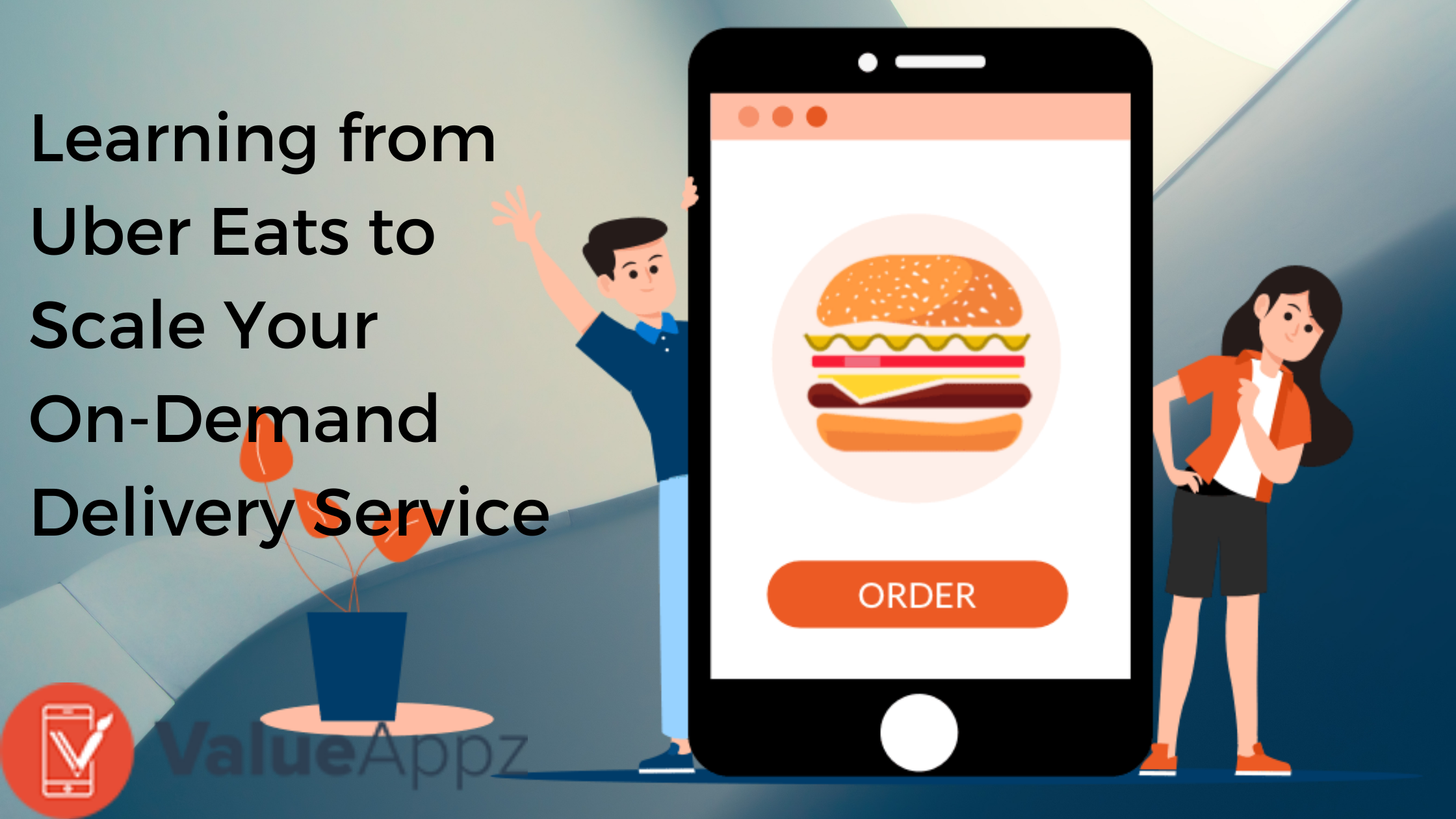 E-commerce has witnessed an unbelievable expansion in the last few years. If you own a restaurant or are trying to set up a business related to food delivery, having a robust application is a must. With the introduction of platform-to-customer and restaurant-to-customer services in the food delivery business, the total revenue of food delivery in the US has increased by 204% in the last five years, from US $8.7 billion in 2015 to the US $26.5 billion. It has been projected that the market revenue of food delivery in the US can go up to US $42 billion in the coming five years. According to Statista, the number of users involved in the food delivery service in the US is estimated to be around 69.9 million in 2024. With such an ever-widening scope of the food delivery sector in e-commerce, it is only profitable to join the bandwagon if you want to establish your own food business.  
Why are food delivery apps on the rise nowadays?
Since the last decade, there have been endless technological innovations that have brought about a change in all sectors of society. These changes have reached the food delivery sector and led to a more advanced and revolutionized food delivery business. Earlier, restaurants offered individual services, and a tiny section of these restaurants had delivery services. Even for those restaurants with delivery services, geographical limitations narrowed their scope of functioning. But with the inception of aggregated food delivery apps like Uber Eats, Door Dash, GrubHub, etc., a fully democratized food delivery system has been established. Even those restaurants without any individual delivery services are listed.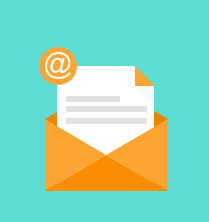 Looking For Food Delivery App Solutions? Get A Free Quote.
Since the outbreak of the COVID-19 pandemic, there has been a whopping increase in the market share of food delivery services across the globe. Food delivery apps were life saviors for people under a lockdown or avoided any physical contact due to the deadly virus. With the revenue of the global food delivery market expected to grow to the US $365 billion by 2030, it is the best time to invest in the food delivery business by creating your food delivery app to test the growth potential of this field.   
How To Make a Food Delivery Clone App
If you have your own food business and want to expand it, the best option is to build a food delivery app. Building a food delivery app is not an easy task. The cost to build an app like Uber can cost US $20,000 – the US $25,000. The amount required to build an app is vast. But how to build an app at the lowest possible cost? The most price and time-effective way are to create a food delivery clone app. A food delivery clone app uses the existing APIs of an app to build a clone app. This is done at an affordable cost and in less time. So, if you are wondering how to build an app like Uber Eats? Uber Eats clone app is the answer.  
Are you creating an Uber Eats clone?
The first step towards building a food delivery clone app is choosing the best model available in the market on which your app will be based. With so many food delivery apps in the market, which app will suit your best purpose? This is where Uber Eats comes into the picture. Uber Eats is one of the most famous food delivery apps in the world. It controls about 29% of the international food delivery market and has 66 million users globally. Uber Eats' market share in the United States is a whopping 24%. 
Uber Eats is a San Francisco-based company that has expanded to 6000 cities in 45 countries. The food delivery company supports around 600,000 restaurants across the world. Uber Eats' gross bookings have increased from $3.1 billion in 2017 to US $30.2 billion in 2020. The company generated $4.8 billion in revenue, showing an approximately 150% growth from the previous year. This is what makes Uber Eats the preferable option for you.  
Next, if you want to gain all the advantages of Uber Eats, you should opt for Uber Eats clone app development from the best food clone app development solutions provider. The food clone development solutions provider will use the existing APIs to successfully build your Uber Eats clone app.  
Get in Touch With Our Team Now.
Lessons to learn from the Uber Eats app.
Suppose you want to expand your food business by creating a food delivery app clone like Uber Eats. In that case, you must learn some essential lessons from the app to understand how it reached the level of popularity it is currently at. Some important insights that you get from the Uber Eats app are – 
1.      Customers prefer products that save as much time as possible: Many new startups and businesses are stuck at the question, "How to create a product that everyone will want?" If you are also questioning this, then know that the answer lies in front of you. In this modern era, the most valuable and scarce asset is time. Consumers want to save as much time as possible, and if you give them a product that will save their time, you will be a hit show. Food delivery services such as UberEats know this perfectly, so its focus is to save consumers time and make their lives more convenient. 
2.      Create new partnerships: Uber Eats has shown us how important it is to make new partners grow and expand. Its operations and marketing roles have helped many newcomers in getting limelight through many promotional offers. The more partners you have, the more your business will grow. 
3.      Take your patch test: Uber Eats started small and slow in Toronto, and only after studying, analyzing real-time data, and fixing bugs and errors, it decided to roll out slowly. This is gradually rolling out process helped the app in customizing city-wise for better performance. 
4.      Give heed to your customers: You create your app for your customers; therefore, you need to listen to their needs and requirements. Many Uber Eats customers complained about the lack of space for customer reviews and feedback, which was very important for other customers on the platform. Uber Eats rightfully acknowledged this and rectified the error. It introduced separate spaces for customer feedback and delivery man's review. 
5.      Be relevant: If you see Uber Eats social media profile, you will notice how active and trendy it is. This is what makes it so suitable today. It knows what is trending and what its customers will enjoy. From a great sense of humor in its social media posts to crazy discounts and delivery surprises – Uber Eats does it all to keep their customers loyal and happy. 
Talk to Our Experts Now And Give Your Business a Digital Makeover.
Architectural and Designing Principles for Online Food Delivery App
Uber Eats is based on a platform-to-customer model in which all restaurants are listed on Uber Eats, and customers can choose from these listed options. The advantage of this model is that those restaurants which do not have individual delivery services are also listed on this platform. When a customer opens the Uber Eats app, all the available restaurant options are visible to estimate how long it can take to deliver the food. 
Uber Eats' main agenda relies on storing data through Kafka and accurately making predictions by the stored data. The data stored is used to estimate the delivery time, show locations, and track the order. The focus is put on timing. The delivery person should reach the restaurant to receive the order on time – not too early or too late to compromise on money from other potential orders. The delivery persons are expected to deliver orders within 30 minutes so that the food is not late or cold.  
Through the ML system in Uber Eats, the travel time history is considered to estimate the travel time for each delivery. All the available and nearby delivery persons are considered. This approach brings together the collected historical data, the estimation of real-time data, and the actual real-time data. With the ML system in place, Uber Eats can easily calculate the estimated time for food preparation based on real-time and near-real-time data. The delivery person is supposed to reach the restaurant as soon as the food is ready. These timings are crucial as these will help in predicting accurately how fast the order will be delivered to us.       
High-Level Design
If you want to create your own Uber Eats clone app, you will have to follow the given steps: – 
Analyze the trends that are dominating the food delivery sector. 

Choose the business model you want to go for – restaurant-to-customers or platform-to-restaurant. 

Identify your potential target base. 

Choose the features that you want in your app. 

You can create a beta version of your clone app to check for any bugs and errors. 

Fix all the bugs and errors.

Launch the final app. 
Functionality and Features to Include in App
It is the set of unique functions and features that have made the Uber Eats app so successful. The app's high success rate and market share make it the best choice for using it in Uber Eats clone app development. Some of the features that you must include in your Uber Eats app are as follows –  
Timesaving

: Your app should aim to save as much time as possible for that you need to collect a lot of data that will help you predict the estimates of delivery timings successfully.  

Multiple Avenues for Generating Revenue

: – With your own Uber Eats clone app, you can generate revenues from various sources – through the delivery charge on each order, income earned through advertising on the app, and share of revenue generated through your restaurant partners.  

Smooth Integration

: – Uber Eats API can be smoothly integrated into the POS system of your clone app. This will help you in listing out all the restaurants and help in managing all the orders.  

Provide Lucrative Offers

: –

 

To make a loyal customer base, you need to provide discounts and seasonal offers to lure your customers. Offering special discounts on registration will attract more new customers.
Uber Eats clone development can be a complicated process. Therefore, its smooth rendition requires a reliable food clone app development solutions provider that will carry out the cloning process hassle-free. A trustworthy developer that provides a solution cost-effectively will help you channel all your energy in the shortest possible time. Once you have decided on a developer, you can check the company's background and engage in discussions regarding all your requirements. 
Let's Build Something Awesome Together.
THE AUTHOR
Harjyot kaur
As a technical content writer my focus is on creating high-quality, engaging, and informative content that simplifies complex technical topics. Throughout my career, I have continuously pursued opportunities for growth and development, refining my skills and expanding my knowledge base.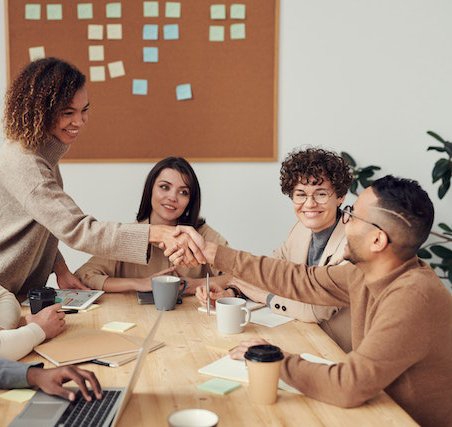 Get ready to digitally transform your business.
Let our team help take your business to the next level. Contact us today to get started on finding the perfect solutions for your business needs.