How Soonicorns Around UberEats Like Business Model Making Big Impact Globally
July 9, 2021
Giandeep Singh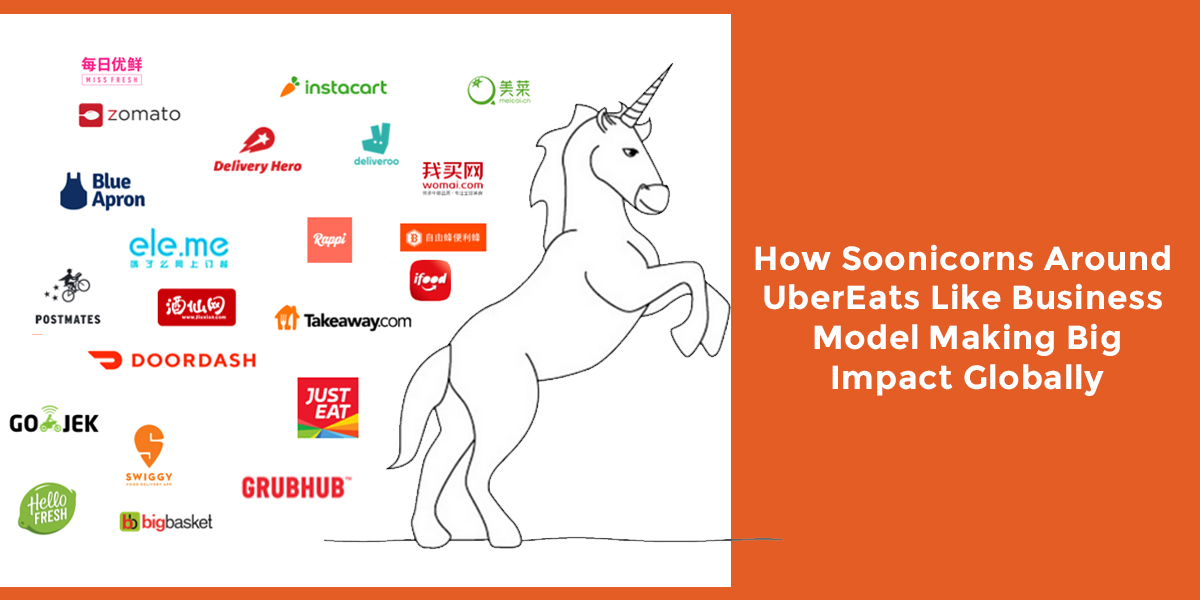 Table of Content
Follow Us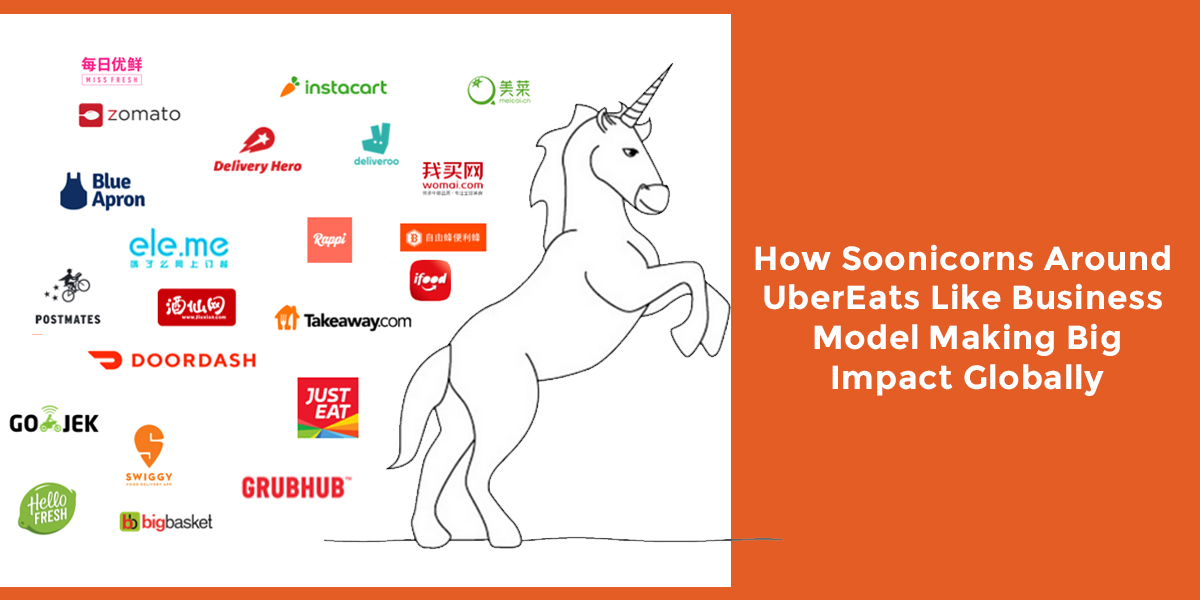 If you are running a restaurant or trying to establish your food delivery business, having a robust mobile application is a must. As per reports, the total value of the mobile food delivery business has been pegged at $38 billion at the end of 2020, and by 2030, it is expected to cross annual revenue levels of $63 billion. So, when such incredible growth prospects are present, you must join this bandwagon and fast-track the growth story of your food business by investing in a feature-rich food delivery mobile application.
How mobile apps have transformed the food industry
While numerous industries have undergone rapid transformation in the last decade due to technological innovations, the changes witnessed in the food delivery business have been nothing short of a revolution. Earlier, food delivery services were offered by individual restaurants and that too within a limited geographic region. This restricted the growth prospects of the business as well as deprive the customers of their favourite delicacies. But with the advent of food delivery apps like Uber Eats, the food delivery business has been truly democratized.
The power has been transferred to the customers' hands, and they are making the most of it. More than 87%, yes you read it right,
more than 87%
of customers have agreed that food delivery services have made their lives easier and
almost 33%
of the customers are willing to pay a higher fee for food delivery. Not only the customers but the restaurants are also reading the rewards of this revolution initiated by food delivery services as almost
60% of restaurant operators
have reported a significant increase in sales by offering delivery options. Moreover, as per reports, customers who place
online orders
with a restaurant are 67% more likely to visit the restaurant for dine-in.
With delivery services pegged to grow at an annual rate of 20% to become a $365 billion industry by 2030, the time is right for you to also explore the growth potential offered by your very own food delivery app.
The best app for your food business
You might be contemplating the cost of app development before making a final decision. Creating a food delivery app from scratch can cost you around $25,000 and might take several months to complete. But could you afford to invest such huge amounts of time and money? If not, then there is a quicker and equally efficient option also available for you in Food Clone App Development. Herein, existing APIs are used for creating equally effective apps and that too at a fraction of cost. 
But with so many food delivery apps available, which app should you refer to for your food delivery app clone? This is where Uber Eats steals the limelight from the competitors. The app has all the features that make the customers use it repeatedly for their food orders. After all, the gross bookings on Uber Eats were $30 billion in 2020, from which the company generated a revenue of $4.8 billion, registering a 150% growth over the previous year. With over 66 million active users, Uber Eats is the largest food delivery service provider with a market share of 29% across 6,000 cities.
So, to build on the benefits offered by the Uber Eats API, you must opt for Uber Eats clone app development from a reliable and trustworthy food delivery clone app solutions provider. 
Soonicorns with Uber Eats like business model making a global impact
Food delivery services have witnessed considerable investments in the last few years. This has allowed several upcoming food delivery start-ups to attain the status of soon to be unicorns or popularly known as 'soonicorns.' These start-ups have captured the attention of leading investors and have generated significant funding to fuel their growth ambitions. The leading soonicorns with Uber Eats like business model are: – 
Cure.Fit

– It is a leading integrated nutrition coaching and fitness training platform based in Bangalore, India, with total funding of $400 million.
Wolt

– A Helinski, Finland based online food ordering platform with hyperlocal delivery services has raised $860 million in total funding. 
Chowbus

– It is an upcoming online platform for food delivery services based in Chicago, United States with a total funding of $70 million to date. 
Kitchen United –

A prominent provider of shared kitchen spaces based out of Los Angeles, United States with a total funding of $50 million. 
Ordermark –

A Los Angeles

based provider of online ordering management systems for restaurants with total funding of US $153 million to date. 
Talk to Our Experts Now And Give Your Business a Digital Makeover.
Benefits of Uber Eats clone app
The above-mentioned soonicorns are just a selected few from the numerous food industry start-ups making it big. With such incredible growth potential on offer, you must also contemplate launching your food clone app and availing of the incredible opportunities on offer. Some of the benefits that you can enjoy by creating an Uber Eats clone app are,
Resource Efficient

: – All the required building blocks for your app are available in the form of existing Uber Eats APIs. This will allow you to create your own

food delivery app clone

in a quick time frame, and that too at a fraction of the cost. 
Multiple revenue streams

: – Creating your own

Uber Eats clone opens up multiple revenue streams for your restaurant or food delivery business. You can earn income through advertising on your app, delivery fee from the customers, and revenue sharing with the restaurants. 
Seamless integration

: –

UberEats API can be seamlessly integrated with your business' POS system, enabling you to manage orders from the customers and create customized menus. With an existing network of couriers available with Uber Eats, your worries regarding logistics are also taken care of. 
How to build an Uber Eats clone?
If you are looking to create your own Uber Eats clone, there are various steps you need to follow.
Identify the upcoming trends in the market. 

Identify the best food delivery model from the two available options, i.e., order only model and order and delivery model. 

Identify your target market. 

Determine the main features of your app. 

Determine the technology stack for your

food clone app

.

Launching a beta version, identification of bugs, making changes based on feedback.

Launching the final version of the app
A complex decision-making process is involved during your Uber Eats clone app development, which might perplex you. Therefore, to enjoy a hassle-free Uber Eats clone app development, you must avail the services of a reliable developer offering food delivery clone app solutions. This will rid you of all the worries surrounding the development of your food clone app and allow you to channelize your energies on other important tasks at hand. 
Before finalizing a developer for your food clone app development, conduct a thorough background check and engage in detailed discussions to determine their suitability for your requirements.
Let's Build Something Awesome Together.
THE AUTHOR
Giandeep Singh
I am a writer and marketing specialist who loves to explore new digital strategies to boost business growth online.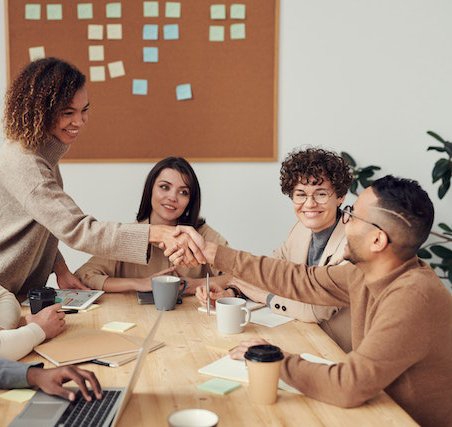 Get ready to digitally transform your business.
Let our team help take your business to the next level. Contact us today to get started on finding the perfect solutions for your business needs.