UberEats Business Model: How Does Uber Eats Make Money?
July 10, 2023
Mohit Yadav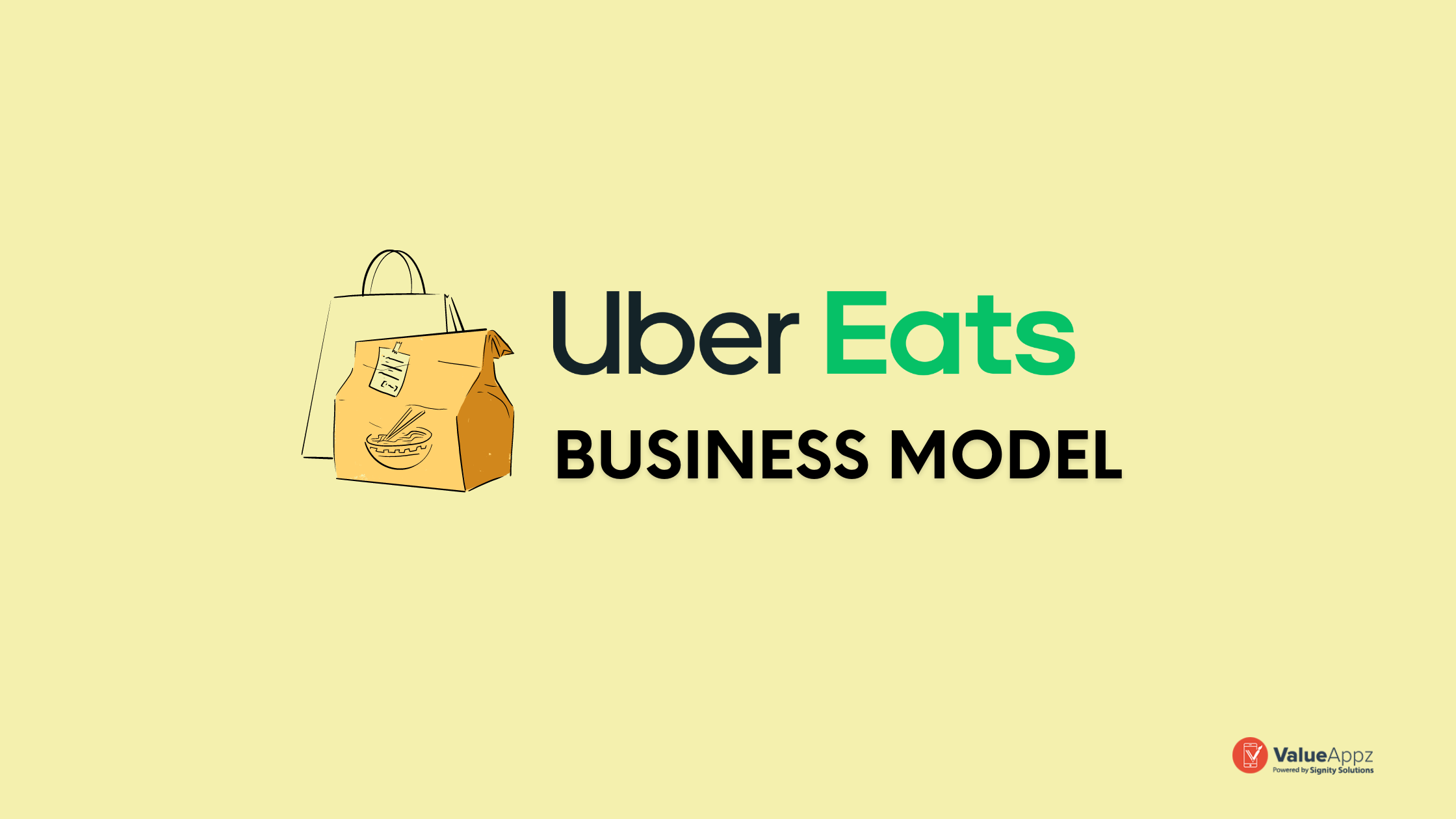 Quick Summary: Learn all about the Uber Eats business model and its revenue generation strategies in this insightful blog post. Explore how Uber Eats leverages its on-demand food delivery service to drive profitability and success in the competitive market.
Did you know that the online food delivery market is expected to reach $192.16 billion by 2025 at a CAGR of 11%, from $126.91 billion in 2021? Food delivery apps have made it easy for food lovers to sit, relax and enjoy their favorite cuisines in their comfort. 
With multiple on-demand food delivery apps entering the market, Uber Eats has acquired its unique place and has the second-largest food delivery service.
If you are considering investing in a food delivery business similar to Uber Eats or planning to launch an Uber Eats clone. It is crucial to have a deep understanding of the company's business model. This blog will comprehensively explain the Uber Eats business model, including its strengths and weaknesses. By reading this, you cannot align with your business goals.
Every business has its strengths and weaknesses; below we have conducted an in-depth SWOT analysis of the Uber Eats business model.
Uber Eats SWOT Analysis
This section explains how Uber Eats overcomes and works with its strengths, weaknesses, opportunities, and threats and stays valid in the market.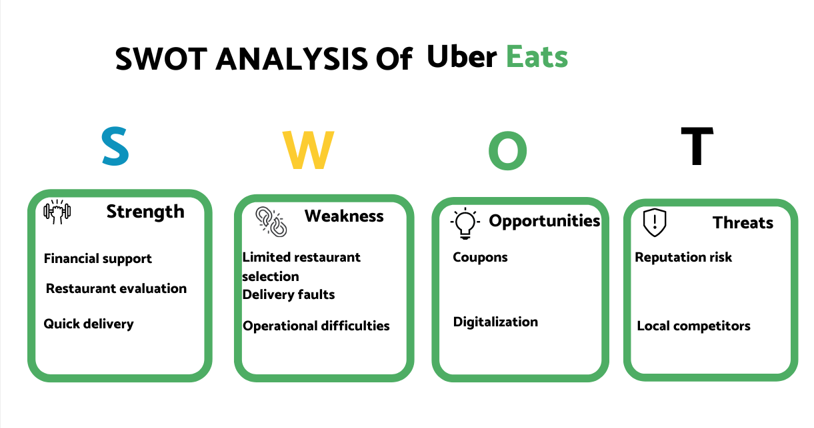 Strengths 
Financial support:

Uber Eats is the parent company of Uber, a well-established company whose current revenue reached

$29.04 billion

. 

Restaurant evaluation:

On the other hand, the app also allows users to understand which restaurants are more likely to deliver food without incurring any issues.

Quick delivery:

Users of Uber Eats can enjoy fast delivery as the food gets delivered in about 30 minutes without any hidden fee charge. 
Weaknesses
Limited restaurant selection:

Uber Eat's users can only select to order from a limited number of local restaurants.

Delivery faults:

As it depends on human resources for deliveries, Uber Eats is at risk of food not being delivered, a bad delivery man, or food being delivered late, which can all lead to poor customer experience.

Operational difficulties:

As the franchises are located in different corners of the city, managing operations becomes a big challenge.
Opportunities 
Coupons:

Uber Eats can always create promotional coupons for its users to increase its sales. The strategy can be done through push notifications or via mail. 

Digitalization:

With everything getting digital, Uber Eats has an excellent opportunity to grow. People now prefer getting food delivered to their location rather than going out.   
Threats
Reputation risk:

There is no doubt that Uber Eats is always at a chance of a bad reputation, which could be due to bad deliverymen or plenty of poor restaurant reviews.

Local competitors:

Regional food ordering and delivery services can be good competition for Uber Eats with its less investment and bolder promotion and marketing campaigns.
At ValueAppz we provide on demand food delivery development services that will help you meets all your business needs. Contact us today to learn more!
Uber Eats Market Share
Since its launch, Uber Eats has been one of the most popular food apps among users. 
It has been a solid competition to DoorDash, in its home market. Though in the first two quarters of 2020, it saw a downfall in its revenue, it now stands at $27,70 million. Further, after 2019, it surpassed its major US competitors like Grubhub, DoorDash, and Postmate.
1. Uber Eats Quarterly Revenue 2018-2022
The image below presents information about the revenue generated by Uber Eats every quarter from the year 2018 to 2022.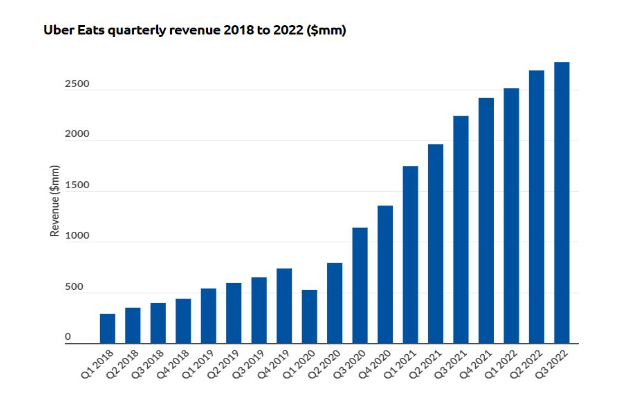 Source: Business Of Apps
2. Uber Eats market share vs. US competitors
The graph showcases Uber Eats vs. its US competitors, where it took over all of them after the year 2019 and has been on the top since then.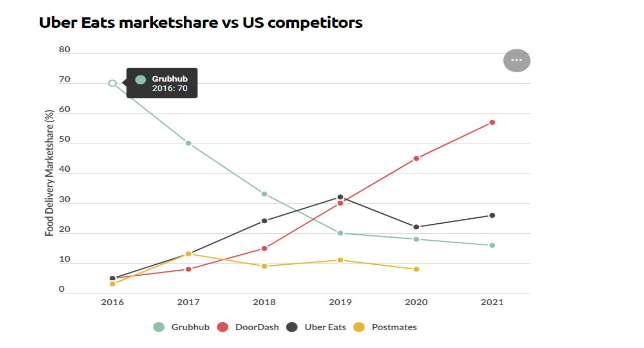 Source: Business Of Apps
Uber Eats Business Model Explained
Uber Eats was launched by Uber in 2014 and has become one of the most popular food delivery apps. It provides a platform for local restaurants and food outlets to connect with customers to deliver food right to their doorstep. Through the app, restaurant owners can easily sell their food, and customers can effortlessly order and receive their meals.
The app is available on both iOS and Android platforms. It enables restaurants and food outlets to display their menus on the app, which users can access and place their orders conveniently. This eliminates the need for waiting in long lines or leaving the comfort of your home to enjoy delicious food.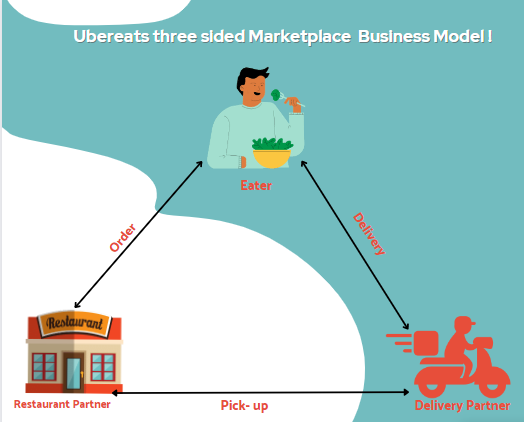 1. Uber Eats and Restaurants
All the restaurants that partner with Uber Eats get better reach due to their virtual presence. They can post their menu and food photos and provide offers to their customers. Restaurants do not have to invest in building expensive apps as they can reach a wider audience through Uber Eats. 
2. Uber Eats and Delivery Guys
The delivery guys are independent professionals whose responsibilities include picking up orders from the food outlets and delivering them to their customers. They get informed about the order through the app and are paid each time they deliver an order. 
3. Uber Eats and End Customers
The end customer is the person who has ordered the food through the app. By creating an account, they get access to all the local restaurants registered on Uber Eats. Once the order has been placed, the users can track it on the app and get an estimated time for delivery.
Are you looking to launch a food delivery app and take your business to new heights? Our recent blog covers the step-by-step process to develop and launch a food delivery app.
USPs of Uber Eats: What Makes It Different
The reason behind the massive growth of Uber Eats is its Unique Selling Proposition for which it is known worldwide. Let's discuss these USPs one by one. 
Fast Food Delivery:

Uber Eats promises deliveries within 30 minutes for all the cities. Hence, the customers do not have to wait long and can quickly enjoy their favorite food.

No Limit to Order:

Don't want the whole meal? No problem. Uber Eats does not follow the concept of minimum orders. A user can order a snack which will include a standard delivery fee.

Worldwide Presence:

Though there are several competitors of Uber Eats, both Uber and Uber Eats have already entered the global market, making it one of the most reliable solutions.

Utilizing Uber's Resources at its Best:

Uber already has cars and drivers, and with its Uber Eats, it can make the best use of it.

Existing customer base:

Uber already has millions of active users on its app. It is one of the most beneficial assets of its parent company- Uber Eats.

State-of-the-art algorithms:

Order management, allocation, and dispatch are the three critical components of the online meal delivery system that are neatly organized by the algorithm created by Uber.

How Does The Uber Eats App Make Money?
With 81 million active users across 6,000 cities, how does Uber Eats make money? Uber Eats' business model combines a multi-sided platform, aggregator, and on-demand. The model includes customers, delivery partners, and restaurant partners.
The top-class food delivery app- Uber Eats has four different revenue streams, these are:
1. Commission on Every Order
As explained by Uber, it charges a 30% commission on orders delivered by Uber drivers, 16% when orders are delivered by restaurant staff, and 6% for pick-up options. It is the primary source of income for Uber Eats as the food outlet has to pay some amount for every order they receive through the app.
2. Delivery Charges
Uber Eats also charges the end users for the food delivered through their platform. The delivery fee is not fixed. The amount is calculated considering multiple factors like location, distance to be traveled, driver availability, and so on. 
Let's take an example to understand better how the Uber Eats app earns from delivery charges.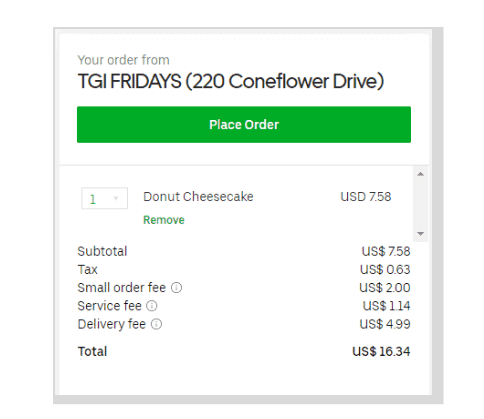 Source: Twitter
The customer paid a total of $15.71 which is a breakdown of $7.58 + $4.99(delivery fee) + $2 (small order fee) + $1.14 (service fee), including tax ($0.63). 

The restaurant received $5.306 for its share of the dish, which is 70% of the total paid by the customer.

The Uber Eats driver earned $11.20 for the delivery, which included a $5.50 fee per visit to the restaurant, $3.50 per drop off, and $2.20 per kilometer.

Uber took 17% of the driver's fee, which was $1.9.

After subtracting the Uber fee, the driver's total earnings were $9.3 + any additional tip.

The total retained by Uber was $15.71 – $5.3 – $9.3 = $1.11.
3. Promotions
When brands wish to promote themselves on the Uber Eats platform, they have to pay special commissions and fees as per the deal. It allows the brands to get better exposure as they can quickly grab the audience's attention, and Uber Eats receives a way to earn money.
4. Surge Pricing
Surge pricing is another contributing factor to Uber Eat's revenue. A surge or busy fee is calculated based on the number of orders in a given area and the availability of drivers. Depending upon the demand, the fee can be as less as 1.13x or as high as 3x the delivery fee.
Uber Eats Cost Structure
For a business to grow well, it is equally important to save its cost wherever possible so that the operations are carried out smoothly without much expense. The strategy of Uber Eats is worth noticing.
Shared marketing expenses:

Due to cross-promotion on the Uber App, where most of its customers come from, Uber Eats now incurs relatively lower marketing and advertising costs.

A shared network of drivers and riders:

The drivers and riders of Uber remove the burden of setting up a delivery network from scratch.

Saving logistics cost:

A well-defined unit economics helps significantly reduce logistics costs by allowing delivery of several food orders along the same route in a single delivery run.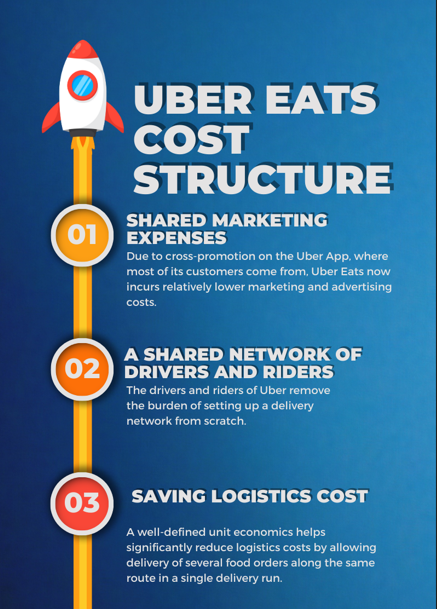 How To Get An App Like Uber Eats?
To create an app like Uber Eats, it is crucial to conduct research on competitors, target audiences, and industry trends. It includes:
Analyzing your competitors' services 

Understanding your target customers 

Identifying key features to include in your app 

Staying up to date with the latest developments in the online food industry 
By answering such questions in detail, you can gain a solid understanding of the market and create a competitive and successful food delivery app. Once such information is gathered, you must select the features you want to include in your food delivery app.
Next, you have to create a good database of restaurants and onboard them to your platform. You can begin with a Minimum Viable Product. 
Once the model has been created, you can opt for services like an in-house team and clone app development services. When you build an in-house team to develop apps like Uber Eats, it can take you between 4-6 months. Moreover, you will have to spend on creating and maintaining the team.
On the other hand, with clone app development services, you can build your on demand food delivery app like Uber Eats within days. It will save you plenty of time and help you from the headache of starting an app from scratch. 
Key Takeaways
Uber Eats employs a commission-based revenue model, charging restaurants a percentage of each order for using their platform.
The platform utilizes surge pricing during peak demand periods to maximize profits.
Uber Eats offers various delivery options, including partnering with drivers, couriers, and even drones, to ensure efficient delivery.
Cross-promotion and partnerships with other brands and services allow Uber Eats to expand its customer base and increase revenue streams.
Constant innovation and the introduction of new features, such as Uber Eats Pass and virtual restaurants, contribute to the platform's sustained growth and profitability.
To Sum Up
The food tech sector is absolutely unstoppable in the coming years due to its current popularity. The competition in the food delivery business can be challenging due to the mark that Uber Eats has already created. It has contributed hugely to its parent company with various milestones that it has achieved. The popularity has led to multiple entrepreneurs wanting to enter the market with the Uber Eats clone app. The reason is simple; the clone app is efficient and cost-effective.
If you are looking for the best on demand food delivery app development services, get in touch today.
Frequently Asked Question:
Q1. How Much will it Cost Me to Get the Uber Eats Clone App?
The approx. cost for Uber Eats clone app is $15,000-$60,000. But, in most of the cases, It depends on the specific requirements of a business. The price can rise if you want to add or customize features. To know the exact price, you can visit our page and get in touch with an expert.
Q2. Why is Uber Eats Unique?
Uber Eats has become popular because one can order anytime and get food delivered within 30 minutes. It is convenient for all users and an affordable way to get food to the doorstep.
Q3. What are the Main Features of Uber Eats?
Some of its main features include deals and promotions, scheduling orders, user interface, real-time delivery tracking, multiple payment options, and search filters to help users quickly find specific food and restaurants. 
Q4. What is the Valuation of Uber Eats?
As of 2021, Uber Eats generated $8.3 billion in revenue. 
Q5. How Much does a Customer Spend on Average on Uber Eats?
As per Slice Intelligence, the average annual spend per consumer on Uber Eats is $220.37.

THE AUTHOR
Mohit Yadav
As an expert in Digital Marketing, I always look forward to keeping up with the latest trends and customers' changing demands. Hence, I focus on content that updates the readers in-depth about the industry.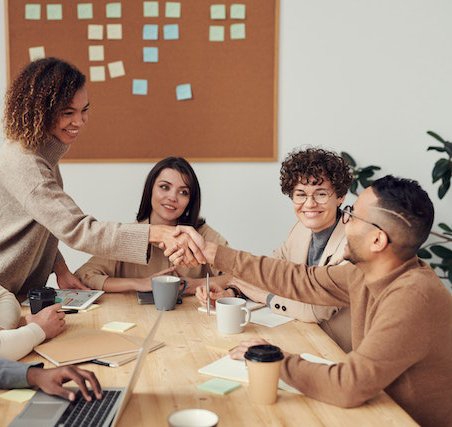 Get ready to digitally transform your business.
Let our team help take your business to the next level. Contact us today to get started on finding the perfect solutions for your business needs.