50 Best Marketing Strategies for Beauty Salon Business Growth
January 24, 2020
Rohit Madaan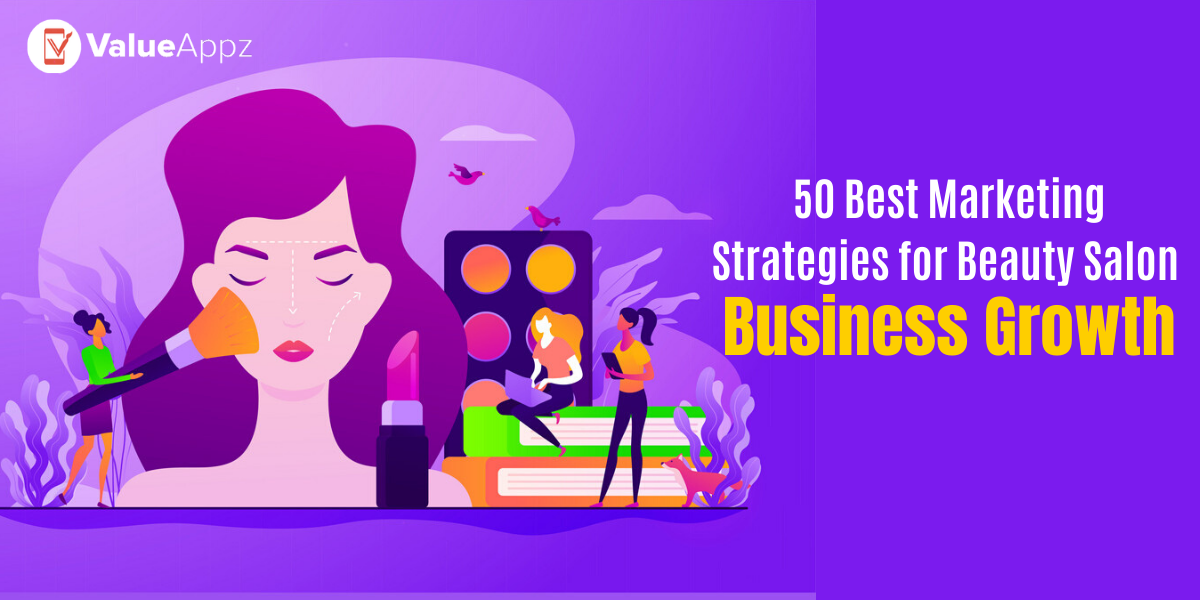 Starting a salon business might seem like a piece of cake. However, establishing a salon and ensuring it is up and running takes a lot of effort.
Although at the commencement of the salon, there are high chances of getting a huge influx of customers.
But it requires proper planning and salon marketing strategies to maintain that customer flow.
Salon marketing strategies vary depending on the
type of salon,

location of the salon,

target customers, and

the types of on-demand beauty services offered by the salon.
Optimal beauty salon marketing can be the game-changer for getting high sales profit. 
The base strategy would be to try attracting more and more clients and increase customer flow. There are different ways to advertise for salon businesses.
Such as using the online marketplace platform, employ a salon loyalty program, or use a mobile app for beauty salon.
Here are 50 salon marketing strategies to achieve steady growth in the beauty salon business:
1.
Dedicated Business Website
Having an online presence is particularly important these days due to the increasing use of the internet that has given birth to convenience dependent society.
A website showcasing the services offered by a salon business and providing a way to pre-book the appointments would make it easier for customers to approach and hire the beauty services of that salon. 
The information provided on the website lets customers get a clear idea about the services offered by the salon along with the price of each service, discount coupons, and other offers available exclusively on the website.
2.
Salon Add-on Services
Along with the regular services provided, give some additional offers for the customers that would be available for an additional fee.
These can range from add-ons to the facial or extra-nourishing treatment for the hair along with the hair coloring. 
3

.
Set Up the Salon at a Well-known Central Location 
In the city, especially at the most happening places, the amount of customers coming in every day is higher than when the salon is located on the outskirts and not in a densely populated area.
The commercial areas in the city are the most appropriate choice for the location of the salons.
4. Keep in Touch with Regular Customers
Having a list of regular customers along with their mail id is crucial to make them aware of the special offers and sale.
A salon business can use email to apprise customers about the exclusive offers that are available only for regular customers.
It is important to stay in touch with customers to make them feel special. 
Get in touch with our team now.
 5. Membership Plans
Offering membership plans, much like the ones that gyms usually offer, makes the salon services cost-effective for customers. Besides, it would also inspire customers to use the services offered by a salon more frequently.
The membership plan strategy is among the popular and successful hair salon advertising examples.
 6. Customer Service 
Customer service helpline is important to resolve any queries or troubles that customers might face while using the on-demand services of a salon.
The significance of customer service becomes even more when the salon is offering its on-demand beauty services through website or mobile application. 
 7. SMS Marketing
Nowadays, most people carry their phones with them all the time, so utilizing SMS marketing to deliver beauty salon promotional offers to customers is a great idea. Moreover, SMS marketing allows a salon business to send customized messages to different customer groups, which is very helpful when it comes to targeted marketing.
 8.Online Booking of Beauty Services
The salon online appointment booking feature is handy for a working person to schedule their downtime, which has become the norm in the active hustling lifestyle most people follow. However, a salon business either needs a dedicated website or a mobile app to offer online booking to its customers.
 9. Quickly Adapt to New Trends
The frequent changes in the fashion industry are responsible for the arrival of new trends. So, it's crucial to stay up-to-date and upgrade services that are in line with the latest trends.
10.Create New Trends 
Once the salon business of an individual becomes well-established, he/she must focus on creating new trends that are unique to the salon and, at the same time, satisfy the customers. These trendy unique salon service ideas can be posted on social media to gain more attention to the prospects.
11.

Hire Skilled Employees
No number of bells and whistles can make up for the terrible services and the bad behavior of the employees at a salon.
So, as a salon owner, you need to focus on hiring either trained professionals or individuals having a professional degree in the field or at least prepare the employees by providing them guidance from a professional stylist.
If a stylist is promising at his/her job, then customers will automatically start recommending your on-demand beauty services to their friends and acquittances.
12. Have a

"

Digital Salon App

"
Appointments, prices, availability, staff info, and everything else that a customer would need to know before visiting a salon should be available at their fingertips.
Mobile apps are a great way to keep track of their appointments or for booking one. It's also advantageous because apps let users be notified of offers or discounts exclusive to them.
Salon scheduling apps are a must-have for anyone trying to grow an established salon business.
13.Referral Programs 
The referral program is among the most effective salon advertising ideas and is an effective way to bring in new customers.
Apart from just getting new customers, there's the added benefit of having the old customer feeling more comfortable with the salon.
They could be given a reward, and it would motivate them to visit again with new customers. 
14.Introduce Seasonal Offers
There are many festivals throughout the year when there's an increase in the number of people hitting salons for getting a new hairdo or a stylist, like Halloween or New Year.
It is essential to have competent personnel who can meet the ever-changing demands of the customers, especially during festive seasons.
If the customer's needs are, then there is a good chance, they might reach out to your salon business the next time.
Additionally, you should give special offers during the festive season, which is among the effective salon advertising ideas to attract and gain new customers.   
15.Salon Atmosphere
The interior design and environment set the tone of the space, and it also plays a vital role in how the clients feel in the salon.
It is essential to provide a calming, peaceful environment for the customers to relax and unwind in the salon receiving services to treat themselves with after a long tiring day or week. 
16.Brand Recognition (Logo)
Having a classy logo that can help a business to enhance its brand recognition is an integral part of salon marketing strategies.
The more people are familiar with your brand/company, the more chances there is to gain new customers.
Making people familiar with your brand makes it easier to form a subculture or to follow around your company.
Gucci, Nike, and Adidas are great examples of companies having fans that endorse their products and stay loyal to them.
17.Limited Free Trials 
Provide a limited amount of free services for first-timers so that they get to try out different services that they might typically not get for themselves.
The customers often like the services and try them out later on even without the free trial. 
18.Expertise in a Specific Field
When introducing the salon, it is recommended not to dabble in a lot of different services but instead, focus on one service area to achieve expertise in that service.
Customers will recognize the business for being good at that particular service. The specific area of expertise can be different for different on-demand salon businesses; it can be either hair, nails, or skin. 
19.Build a Reputation
People talk about their salon experiences to their friends, coworkers, etc. Word of mouth is an excellent salon promotion idea with impressive results.
When people notice the difference in the appearance of a person, they're bound to ask them the details. A job well done is its reward since it brings about people that talk about it and thereby increasing popularity.
20.Preserve Good Employees 
Having a mutual relationship with the employees is rewarding in the long run.
Provide the employees with discounts on the services provided in the salon along with other benefits for long-term employees like medical insurance, paid maternity leaves, etc.
These benefits would make the employees happy to work there and even recommend the place to their friends and loved ones.
21.Repay Customers for Their Loyalty 
If a customer stays loyal for a long time, then it is more than fair to celebrate it. Giving them a free service, a gift card, or anything that would make an excellent gift is a kind gesture that your company values loyal customers.
Even providing them with a free hair wash or some free product samples goes a long way. Being a salon business owner, it's a great idea to offer salon loyalty programs for better customer retention.   
22.Establish a Company on Good Reviews
Remind your customers to leave a helpful review if they were happy.
That is necessary to let people who check ratings and reviews to know how satisfactory a place is and make more people ready to come to your salon without asking for a second opinion.
Additionally, if your salon business has an online business, then you should display customer reviews on your website or digital salon app.
These reviews will help prospects know the quality of your on-demand beauty services and your business' reputation.
23.Selfie/ Photoshoot Backdrops
Give the term picture-perfect hair an entirely new meaning by providing beautiful backdrops for people to take pictures after the gorgeous hair coloring session or clarifying facial.
Talk to our experts now and give your business a digital makeover.
It is an effortless way to become popular with a signature backdrop or photoshoot location.
24.Reward People who Tag Your Company on their Social Media Posts 
Invent new popular hashtags, trending, and let people post with the tag of your company to harness the full advertising potential of social media.
Announce contests and give rewards for your business' most liked picture with a particular hashtag.
By utilizing social media, you can promote your on-demand salon services and, at the same time, connect with your customers and get feedback from them. 
25. Make the Wait Interesting
Providing the user with magazines, newspapers, or books to choose from are the right tactics to keep them engaged with the salon's surroundings and make it convenient for them to kill time.
Also, a good suggestion would be to place charging sockets near the seating area with different charging adapters.
26

.

Uber for Beauty 
Uber for beauty, doorstep services are becoming widespread by the day.
Showing up at a place of their convenience is a definite way to get closer to the customer, showing that your company is dependable for the job and is always available for service.
27.Guaranteed Satisfaction or Discount
Customer satisfaction should be kept on top priority since it is the essential thing that will help your salon business to thrive.
It is okay to lose a few bucks than to lose a customer and earn negative reviews from them that will spoil your business reputation.
Remember that you're trying to grow a business and not running a well-established MNC.
In today's digital era, you can develop a salon scheduling app for your business that will make it easy for you to achieve better customer satisfaction.
28. Offer Polite Compliments on their New Look
People like compliments, especially when they're trying to look good.
An occasional one-word appreciation, an awed expression, looking impressed are a few points to while providing them with the requested service are examples of making the customer feel nice based on what service they're getting. 
29.Attract/Befriend Younger Customers and Kids
Making yourself approachable to younger customers will encourage them to be more excited about their next visit to your salon or hiring your on-demand beauty services. Since they're young, it's easy to please them.
Research about popular video games, mobile games, cartoons, and toy collections, so there's always something to talk about to them and keep them happy.
30.Have a Pleasant Smelling Salon 
When perceiving how one feels in a space, all of the senses come into play.
So to create a calm and relaxing space for the client, diffuse some lavender or sandalwood fragrances into the air.
These refreshing and relaxing aromas can affect an individual's mood so much that they come back to the same place again and again.
31.Target a Group of Friends
It is smart to befriend a circle of friends that come in a group of two or more.
They are more likely to stop by often enough that it becomes a regular place that they visit every few weeks or so.
It is also advisable to let the same employee attend them every time they visit to improve customer relationships with the staff.
32.Free wifi 
This is an ingenious way to get people satisfied with their visit to your salon.
A decent wifi connection can go a long way to creating a happy customer. A lot of restaurants have free wifi to make the customers' waiting time quite entertaining and also put them in a good mood.
However, if you are rendering on-demand beauty services through a digital salon app, you might neglect this marketing strategy.
33.Vending Machine
Although it might seem like an investment to be considered, this is a great way to make people's visit a little bit more fun.
It attracts kids and adults alike while making their stay at the salon a bit more enjoyable.
It would also provide sustenance until the person leaves the salon, which might take a few hours, depending on the service.
34.Build an On-Demand Beauty App
If the app presets available are not sufficient enough, then you can consider hiring app developers to create an on-demand salon app that satisfies your business' requirements and provides customers an easy way to reach for your services.
They can also develop the app in such a way that it directly links with the salon's calendar and make it easy for customers to book their appointments.
35.Sponsor Beauty/Fashion Bloggers
Beauty bloggers have a lot of following on social media and have a broad reach, so sponsoring them to endorse the salon is one of the most effective salon marketing strategies available.
They would get a free service done on them, and they would talk about it on their platform and also provide a discount for their followers.
36. Bring in Experts to Provide an Effective Salon Marketing Plan
Sometimes there is only so much that one can learn from books, articles, and even the internet.
Turning to an expert on marketing would be the right decision when confused about what is the right salon marketing plan for the brand.
37. Provide Gift Cards
Providing people with options of buying gift cards that are worth a certain amount or service.
Gift Cards act as an excellent way for customers to gift a beauty salon treatment to their loved ones.
Also, this will help you get new customers for your business, and by ensuring good customer experience, you can make them your regular customers.
38.Blogging 
Maintaining a daily or weekly blog on your on-demand salon business website will attract customers to your website.
Moreover, you can provide the latest information regarding the trends in the beauty industry to customers through blogs.
By featuring and updating your business website with new blogs, customers would love to stay on your website, and the chances of individuals booking beauty services from your site would also increase. 
39

.

Build a Marketplace

 
Partnerships with local businesses is a great salon promotion idea. As it is an incredible way to develop a symbiotic relationship with others and provides more marketplace solutions.
You can also develop a marketplace app for beauty services, which will allow other salon businesses to offer beauty services to customers through a common platform owned by you.
40.Community Tab
Create a panel for the members and regular customers to provide their suggestions and feedback on the services offered in the salon.
This helps form a community of people, and it also helps the salon figure out their weaknesses and improves on it in the future.
41.SEO Optimizing
Purchase an appropriate domain for your salon business' website as this will make it easy for the clients to search for your salon online.
Also, keep in mind that you also need to do the SEO (search engine optimization) of your website, which will allow your business to rank higher in the result pages of search engines like Google.
SEO is a part of digital marketing and acts as an essential aspect of the overall marketing plan of beauty salon businesses. 
42.Community Charity 
Donate a certain amount of money earned from the services to any local charities and, likewise, enable the customers to do so by providing a donation dropbox near the checkout line.
Doing charity work can also help your business to become visible to more prospective customers.
43.Online Directories
Apart from using social media for marketing your on-demand salon, try to register on several different online lists that indirectly recommends the services provided in the salon according to the customer's needs. Some of these are just dial, Facebook, yelp, etc.
44.Reward Regular Customers
Businesses that reward their regular customers have a much higher customer retention rate.
To make customers come back and have a prolonged relationship with the business, you should offer generous rewards to customers for their loyalty. The rewards can be in the form of discounts, coupons for the products/services available at the salon, etc.
Bear in mind that offering rewards to regular customers is one of the best salon marketing plans.
45.Television Advertising 
Using old school salon marketing strategies like television ads are still practical due to the number of people again using it.
However, don't just stick to the cable or dish providers. Rather venture into online streaming platforms that most people watch on their TVs like Netflix, Amazon Prime, etc.
46.Contests and Prizes
Conducting several games and using the appropriate hashtag mentioning the salon would get their next service for free at the salon.
These contests motivate people to post about the salon and create more awareness amongst their followers. 
47.Online Review Administration
Provide online AI chatbots to manage the reviews given by the customers online.
The bots would reply to the statements, compile the data to quickly report in the next meeting at the salon.
So that they can improve with the customer suggestions. By having a mobile app, you can allow customers to accomplish online salon appointment booking. Also, you can review your beauty services directly through the app.
48. Social Media Fame
With the help of social media platforms like Instagram, Facebook, and Twitter, a business can boost brand presence.
And establish a channel for interacting with customers. Creative photo and video posts illustrating the products and services can significantly increase the curiosity of the customers.
This can increase the influx of customers who want to try out the product and service of the business. 
 49.Discounts and Limited-time Offer Throughout the Year
Apart from the usual discounts that your on-demand salon business is offering to customers on special occasions.
You can also try to give some other discounts at random times throughout the year.
This randomness would make it seem like a limited period offer and consequently uniquely appealing to the customers.
50.Endorse the Next Local Fashion Show 
Networking is the most powerful way of marketing in the beauty industry.
So using the opportunities available locally. And offering them the services provided by the salon in exchange for publicizing at the event; is a great way to get the brand out there.
Several marketing strategies will help your salon business to grow. However, you should know that it is not necessary to follow all the strategies above simultaneously.
You can opt for marketing strategies depending kind of salon business. Such as your business is about on-demand beauty services, an online marketplace platform for salons, or a physical beauty salon.
If you are a beauty salon owner, you need to understand the important role of the internet in today's market.
For the faster growth of your salon business, make sure that your on-demand business app or online marketplace works seamlessly.
And deliver the best experience to your customers. For that, you can contact a reputed IT company that offers dedicated on-demand app solutions for salon businesses. 
Talk to our experts for Salon Beauty Clone App.
THE AUTHOR
Rohit Madaan
I am an enthusiastic internet marketer. I have expertise in PPC, SEO, Social Media, Google Analytics, Google Business Page Optimization, and Content Marketing.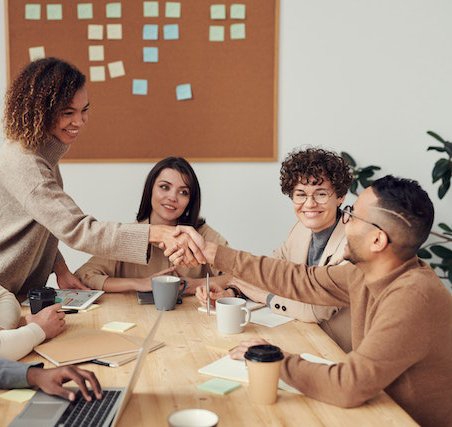 Get ready to digitally transform your business.
Let our team help take your business to the next level. Contact us today to get started on finding the perfect solutions for your business needs.