Win Millennial Customers With On-Demand App like GrubHub
April 29, 2021
Rohit Madaan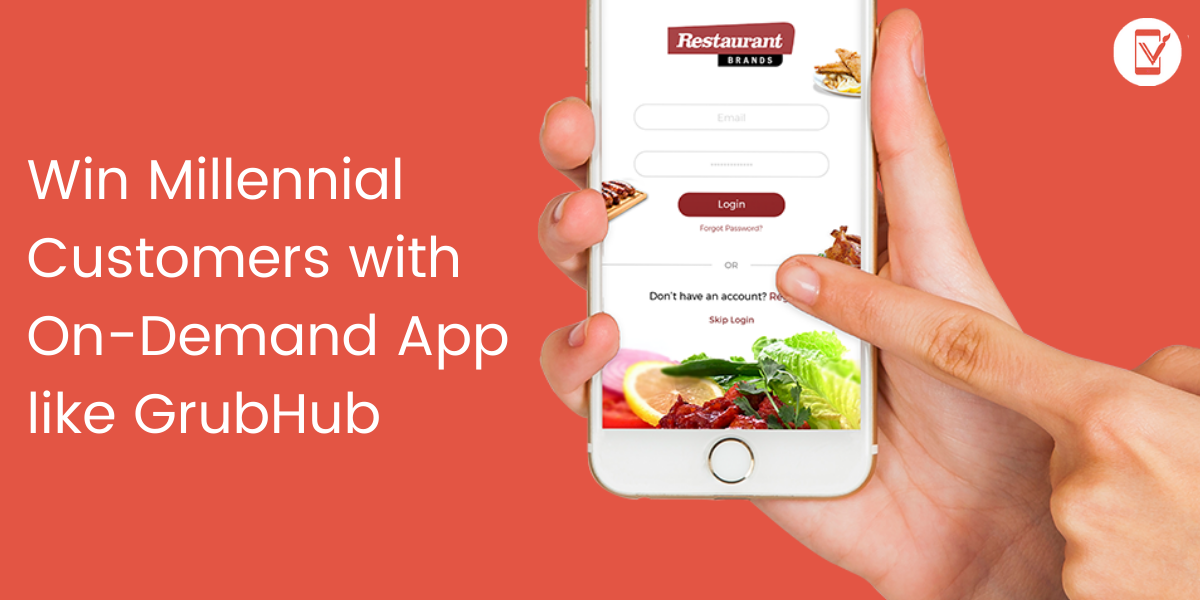 We all crave that perfect slice of pizza while working from home. What's better than getting to eat your favorite sweet dish to curb your sweet cravings even at midnight? With technological advancements, almost every business has stepped into the world of the internet.
There is no doubt in saying that even the food delivery channels could not afford to leave behind. On-demand food delivery applications offer two things these days- Comfort and Food. Such applications are GrubHub, Zomato, Postmates, and UberEats.
By establishing a simple process of ordering food, and not restricting it to a single cuisine. The food industry has flourished drastically. Now, looking at everything around, we think investing in the food marketplace is not a bad idea!
So, before getting an application for your business, glance through the already running on-demand applications in the market. There are several types of food-delivery applications available in the marketplace. Let's now take a look at them.
Understanding the Types of On-Demand Food Delivery Models
Walk with us and explore which platform is the most feasible option to create a food delivery app. There are three basic models that you can consider before starting up with the development process. They are:
Restaurant-based Food Delivery Model:

As the name suggests, this model allows the restaurants to have their own food-delivery application. The mobile application of Starbucks is a perfect example of this model.
The Aggregator Model:

This model is for the businesses out there! They develop software to bring both the restaurant and the customers to a single platform. The app developed under this model allows the customer to order food. But, it is a little different for the restaurants. As they have to complete the orders with delivery support from the app's creators.
The Logistic Support Model:

In this model, the app creators provide delivery support to the restaurants. You can track the process from delivery executive to delivery routes using the app.  The users will also have the option of selecting their food items and placing the final order. They can also track the exact status of their order without worrying about anything. 
So, before deciding to take a step ahead in creating a GrubHub clone app, here's what you need to know about the company:
Get in touch with our team now.
GrubHub – One of the Best Food Delivery Apps
GrubHub is an on-demand food delivery platform. The company delivers food from the restaurant to your doorsteps. The idea is to provide ease to both the customer and the restaurant with food deliveries.
GrubHub was established by two developers in around 2004. Later on, a well-known company like Seamless took over the app. The company is headquartered in Chicago. The company is serving in several locations and is working in sync with various diners, local cafes, and restaurants.
 Facts and Statistics of GrubHub
The company's application is available to extend across over 1700 cities in the US and the UK.

There are around 95,000 restaurants partnered on GrubHub.

GrubHub has a user base of 14 million active restaurants, diner, and more.

There are

457,300 daily orders

placed using this on-demand food delivery app. 

The revenue of the company grew from USD 60.61 to USD 493.33 (from 2011 to 2016).
How to Make an On-Demand Food Delivery Application?
To stand out in the overcrowded market, you have to plan and implement things smartly. Yes, it means that you do need to fight for your presence to market your service. Here, to help you to stand out, you have to plan and execute things smartly. To do so, you first need to understand the obstacles you may come across, and they are:
No idea about your target audience is.

Lack of information about the versions of the app you need.

Less understanding about the features that your food delivery app should have.

You don't know how to connect with the restaurants for food delivery services.

Your dashboard lacks the required features to manage your services, employees, restaurants, and inventories.
Well, the fact here is that! You cannot start your food delivery business with just an assumption like – everyone is a foodie. Going ahead of the competition can be daunting. To have a strong foothold in this industry, you will have to work hard to overcome these hurdles and start afresh.
No. No… that won't be easy!!
All you need to do is to be patient and read on to work through it!
Getting to the Right Audience
Providing a considerable end-user experience is way beyond tasty meals. However, this should not be your only unique selling point. Here, you have to understand that your business is different. To stand out, you need to add features that are beneficial for your customers. You can always curate the menu of your on-demand delivery app to make it a little more appealing.
To do so, you need to define your target audience first. Categorize your audience and define separate zones as per their requirements or lifestyle. For example, the requirements of a busy professional can be different than a college student. So, as we suggested above- categorize them and target them accordingly!
If you have the USP to deliver food in a little time, you have to target the busy professionals who value their time. Though, you can always improvise your app along with your idea according to your needs. GrubHub has the idea to deliver a wide selection of dishes.
But, on-demand food delivery applications such as GrubHub, have the USPs of delivering anything. Shh.. they are not just limited to the food! Check out this post for some more tips on making your food delivery app successful.
Click for Free Consultation
What do you Need to Start an on-Demand Food Delivery App like Grubhub?
To create an effective on-demand food delivery app that falls under the aggregator model, you must have the following deliverables, executed in the right manner. They are as follows;
Never complicate your ideas. Instead, think of making the process simpler for everyone. Make it user-friendly as we call it! Remember users love things that are easy to use and clutter-free. They want to have everything in a single tap and hassle-free.
Your users want to browse through different restaurants using various search parameters. Secondly, there must be a detailed as well as an easy-to-use database for managing available orders. You can also use the GPS integration that defines the live location and delivery status. You being the business owner, need to check the list of deliverables and customer contacts to create the entire loop.
In case any part of the process is not followed, you might not get the desired outcomes. Do not panic!! 
We are all here for you to transform your idea and turn it into reality. Let's dig a little more into the process of creating an app like GrubHub. 
Food Delivery App like Grubhub: The Making
Let's take a look at every development stage:
1. Business or Market Analysis
This stage of the process generally takes around 2 to 3 weeks. Market analysis can help you to look for solutions in terms of the problems you may come across. For instance, in the on-demand food delivery application, you need to discuss a catalog of the products, place an order, pay for the same, and track the order.
2. App Planning
It is one of the most common and initial stages of on-demand food delivery application development. Make sure to plan the process of the app, keeping both your tech team and customers in mind. This stage has a time of 2 to 4 weeks.
3. Design & Pre-Development Process
This stage comprises of multiple stages and they are:
UX Designs:

This stage helps the designers decide how the user interface will perform and what features or buttons to be added for an enhanced user experience.  A good UX application is something your customer can easily connect with. This stage consists of 2 to 3 weeks.

UI  Designs:

This stage is all about creating a presentation. Here, both the designers work in sync. The UX designers work to make a user-friendly app, and UI designers work on the feel & look of the application. This stage of development takes around 3 to 4 weeks.
4. The Development
This stage also consists of two different stages:
Front-end Development:

This stage takes around 6 to 8 weeks. It works in sync with the app server and the database. For service-based applications, all data is stored in the back-end server. 

Back-end Development:

Well, this stage involves managing and organizing the data collected from the back-end servers. It takes around 6 to 8 weeks.
5. The Testing Stage
Now here comes the final prep stage. This indeed is an important one, as you have you identify and fix all the bugs in the application. Testing may take around a week and you must do that before publishing your application.
6. The Final Stage
Once the app is tested and launched, you need to observe how the app is doing for 2 long weeks. It is to make sure that it works properly and meets the needs of your customers accordingly.  
How to Make Money Through On-Demand Food-Delivery App?
There are various types of methods through which you can make money using your on-demand restaurant application. But the most common ways are as follows:
1. Peak Hour Surge
An on-demand delivery app can help you to make cash by hiking the delivery charges during peak times. You can limit the delivery of a few items to some locations during these hours. And you can charge the customers to pay a little extra for the requests &  the fulfill the orders at these places. UberEats is a perfect example of an application that uses this model.
2. Delivery Fees
The on-demand food delivery app makes revenue from delivering foods. Especially if the restaurant does not have a delivery team of executives. Delivery fees account for a considerable chunk of what a freight application makes. The delivery fees can be a percentage of the food cost with a fixed rate for various locations.
3. Establishing the Online Marketing Campaigns
Here, you need to think a little out of the box and focus on developing an app where the customers log in to order food. This helps you to fetch the contact details of your customer. Further, you can market your app by sending regular email campaigns about the limited-time discounts or offers, newly added restaurants, and promotions. The online campaigns can help yield more sales with higher commission margins and various delivery fees through the application.
4. Online and Offline Advertisements
For an additional cost, the diners can also get advertising through the app. Such ads can be displayed anywhere in the app for a specific length of time. You can also go for print adverts on the food packaging so that customers get to see it. Offline advertisements may also include posters and pamphlets. You can send them along with the meals. Accordingly, the on-demand delivery app makes money by charging the restaurants for such campaigns. 
Talk to our experts. For Clone App Development
Conclusion
To cut this short – you must start with planning your app development wisely. You can hire staff, contact restaurants, market, and develop the on-demand food delivery app correctly. Always look for the scope by observing the local market and customers around you.
Once, you are ready, talk with your development company to discuss the idea and conduct a one-on-one brainstorming session. Start by promoting your app much before its launch on various social media platforms. This will help you establish trust and showcase your USPs to the right audience. It is the best way to retain the users. 
We believe that you now understood the nuts and bolts of building an app like Grubhub. So, are you ready to get started? If yes, get a free consultation now from our experts.
THE AUTHOR
Rohit Madaan
I am an enthusiastic internet marketer. I have expertise in PPC, SEO, Social Media, Google Analytics, Google Business Page Optimization, and Content Marketing.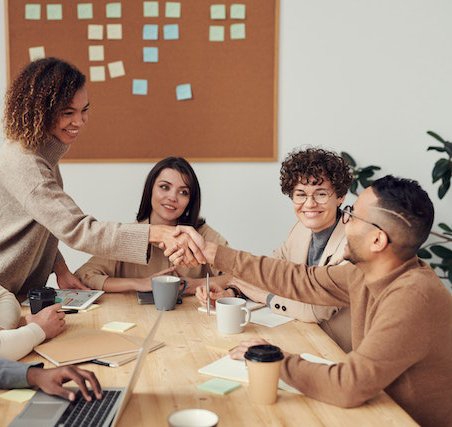 Get ready to digitally transform your business.
Let our team help take your business to the next level. Contact us today to get started on finding the perfect solutions for your business needs.