13 Best Grocery Delivery Apps in 2023
June 13, 2023
Saryu Pathania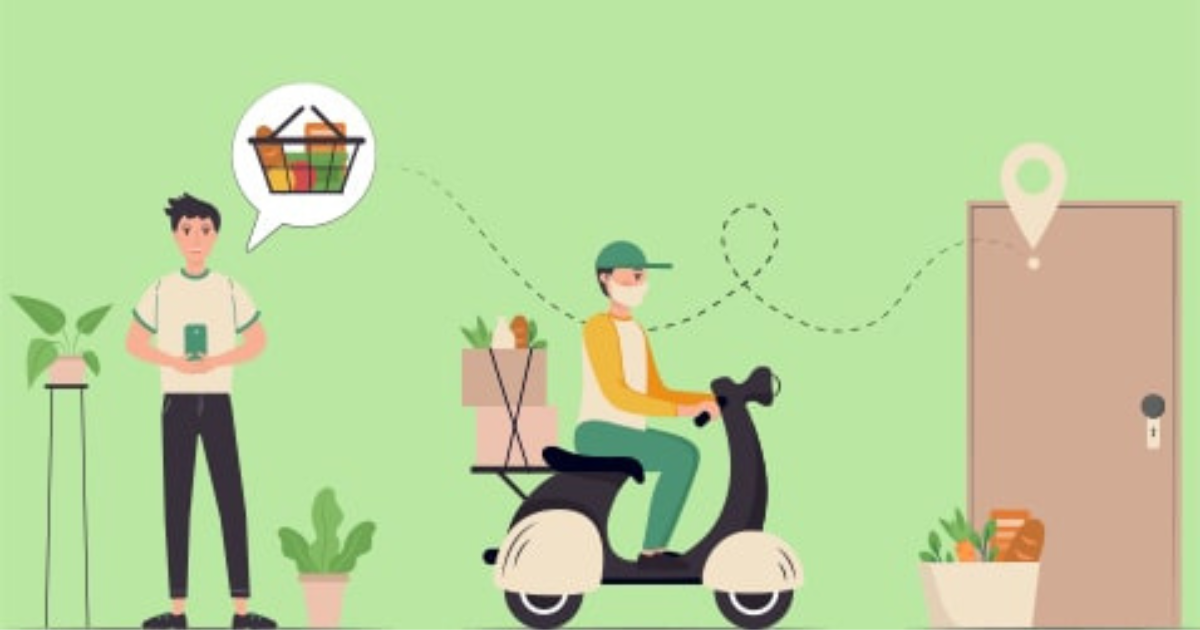 Table of Content
Follow Us
Quick Summary: On-demand grocery delivery apps have become increasingly popular due to convenience and fast delivery. Its craze can be seen in all countries like the USA, Dubai, India, etc. Discover the 13 best grocery delivery apps and where it stands in the market with our blog.
Purchasing groceries has been so easy with the introduction of on-demand grocery delivery apps. Busy schedules have left no time for customers to visit the store, pick up the groceries, and stand in the long queue to pay the bill. Instead, they prefer to download a grocery delivery app and shop online.
The customers simply search for a grocery delivery app near me and find the top solutions to help them get the products to their location. 
Whether you are into the grocery business or planning to start it, considering the trends and market for it is crucial. You may wish to open a local grocery store or a chain, but it is equally important to know that you also need an on-demand grocery delivery app. 
Did you know that the total revenue in the grocery delivery market is expected to reach US$ 1,140.00bn by 2027, with an annual growth rate of 16.11%? The growth shows that 2023 is the right time to invest in the online grocery delivery market.
From the USA to the Middle East and beyond, these grocery delivery apps have proven to be the best in all ways. Check out the 13 best grocery delivery apps globally and what makes them top the list.
Key Takeaways
Taking your grocery store should be the priority to attract customers.
Creating a top grocery delivery app requires thorough market research.
The top grocery delivery apps have acquired the majority of the market.
13 Best Grocery Delivery Apps in 2023
Our list of top apps for grocery delivery is built on their success. Over the years, several grocery app delivery has been launched in the market, but some have taken the top spot. From providing a variety of products to engaging yet easy UI/UX, excellent services, and fast and reliable grocery delivery, these have proven to be the best. 
As a startup or business looking to step into an on-demand grocery delivery business, you can learn a lot from the following apps.
One of the most widely used on-demand grocery delivery services in the USA is Instacart. Its headquarters are in San Francisco, California, where it was founded in 2012. It enables customers to browse a huge selection of products, choose their top picks, and place orders whenever is most convenient. 
Instacart is available on Android and iOS platforms, and users can sign up for free. In the year 2022, it generated a revenue of $2.5 billion with 13.7 million active users. Its UI/UX is designed for users to simply and efficiently place grocery orders. The users can select the store, compare the price, and place the order. 
500 million products

40,000 stores

5,550+ cities

Millions of orders
💡 Also read: Cost of Developing a Grocery Delivery App Like InstaCart.
Postmates, headquartered in San Francisco, California, was founded in 2011 by Bastian Lehmann, Sean Plaice, and Sam Street. In July 2020, Postmates was acquired by Uber for $2.65 billion. The app is acclaimed to be one of the fastest-growing on-demand grocery delivery apps. 
Along with groceries, Postmates also delivers food and drinks. The app generated a revenue of $730 million in 2021. The users can find their favorite stores nearby and place orders. Further, buyers can also track their orders in real-time and get frequent updates on their order delivery status. 
4.3 ratings on Play Store

Available on Android and iOS
Careem's grocery delivery service, Quik, is among the best grocery delivery apps in the Middle East. Quik offers a variety of features that make it convenient and easy to get groceries delivered. With its brilliant services, Quik has a growth rate of 20% per month. 
Users can also add notes to their order, such as specific requests for substitutions or special handling. Its most popular cities include Dubai, Riyadh, and Cairo. Further, its monthly orders increased 26 times in 2022. The app has also added some new features like ordering from multiple stores, scheduling deliveries, and paying with Careem Pay to make the experience even more convenient. 
Expanded in over 100 cities in the Middle East and Africa

The average order value is $50
Big Basket is an Indian on-demand grocery delivery app established in 2011 and headquartered in Bangalore. It delivers groceries in over 100+ cities across India with a wide selection of grocery products for users. 
The app is designed for users to place orders quickly. Customers can browse for products using the search feature, add items to the shopping basket, choose a convenient time for delivery, select payment options, and get the order delivered to the location. 
18,000+ products available

1,000 brands
The app was founded by Joe Fedele and Jason Ackerman and is based in New York. FreshDirect app allows users to browse through a variety of products easily, add items to the cart, and check out with just a tap. The users can also manage their accounts, view past orders, and create shopping lists for future orders.
One of the USPs of FreshDirect- the grocery delivery app NYC, is that it allows users to search for products based on dietary restrictions and preferences. Its subscription service, Delivery Pass, lets users get unlimited free deliveries for a monthly or annual fee. 
Variety of delivery options

$1.2 billion revenue generated in 2022
💡 Must read: Grocery Delivery Apps: A Comprehensive Guide To The Top Features.
6. Shipt
Since its launch in 2014, Shipt has been dedicated to providing top-notch customer service. The Shipt app currently has a 4.9 average rating. Target Corporation purchased the business in 2017 for $550 million. Users who don't want to leave their homes, buy at conventional grocery stores, or need alternatives that aren't available at their local store can utilize Shipt as a simple and time-saving choice.
Established by Bill Smith, the app is user-friendly and straightforward and lets customers schedule their deliveries at a time suitable for them. Also, Target corporation has invested $100 million to speed up eCommerce deliveries and enhance its services. 
Available in over 5,000 cities across the USA

Shipt has partnered with more than 200 grocery stores

Offers a variety of delivery options

Provides membership program
Walmart Grocery is another best grocery delivery apps in the US market. Walmart is spread across 10,500+ locations in more than 20 countries. The online platform lets customers view product details, including nutritional information and reviews. Users also receive personalized recommendations based on their orders with a Walmart grocery delivery app.
Its global sales in 2022 were nearly 568 billion US dollars, which was up by 2.3 percent compared to the previous year. The app is very easy to use. Moreover, buyers can create a shopping list and order at their convenience. Groceries make up 55.7% of Walmart's complete sales.
International Walmart stores generated net sales of $81.1 billion

37 million active customers

every day

9.5% market share in the American retail industry
Founded in 2009, Blinkit is a Gurgaon, India-based grocery delivery app. The brand was formerly known as Grofers. Blinkit has been able to win customers and generated a revenue of US$330 million in 2022. The app promises to be India's last-minute app while delivering orders in as less as 10 minutes. 
The app is a one-stop solution for the users. From fruits and vegetables to cakes and bakery, meat, seafood, cosmetics, electronics, etc. Blinkit provides a wide range of products. The Blinkit app is available on Android and iOS to make it easy for customers on all platforms to get groceries delivered to their doorstep.
Provides services in 30+ cities

4.4 average ratings

10+ million app downloads
💡 Learn how you can build a grocery delivery app like BlinkIt: Unleash Your Potential: Build A Clone App Like Blinkit.
Delivery.com is a great online platform that provides several services, like online food delivery, grocery delivery, and dry cleaning services. Headquartered in New York, the services are available on iOS and Android. The online platform lets buyers schedule their grocery deliveries when needed. 
The process is easy and effortless. It connects the users with local grocery stores to quickly get their orders delivered to their doorsteps. Its estimated revenue is currently $97.3M per year. Users can browse their favorite grocery products and track the live status of their orders.  
Amazon Fresh was founded in 2007 in Seattle, Washington, under the parent company Amazon. The reports have shown that 36% of consumers preferred Amazon Fresh for reliable grocery delivery services. The grocery delivery app lets users choose from a list of a variety of products, including fresh produce, meat, dairy, pantry items, and even pre-made meals. 
Amazon Fresh generated a revenue of $4.72bn in Q2 2022. Customers can also get same-day delivery services. With an Amazon Fresh subscription for a monthly fee, users can gain access to unlimited grocery delivery with minimum orders. 
Quick and reliable grocery deliveries

Serves 2,000+ cities

Requires Amazon Prime membership

More than 50,000 products
11. Peapod
Peapod is an American-based on-demand grocery delivery app. It enables consumers to easily order goods and have them delivered to their doorsteps. Fresh produce, meats, seafood, dairy, baked goods, snacks, and more are all available on the Peapod app.  
Peapod has over 1.5 million active customers. Grocery delivery is available on the same day and the next day so customers can conveniently place orders. It further provides several subscription plans that can help users save money. 
Serves in 24+ US markets

Real-time order tracking

Great sign-up deals
Kroger is a USA-based grocery delivery app that provides a seamless user experience. It comes with several promotions to help users save money while shopping. With its excellent grocery delivery services, Kroger made a revenue of US$137.888 billion in 2022. It owns the largest supermarket chain in the United States.
With its ongoing sales, Kroger is projected to remain a market leader in 2026. The app witnessed a growth of 50% in 2022. Along with delivering groceries to users' locations, it also provides pick-up services from stores. 
More than 3,000 stores in the USA

Scheduled grocery deliveries 

5 million active users monthly
InstaShop is a Dubai-based grocery delivery app that was founded in 2015. It serves areas like UAE, Bahrain, Egypt, Qatar, Lebanon, Saudi Arabia, Greece, Oman, and Kuwait. InstaShop allows its users to order groceries from a variety of local grocery stores and get groceries delivered in as little as 30 minutes. 
To enhance its services, it has partnered with several grocery stores. Therefore, customers can check the products from local places, review their prices, and order that fits their needs. With InstaShop's VIP program, users can get free delivery on orders over a certain amount. 
Available in 10 countries

in the Middle East, North Africa, and Europe

Promises convenience and speed

20+ grocery product categories
Build Your Own On-Demand Grocery Delivery App
Are you planning to build your own grocery delivery app that can compete with the apps mentioned above? If yes, ValueAppz is the right place. From building the grocery app from scratch to developing a clone app, we provide all the necessary services. 
Our grocery delivery app development services are designed to provide state-of-the-art solutions to our clients. Whether you want to take your grocery store online or are new to the market, our professionals will help your business from start to finish. Contact our team now, and let's discuss the idea.

Frequently Asked Questions
Q1. How do grocery delivery apps work?
To use the grocery delivery app, firstly, customers must download the application, create an account, and fill in the necessary details. Further, they can check the products, add to the cart, make payments, and place the order. The delivery guy will then deliver the order to the set location.
Q2. Are there any delivery fees associated with using these apps?
Yes, most grocery delivery apps charge a fee for each delivery. Every app has a different fee based on the volume of the order placed and the distance to be covered.
Q3. Can I schedule deliveries in advance?
Yes, several grocery delivery apps let their users schedule grocery deliveries in advance. It helps customers ensure they buy everything well on time, providing a seamless experience.
Q4. How to create a grocery delivery app?
To build an on-demand grocery delivery app, you first need to do market research thoroughly. Then, plan the UI/UX, choose the features, and get in touch with a grocery delivery app development company to build the app.
Q5. What is the average delivery time for grocery orders?
The average delivery time for grocery orders is 30 minutes. There are some apps like Instacart that deliver groceries in as less as 10 minutes.

THE AUTHOR
Saryu Pathania
Communication has always been one of my key strengths, whether vocal or written. I started my career as a marketing professional, and in my journey as a marketer, I realized that Copywriting is my true passion. Over the years, I have honed my skills as a creative writer by working on various content formats for B2C and B2B clients.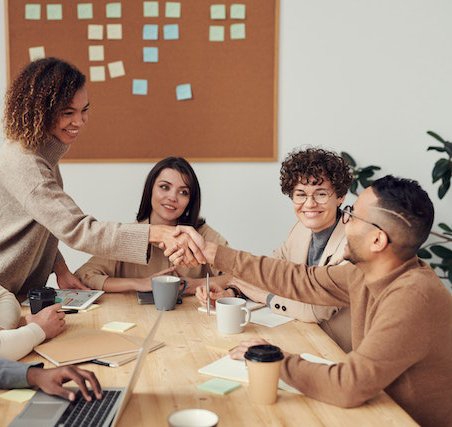 Get ready to digitally transform your business.
Let our team help take your business to the next level. Contact us today to get started on finding the perfect solutions for your business needs.