Do you know the power of a simple mobile app?
If in case you don't, we are here to help: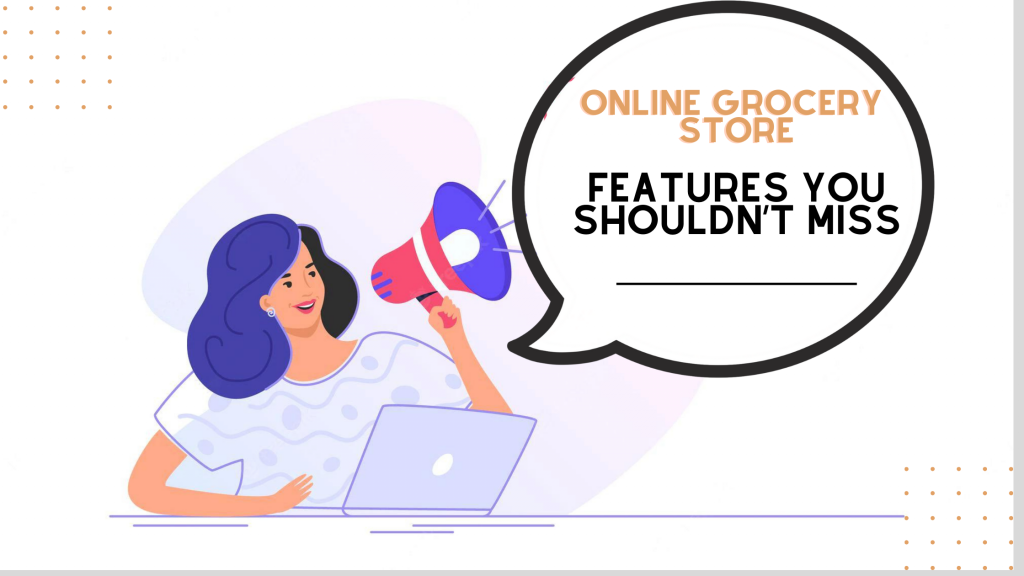 "The number of smartphone users in India is expected to reach 931 million in 2022-23, with the global number of smartphone users predicted to reach 1.5 billion by 2040."
Mind-boggling right?
These numbers show that apps have changed how we interact with mobile phones, eventually transforming the cliche of doing business. Besides, the stats also work as concrete proofs.
So, all in all, it's fair to say that there lies an immense scope for widening one's chance of success.
When you create an online shop, all of the purchasing is just a click away. And this holds for groceries. Grocery apps have grown exceptionally in popularity in the last few years because of their convenience and easy-to-use features. Besides, pocket-friendly prices, fresh quality items, and timely delivery are just a few of the fantastic benefits of the grocery delivery apps.
Not to forget, the lockdown scenario acted as an upthrust for the adoption of grocery delivery apps. People were enticed to buy groceries online because of the ease of delivery apps. Moreover, even supermarket delivery apps ensure customers don't have to step out to run daily errands.
According to an Insight study "78.7% users used online grocery apps during COVID-19 epidemic". 
Considering this demand, there was a dawn of numerous grocery app development companies. We have Blinkit (earlier known as Grofers), Instamart, BigBasket, JioMart, and many more on the list.
So, if you plan to start an online grocery store, it may interest you.
47% of millennials, 31% of Gen X, and 19% of baby boomers shop for groceries online. .
It also may interest you to know –
"47% of millennials, 31% of Gen X, 19% of baby boomers and 3% of others shop for groceries online."
But what exactly caused this exceptional surge among users and what essential features made this a popular choice? Let's see!
Must-have Features for Your Online Grocery Store in 2023
Simple Signup and Login Feature
A great grocery online store is small and has simple register and login features.
Users can access the app by just filling in their credentials like email, name, address, and contact number for signup. Then, an OTP (One Time Password) is created, and after validating the account, the user can start ordering.
Even the social login options allow users to access the app easily.
Steal Deals
This is an essential element of the online grocery delivery app for the customer side. The consumer may take advantage of all the deals and discounts offered in the online store. This is easy to leverage as users choose the deal, enter promo code, apply checkout discount, and are done!
Find a Nearby Store 
When you start an online store, you must include the features of finding a nearby store. For example, a user may quickly search for the nearest food shop using this feature.
Also, customers may learn about the grocery store's reviews, like product quality, instant delivery, return policy, and the list. Overall, users can quickly identify grocery stores that cater to their all needs based on the store's characteristics.
Advance Search and Sorting Choice 
If you are thinking about how to start an online business, it's essential to funnel to bespoke features that mark the subtle difference. And a sophisticated search and sorting feature is among them. This allows users to search for their chosen food and items based on their preferences.
Filter Categories 
One of the top features of online grocery stores is the filter categories option. Once logged into the app, customers can easily search for the needed item by using the selected category or filter. It will be a quick fix for consumers to choose a preferred product category and start making purchases.
Personalized Deliveries 
Customers need to manage things ahead of time in today's fast-paced world. So, offering customers a feature of personalized deliveries for their grocery delivery is just unskippable.
Customers can use the scheduled order delivery service feature to receive fresh and on-time delivery of items without sacrificing time or quality. So, don't forget to include this feature when you create an online store, as your customers will appreciate this.
Payment Integration 
Allow your customers an utter convenience to pay using their preferred payment method. You can integrate different payment gateways like credit cards, mobile wallets, debit cards, UPI, and other approaches.
These features will surely make the payment process hassle-free. But, to validate that the online payment is secure, encrypted, and safe. Eventually, it will increase user trust and loyalty to your online store.
Order Tracking 
Shopping online should be an unforgettable experience. So, make it easy for consumers to trust you.
You can manifold this trust element by integrating an order tracking system. This feature is integrated into the customer-side app, where users get real-time information on the whereabouts of the order.
A user can simply follow the status of order right from dispatch to product delivery at their doorstep through an order tracking system.
Push Notifications
Keeping your customers up-to-date on the latest advancements, seasonal discounts, and many other changes in real-time is the ideal approach to building deeper customer connections.
All thanks to the push notification feature, customers stay connected about the impending deals. The message about on-time delivery can also be carried through push notifications. The push notification feature in the online store offers users relevant and customized material at the present moment.
Finally…
Let the customers enjoy the look and feel of your application and become tension free. Make sure that your marketing strategy is up to the mark and that it attracts customers from all over the country.
In a nutshell, this is high time to invest in your business and take your offline business online to cement your footsteps in the online world. And to do this, all you need is a trusted technology partner that caters to your business's unique needs.