About 5 million apps are sure to pollute app stores by 2020. Every single day, about a thousand apps are launched and added to the app store. With almost every business institution contemplating and working towards developing the business mobile apps, isn't it time to plan a mobile app for small business as well? It's no big deal if your business isn't as big as the popular names in the industry yet, it demands an equal opportunity to grow. And wait a minute! The idea is pretty good and sounds perfect now that you are working on a growth plan for your small business but there's a lot more to the app that goes beyond what can be seen with the corporate eye.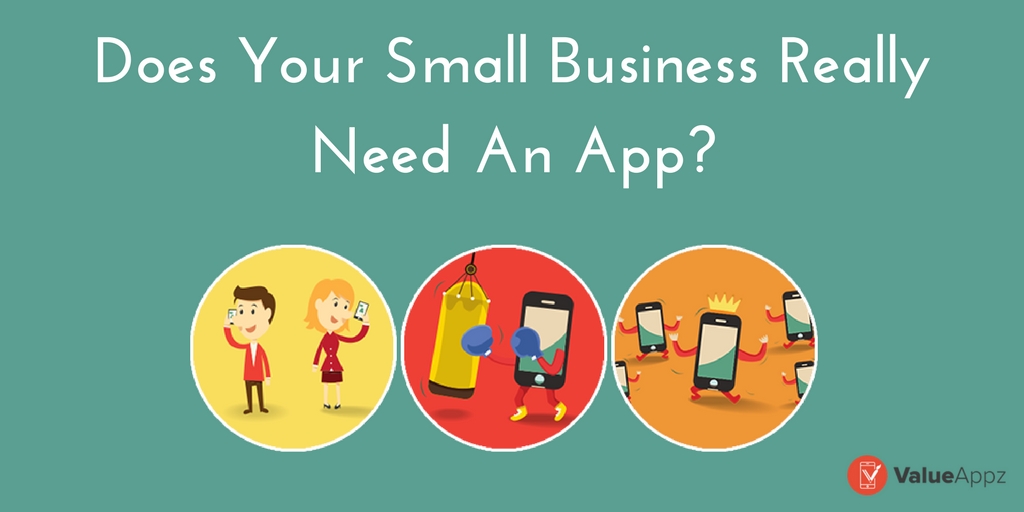 You ought to take the leap someday and but is it time as yet? Decide on the app future after answering these questions and plan a digital breakthrough for your business:
1. The Growth – Have you stabilized to climb up the ladder?
Well, your small business might have taken off quite well and you may be witnessing an inflow the way you have estimated it would. What one needs to really understand is that a steady cash inflow doesn't really show the green signal to accelerate the growth strategy. What determines your stability is the grass root level achievements your business has made. This includes your customer base, the steady sales and a factor that defines you separate from your competitors. Once you've realized that you've been successful at creating a strong foundation in the minds of your customers, dealers, etc., you may then plan on expanding your marketing kit.
2. The Finance – Are you ready to invest what it takes?
A business app, though a not a very expensive affair, is an investment that demands your utmost intelligence and precision at the decision making and development stages. The financial support involved in building the business mobile apps varies based on the design, features, the level of user experience you intend to create, etc. You need not inculcate too many features but can simply opt for a design that suits your need and pocket. In order to choose an optimum design, your idea with regard to the introduction of the app must be decided well in advance to get the maximum out of the investment.
3. The Competition Strategy – Are you a strong competitor?
Competition is a major factor, especially if your small business is a part of a perfect competition scenario. You ought to have a profile of your own, something that can help you stand apart from your competitor's. In case, your competitor's haven't started the mobile app trend, you could slowly contemplate on one. In case, they already have one, you must definitely create a provision for one. It's the matter of a decision that can both take you ahead of the race and win. Chances are that your competitors are also contemplating on an app so why not take the plunge! Study your customers and your competitors and invest the best possible app design to your benefit.
Related Post: Are you in a dilemma of whether or not to invest in a business mobile apps? This post will answer most of your doubts.
4. Customer engagement – Do you have the plan to improve your customer relations?
Does the relation with your customer end the moment a sale is struck and the payment made? Definitely not. Gone are the times when customers returned to a service provider even when devoid of satisfactory customer support. Most businesses have realized the catastrophe that a bad relationship with a customer could produce and hence they are all interested in finding new and innovative ways to engage the customers, be seen at all times and develop the relation to such an extent that the customer fails to accept any services except yours. An app definitely does its part in engaging your customer and it was observed that about 77 percent of the customers vouched for establishments that had an app that could revamp their shopping experience. So appifying the business definitely works in case your business is a people's venture.
5. Marketing Higher –It is time!
You began your business and the age-old word of mouth has been your marketing tool till date. Isn't it time to give your marketing kit a makeover? If your small business is growing well, you ought to amp your marketing techniques to reach out to your new customers and potential markets while maintaining and improving existing customers. A business mobile app manages to improve corporate image by about 45 percent and has been successful at doing a lot more for businesses. If your business has managed to surpass the initial tribulations of surviving in the survival stage, it is time to give your business a raise.
You don't really need an app just because every player in your concerned industry has one. You need a business mobile app that can enhance the work you have done and take your brainchild to the next level. Mobile apps have been quite successful at their mission yet maintaining the level of the app and the being able to imbibe it into your structure matters the most.
If your answers to the questions above are on a positive note, it's indeed the perfect time for you to introduce an app into your small business. Not sure of the timing? Conduct a little research about the industry trends. In either which cases, our experts at ValueAppz, can help you design an optimum mobile app or simply resolve the conflict! Simply drop us an email at info@valueappz.com.