How Does A Grocery Delivery App Like BigBasket Work?
July 30, 2021
Giandeep Singh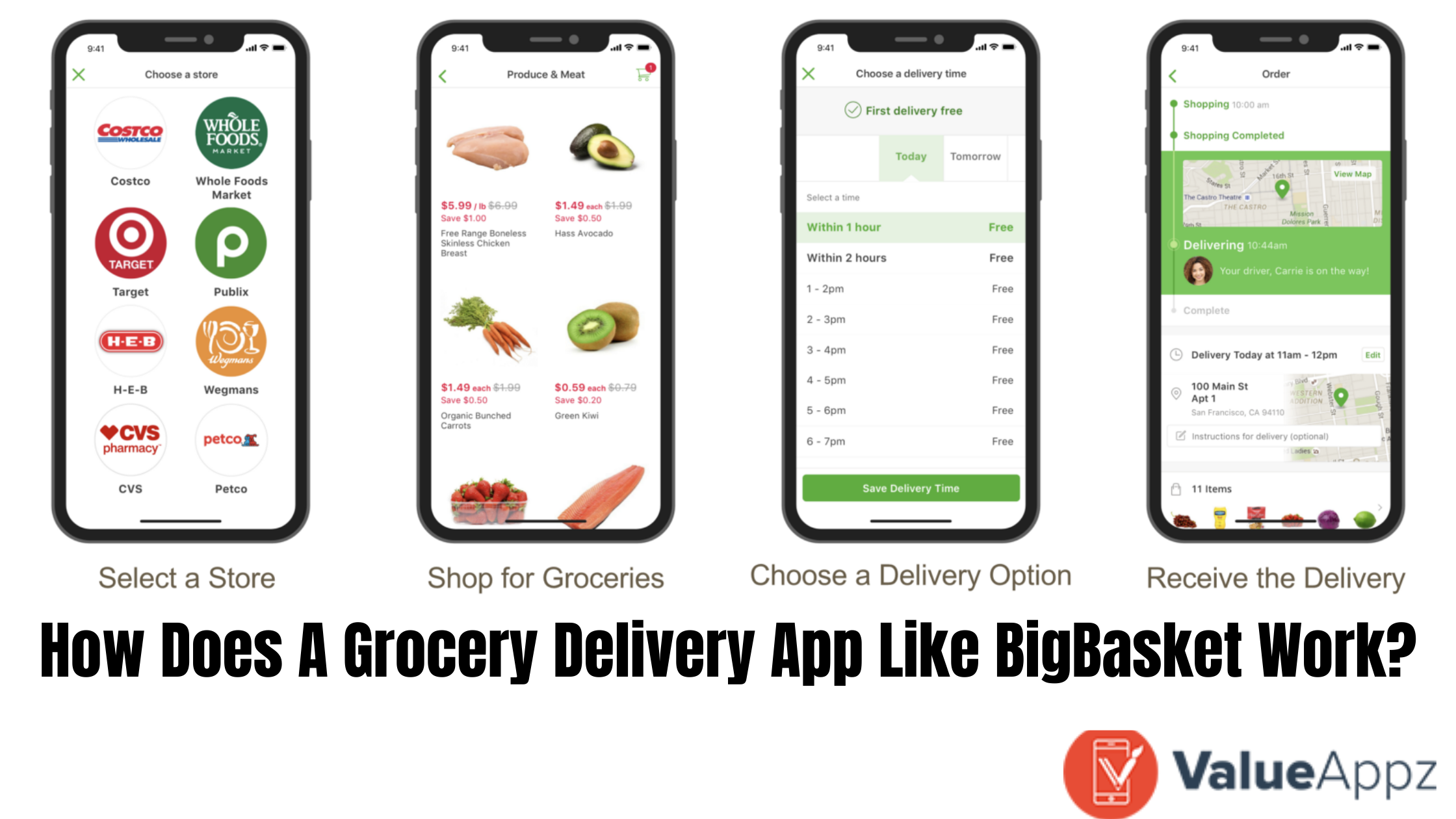 According to data, downloads for online delivery applications have increased a lot. This trend has also led to a manifold increase in grocery apps' downloads since the pandemic crisis dawned upon us. As per the reports submitted by GroceryDive, approximately more than 30 million people in the US will shift to online grocery shopping in the year 2022. According to the report, the sales of groceries online rose from the US $6 billion in 2012 to the US $29.7 billion in 2021. A report by Business Insider highlighted that around 10 percent of the customers daily resort to online grocery shopping. With such incredible growth potential presented by online grocery apps, it is only wise for you to invest in grocery delivery app development for your very own grocery clone app.
How have mobile apps transformed the groceries industry?
With the inception of technology, all industries have undergone a sea change. The food and grocery industries are certainly one of them. Earlier, it was impossible to think about having a door-to-door delivery service and online shopping for groceries while sitting in the comforts of your home. There were not only technical difficulties but also geographical limitations. With the progress in logistics, transportation, and e-commerce, the limits, including geographical obstacles, have significantly been resolved, giving rise to apps like BigBasket. 
With grocery delivery apps like BigBasket, the range of products available at our disposal has increased. The enhanced convenience of online grocery shopping has made long queues, walking in alleys looking for one product, dealing with crowds, and limited products a long-gone problem. You can now relax on your bed and browse through an online grocery app, which is fully organized into various categories for easy access and even provides huge discounts and other offers. These offers help in building a loyal base for the app. 
 The most important thing to keep in mind is that people have become more and more cautious of stepping out, and online grocery apps have come as a significant relief with the dawn of the pandemic upon us. As a result, the market size of grocery apps has increased manifold since the breakout of the pandemics. 
The best app for your grocery business
It is pretty common that a grocery business owner might ponder upon the total cost of grocery delivery app development before arriving at any final decision. Creating a grocery app from scratch can cost you around the US $25,000-$50,000. Grocery app development is not an easy task, and it requires several months to complete. So, you are not only investing a hefty amount of money but also your precious time. Time and money are the two most important assets, and saving the most of these should be the priority. But what is the best way to save your money and time? The most effective solution to this problem is the grocery clone app development. In grocery clone app development, the already present APIs are used to create an efficient app at the most reasonable cost and without time.  
Get in Touch With Our Team Now.
The market today is flooded with so many grocery apps. So how to make out which one is the best for your grocery delivery app development? This is where BigBasket comes into the picture. BigBasket is one of the most successful grocery apps in India. BigBasket is India's leading grocery app, with over 10 million users in 2018. Around 100,000 daily orders were placed from the app in 2018. There are more than 1,000 brands available at BigBasket. BigBasket grew by 80% in 2021, making USD 1 billion sales in the market. The company has expanded to more than 70 cities in India and is set to grow even more. 
So, to reap the benefits of the BigBasket app, you should go for BigBasket clone app development.  Since BigBasket clone app development can be complicated, you should go for the most reliable and trustworthy grocery app development solutions provider. 
Other BigBasket Like Business Models Making a Huge Impact
With a technological boom in e-commerce, multiple online platforms have emerged. There are many companies in the market today that have online delivery services for groceries. Some of the leading grocery delivery companies with the BigBasket like business model are – 
Grofers 

– It is one of the leading grocery apps in India. The company is based in Gurgaon, India, with total revenue of around US $34 million as of 2019. 

Instacart 

– Instacart is a US-based company operating grocery delivering services in Canada and the United States. The company generated a whopping US $1.5 billion in revenue in 2020. 

JioMart

 – JioMart is a subsidiary of the famous Reliance Industries in India. The JioMart app delivers to around 200 cities. The JioMart service was initiated recently in 2019. 

Spencer's Online Grocery – 

Spencer's is an old name in the e-commerce sector. It is one of the leading grocery shops in India. The only problem with Spencer's Online Grocery Shopping App is that it is limited to only a few cities. 

Zopnow – 

Zopnow is an emerging online grocery shopping app functioning in a few cities in India. The company collaborates with some big supermarkets to give customers multiple choices of products and fast delivery. 
Benefits of BigBasket Clone App
The companies mentioned above are just a few names starting to emerge in the food and grocery industry. With such a big market for grocery apps, you must think about investing and launching your grocery clone app. And if you are planning on going for it, why not choose the best – a BigBasket clone app. Let us have a look at some of the advantages of BigBasket clone app development. 
Pre-existing Resources

: The BigBasket clone app will have all the APIs to help you create your grocery clone app. This is available at a reasonable cost, but the grocery delivery app development is completed in a shorter period. 

Multiple revenue sources

: – Once you have created a BigBasket clone app, you have numerous sources from where you can generate revenues. Some of these sources are – revenues created through delivery fees, app advertising, and the revenue share generated through the restaurants.

Easy integration

: – BigBasket's API can easily integrate with the POS system of your business. It enables you to manage all the orders placed by customers. With the help of this, you can also create menus that are customized. Since an existing courier and shipping service will be available for you, you should not worry about logistics and transportation. 
How To Build a BigBasket Clone App?
If you want to create a BigBasket clone app, then you should follow the various steps that you should follow – 
You should make yourself aware of all the talents that are trending in the market today. 

You should identify the 

best grocery delivery app

 based on the grocery order and delivery model. 

You should be able to determine what your target market is. 

Choose what should be included as the main features of your 

BigBasket clone app

. 

You should work on unfolding the technology stock of the BigBasket clone app.

You can launch a beta version of the app with bugs identification. 

You should adhere to the feedback and try to make changes accordingly.

You should establish the final version of the app.
The BigBasket clone script may seem complex and might perplex you. That is why you should try to make the process of BigBasket clone app development as hassle-free as possible. And the best way to enjoy a BigBasket clone app is to choose a trustworthy and reliable service that will develop your grocery clone app at a lesser cost and time. 
Before making your final decision on BigBasket clone app development, you should do a thorough background check of the service you are thinking of going for. Then, cross-check the details, including cost and time, at as many service providers as possible. Once you have analyzed all options, only then settle for the best.
Let's Build Something Awesome Together.
THE AUTHOR
Giandeep Singh
I am a writer and marketing specialist who loves to explore new digital strategies to boost business growth online.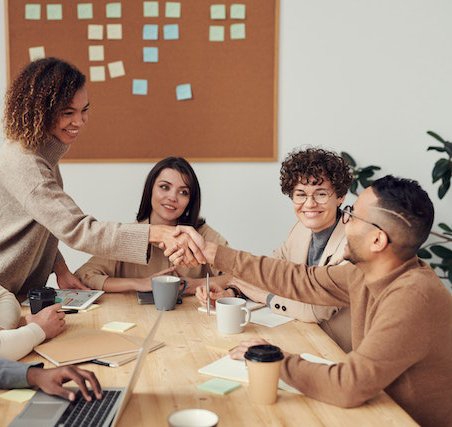 Get ready to digitally transform your business.
Let our team help take your business to the next level. Contact us today to get started on finding the perfect solutions for your business needs.