Complete Guide On How To Build Marketplace App In 2023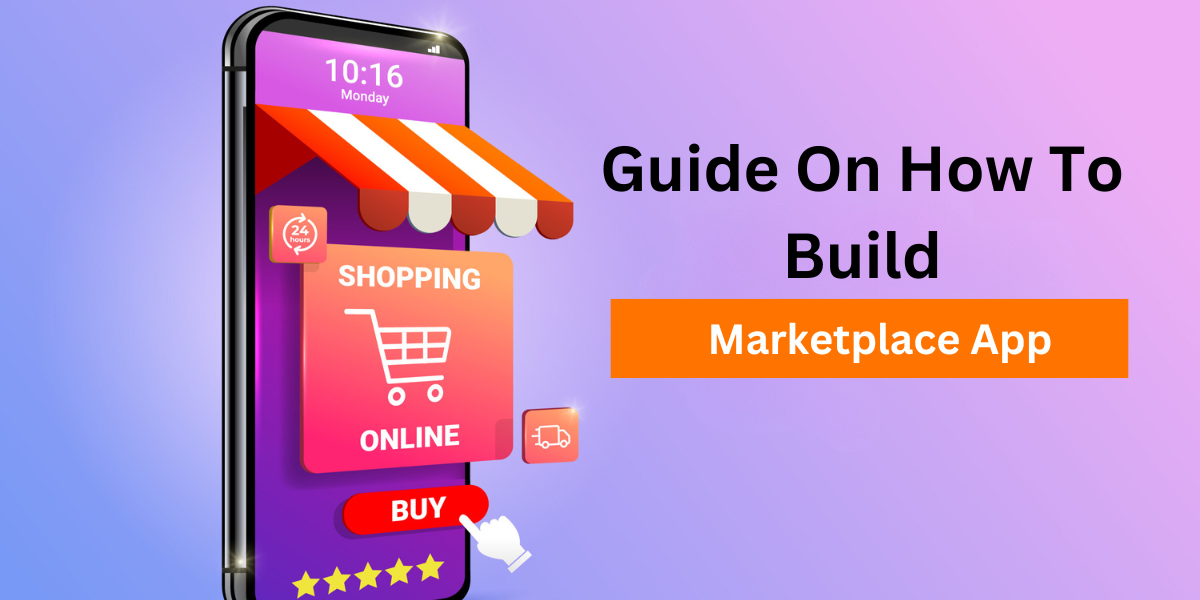 How would you define a marketplace? It is where you do business, and people purchase your goods and services, right? A marketplace app does the same, except it puts services and products in the palm of users, quite literally. You can showcase and sell services to customers and make them happy at their convenience and comfort of home, but with a twist. You do not own any service or product but provide a platform where service providers and customers can participate in monetary trade.
Look at it this way, a person meets another person at your place and sells something to them, and you receive money for the trade, although you were hardly a part of it. An excellent way to profit, yes? Now imagine earning for hundreds of such transactions merely by facilitating a secure digital ecosystem where interested buyers and sellers can communicate. Sounds revolutionary! That is precisely what a marketplace app platform strives to provide; a safe environment to conduct trade in a few clicks.
All that sounds fine but is a marketplace app platform worth investing in? The answer to that is an absolute yes! Of course, you do not have to believe it just for the sake of it when there are some surprising statistics underlining the rising demand for an online marketplace. Approximately 80% of Americans, which means about 263 million people, shop online. Further, online marketplaces generated over $3.25 trillion last year. Consequently, the global marketplace app market is predicted to grow at an 11.2% CAGR from 2022 to 2030.
That is why an online marketplace for your business is a feasible option for earning extra cash. Want to learn how to build a marketplace app from the ground up? This article will give you a detailed insight into the benefits of the marketplace app platform, steps for marketplace app development, and much more. So read ahead!
Benefits of a Marketplace Model
A marketplace app connects service providers and customers. A vendor displays their goods and services on the platform, and a customer buys them. In turn, you attain a certain amount of money at every purchase. However, the benefits of a marketplace model do not pertain to you only; it streamlines the traditional market transaction process. Some of the perks a marketplace app platform offers are:
1. Efficiency for Users and Merchants
Marketplaces give a hand to sellers in targeting a broader audience and ease the buying process for customers. Buyers can search for their desired service, and the app will match them with a suitable vendor in a few clicks.
2. Increased Variety and Selection
You partner and collaborate with local vendors willing to serve customers. It means customers can scroll through the offers available from different suppliers and pick the one that suits them.
3. Cost-effective for Both Parties
A marketplace app platform facilitates a secure digital environment for buyers and sellers. Both parties can avail of its benefits at a lower fee, comfort, and high-quality user experience.

Examples of Successful Marketplace Apps
A marketplace is a global term and is not generally about tangible products. It can also showcase services and deliver digital goods. Multiple available platforms deal with a myriad of items and services to cater to customers.
Here are some well-known examples of marketplace apps to help you build a marketplace app:
1. Uber
Uber allows passengers to book a ride and drivers to charge fares for service. Passengers can view their driver maneuver to the pick-up spot and the updates on estimated arrival time. It follows a dynamic pricing strategy, which means the price for a ride depends on the destination and demand at the time. Further, first-time users receive discounts and free rides. About 131 million people are engaging with the app at present. 
2. Amazon
Amazon is the largest online retailer worldwide and is mainstream in eCommerce. The platform features various products and services, from clothes and accessories to electronic gadgets and flight tickets. The brand trust, convenience, user-friendly cross-interface, and fast delivery times make Amazon a one-of-a-kind marketplace. Consequently, over 197 million users actively use the app.
3. Practo
Practo offers an encrypted and safe platform where millions of patients can connect with healthcare providers in a digital environment. The healthcare app allows users to search for doctors, schedule appointments, book check-ups and consultations, make payments, and access their health records. It facilitates 24/7 care and facilitates more than 40 million appointments yearly.
4. Hubspot
Hubspot strives to deliver optimal software, integrations, and resources to businesses to optimize the customer experience. The CRM platform binds marketing and sales with content management and customer service. Firms can benefit from customized solutions that are connected, scalable, adaptable, and cohesive. More than 167,000 companies use the platform to attract, engage, and delight consumers.
5. Blinkit
Blinkit helps customers purchase products online from their favorite local stores without leaving their homes. The company has no individual warehouse or store; it partners with several grocery stores and merchants. The nearest delivery boy picks up the order and delivers it to the customer in a few minutes. Blinkit serves fresh fruits, veggies, meat, and other products to around 200,000 people daily.
6. TaskRabbit
TaskRabbit is an ideal marketplace app platform for people looking for skilled contractors and freelancers. Homeowners can use the app to book services ranging from furniture assembling, gardening, lawn care and mowing, weed removal, plumbing services, and whatnot. It matches the registered contractor with the local demand and delivers their service. TaskRabbit has assisted over 1.5 million people in getting their tasks done.
7. Postmates
Postmates is a delivery service app. It enables users to order food or items like groceries and deliver them within an hour. Customers can track the location of their delivery partner to estimate the delivery time. The company has collaborated with local restaurants and stores and offers a platform to serve nearby customers. More than 9.3 million users used the app monthly in 2021.
8. Instacart
Instacart furnishes the desired quantity of groceries through a seamless app from home. Consumers can order fresh and organic fruits, vegetables, and other items at their doorstep. It offers discounts and promo codes on new products to help users save money on shopping and renders a personalized experience. The app provides faster and unlimited delivery for free to loyal customers. Around 9.6 million active users use Instacart.
9. Udemy
Udemy provides accessible courses to impart new skills and knowledge. Independent instructors create and design courses to help students learn at their place and schedule. Aspiring students can use the free material spanning fitness to WordPress and purchase affordable notes to get lifetime access. The platform offers over 213k course selections and a certificate of completion for paid courses. The app has more than 245-course enrollments and over 40 million students.

Steps to Build a Marketplace App
A marketplace app is worthwhile to run your business smoothly, unlock a wider audience, and make room for constant innovations. However, it does not mean you should settle for something "good enough" simply because the field is pitching in tremendous traction.
Marketplace app development requires considerable planning, time, effort, and resources. Fortunately, correct knowledge about how to build a marketplace app will streamline the process. Here is a detailed process to help you materialize a charming platform for your venture.
1. Define the target market and niche
There are various B2B, B2C, and C2C marketplace apps offering services that range from products and goods to rental services. What marketplace app platform do you want to facilitate for your users? And most importantly, who do you plan to serve?
The first and foremost step to developing the app is research. If you already have an idea, that's nice! But if you are still exploring options and searching for "the one," that is also fine.
You can begin the process by defining your target audience. Look into your ideal customers' demographic, psychographic, and geographic attributes to identify on-demand services. Next, search the entrepreneurs working on the same line. Analyze their strengths, weaknesses, audience, pricing structure, and marketing strategies. You can thus pinpoint the gaps and opportunities in the market to take the lead.
2. Choose a business model and revenue stream
It is one of the most integral parts of marketplace app development and heavily influences your business thereon. The monetization model and source of revenue stream are the magical core of your app and impact its success. You have figured out the services and customers you seek to serve, but how will it work and make money?
Multiple revenue strategies promise consistent money. The most common models are:
Commission-based:

Each transaction between a customer and vendor brings you a fixed amount.
Subscription:

Users pay a regular fee to use your platform to sell and purchase goods and services.
Freemium:

An additional fee offers customers and vendors premium features and options to access superior quality.

Listing fee:

You receive revenue by charging vendors a certain fee to list, post, or advertise their service.
You must delve deeper into all the available models to determine the ideal monetization option. Check their pros and cons to ensure a commendable and constant revenue stream. Assess, track, and analyze the results your preferred option generates to learn its suitability.
There is no need to panic about selecting one that may appear less suitable down the lane. You can always change or combine it with others to adopt a model that suits you the best.
Learn More: What is a Marketplace Model? How Does it Work in 2023?
3. Choose a development team and technology stack
Suppose you release a meticulous marketplace app. But you notice users leaving the app because of its slow responses and load times. Well, an improper tech stack would do that to you. Almost 56% of users delete apps within seven days of installation, and approximately 90% stop using an app due to poor performance. In a world of shortened attention spans and little patience, it is in your hands to make your app successful with a delightful experience that lures users.
It may be the most tedious step for you if you are not tech-savvy. Hence, a competent development team should be your confidant when you build a marketplace app. You can also outsource your project or hire a developers team to develop an app that caters to the current needs. You must leave no stone unturned and plan it down to the last detail.
For instance, iOS and Android are the most used devices among other operating systems. You must decide which platform you are targeting to select the proper tech stack for your app. Your decision will help you choose the appropriate programming languages, databases, frameworks, APIs, and front- and back-end tools to interface and implement robust features.
4. Develop and design the app
The appearance of your app matters more than you might give it credit. Do you know that an application design accounts for 94% of first impressions? In fact, about 75% of users make judgments and opinions based on the aesthetics of a platform. How your marketplace app platform looks plays a role in retaining users.
The app design should reflect your users, features, and goals. Why so? You want users to stay and talk about your app to people, know its purpose, and have an easy time channelizing through it to ensure they return time and again. They want a striking interface and easy navigation that simplifies their journey.
Focus on crafting a user-centric layout with a stunning and intuitive interface to keep your application crisp and delectable. Explore the latest trends to outline design that perfectly complements your product and user experience. Create rough frameworks and wireframes to determine the pages you need and how your app will operate.
5. Launch and market the app
Congratulations! Your app is almost ready to enter the market. It is exciting to launch the app after days of effort. However, a small step is still there that you must perform before releasing the application. Testing is essential to ensure your online marketplace is accessible across multiple platforms and devices and is free of errors and bugs.
Further, employ inviting advertising techniques to scale your app and tap into a bigger audience. You can use social media channels, word of mouth, traditional strategies, and app store optimization for better visibility and traffic.
Moreover, you must note that the marketplace app development process does not abruptly end once you have designed and released it. You must evaluate and analyze your users' reactions to your product and constantly enhance its functions and performance.
Challenges of Building a Marketplace App
The marketplace is among the most profitable businesses. Unfortunately, it is one of the most complicated to commence. As an app owner, you not only need to bring sellers and buyers to participate in a trade, but you also have to ensure your platform simplifies and streamlines the process. In addition to it, a few other challenges of marketplace app development include
1. Building trust among buyers and sellers
Supposing you are new to the digital marketplace, how do you partner with local vendors when only a handful of customers use your platform? And how do you entice customers to sign up with your service when there is a visible lack of service providers? 
Sellers and buyers prefer a reliable and reputable company to engage with their service. You must make an interactive marketplace app platform to compel users with unique features and capabilities.
2. Managing transactions and payments
Purchasing and selling goods and services online should be secure and accessible. And more than half of it depends on the payment and transaction process. A simple and robust payment system is as beneficial for your users as it is for you. 
A study reveals people prefer eWallets, followed by credit and debit cards, to pay for online purchases. A lack of payment gateways can frustrate users and adversely affect your brand. Hence, you must feature various payment solutions with an easy and clean process.
3. Handling customer support and disputes
Returns are an inevitable part of marketplaces regardless of how big it is. Customers exchange or return a product when it fails to match their needs or expectations. Hence, creating an efficient customer care page and return system is crucial to answering your users and maintaining track of disputes.
Further, responding to your users' queries and concerns as soon as possible is necessary to ensure they know the reason behind the inconvenience. Ensure your customer support service is available round-the-clock to assist users in every way.
Conclusion
The rising numbers of users and the growth of the eCommerce industry only highlight the popularity of marketplace apps. And it is not going anywhere if you consider the current trends and figures. However, engineering an app is a complex and lengthy process. It is not as easy as it looks on paper; technical issues, a high marketplace app development cost and expense, and bugs will impede your progress.
Most of your time and budget will go to coding and maintaining the basics when you could put your effort into designing unique features your competitors lack. There is always an option to leverage platform builders to craft a pleasing app with easy navigation. But how to build a marketplace app that accommodates your business needs and requirements?
Do not let such trivialities scare you from taking your business to new heights. You have two ways to jump into the project; either hire a marketplace app development company or delegate the task to your in-house team. Therefore, weighing your options to make a sound and rewarding decision is crucial. Endeavor to deck out your app with unprecedented standards that simplify users' lives and exceed their expectations. Who knows, your platform could be the new favorite when you build the marketplace app with a precise mindset and tenacity!


THE AUTHOR
Shailza
I am a passionate Digital Marketer and writer whose biggest obsession is to explore the latest marketing technologies and growth hacks for helping businesses! I love to write about different marketing strategies!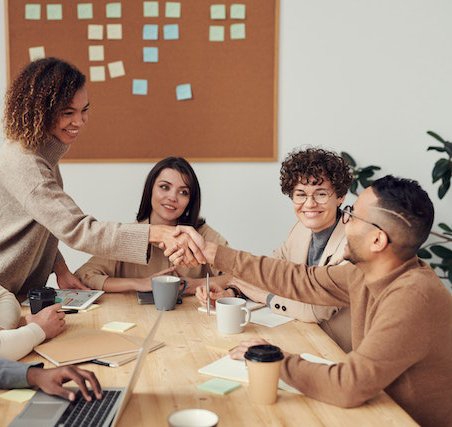 Get ready to digitally transform your business.
Let our team help take your business to the next level. Contact us today to get started on finding the perfect solutions for your business needs.