Marketplaces are for sure the future, but how does it work or make ample money? This blog will help you discover everything you must know about the marketplace business model.
What is a marketplace business model?
Before we begin to talk about the model, it is essential to know what exactly is a marketplace model. Simply put, a marketplace is a platform or website where buyers and sellers can meet and exchange goods or services.
It can include physical goods or digital products and can take place through online auctions, fixed-price sales, or other means of exchange. Some examples of successful marketplaces include Amazon, eBay, and Etsy.
The marketplace is in so much demand that B2C marketplaces are estimated to reach $3.5 trillion in sales by 2024. Talking of online marketplaces, it is unlike any other business as it does not produce or resell anything. Another key difference is that it targets two completely different users: buyers and sellers.
Offline vs. online marketplace business model
An offline marketplace is a physical location where buyers and sellers can come to a single place to exchange goods and services. It can include brick-and-mortar stores, street markets, and trade shows. Offline marketplaces have been around for centuries and continue to play a critical role in commerce, especially in developing countries where internet access may be limited. 
They offer buyers the ability to see and touch products before making a purchase and can also provide a sense of community for both buyers and sellers.
However, offline marketplaces may be less convenient than online marketplaces, as they often require buyers to travel to a specific location and may not have as wide a selection of products or services available.
On the other hand, the online marketplace model has much more scope in terms of growth and running the business. With low operational and maintenance costs, it can reach the global audience quickly. 
The table below shows the comparison of these two marketplaces.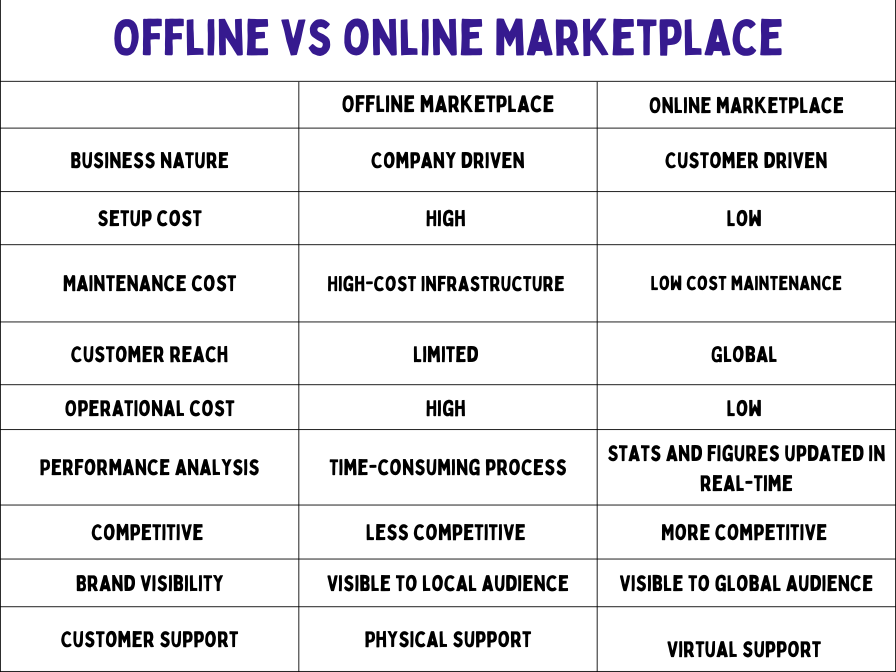 Types of online marketplace business models
There are several marketplaces that operate. Based on its layout and functioning, these can be further divided into two categories:
Marketplaces by the target audience

Marketplaces by focus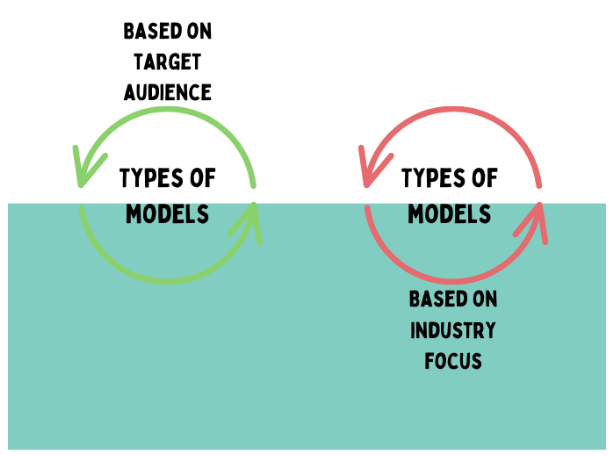 Marketplaces based on the target audience
This category differentiates the marketplaces based on the customers that they target. The audience could be businesses, consumers, or individuals connecting with other individuals who have similar needs.
Business-to-business marketplaces
B2B marketplaces like Alibaba connect buyers with retailers. It lets the audience purchase in bulk as per their requirements. Here both the client and the user are businesses only. The goal behind B2B is to automate the selling and buying processes so that no party has to suffer. The marketplace is easy to work with.
The seller lists the products on the wholesale market and reaches the customers that are looking for these products. Hence, generating sales. 
Business-to-customer marketplace
The B2B marketplace involves business and the customer. Here the company does not sell its products and services to another company but directly to the customers. It is a marketplace where entrepreneurs sell their products to customers. A wide variety of items will be present through this platform, and many discounts and offers will also be available.
Amazon is one such website that is a multi-vendor marketplace platform where millions of customers purchase products from various vendors. Anything can be bought through the websites, from toothbrushes to tool kits, dresses to doors.
Want to build your own B2B or B2C marketplace? Get started now.
Customer-to-customer marketplace
C2C, also known as a peer-to-peer marketplace, enables end customers to sell to one another by charging the sellers for listing their offerings. It gives an environment for one customer to purchase goods from another through a third-party platform.
Have you ever bought anything from Olx or Quikr? If yes, then you have experienced the C2C marketplace. 
Marketplaces based on industry focus
We have discussed marketplaces based on the target audience, but another category focuses on the industry they sell in. These include horizontal and vertical marketplaces.
In a vertical marketplace, businesses focus on one industry niche and have a limited target audience. This marketplace offers similar types of products and services from a variety of sources. One of the best examples of vertical marketplaces is Uber. 
Tip: Build an app like Uber and lead the market.
Compared to the vertical marketplace, the horizontal marketplace has a broader target audience as it offers a large selection of products across various categories. Amazon is the finest example of this marketplace.
Benefits of entering into online marketplace business models
Before entering into this business, entrepreneurs usually have questions like "why should I enter into an online marketplace business?" "Will it provide me any value?" To answer these questions, let's first understand that people are shifting from offline shopping to online. The reasons are well known to all.
In the USA alone, there were 268 million online shoppers in 2022. According to recent studies and market observations, eCommerce sales are projected to reach $58.74 trillion by 2028.
Now let's look at the most incredible benefits of investing in this business.
Access to existing customer base
If you already have a business, that's good news for you. Now that you have a customer base, you do not have to start from scratch. You immediately get access to a pool of clients who are interested in your products and services.
Therefore, saving you time, helping you sell straight away, and building a successful marketplace.
Make too big too fast
Marketplace business models are seen as a front runner as they possess the capacity for rapid growth. They have to pave the way for a transaction rather than engage in the transaction itself. The workers are not brought into manufacturing, packaging, or delivering products.
Therefore the only staff which is required is specialists in keeping the platform rolling.
A low-risk business
As a business owner, you will likely have delivery, warehousing, logistics, or return policy issues. Now no burning the midnight oil by overthinking the perfect equilibrium of supply and demand. Basically, you need zero stock or a logistics policy.
The business moves ahead swiftly when you create your marketplace and focus on developing the platform.

Easy management
Once you create a marketplace and the sales-distribution platforms are added to the e-commerce strategy, nothing is a problem, thanks to the support. Take the help of marketplace marketing tools and automate the bulk upload of product information.
It helps ensure that the catalog and stock data are uniform across different channels simultaneously.
Higher user engagement
Another advantage of this business model is that it leads to higher user engagement compared to offline marketplaces. With promotions, coupons, discounts, product suggestions, and other ways, one can easily attract the attention of users.
Further, these suggestions can be made after studying the data about their purchase pattern, giving in-depth knowledge about each buyer.
Expand business overseas
An online marketplace is one of the best ways to take your brand to a global level. It is because a marketplace acts as a link between buyers and sellers and provides. Further, there are no time constraints with the online marketplace as it will be operating all the time.
These factors help the brand grow across the globe and connect with sellers and buyers worldwide.
How do online marketplaces work?
An online marketplace is a place the owner provides for multiple sellers and buyers to connect. The responsibility of the marketplace owner is to manage the site's aesthetics, feel, and customer experience.
Third-party sellers place their products/services on the platform with all the related information like its features, price, description, and much more. Once the buyer comes on the platform, he/she can search for the product they need and choose the perfect option based on their requirements.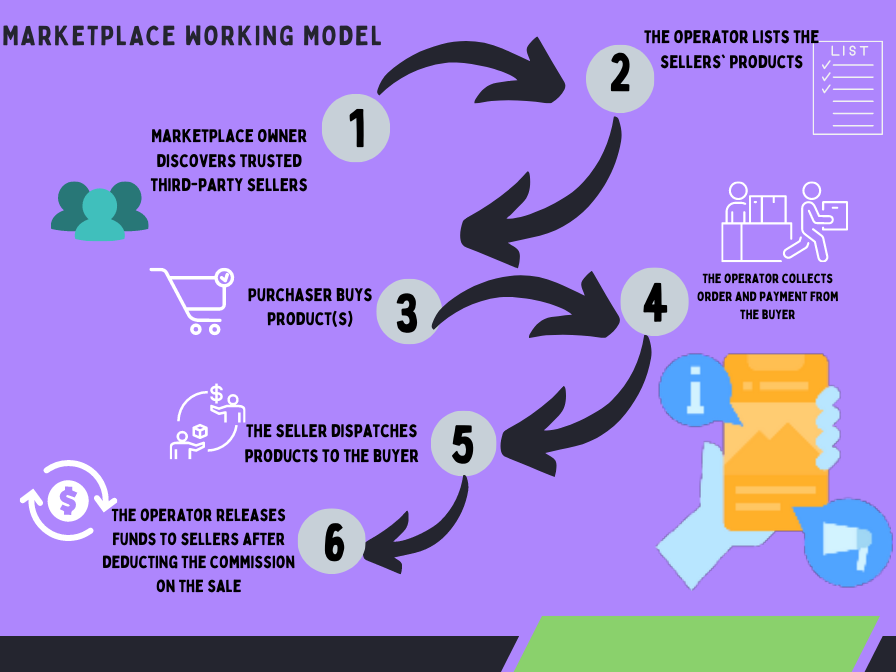 To make it more clear, we will divide this into six steps.
Firstly, the marketplace operator identifies trusted third-party sellers and onboards them.

Once there are trusted sellers, their products are listed on the platform with relevant information to provide the details of the product.

Now buyers have access to thousands of products, and they can compare these and choose the suitable item based on their taste.

Next, the operator collects order details and payment from the buyer.

After payment, the third-party seller dispatches the selected product directly to the buyer's address.

The last step includes the operator releasing the funds to the seller after taking its commission on the sale.
How does the marketplace business model earn?
You must be wondering if a marketplace business model is the bridge between the buyers and sellers; how does it make money? Well, there are several revenue strategies through which marketplace business models earn. These are: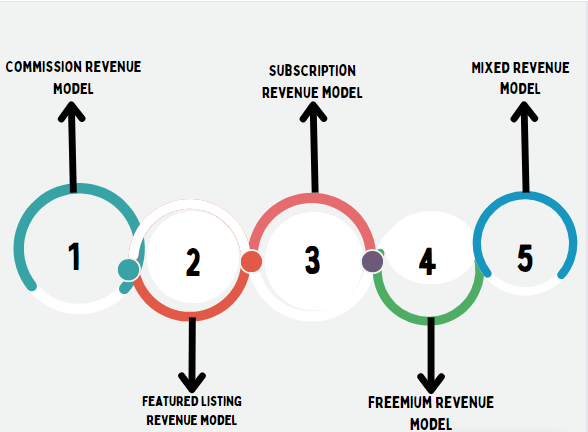 Commission revenue model
It is the most common and best revenue model through which marketplace businesses earn. Under this, they charge some commission for each transaction between the buyer and seller. For instance, when the customer pays for the order, the marketplace owner transfers that to the third-party seller after deducting the commission.
Featured listing revenue model
Another way to earn money is through a listing fee revenue model. Marketplaces can charge vendors for every product or service they list on the platform. Though regular product listing is free, a listing fee is charged when vendors wish to display ads and featured listing to bring their own products to the top of the marketplace.
Subscription revenue model
Under the subscription model, vendors and customers must pay a fixed fee at regular intervals to enjoy the services. It also depends upon the type of marketplace. For example, some B2C marketplace subscription models require vendors to pay a fee, whereas the customers can avail of basic services for free.
Freemium revenue model
The Freemium model is a type of subscription model that allows users to access basic services for free and pay a subscription fee to avail of premium features. Marketplace offers free, basic, and premium subscriptions, which are categorized by unique services and features. It can be a monthly subscription fee or a yearly membership fee.
Mixed revenue model
This type of model is a combination of two or more models that are mentioned above. Marketplace owners follow this in order to maximize their profits and minimize burn rates. Operators can choose models that work the best for them.
To make it more clear, we will divide this into six steps.
Firstly, the marketplace operator identifies trusted third-party sellers and onboards them.

Once there are trusted sellers, their products are listed on the platform with relevant information to provide the details of the product.

Now buyers have access to thousands of products, and they can compare these and choose the suitable item based on their taste.

Next, the operator collects order details and payment from the buyer.

After payment, the third-party seller dispatches the selected product directly to the buyer's address.

The last step includes the operator releasing the funds to the seller after taking its commission on the sale.
How to build your own marketplace business model?
Now that you are familiar with what a marketplace business model is, its types, benefits, and the way these business models work and earn, it's time to build your model. Creating a marketplace can be a long and hectic process unless you hire the right people for it.
As there are several online marketplaces, you must plan out everything well before you start building one. We will divide this into two phases: the discovery phase and the product development phase.
Discovery phase
Every marketplace we use today solves a specific problem for its target audience. For example, Airbnb helps users find the perfect place to stay for their holiday or vacation. Before you build your marketplace, discover the problem you are trying to solve. Are you looking to provide solutions in the food delivery, on-demand taxi, or other industry?
The discovery phase helps get in-detail knowledge about the value proposition, your business customers, your resources, how you will attract buyers, what channels you will use, and what you will require to begin with the planning. Ensure that you have a better value proposition, as it is the USP of your brand and your marketplace.
Fill your business model canvas

Complete research of the competitors in the same business model

Check if the plan is feasible

Calculate the estimated cost and time required
Product development phase
Once you have all the questions answered and know that your marketplace idea is practical, it is time to develop it. The first thing you need to do now is finding the perfect team with the required skills and experience.
The team should include a business analyst, project manager, designer, software engineer, and quality assurance engineer to make your marketplace successful. After launching the MVP, you can learn from user comments and work for constant improvement.
Hire the right development team

Adopt an agile methodology for your business model

Build your MVP (Minimum Viable Product)
Wrapping up
Businesses and customers both look for convenience and a reliable platform where they can easily buy and sell products. And this is what the marketplace website and marketplace app deliver. The marketplace business models have great potential for those looking to promote their products and services via multiple channels. It helps attract sellers and buyers from around the countries.
In the future, there will be tough competition in the marketplaces, as there are plenty of them at present. To survive such a situation, it is vital that you provide a unique solution to the target audience. Big names like Airbnb and BlaBlaCar have proved their presence in the market through easy solutions. It is what the customer looks for.  
Hence, search for an idea that helps you make plenty of money and acts as the best for your customer's pain points. It is only possible when you understand your audience well, research your competitors, and test-and-try ideas in the market.
Feel free to consult with our professionals before you begin building your marketplace.

FAQs
How much will it cost me to build an online marketplace business model?
The approx. cost of building an online marketplace is $-$. Further, the exact cost of development depends upon various criteria like features, design, and much more.
What makes the marketplace business model so popular?
The reason for its popularity is that it offers a great business opportunity by attracting both sellers and buyers quickly. 
What are the features that I should consider for an online marketplace business model?
Some features that are a must are a simple signup process, mobile-friendliness, vendor dashboard, ratings and reviews, payment gateways, and easy custom search and navigation.
What business model is best for building revenue?
A commission model is the best for starting, as it allows you to generate revenue from each transaction that is made on the platform. Once you have this model, you can further integrate alternative models with time.
Is it challenging to build an online marketplace?
Firstly, building a marketplace has to be for the right reasons. Though the process takes time, with the right people on your team, you can ensure that your marketplace is exactly what you want it to be to achieve your business goals.