What is A Marketplace Model and How Does It Work?
September 15, 2023
Harjyot kaur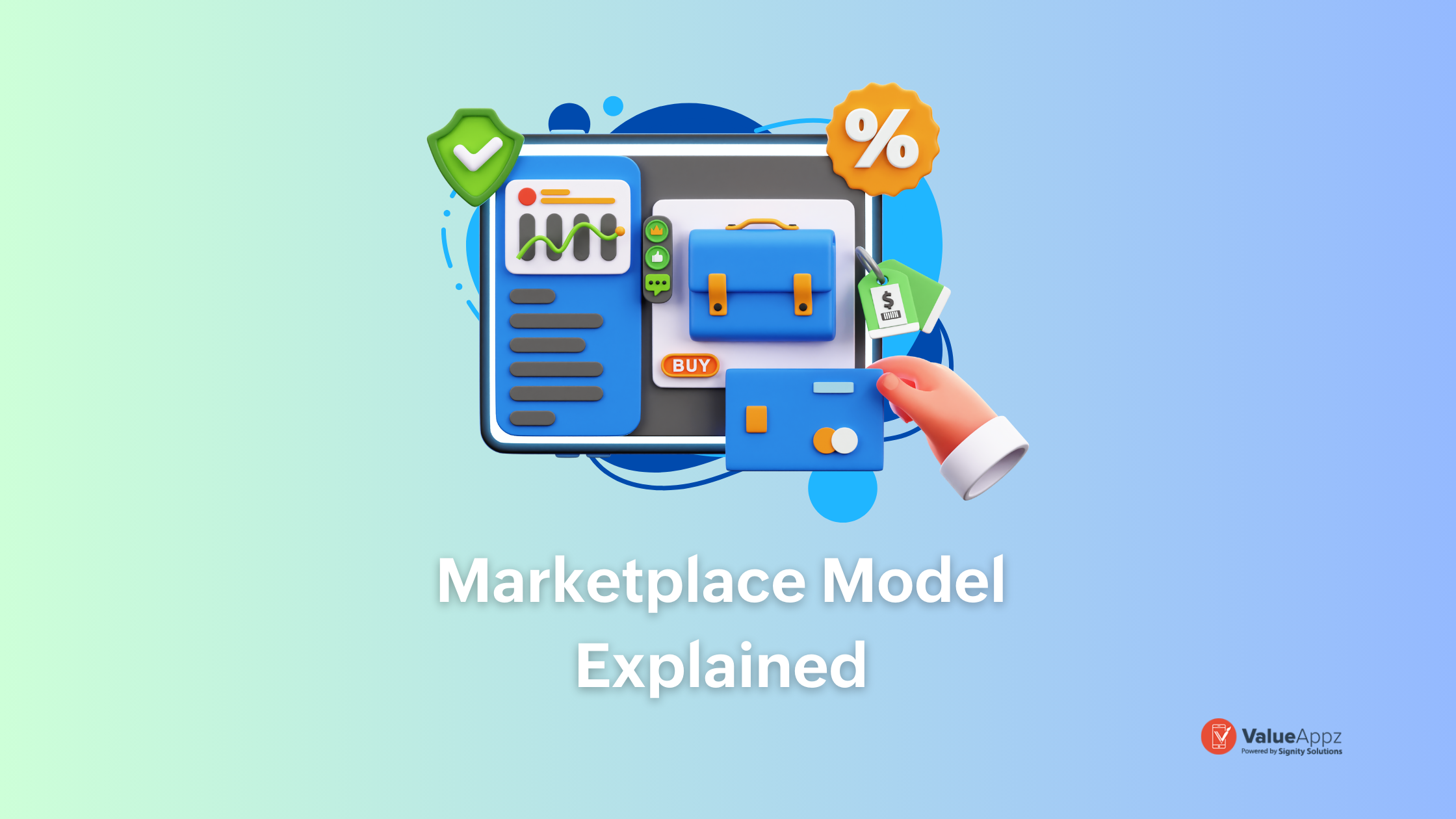 Table of Content
Follow Us
Quick Summary: Are you a startup or an existing business wanting to invest in an online marketplace? There are various factors that you have to consider when building the platform to take your products and services online. Discover the different marketplace models, revenue streams, and steps to build the platform.
Online marketplaces have changed the way people buy products and services. From visiting stores physically where they had limited choice to be able to shop at a global scale, these business models have seen tremendous growth.
Since 2020, there has been a massive spike in online marketplaces. About 79% of Americans make purchases online. Further, brands like Amazon have their own inventory of about 12 million items. 
Due to the changing customer demands, startups and small businesses have to invest in ideas that are in need. If you are an entrepreneur looking to understand the online marketplace industry well before investing in it, this blog is for you.
Understand this industry in detail and how you can start your own online marketplace business model.
What is a Marketplace Business Model?
Before we begin to talk about the model, it is essential to know what exactly is a marketplace model. Simply put, a marketplace is a platform or website where buyers and sellers can meet and exchange goods or services.
It can include physical goods or digital products and can take place through online auctions, fixed-price sales, or other means of exchange. Some examples of successful marketplaces include Amazon, eBay, and Etsy.
The marketplace is in so much demand that B2C marketplaces are estimated to reach $3.5 trillion in sales by 2024. Talking of online marketplaces, it is unlike any other business as it does not produce or resell anything. Another key difference is that it targets two completely different users: buyers and sellers.
Before understanding how these online marketplaces work, let's look at the key differences between offline and online marketplace business models.
Offline vs. Online Marketplace Business Model
An offline marketplace is a physical location where buyers and sellers can come to a single place to exchange goods and services. It can include brick-and-mortar stores, street markets, and trade shows. Offline marketplaces have been around for centuries and continue to play a critical role in commerce, especially in developing countries where internet access may be limited. 
They offer buyers the ability to see and touch products before making a purchase and can also provide a sense of community for both buyers and sellers.
However, offline marketplaces may be less convenient than online marketplaces, as they often require buyers to travel to a specific location and may not have as wide a selection of products or services available.
On the other hand, the online marketplace model has much more scope in terms of growth and running the business. With low operational and maintenance costs, it can reach the global audience quickly. 
The table below shows the comparison of these two marketplaces.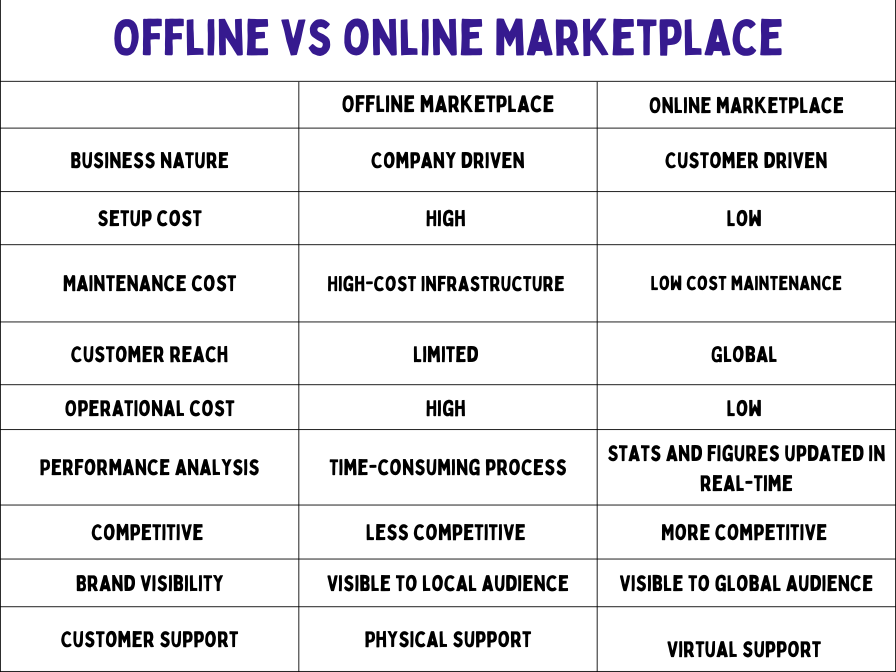 The table above shows that running an offline store can be more expensive and limit customer reach. Building an online marketplace consumes less time and opens up the doors to connect with the global audience.
How does an online marketplace business model work? How does it run completely online to attract customers and provide excellent services? The section below will explain it in detail.
How do Online Marketplaces Work?
The online marketplace business model facilitates the buying and selling of goods and services entirely over the Internet. Online marketplaces act as an intermediate between sellers and purchasers, giving a platform for them to sell and buy at a global scale.
Below is how an online marketplace business model works:
1. Registration
The first step is the registration to the platform. Sellers and buyers register on the marketplace platform to sell and buy products and services. For creating their accounts, they sometimes have to provide basic information like name, email address, and verification documents.
2. Products and Services Listing
Once sellers have registered to the platform, they list the products and services they intend to sell. Essential details like product descriptions, images, prices, and shipping options are provided with each product. This information is highly crucial to ensure that customers get engaged.
3. Search and Discovery
After the products are listed on the marketplace, the customers can browse them. Customers can search for a specific product or browse various categories and filters to discover relevant listings. The online marketplaces provide advanced search filters so purchasers can quickly look for the products.
4. Purchase
Once the buyer finds the product, they can add it to the cart and proceed to checkout. Marketplace business models often provide secure payment options such as credit/debit cards, PayPal, and other digital payment systems. To place the order, customers must provide details like name, complete address, etc.
5. Transaction Completion
After placing the order, the seller is notified through the marketplace. Sellers then proceed to prepare the order along with safe packaging. The platform handles the transaction, including payment processing, order confirmation, and scheduling.
6. Communication
Buyers and sellers can also communicate with each other through the platform in case of any help. They can ask questions, negotiate prices, and arrange shipping or delivery details. Also, customers can contact the sellers if their product is not delivered or damaged.
7. Reviews and Ratings
Once the buyer receives the product, they can provide their feedback. The reviews and ratings are given both to the product they ordered and the delivery services offered by the marketplace model. These further help enhance the product quality and services rendered.
Types of Online Marketplace Business Models
There are various online marketplace business models, each operating slightly differently. Before you enter this market, you should be aware of each type to choose what aligns with your brand the most. Different types of online marketplaces include;
1. B2C (Business-to-Consumer) Marketplace
One of the widely used business models in the online marketplace is B2C. Businesses offer goods or services directly to customers using a marketplace platform under the B2C marketplace concept. In this approach, companies take on the role of sellers and make their products available to a variety of platform users. 
The marketplace serves as a middleman, processing the transactions, creating a seamless user experience, and providing several tools and services to aid in the purchasing process. Businesses can reach a vast client base via the B2C marketplace model without investing heavily in marketing or opening physical stores, and customers have access to a variety of goods at reasonable prices and enjoy easy shopping experiences.
B2C examples: Amazon and Etsy
2. C2C (Consumer-to-Consumer) Marketplace
The C2C online marketplace concept allows individuals to deal directly with one another in both the buyer and seller roles. In this concept, people can use the platform to sell their goods or services, and other customers can purchase them directly. The marketplace serves as a middleman, giving customers a secure venue to interact, communicate, and conduct business. 
C2C marketplaces frequently provide features like user ratings and reviews, chat systems, and dispute resolution processes to promote confidence and ease seamless transactions between customers. The C2C model enables people to make money off their unused or unwanted stuff and gives consumers access to various second-hand or one-of-a-kind products at reasonable costs.
C2C examples: eBay and Ali Express


3. B2B (Business-to-Business) Marketplace
The B2B online marketplace business model aims to make commercial transactions easier. According to this concept, the market connects suppliers, manufacturers, wholesalers, and distributors with companies requiring goods or services. Businesses can broaden their reach, find new suppliers or customers, expedite their purchasing process, and create collaborations through B2B marketplaces. 
These markets frequently provide features catered to the requirements of enterprises, such as sophisticated search tools, requests for proposals (RFPs), and secure payment methods. The B2B model strives to establish a smooth and effective business environment, encouraging cooperation and promoting growth for participating businesses.
B2B examples: Alibaba and Upwork
4. Peer-to-Peer (P2P) Marketplace
 The P2P online marketplace model allows for direct business transactions between peers or individuals without the intervention of conventional enterprises. Based on this approach, people can provide their goods, services, or resources directly to those who need them. 
The marketplace platform is a go-between, bringing together peer providers and customers. 
P2P marketplaces allow users to make money off unused assets or abilities while customers get more individualized and cost-effective access to goods and services. These markets frequently use technology to facilitate effective matching, safe transactions, and user ratings/reviews to foster participant trust.
P2P examples: Fiverr and Etsy
5. On-Demand Marketplace
A vital component of the on-demand marketplace business model is instant access to goods and services. In this model, users can use a platform to request particular goods or services, and suppliers or service providers promptly fill such demands. On-demand markets use technology to link customers with nearby suppliers, automate order processing, and enable smooth transactions. 
This model's primary selling point is convenience, as customers can quickly and effectively receive what they need. At the same time, providers can make the most of their resources and generate on-demand cash. On-demand marketplaces are common in several sectors, including home services, transportation, and food delivery.
On-demand marketplace examples: Uber Eats and DoorDash
Top Reasons to Invest in Online Marketplace Business Models
Online marketplace business models have become a profitable investment for startups and small businesses. Whatever business model you may choose, you are assured to get great benefits from it. 
Let's look at the top benefits of investing in the online marketplaces.
| Benefits | Description |
| --- | --- |
| Access to a larger customer base | By utilizing the marketplace's current user traffic and customer base, businesses can access a wider and more diverse client base. |
| Lower marketing costs | Due to the fact that the market largely handles marketing and client acquisition activities, businesses can lower their marketing expenses. |
| Reduced initial investment | Comparing the upfront costs of joining an existing marketplace versus developing and marketing a standalone e-commerce website, the former is frequently lower. |
| Faster market entry | By making use of the market's infrastructure, technology, and user base, businesses can enter it fast. |
| Payment processing simplification | The processing of payments is often handled by marketplaces, which streamlines financial transactions for enterprises. |
| Global reach | Through the marketplace, businesses can contact customers domestically and internationally in addition to local markets. |
| Reduced risk | Since joining a marketplace enables businesses to test products or services with less financial exposure, it can be less risky than starting an independent venture. |
All the reasons above prove that investing in an online marketplace business model can be highly profitable for startups and small businesses. Not just the profits, but it also lowers the risks.
Steps to Build an Online Marketplace
How do you build an online marketplace that engages various sellers and buyers? Creating a multi-vendor platform is easy when you follow the proper steps. Below, we have explained the steps to help you create a thriving online marketplace.
1. Market Research and Idea Validation
Thorough market research and idea validation are crucial throughout the earliest stages of creating an online marketplace. Find a sector or niche that has gaps and unexplored opportunities first. Because a thorough understanding of the market is essential, your decision should align with your experience and interests. Conduct a comprehensive market analysis to learn more about your possible rivals and market trends. 
Analyze the current market participants' advantages and disadvantages, demographics, and product gaps. Start a journey of surveys, interviews, or trial initiatives to validate your marketplace notion. By using these techniques, you can ensure that there is actual demand within the targeted niche from suppliers and customers. 
Gather user feedback to understand better potential customers' preferences, problems, and expectations. 
2. Business Model and Revenue Strategy
The success of your online marketplace depends heavily on the choice of a solid business plan and a clear revenue strategy. 
First, decide which marketplace model (such as B2C or C2C) best fits your concept and target market. This choice will influence the functions of sellers and buyers on your platform and how transactions go. Investigate developing a revenue strategy next. Decide on the revenue model for your marketplace, such as commissions, listing fees, membership programs, or advertising. 
When creating your monetization strategy, ensure it is profitable, covers operational costs, and is competitive. Building trust with your users requires being open and honest about fees and charges. 
3. Platform development
Platform development is one of the most critical stages in creating an online marketplace. You must first choose a suitable development strategy. You have two options: use pre-existing marketplace software or platforms that provide ready-made solutions or develop your platform entirely from scratch, which offers complete customization but requires more time and resources. 
Your project's scope, budget, and timeframe should all be considered. The next choice you must make is the technological stack, which consists of the programming languages, frameworks, and tools that will power your market. Make decisions based on things like scalability, security, and the knowledge of your development team.
4. User Onboarding and Seller Acquisition
The onboarding of users and the recruitment of sellers are essential steps in creating a successful online marketplace. Building user confidence requires implementing user registration with identity verification. 
This procedure minimizes the possibility of fraudulent conduct by assuring both buyers and sellers that they are dealing with trustworthy and legitimate peers. Making the registration procedure as easy as possible for users while ensuring the required security checks are in place is crucial. It boosts user confidence and improves their overall experience. Provide resources and tools to aid sellers in optimizing their profiles and listings to draw them in. 
Provide advice on how to write compelling product descriptions, price plans, and stunning photos.
5. Marketing and Promotion
You must engage in marketing and promotion to make your online marketplace successful. A thorough marketing strategy must be created to start and expand your platform successfully. Adopt a multifaceted approach that incorporates influencer collaborations, partnerships, digital marketing, SEO, and content marketing. Digital marketing includes a range of media, including display advertising, email marketing, pay-per-click (PPC) campaigns, and social media advertising. 
It enables you to reach potential customers where they are online and target particular demographics. SEO is crucial to maximize your platform's visibility in search engines and make it simpler for visitors to find your marketplace.
6. Monitoring, feedback, and iteration
Keep track of user activity, transaction information, and engagement metrics to learn more about how people use your platform. Use tools and analytics to measure user happiness, conversion rates, and other essential performance indicators. Users should be encouraged to post reviews and ratings because they offer helpful feedback and contribute to community trust. 
A positive user experience is fostered mainly by transparency and response to user feedback. The development and viability of your marketplace depend heavily on iterating and improving depending on data and feedback. Analyze the data you've gathered frequently to spot problems, potential improvements, and innovative ideas. Utilize this data to improve user flows, hone current features, and improve the user experience as a whole.
Challenges Faced by Online Marketplace Models
Running an online marketplace model is not as easy as it sounds. Though there are several existing models, all these face several challenges to grow and attract the target audience. Some of the significant setbacks include.
1. Immense competition
Due to the crowded nature of the business, fierce competition is a substantial problem for online marketplaces. It becomes difficult to distinguish from the competition when several rivals are competing for the same buyers and sellers. 
To draw and keep customers in a competitive environment, online marketplaces must continuously innovate, create excellent user experiences, and offer distinctive value propositions. To maintain a competitive edge, they must constantly adjust to shifting market dynamics, predict customer preferences, and invest in efficient marketing methods.
2. Trust and safety
For online marketplaces, building trust and safety is a significant task. Users must feel secure and confident when engaging in transactions, disclosing personal information, or conducting business on the platform. Online marketplaces must create reliable systems to confirm the legitimacy of merchants, safeguard user data, stop fraud, and quickly settle disputes. 
Implementing strong security measures, open user reviews and ratings, transparent policies, and attentive customer assistance to handle any possible concerns or difficulties are necessary to build confidence. It's essential to overcome these obstacles to build user confidence and a trustworthy marketplace.
3. User fraud
Online marketplaces have a substantial issue from user fraud. Fraudulent practices like fake listings, identity theft, payment fraud, and unapproved transactions can damage both buyers and sellers by undermining confidence. Online marketplaces must implement effective procedures for detecting and preventing fraud, such as identity verification, secure payment channels, and proactive monitoring of ominous behavior. 
To safeguard consumers and preserve the integrity of the marketplace ecosystem, ongoing monitoring, user education, and prompt resolution of fraud-related issues are crucial.
4. Quality control
Online marketplaces face a huge problem maintaining quality control because the merchants supplying their goods and services come from various locales and backgrounds. It might be challenging to guarantee constant quality, prompt delivery, and accurate representations of products. 
To maintain high-quality standards, marketplaces must create thorough seller vetting procedures, enforce quality standards, and provide avenues for user feedback. It is a constant challenge to balance the requirements of different sellers and uphold quality control. This balance needs to be struck to handle problems and keep customers satisfied.
5. Marketplace fee
Finding the ideal balance regarding marketplace fees can be difficult for online markets. If costs are set too high, it might discourage vendors from joining or staying on the platform, resulting in fewer options for goods and services. If fees are charged too low, it could affect the marketplace's capacity to generate income and remain viable. It takes a careful assessment of market expenses, the value offered to sellers and purchasers, and competitive analysis to determine the best charge structure.
How We Helped Aagyo Develop an On-Demand Delivery Marketplace
One of our clients, Aagyo, needed a leading on-demand delivery marketplace to attract buyers and sellers in its area. The brand delivers everything from food to vegetables, groceries, medicines, makeup, and fashion shopping. 
Launched in 2021 in Uttarakhand, India, Aagyo has seen significant growth. It has delivered over 50,000 orders, and the app has an average rating of 4 stars. The client wished to build a digital solution to empower the locals in remote India, and that is the exact solution we provided. 
10K+ app downloads

275+ vendors registered

16,500+ customer base
Check out our Aagyo marketplace case study to learn about the platform in detail.
Build Your Online Marketplace With Leading Technology
So, are you ready to launch your online marketplace business model? You need the latest tech stack, resources, and skills to build a robust platform.
ValueAppz is a well-known eCommerce app development company that provides 100% customized solutions for businesses of all types. Get your online marketplace developed in no time and bring in thousands of sellers, buyers, and revenue.
Get in touch with our team today to discuss the idea.
Key Takeaways
An online marketplace connects buyers and sellers at a global level, enhancing the shopping experience.
There are several types of online marketplaces: B2B, B2C, C2C, P2P, and on-demand delivery. Understanding each is important before you invest.
A few reasons why your business must invest in online marketplaces are a broader customer base, reduced marketing costs, and lower risks.
The steps to build the online marketplace business model include research, choosing a model, developing the platform, marketing, and continuous improvement.
Some challenges of running a successful online business are intense competition, trust-building, user fraud, quality control, and fee structures.
Frequently Asked Questions:
Q1. What is the Online Marketplace Business Model?
An online marketplace business model connects buyers and sellers on one platform, facilitates transactions, and generates revenue through various models like commissions, subscriptions, and advertising.
Q2. How do Online Marketplaces Make Money?
Online marketplaces generate income from various sources, including transaction commissions, subscription plans with added functionality, and revenue from advertising and sponsored listings.
Q3. What is an Example of a Marketplace Business Model?
One example of a marketplace business model is Amazon. It has become one of the leading platforms to attract buyers and sellers on a global scale.
Q4. How do you Create a Marketplace Business Model?
The steps to create a marketplace business model are as follows:
Identify the target market and niche

Conduct market research

Determine business and revenue model

Build a user-friendly platform

Attract sellers and buyers

Develop effective marketing strategies

Continuously improve the marketplace
Q5. What are the Three Main Types of Online Marketplaces?
The three main types of online marketplaces are B2B (Business-to-Business), B2C (Business-to-Consumer), and C2C (Consumer-to-Consumer).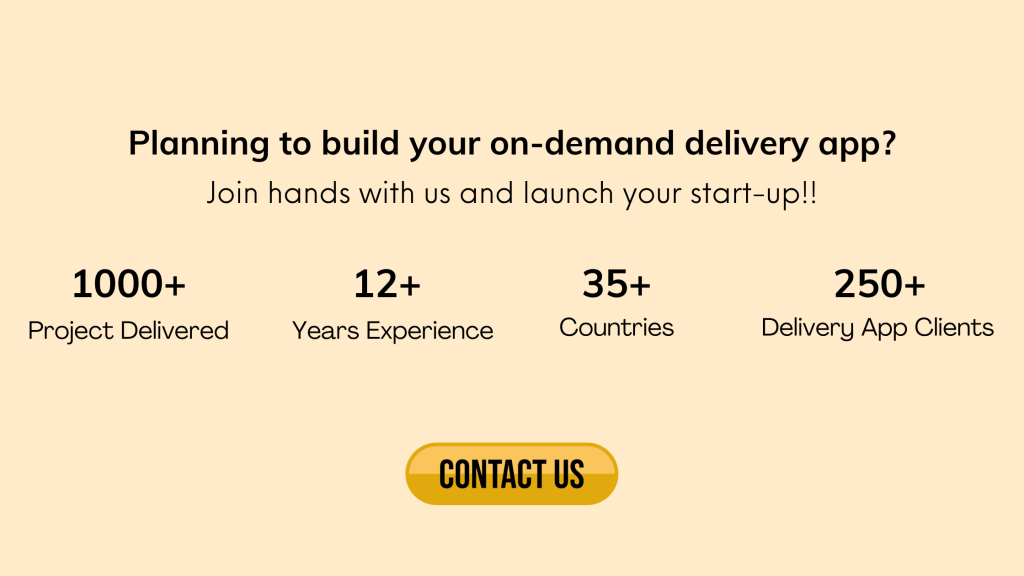 THE AUTHOR
Harjyot kaur
As a technical content writer my focus is on creating high-quality, engaging, and informative content that simplifies complex technical topics. Throughout my career, I have continuously pursued opportunities for growth and development, refining my skills and expanding my knowledge base.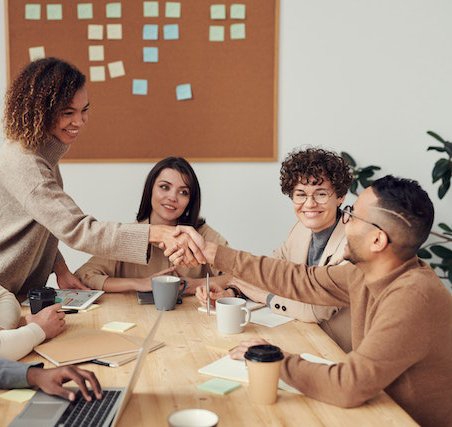 Get ready to digitally transform your business.
Let our team help take your business to the next level. Contact us today to get started on finding the perfect solutions for your business needs.