Challenges Of Handyman Business And Solutions For It
July 27, 2023
Harjyot kaur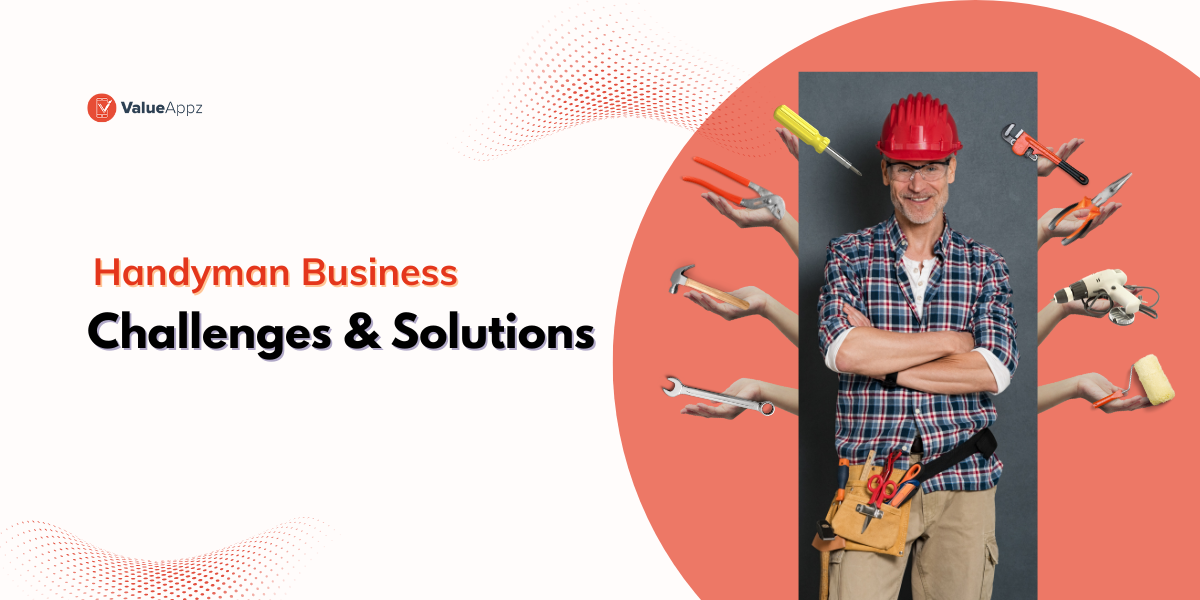 Summary: Running on-demand handyman services might seem easy, but the reality is different when you enter the industry. From gaining customers to satisfying them with quality services and earning a profit from several expenses, this business has several pain points. With our blog, identify these and find out the best solutions to tackle these.
As we embark on this journey together, we'll explore the multifaceted nature of running a handyman business. From client acquisition and retention to managing resources, handling customer expectations, and staying ahead of the curve with technology, we'll leave no stone unturned in our pursuit of growth and excellence.
We understand that every handyman business is unique, and what works for one may not always be a fit for another. Therefore, our approach will encompass a diverse range of challenges and solutions, allowing you to tailor strategies to suit your specific business model.
Whether you're a solo handyman looking to expand your clientele or an established handyman service seeking innovative ways to boost efficiency, we've got you covered. Our goal is to provide you with actionable insights and practical tips that can be implemented right away, making a tangible difference in your day-to-day operations and long-term success.
So, without further ado, let's dive into the world of handyman business challenges and solutions. Are you ready to navigate the path to success? Let's begin!
What is a handyman business?
On-demand handyman apps have become one of the top ideas for entrepreneurs and a necessity for users. It has attracted several startups, and this industry is projected to reach a value of USD 1.65 billion by 2032. But is it really easy to start a handyman business?
Entrepreneurs who are already in the handyman business would have realized that there are several challenges that they have to face. Every business has some pitfalls, and so does the handyman business.
Let's begin by understanding what exactly is a handyman business. 
A handyman business is a service-based business that provides a variety of home repair and maintenance services to customers. From fixing a leakage to repairing furniture and cleaning the house, the platform enables users to look for nearby handyman services, hire a professional handyman, and book their time slot. Here are some important points about starting and running a handyman business:
1. Business structure:
Most handyman businesses start as sole proprietorships, but registering the business can provide legal benefits, tax benefits, and personal liability protection.
2. Services offered:
Handyman businesses offer a range of services related to plumbing, drywall, painting, fixtures, tiles and stones, waterproofing, and more.
3. Pricing models:
Many handyman businesses use a hybrid pricing model where standardized projects are charged at a flat rate while significant repairs are hourly.
4. Customer service plan:
Building a customer service plan is essential for any successful handyman business. It includes setting clear payment terms with clients and having processes in place for scheduling jobs and managing client expectations.
Starting and handling a handyman business can be challenging due to difficulties in finding clients, managing time effectively, dealing with seasonal workloads, and ensuring clients pay on time.
Overcoming these challenges and building a successful handyman business requires careful planning, effective marketing strategies, good project management skills, and solid client relationships through excellent customer service.
We have listed the top pain points with its practical and proven solutions.
💡 Recommended read : Complete Guide To Start A Successful Handyman Business
Top 6 challenges faced by on-demand handyman services
As several people are entering this market every day and the customers look for quick and quality services at a reasonable price, running a handyman business can give some hard times. Below are the top challenges faced by on-demand handyman services. 
 1. Building a strong customer base
Any business needs a strong customer base for its growth. Meaning that they not only have to pull in the customers but also ensure that they stick with them throughout. It might seem an easy task in the handyman business but the reality is harsh.
The first reason is that there is huge competition. Just in a small area, there are several handyman professionals across various apps. Secondly, a customer might leverage the service of others if they provide it quicker or at a lower cost. Hence, it is quite challenging to maintain the retention rate.
 2. Some handyman tasks are seasonal
It is another major challenge that companies in the handyman industry face. Some specific tasks are required at a particular time in the year. Hence, it greatly affects business growth. Let's understand this by an example.
For instance, the service of air conditioners is only required during the summer. Likewise, snow removal from the driveways is needed only during winter. Professionals who possess these skills and are hired for these will only get work at limited times in the whole year, creating a big hurdle for the business.
  3. Lack of knowledge of the required skill set
Often entrepreneurs get into the handyman business without fully understanding the skill set they need for their target audience. If the users are looking for plumbers or carpenters, the company needs to ensure that it has specific professionals who can perform these tasks.
Also, the professionals should be well-trained for better customer service because if they give poor service to the customers, it will affect your business.
  4. Scaling the business
Scaling a handyman business can be challenging due to several factors. Firstly, there may be a limited pool of skilled labor available, making it difficult to find enough workers to keep up with demand. Secondly, expanding beyond a specific geographic area can be difficult, and marketing and advertising to reach new areas can be expensive.
Thirdly, managing inventory and supplies and maintaining quality standards becomes increasingly challenging as the business grows. Overall, careful planning and management are necessary to overcome these challenges and successfully scale a handyman business. 


 5. Equipment repairs are expensive
Equipment repair can be a significant challenge for handyman businesses as they rely on a variety of tools and equipment to perform their work. When these tools break down or require maintenance, they can cause delays in completing jobs and result in lost revenue. Repairing or replacing equipment can also be costly, especially if the business has to purchase new tools or hire outside contractors for repairs.
Further, with the proper equipment, the professionals can perform certain jobs or provide high-quality service, which can help their reputation and customer base. Therefore, regular maintenance and repairs are crucial to ensure that equipment is functioning properly and minimize the risk of breakdowns or equipment failure.
6. The minimum price rate for the services
Another challenge handyman company owners face is setting a minimum price for each service. It cannot be too high that no customer avails it and not too low that it affects the business profits and growth.
The users are unwilling to pay higher prices for the services. In such a condition, it gets challenging for the company to earn a profit margin. If they raise the price of the service, the users quickly move to another company that provides the same service but at a lower price.

Also read: 10 Apps That Every Handyman Business Needs
Solutions to grow the handyman business effectively
How can I expand my handyman business? Though there are several challenges that a handyman service faces but with practical solutions, these can be handled well. Below are some of the strategies that can ensure good growth in the business. 
1. Go the extra mile for your customers
Pay attention to the small things that can take your business to the next level. That might mean presenting your own solutions in a good way. Handymen that work for your business can extend their working hours for customer's requirements. It can be done by doing a bit more work than you quoted in order to go the extra mile. The small things really do mean the most. Building relationships with customers should be the utmost priority.
2. Create loyalty programs
Implementing a loyalty program can encourage repeat business and increase customer retention. By offering incentives such as discounts, free services, or priority scheduling to loyal customers, handymen can build stronger relationships with their clients and increase the likelihood of repeat business. It can also lead to positive word-of-mouth referrals and help the business grow over time. To implement a successful loyalty program, handymen should first identify their most valuable customers and tailor rewards that are meaningful to them. 
3. Raise your marketing game
Marketing techniques are one of the most effective ways to skyrocket the handyman business growth. By raising brand awareness, it pulls in new customers who can bring good business quickly. Some marketing strategies that can be effective include:
Networking
Collaborating with local businesses
Creating a website and social media profiles
Offering promotions or discounts
Using paid advertising channels like Google Ads or Facebook Ads
4. Offer promotions and discounts
As we discussed above, a high service price can take away the customers. To ensure that they stick with you for a long time, promotions and discounts can do great wonders. For instance, you can provide a 50% discount to new users. Or give a promo code to those who bring their friends and family to your application. Such tactics can easily gain the user's interest and encourage them to refer it to their friends and family.
Why is handyman app like Uber the best solution
The Uber model has become so successful that many companies are adopting it for their business idea. One reason for it is that the Uber model is engaging yet easy to use for users and service providers. Hence, it makes it one of the best solutions for starting a handyman business.
An Uber-like handyman app can be beneficial for startups because it offers a convenient and efficient way to connect handymen with customers. With an app, customers can easily request services and track the progress of their projects, while handymen can manage their schedules and communicate with clients in real time. The app can also provide features like online payments, customer reviews, and loyalty programs to enhance the customer experience and encourage repeat business.
Additionally, an uber like handyman app can help entrepreneurs reach a wider audience by providing exposure to new customers who may not have otherwise known about their services.
Overall, an Uber-like handyman app can streamline operations for both handymen and customers, leading to increased efficiency, customer satisfaction, and profitability for the business.
Convenience:
Uber-like handyman apps offer businesses an easy and convenient way to access services. No matter how many services your business may provide, all of them can be easily managed through one single application.
Cost-effectiveness:
Building a handyman app like Uber can prove to be a cost-effective solution, especially for startups. As the code is already in place, with a few more customizations, you can quickly build an app.
Tracking and monitoring:
These apps allow businesses and users to track and monitor the progress of their ride or handyman service in real-time. It ensures that businesses can stay informed about the status of their service and make any necessary adjustments to their plans.
Safety:
Uber and handyman apps provide a safer option for businesses, as all drivers and handymen are vetted and undergo background checks before they are allowed to provide their services on the app.
Overall, Uber and handyman apps provide a convenient, cost-effective, and safe way for businesses to access handyman services, making them a popular choice for many businesses.

Also read: 7 Steps For Building A Handyman App Like Uber
Build your on-demand handyman app with ValueAppz
Starting a business, especially in a market where the competition is fierce, can be a challenge in
itself. Even with all the precautions, there is always room for errors. A handyman app development company can ensure that you get a feature-rich, interactive, and reliable app for your business.
Save money and time with handyman clone apps like TaskRabbit clone app and Thumbtack clone app. You get a dedicated team of designers, developers, project managers, and quality assurance members with us. Our experienced team of experts will guide you through the whole process and maintain complete transparency to make sure that your app is designed how you want it. Get in touch with us now and turn your idea into a reality.

Frequently Asked Questions:
Q1. What are the most typical challenges faced by handyman businesses?
Some of the most common challenges handyman businesses face include finding qualified staff, managing finances, scheduling and completing jobs efficiently, and maintaining customer satisfaction.
Q2. How can a handyman business address the challenge of finding qualified staff?
To address the challenge of finding qualified staff, a handyman business can consider partnering with local vocational schools, attending job fairs, offering competitive compensation and benefits, and creating a positive work environment that attracts and retains employees.
Q3. What are some solutions for managing finances in a handyman business?
Some solutions for managing finances in a handyman business include investing in accounting software, keeping accurate records of income and expenses, setting financial goals and regularly monitoring progress, and seeking the advice of a financial professional.
Q4. How can a handyman business improve efficiency in scheduling and completing jobs?
To improve efficiency in scheduling and completing jobs, a handyman business can consider using scheduling software, prioritizing jobs based on urgency and location, establishing clear communication with customers, and regularly evaluating and adjusting processes for maximum efficiency.
Q5. What are some strategies for maintaining customer satisfaction in a handyman business?
Some strategies for maintaining customer satisfaction include providing high-quality workmanship, responding promptly to customer inquiries and concerns, offering competitive pricing, and regularly soliciting and incorporating customer feedback.

THE AUTHOR
Harjyot kaur
As a technical content writer my focus is on creating high-quality, engaging, and informative content that simplifies complex technical topics. Throughout my career, I have continuously pursued opportunities for growth and development, refining my skills and expanding my knowledge base.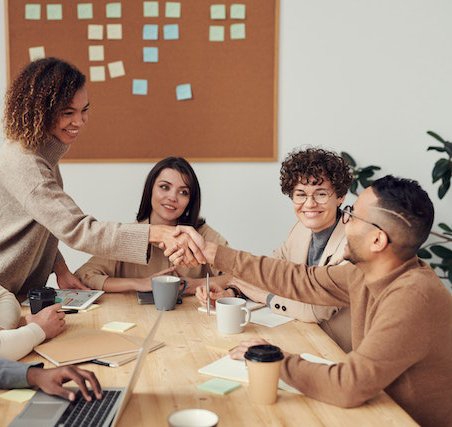 Get ready to digitally transform your business.
Let our team help take your business to the next level. Contact us today to get started on finding the perfect solutions for your business needs.