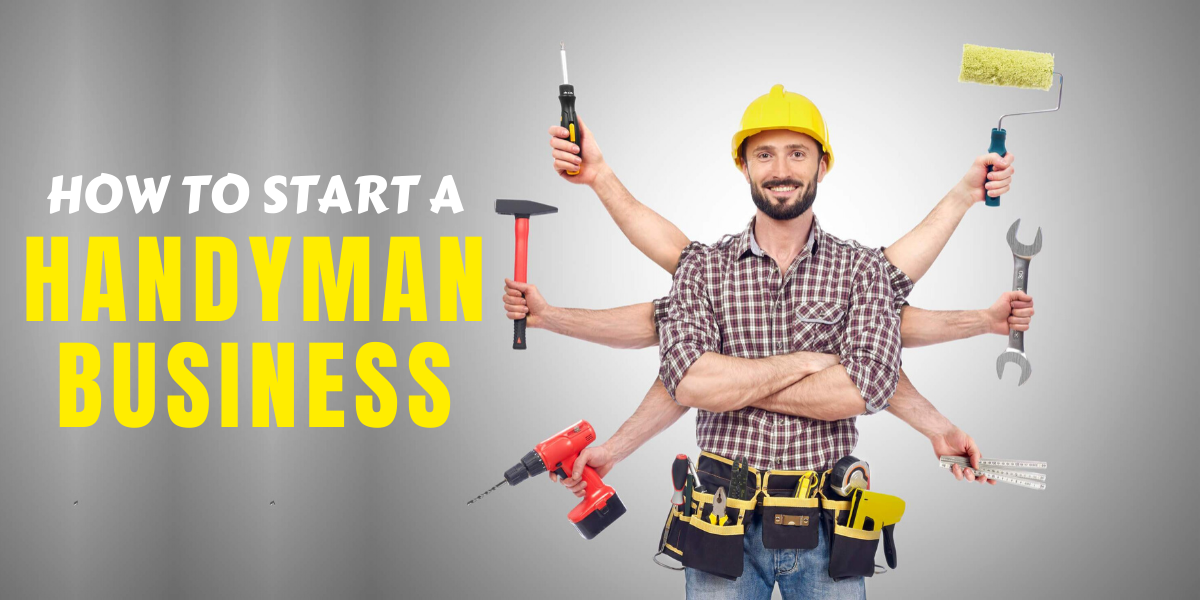 Starting your own handyman business can be an exciting and rewarding venture. As a handyman, you have the opportunity to use your skills to help people with their home repairs and improvements. However, whether you're a seasoned professional looking to strike out on your own or a newcomer, starting a handyman business requires careful planning and preparation.
In this blog, we'll guide you through the steps you need to take to start your successful handyman business. From developing your skills and creating a business plan to obtaining licenses and permits, setting up a legal entity, and marketing your business, we'll cover everything you need to know to get started.
Read on to learn how you can turn your handyman skills into a thriving business. But first let's start with the quick basics;
What is a handyman? 
A handyman offers various types of home repair services based on skillset and the demand of the customer. Handyman business services include maintenance and repair, both exterior and interior trade skills.
If you have these handyman skills and want to start your own online handyman business. You have come to the right place!
How to start a handyman business?
If you think this is the perfect business idea for you, then Voila!
Because you have already achieved the first step of believing in yourself and your idea, and now you are ready to take the next step. There is a lot more than just getting it registered with the state.
If you want to start a handyman business, there must be the following questions hovering in your mind:
"What do I need to start a handyman business?"
"How to start your own handyman business?"
"Do I need any previous experience?"
"Can I make a living out of it?"
"Do I need any software or license for it?"
Well, we will answer all of them! But regardless of the questions and experience, you have under your belt, starting a handyman business requires consistent efforts.
If this thought is driving you crazy, then we have got you covered! We will walk you through simple steps that will guide you on how to start your handyman business.
These steps will make sure that your new business is well planned, adequately enrolled, and starts with a great hit! 
1. Plan your business
Plan, plan, and plan: A bright idea is vital for every entrepreneur.
If "how to start and earn with a handyman business?" is the question that is reoccurring in your brain, then first, you have to plan the business. As it is always said, first thing first: a clear plan will help you to map out your business and discover what new you can add to it.
Therefore, we highly suggest that first, you should jot down a few important things, for instance:
What will be the ongoing expense for the handyman business? however ongoing expenses will be higher than the initial startup cost.
Who is the target audience? you are going to deal with a large pool of customers, therefore, you must identify your target audience by bearing in mind the type of jobs you plan to take on.
There is a lot that needs to be taken care of; therefore, we have listed down answers to a few of your questions.
a. What will be the cost of starting a handyman business?
After talking to experienced business handyman owners, it all boils down to that you can start your handyman business with less than $1000.
The only items you require are essential home repair tools, marketing material, and insurance. To give your business flight, consider building a website where the customers can find out the necessary information and contact you for the same.
b. How to make a profit from your handyman business?
A standard one-person operation costs up to $40,000 annually, but many handyman businesses have reported that they have earned more than $2500 per week.
Profits you are going to make directly depend upon the types of services you offer and how accurately you charge for them.
2. Build your website
We firmly believe that having a reliable website that can be located on search engines will build your business. It will help your customers to build trust and will surely set you apart from your competitors, and also will get you more work.
Your website must include the company, services offered, work request, form, client testimonials, and information about the license. Your website should be SEO optimized as it will be easy for your customers to find you online.
The main motive of having an SEO build website is to rank on search engines so that you can get more work.
3. Handyman business apps
There are various handyman home services business software and on-demand handyman app like handyman accounting software available that will help you to organize your business, as the software is the best bet.
It will help to keep all your business and client information organized and easy to access.
If you can't access the previous information, your visit to the customer's house will be a big disappointment. So to avoid these kinds of embarrassment you must have handyman software.
The service program, do timely, Astro, and Streem are the best free software for a handyman business.

4. Market your handyman business
If you want to expand your business, then you have to market it in the right way.
Marketing your services as a handyman is as important as holding a wide range of handyman skills.
There has been a high demand for starting handyman services from the past years, and great handyman advertisements can benefit your business by creating a successful B2B marketplace.
We have put together a list of a few marketing strategies to help you in handyman marketing. Take a look!
a. Boost your expertise through certification
Most people look for handyman services for their house or workplace.
Therefore, it is essential to ensure them with the services you provide. To do so you must showcase your certifications as they are looking for someone trustworthy and dependable.
b. Design flyers
Another proven trick to market your business is to print out flyers loaded with discount coupons.
Also, you can hand out your handyman business cards in the neighbourhood to promote your business.
c. Be active on social media
Social media platforms such as Facebook, Twitter, Snapchat, and Instagram are the powerhouse for marketing.
All you have to do is create your handyman business page and keep posting videos, photographs or tutorials.
5. Get your licenses and permit 
Do you need a license to work as a handyman?
Usually, handymen don't require a license or permit to run a business in their local city.
But, if you are providing your services in the neighbouring towns then you will need a license and permit to expand your business and run it smoothly. You should be familiar with the laws and regulations to make sure that you take up the correct project.
6. Get your insurance
Let's get it straight; you have some level of liability when you are working in someone's house. Although the risk isn't too high, it is crucial to make sure that it should not cost a fortune to your business.
Therefore, it is essential to invest in a reliable business insurance plan to protect your business and yourself.
7. Take care of the legalities
You must register your handyman business with the local government by establishing it as an LLC. All you have to do is research and figure out a few steps. It doesn't take longer than six weeks to get your handyman business registered.
It is vital to have a business name. Make sure you choose a name that is more professional so that later when your business grows, you can use it for your LLC, business registration, logo, website, uniform, and handyman invoice.
8. Open a commercial bank account
This is one of the essential steps that everyone misses. A commercial bank account will help you to keep your handyman business finances separate from your personal funds.
Also, it is crucial to have a separate account to monitor the business cash flow so that you can pay overhead costs, to your employees.
9. Define your brand name
Your brand is what your company stands for and also gives your business an image.
A strong brand will help your business to step aside from the competitors; your brand name should be so compelling that it shouts out to the customers, "I'll be your handyman."
10. Build your team
Find people to work with, as there will be projects that would need many technical decisions.
If you are trying to build an active handyman business, then you need to work with a team, to find the perfect fit for your business, you can post handyman jobs online.
11. Have a firm strategy and goal
Last but not least, you must follow a firm procedure and have a goal.
The handyman business is built with the services you have, the money you charge, and clients.
Initially, it will be difficult to charge for your services, but figuring out your overhead costs is one of the great ways to start.
Once you get the hang of it, you can earn enormous profits from the business.
Also, you should have big goals as they will motivate you to push yourself ahead every day.
12. List on Google Business Pages
Nowadays, having an online reputation is important.
New clients look for the reviews from your previous clients which seems to be a great opportunity. As it will include information about your business and link to your website where they can request your services.
Things to consider after starting a handyman business: 
How to retain customers? 
Although the price is one of the essential factors that attract customers, once you are out there offering your service, you must make sure that you maintain professionalism.
You must enlighten the customer about their needs and how it will be taken care of. First, try to set a fair price and be on time.
Make sure that your customer service has quality as it will spread the word and will assist your growth in the longer run. Skills and experiences that will help you to build a successful handyman business.

We agree that you must be experienced in your home maintenance skills, but along with it, you must have sound knowledge for running a business. The main reason behind a business failure isn't the lack of expertise; it is the inability to make correct business decisions.
To run a successful business, you must be organized, patient, and possess strong interpersonal skills as each day is going to be a new challenge, and life is no bed of roses.
If you lack these skills, you must consider taking guidance from the United Handyman Association, as they can offer comprehensive advice regarding how to run and market your handyman business.
Also, they can assist you with insurance and legal obligations.
Some insider tips  
1. Find your niche
Many startups feel that they have to cover all the services, which is not the case. You simply have to find your niche and stick to it as quantity doesn't matter, but quality does. Stick along with your skills as your business has excellent potential to gain profit even if you have limited services to offer.
2. Consult the attorney
Before taking up any project, always make sure to understand the applicable laws in the region, this is important to your business' success. We highly suggest that you should consult the attorney and an investigator from the contractors' board of your area.
Although you have to get your handyman business licensed, bonded, and insured, it displays professionalism. Also, it is crucial to gain the trust of the customers. Also, try to become a certified handyman.
3. Customer service
The handyman customer service you provide plays an important factor in the handyman business. People want to feel safe and secure in their personal space while they have invited a stranger to their place.
Wherever you go to do your job explain the process to the client, tell them all the techniques and software you use and tell them how you are going to work for them. Always try to make the client experience easy. This will enhance customer service.
4.  Online handyman courses
You may have excellent business skills, but few home repair skills, then you must learn to be a handyman. Although learning handyman skills is not difficult as there are various free online courses available.
In order to determine the best training course for yourself, you must acknowledge your current skills and determine what services you would like to offer to your handyman business startup.
5. Handyman apps
Home issues occur when we least expect them to, and when they occur very few people know how to fix them.
To fix such problems people turn to professionals who would take care of the required task.
Nowadays, because of developing technology people can access thousands of handymen through handyman service apps,  who can save them from the work.
Best handyman apps available out there are the family handyman, thumbtack, TaskRabbit and many more.
Conclusion
If you have excellent physical condition and are ready to take up a career that allows you to be your boss, then starting a handyman business is the perfect fit for you.
Additionally, you must have the knowledge and skills to replace and repair household items. Also, most importantly, you should have a passion for the work.
Being an entrepreneur, one of the great qualities you can possess is of a mentor. Mentorship can help you in tough times and can be a significant factor in success for new business owners.
Although, the growth of your handyman business will depend upon your overall vision of your business and hustle to meet the goals. Many handymen love to work alone and choose to keep it local, whereas others enjoy working along with a companion and expanding their services. With the right knowledge, crew, and skills, there will be significant growth in your handyman business. If you have sound experience in the industry, then starting your own handyman franchise will be a profitable idea for starting a handyman business.