Start a Successful Online Store in 2023 [A step-by-step guide]
June 22, 2022
Saryu Pathania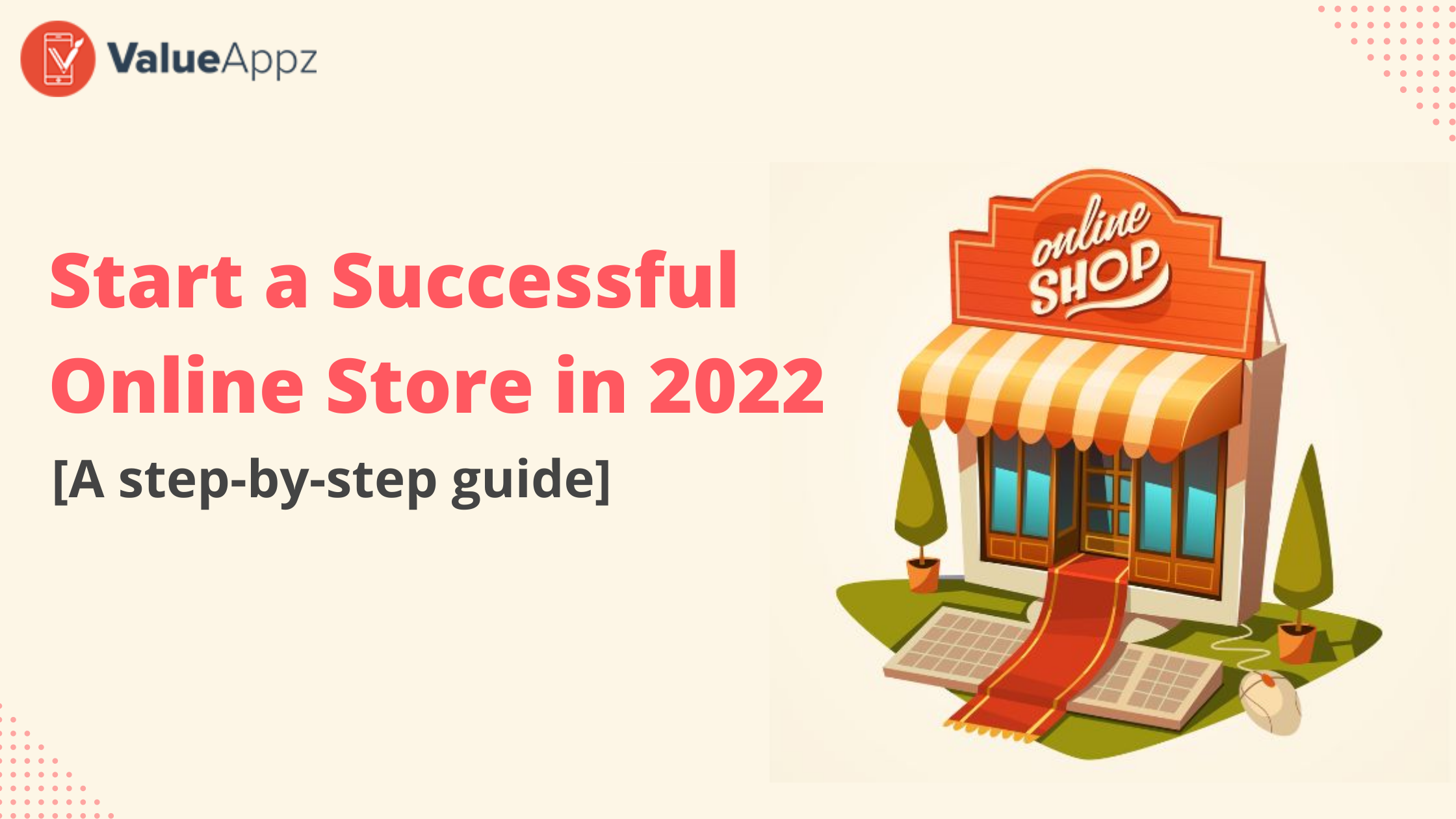 Table of Content
Follow Us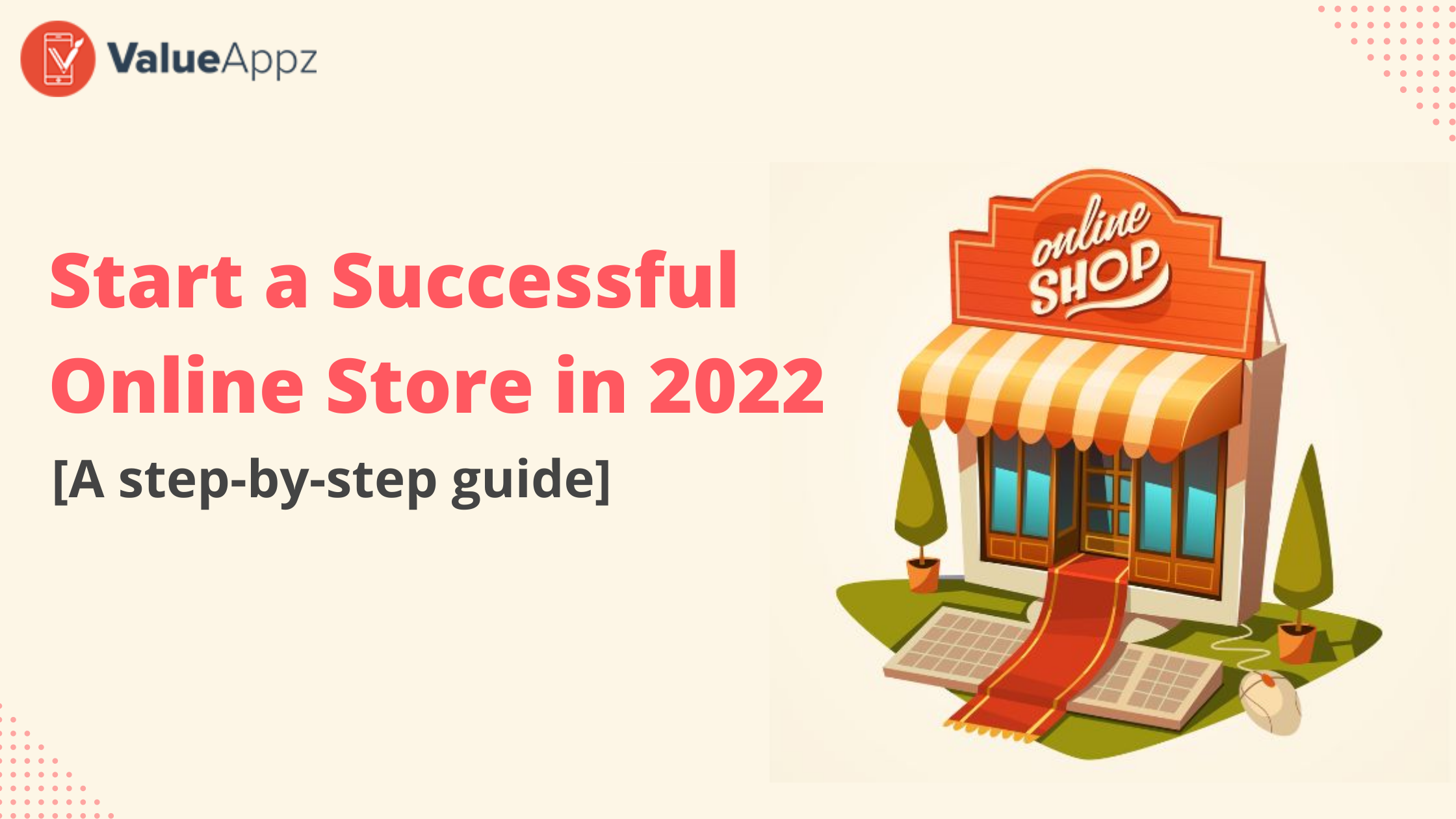 "If your business is not on the internet, then your business will be out of business."– Bill Gates.
A bold statement that is very much true in 2023. And the recent past has shown us that in the future, all businesses must be online to thrive. But starting an online business can be tricky, especially if you do not know how and where to begin. You will face challenges like:
What should I sell?

How to set up an online store?

How to reach out to customers?

How to collect online payments?
Well, this post has answers to all of these questions. We have put together this comprehensive guide to make it easier for you to start your online business.
From finding your business niche, choosing your business domain, selecting the right e-commerce solution, and creating an intuitive and user-friendly online store to digital promotion, we will cover everything you need to launch an online business in 2023.
We have also shared a secret on how to make an online store for free in under 1 minute. Keep reading to find out.
But first, let's explore what all do you need to create an online store in 2023?
Checklist to Create An Online Store 
If you want to create an online shop but are confused about how to start? Here is a small checklist of things you must have before you decide to set up your online business.
Business Domain Name

Web host

E-commerce solution builder

Budget to build and test minimum viable products

Delivery services

Brand promotion plan
The points mentioned above are a prerequisite to starting and running an online business. But before we discuss how all these points come into play for launching an online shop, let's see how a brick-and-mortar shop is different from an online store.
How is an Online store different from an offline store?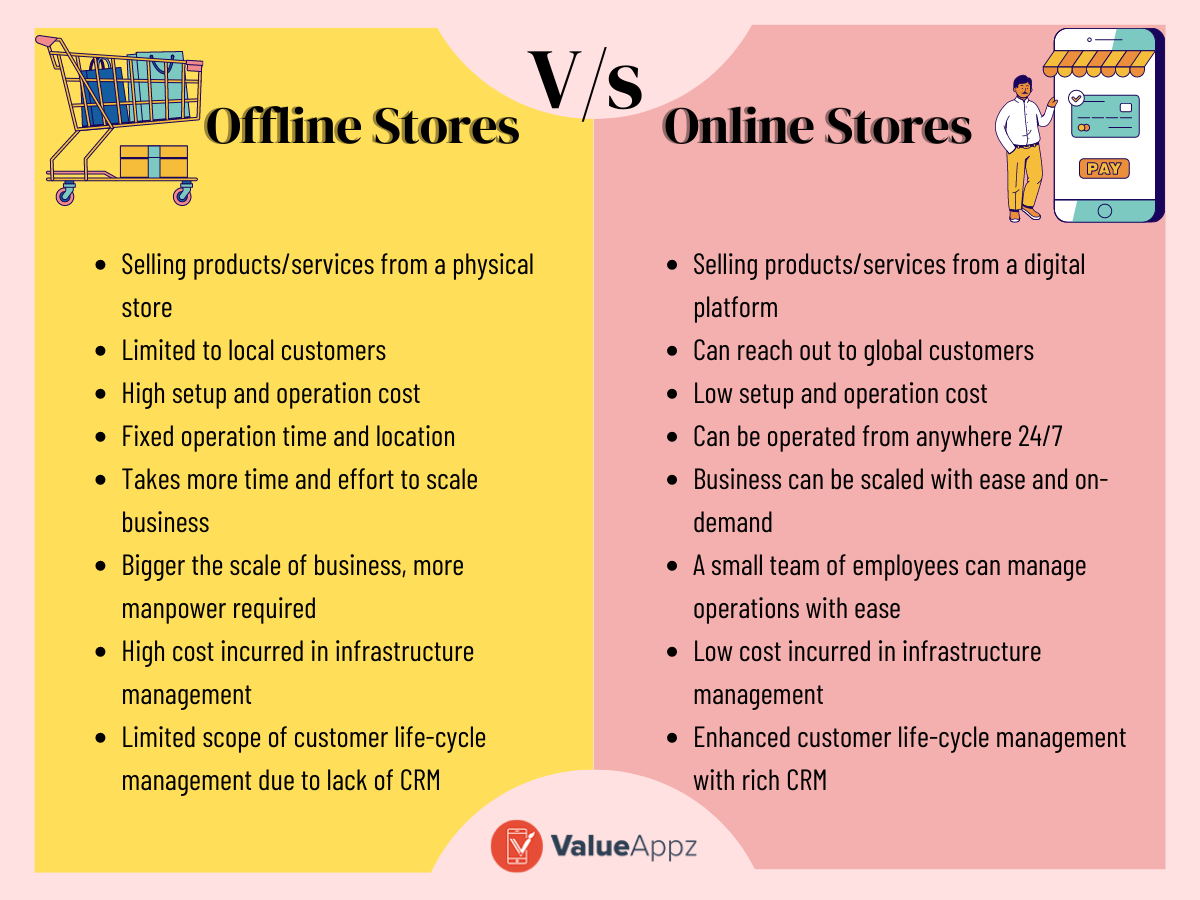 Obviously, an online store has a higher scope of growth, but is it really for you? Let us see how profitable it is to create online store?
Is It a Good Idea to Open an Online Store? 
The E-commerce sector has been on a growth trajectory. The pandemic has only pushed the trend further. Here are some interesting worldwide stats.
As per

Statista

, global e-commerce sales would reach around 7.4 trillion dollars by 2025

As per

Datareportal

, 58.4% of internet users indulge in online shopping on a weekly basis. The majority of spending is on consumer electronics ($988.4 billion) and fashion ($904.5 billion).

It is predicted that by 2040 95% of retail purchases will occur online

A survey shows that 49% of Indians choose e-commerce as their mode of shopping over physical stores. 69% of them choose online shopping for groceries and essentials.

The offline retail market of India shrunk by

5%, whereas the e-commerce market saw a 25% growth in 2021.

Dollars spent via mobile devices will amount to more than 80% of retail e-commerce in India in 2023
Indian digital buyers are to reach approx 337 million by the year 2025.
So, to answer the question, YES it is a good idea to start an online business if you wish to flourish in the future.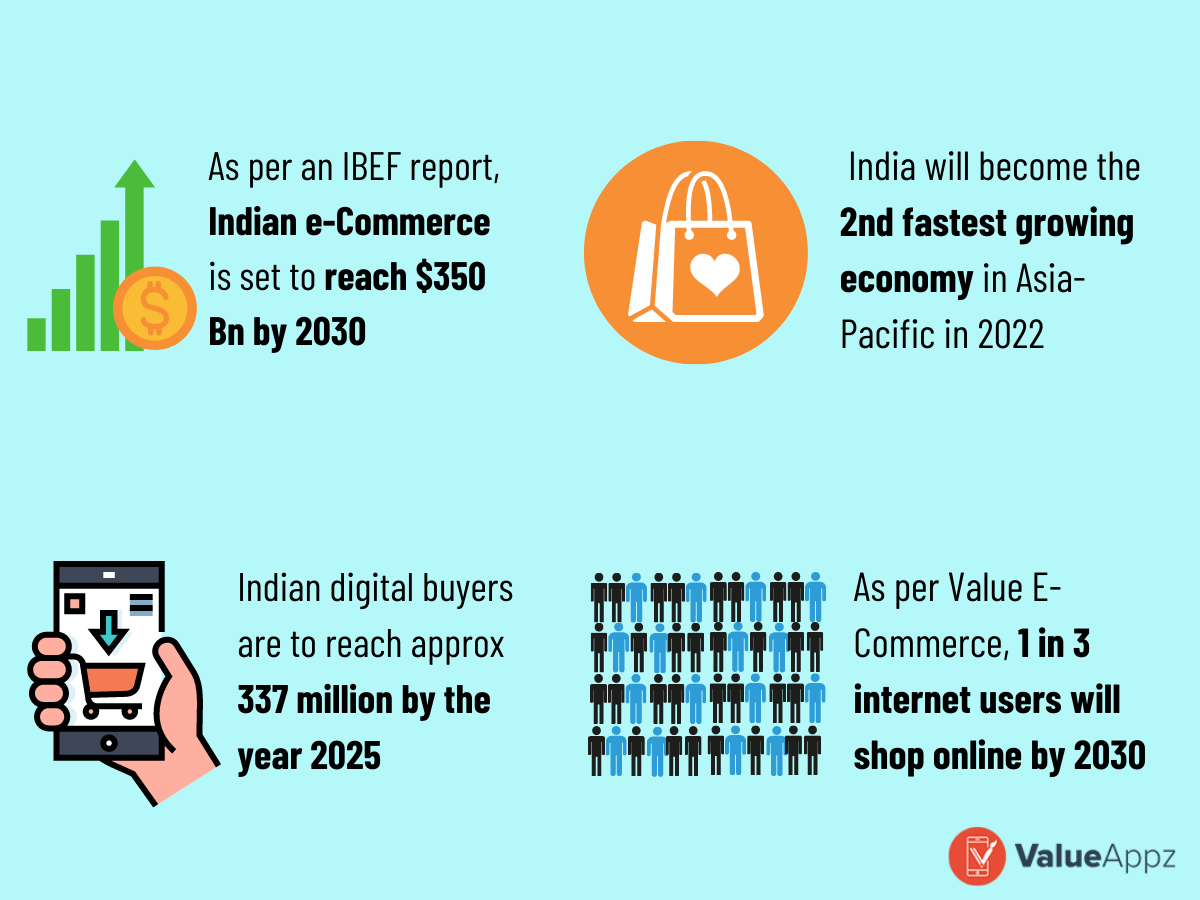 Today, people seek convenience and choose online shopping for its comfort, fast and safe deliveries, competitive pricing, and ease of order return, which a physical shop or hypermarket fails to provide.
Want to learn the true benefits of owning an online shop in 2023? Go to the blog section 'What are the benefits of starting an online store?'
Now that we have established the criticality of building an online business in today's world let us explore how to create one?
Read on to find out.
How Do I Create My Online Store?
Today, having an online shop is imperative and through this guide, we wish to show you the step-by-step process of setting up an online store.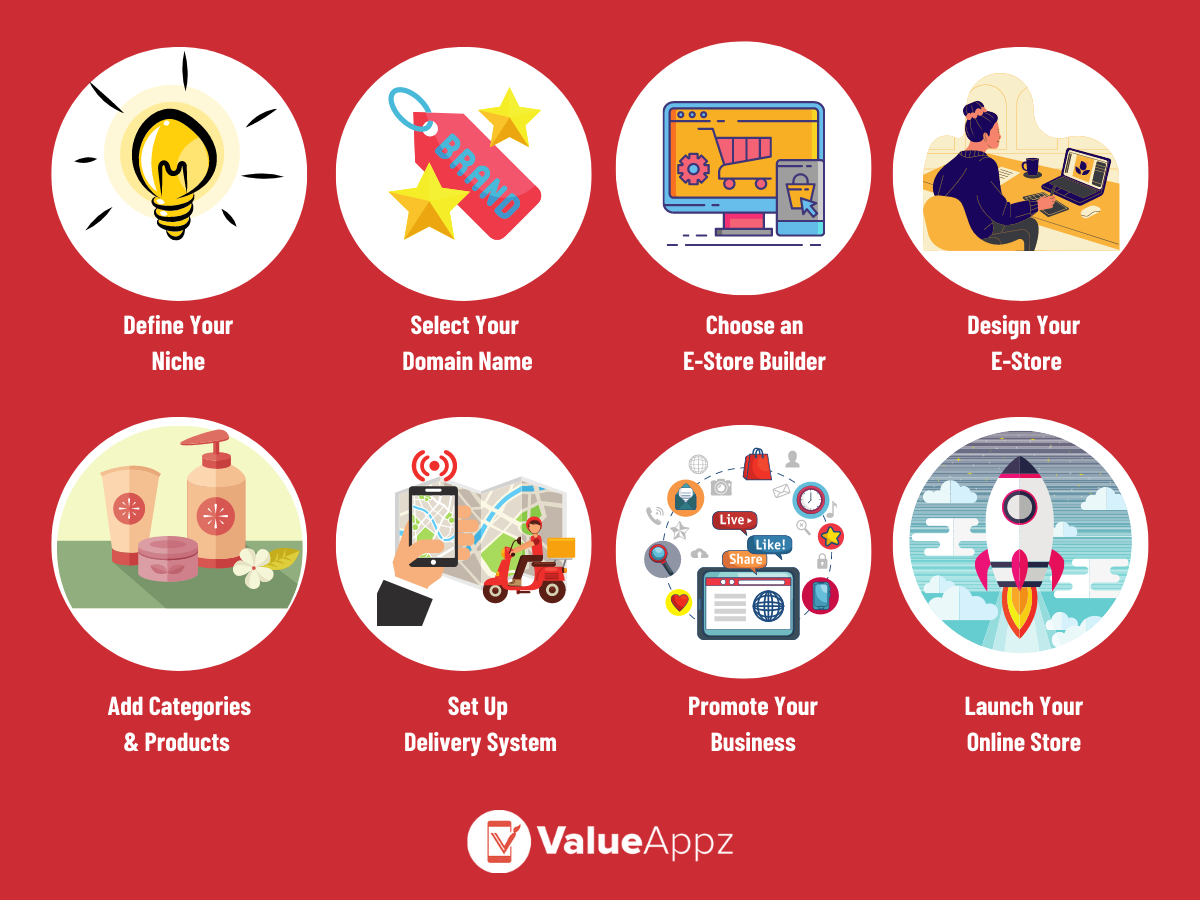 Read the 8 Simple Steps to start your online store journey.
1. Define your business niche and build a plan
The first step to building an online store is to define your business and its USPs. E-Commerce is a competitive space, and building a successful online shop means delivering a unique business proposition.
Carry out an in-depth analysis to find your strengths against competitors and various business opportunities available. Identify your target audience – Age, Gender, Location, Income, and Interest, to build a comprehensive business plan.
Identify the market gaps your competitors are failing to fulfill to uncover new opportunities for your business. A high demand requirement with low supply, and a high sustainability rate, would be a good niche.
Decide the business model you seek to operate in, whether you want to become a B2B, B2C, Dropshipping, or D2C e-commerce. Based on your business model, devise a plan for how you will introduce your enterprise to the online market.
Create an estimated budget for your online shop- evaluate expenses like Bills and utilities, Equipment and supplies, marketing expenditure, and employee expense.
2. Choose a domain name
Once you have built a preliminary budget and plan for your business, the next step is to select what you would like to name your business. Your domain becomes your brand, so it's important to choose a unique name that reflects what your business does and is easy to remember.
A good domain name is short, simple, and easy to remember and share. It is important to legal advice on the domain names to avoid legal issues like plagiarism in the future.
#Tip

– Your domain name should reflect the nature of your business while ensuring it's easy to recall for your customers. Avoid using underscores, hyphens, numbers, or special characters that are difficult to recall. Additionally, obtaining an SSL certificate or Wildcard SSL (Unlimited Subdomains) is important to ensure that your website is secure.
3. How to choose a suitable e-commerce platform or store builder?
This is one of the most critical aspects of setting up an online store. Your e-commerce partner is not only responsible for helping you create online store website/app for your business but also for navigating the challenges to ensure your business's success. Hence you must choose wisely.
You should not seek the cheapest e-commerce store builder but select the best fit for your enterprise. But that doesn't mean investing blindly, look for a free online store builder that allows you to test its features for a few weeks, before you decide to invest in it.
Here is a checklist that can help you choose the right e-Commerce solution provider
Do they have relevant industry experience and social proof?

Do their products support crucial e-commerce core features natively?

Is it supported on both web apps and mobile apps?

Can it be scaled to meet your growing business needs?

Does it meet the industry's security standards?

Does it support inventory management?

ValueAppz gives you all the above features to support your budding online store. With 6+ years of experience, we have helped grocers, hypermarkets, restaurants, handyman marketplace, and other businesses successfully start their online stores.
Setup Your Online Store in Just 3 Easy Steps with ValueAppz: Start 21 Days Free Trial
ValueAppz provides you with a complete solution to make your own e-commerce website/app. It integrates customer, merchant, delivery, and admin panel to manage end-to-end operations. It delivers a seamless experience to all stakeholders with an easy-to-use UI.
ValueAppz comes with inbuilt features like
POS-based inventory management

Payment gateway integration

Google map navigation

CRM

Engagement engine

Marketing automation,
and many more to support all your online business needs.
Besides the above features, you can start your online store with ValueAppz in 1 minute. It comes with pre-designed web store templates to choose from and provides you with a 21-day free trial to explore the product.
4. Design your web application/ mobile app
When selling online, the first impression matters the most. So you must make your own e-commerce website/app with an attractive design to entice the right customers.
Things you must keep in mind while creating your web application/ mobile app
User-friendly UI and UX

High-quality images and visuals

Attractive color scheme

Selection of right fonts

Defining product categories

Smooth transition between pages
Ensure your web app/mobile app designs compliment your business and create a favorable image in customers' mind.

5. Add your products to the online store
Once your web app/ mobile app template is ready, it's time to start adding your products to different categories.
Add persuasive product descriptions that address your customers' pain points and highlight the product's key benefits. It must cover essentials like product size, SKUs, texture, nature, purpose, use, discounts, and offers (if any).

Images are a crucial part of product pages, so you must invest time in capturing quality images of the products. Creating a 360-degree view of images is always advisable to give the users a real-to-life visual representation of the products.

Make sure your product categories are well defined, and all products are listed under the right categories. Failing to do so can create confusion amongst the customers, hampering their experience and causing loss of business in the long run.
6. Create and manage shipping services
Remember, the purpose of starting an online shop is to expand your business and reach out to a larger customer base. Thus to create online shop, shipping becomes a critical aspect.
You must create clear and transparent shipping and return policies to set the right expectations amongst your customers. The policies should define:
Minimum order

Delivery charges

Terms and conditions for product return

Delivery time

Limitations in delivery, if any
The next step is to decide whether you wish to use your in-house delivery boys or want to integrate a delivery partner like Delhivery, DTC, or BlueDart, etc.
If you are operating your business locally and deal in perishable products, it's advisable to use in-house resources or tie up with packet delivery partners like Dunzo or Rapido.  
7. Start digital marketing
Remember you had set aside a budget for the marketing of your online store? Now is the time to spend it. The competition in the e-commerce industry is fierce, and you cannot make your presence felt without advertising your business to your TG.
A great way to start is with social media marketing, as the majority of the population today is actively consuming content on social media. You can create a complete campaign on social media for the pre-launch of your online shop.
Besides social media, you can explore google ads, email marketing, SMS marketing, influencer marketing, and SEO to promote your business and build your brand.
8. Online store launch
The final step to your digital journey is your online store launch. Influencer marketing is a great way to gain traction on your launch day. But, before you go live, ensure all the apps' features are operational. Run and re-run multiple tests with various audiences to assess the functionality, navigation, and design of your web app/ mobile app.
Here is a quick checklist that will help you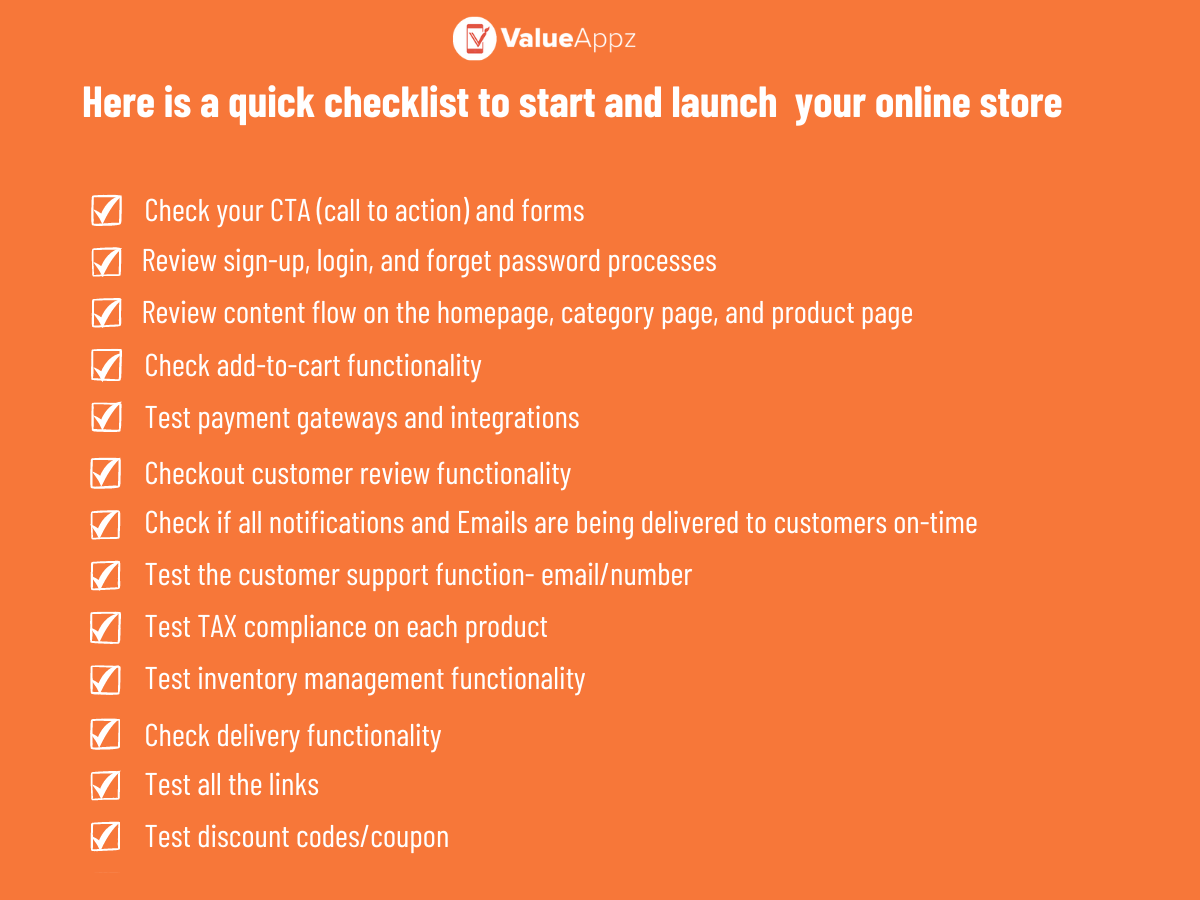 By following these steps, you can successfully create online shopping website/app.
But opening an online store is just the beginning of your digital journey.  Making it a successful business is another ball game. Read on to find out how to create a successful online business.
Businesses That are Already Thriving with ValueAppz
Started in 2016, ValueAppz has helped businesses like grocery delivery, cosmetic sellers, restaurants & food delivery, and many more start successful e-commerce stores. Two of our reputed clients are 'VegOrg South Delhi' and 'Rythu Mitra' who started their online grocery delivery services with ValueAppz.
VegOrganics is a Delhi-based startup that delivers farm-fresh, pre-cut, hydroponic & organic fruits & vegetables to customers' doorstep.
"ValueAppz has helped me jumpstart my online organic vegetable delivery services. What started as a one delivery outlet has now grown to 10 outlets in 3 different cities in just 1.5 years."– Narendra Mehta, VegOrganics
Rythu Mitra Trust is an initiative for bringing gardening experts, enthusiasts, and farmers under one roof to provide hands-on experience on organic, chemical-free farming. The purpose is to help farmers who want to switch to Natural Farming techniques and provide them a platform to market their products.
"ValueAppz has provided us with an online system through which we can easily manage our end-to-end operations. From delivery, pickups, CRM, customer loyalty programs, and POS integration, we can monitor everything with a single admin panel. It has enabled us to engage and grow our client base."– Sankar Linga, Rithu Mitra Trust.
What are The Benefits of Starting An Online Store?
Setting up an online shop can bring great advantages to you and your customers. When you build your own online store for your business, it helps build a better market presence and reputation.
Here are the advantages of starting an online store for your business:
An online store can cater to customers 24/7/365 days a year

You can reach out to new customers and increase your market share

Whether you are a small shop or a large outlet chain, an online store gives you some opportunity to tap the market

You get the opportunity to expand your business to new geographies

You can increase customer lifecycle by delivering enhanced services

It provides you a Seal of legitimacy

Scaling business not necessarily means increasing physical presence

You can actively use social media and other digital marketing platforms to promote your business

You get live inputs on market trends and can quickly respond to changing demands.
Here are the advantages of starting an online store for your customers/shoppers:
Convenience to shop from the comfort of their home, office, or anywhere on earth without worrying about store working hours or holidays

Easy product comparison

Convenient payment options

Detailed product descriptions with images and reviews to make an informed choice

A contact-less and safe shopping experience
So, it goes without saying that having a digital store is not only important but a must in 2023. But having an online store is not enough; your goal should be to make your online business a success.
HOW do you ask?
Read on to find out.
How to run a successful online business in 2023?
Have you ever wondered why consumers choose certain online stores? What is it that they are doing right and others fail to deliver? Well, here is the answer.
Understanding Customer Needs – The purpose of any business is to satisfy its customers. So, it's important to understand what is it that the customer truly seeks from your business? Identify the gap in the existing market and try to fill it through your online store services.
Build strong customer support – Customer support is one of the most critical aspects of online business. Efficient customer support helps make up for the lack of in-person customer engagement. Customers always prefer brands that are empathetic and actively work on resolving their queries and issues.
Customer life-cycle management plan – An online business means having access to your customer details, product preferences, shopping habits, and purchase trends. Using this information, you can create and deliver more customized plans to the customers, enriching their brand experience, increasing brand affinity, and elongating customer lifetime value.
Build an Omnichannel approach – Have an omnichannel approach to your services. A customer connecting on different channels must have the same experience
Optimize your online store – Customer today is spoilt for choices and seek newness in products and services. A study shows that 44% of customers are more likely to share their bad experiences with a brand than a good one. So, you must follow a customer-first approach in your business. You must closely monitor the changing trend of the market and adapt your business accordingly.
Avail Marketing tools – Use tools like google analytics, digital promotions, marketing automation, and RPAs to streamline your operations and improve ROI.
Following the aforementioned methods can help you build a successful e-commerce business.
But one of the first and the most important tasks that any business starting an online store must do is bring their offline customers online.
Why Must You Market Your Online Store to Offline Customers?
An online shop is a great way to reach out to new customers and grow your client base, but at no point should you forget your offline clients, as they are your true brand loyalists. They have been promoting your business in their circles through word-of-mouth.
In fact, a good business practice is to get your offline customers online so you can deliver a more comfortable shopping experience that increases their affinity towards your brand.
How to Get Your Offline Customers Online?
Though online shopping has become a common practice for Indian households, a section of the population still has apprehension about e-commerce and online payments. Some of your offline customers may fall under the same category, so you must address their fear.
Here are some methods to get your offline customers online:
Educate your customers about your online venture by promoting it in your offline store

Use SMS and WhatsApp promotion to create awareness

Train your customers on how to access and use the online store

Run promotion campaigns like discounts on first orders, product vouchers, and category offer on online shopping

 Run referral programs to entice existing customers to invite more customers to your online shop

Run a loyalty program that allows customers to collect and redeem points on online orders

Run online contests, lotteries, and subscription programs
#Tip

– Create customized offers and plans for your customers basis their past purchases to provide an enriching experience while up-selling and cross-selling products.
Online businesses in high demand
As more and more players are entering the market space, the competition in the online market is becoming fierce. But many businesses are still in high demand, like fashion products, drop shipping, home care, pet care products, and many more.
Read our blog to learn more about the in-demand online business in 2023.
Let's Launch Your Online Store 
Now that you know everything about launching an online business, let us get started on building one.
Whether you have an existing retail shop or wish to create your e-commerce business from scratch, ValueAppz is the fastest and easiest way to start your online store.
So, what are you waiting for?
Create your online store with ValueAppz right away!

THE AUTHOR
Saryu Pathania
Communication has always been one of my key strengths, whether vocal or written. I started my career as a marketing professional, and in my journey as a marketer, I realized that Copywriting is my true passion. Over the years, I have honed my skills as a creative writer by working on various content formats for B2C and B2B clients.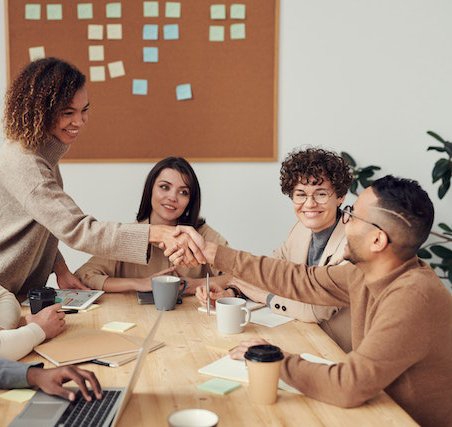 Get ready to digitally transform your business.
Let our team help take your business to the next level. Contact us today to get started on finding the perfect solutions for your business needs.