Market Trends of Online Store & E-commerce Business in India
July 5, 2022
Saryu Pathania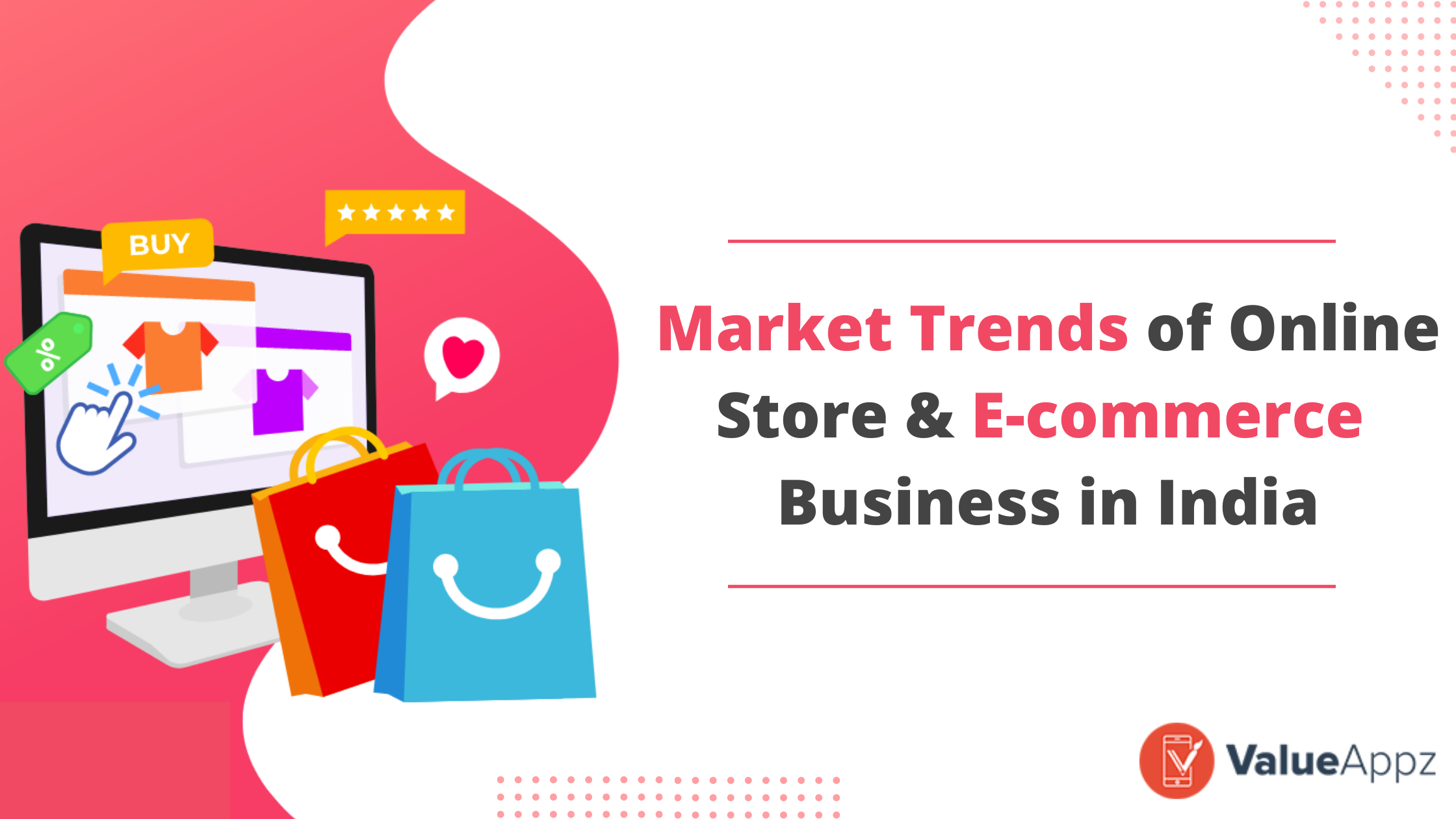 Table of Content
Follow Us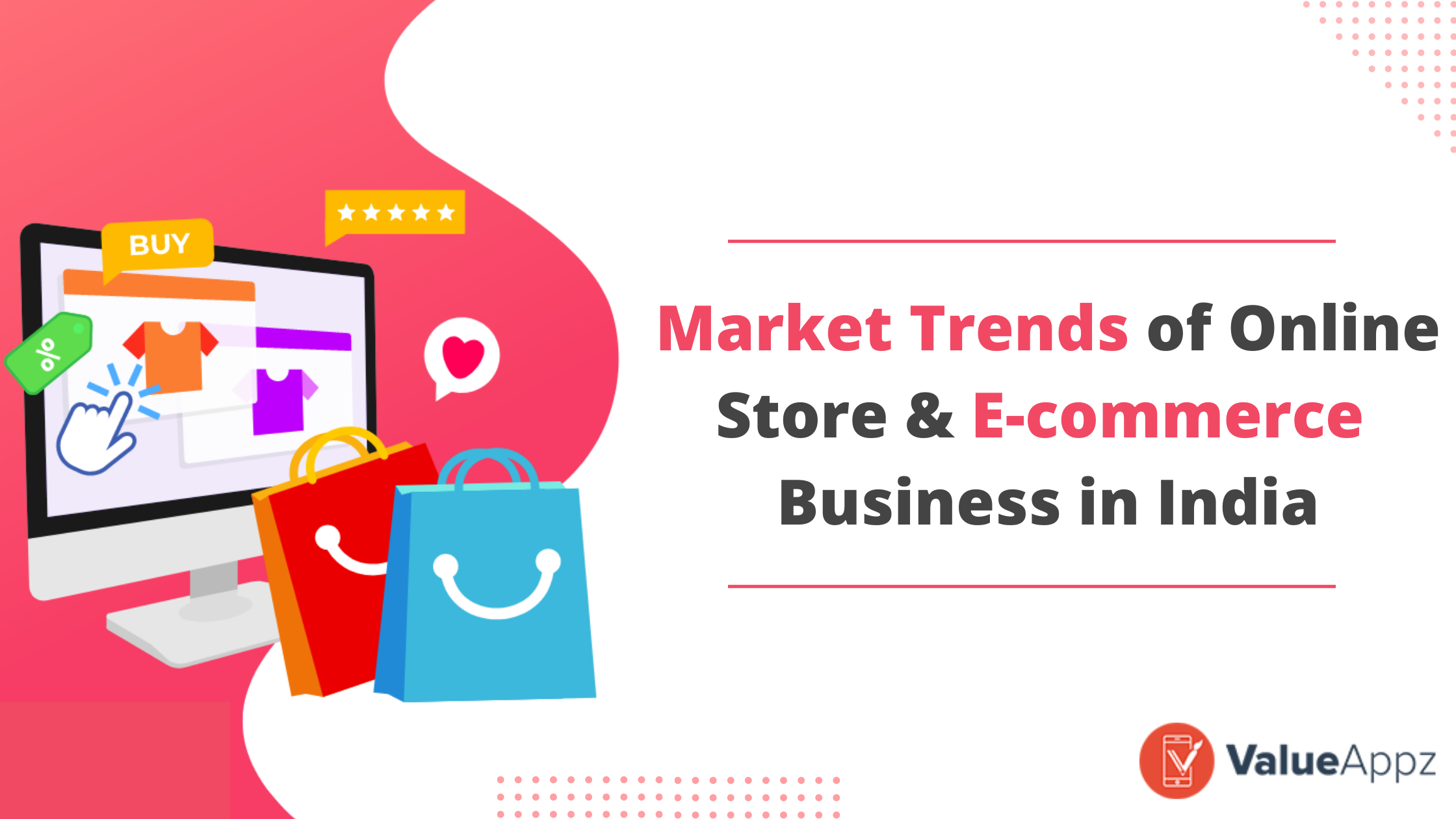 It's halfway to 2023, the best time to think about the forces that will rewrite the business world in the coming years. 
Being a player in the e-commerce industry, you won't be untouched by the disruption and the dire need to adapt to changing dynamics after two years of unprecedented transformations ushered in by the epidemic. Besides, merchants are setting up an online store or improving their e-commerce business to meet customers where they are. 
While it may sound like everything is evolving in the E-commerce industry, we have funnelled it down to the biggest trends that will affect businesses in India in the coming months and years.
"E-commerce has transformed the way business is done in India"
And, to gain maximum profit and loyal customers, adapting to e-commerce trends has become a necessity. Although pandemic has surely encouraged people to adapt to e-commerce, it has now become a part of our daily lives.  More companies have realized the potential of the e-commerce industry. 
"According to the Indian Brand Equity Foundation, the Indian ecommerce industry is geared to eclipse the US online market by 2034".
Looking at the exceptional growth of e-commerce and new shopping patterns that have emerged in the last few years, here are e-commerce trends that you cannot afford to miss out on!
Ecommerce Trends You Shouldn't Miss Out in 2022-23
Observing the consistent growth of e-commerce and new shopping patterns that emerged in the past few years, here's a comprehensive list of e-commerce trends that you should look out for in the current year.
"Big Data" for Next-Level Customization"
Did you know, that personalization has fastly turned the cornerstone of best-in-class customer data.  And, "Online businesses that can create personalized relationships with consumers get better results."
After all, customers crave customized experiences, and here's the proof: 
66% of shoppers

expect that the companies they shop from know what they need and prefer. 

36% of customers

believe that retailers need to rework on offering tailored shopping experiences. 
But, you might be thinking about how to personalize the customer experience? 
One of the quickest and simplest things to do is leverage product recommendations. And, by using big data combined with advanced marketing tools, you can easily understand what an individual cares about. 
This means you can offer a personalized experience to customers whether you set up an online store or users are opening your emails. 
Pura Vida Bracelets is an example to help you understand better. They attribute more than 1.6 million additional clicks in creating two recommendation categories on their product pages.
They showed recently viewed products and products that customers might like based on user activity. 
A Healthy Reminder: The more you understand your potential buyer, the better you can customize the experience. 
And, it won't be just more manageable, but more rewarding.
So, in a nutshell, personalize your customer experience so that your users feel that you are directly communicating with them.
Related Read: Which Businesses are in Demand for Online Store?
"Versatile Payment Options" – More Ways To Pay
Isn't it daunting to move a shopper through a complete sales funnel, only to lose them later in the buying journey? 
It's incredibly frustrating. 
One of the biggest reasons customers abandoned their carts was that there weren't enough payment options. As a player in eCommerce, you must cater to your customers' needs. 
Adding more versatile payment methods can help with this. 
PayPal and Stripe are the two most popular payment gateways, and most online shoppers trust them. But, you can also consider adding payment gateways like digital wallets, BNPL (Buy Now Pay Later) methods, Amazon Pay, Google Pay, and many others to the list. 
Remember: You can also add a few cryptocurrency payment gateways for the customers who dip their toes in Crypto. 
"Voice Search" is the New Cool  
Trends in voice search seem to change how we all use the internet. 
"India is already a video-first internet market, and with smartphone adoption and demographics, it's soon going to be the world's first/biggest voice-first internet."
Not only do more people own smart speakers, but they also rely on voice assistants to carry on their daily to-do tasks. Besides, the improvements in search recognition technology have thrust voice searches to the forefront of search marketing. 
Simply put, the voice search trend in India plays a pivotal role in fuelling aided commerce growth, as 82% of smartphone users actively use voice search technology. This focuses on the more significant opportunity for eCommerce businesses regarding keywords and content.
All in all, voice search is an unskippable element in creating an online store to address the challenges faced by the vast untapped market. 
"Artificial Intelligence" Helps in Powering Strategies 
Artificial Intelligence isn't a new trend, but its uses are emerging in new verticals in 2023. 
As already known, customization is a crucial element for e-commerce businesses. But, with AI you can improve your approach of interacting with customers. Hyper-targeted and advanced personalization at scale are only possible with advanced technology like Artificial Intelligence. 
Here, I've pocketed a handful of ways to put AI to use when creating an online store.
1. Shopper's Mood Tracking 
AI-powered e-commerce technologies can easily track and identify specific customer moods and trends, eventually helping online shops manage product stock. For example, the Very Group successfully integrated AI mood tracking technology in their chatbots. 
Also, it detects the customer's tone in messages and sends replies according to the information.  
2. Product Recommendations 
Artificial Intelligence lets you process insightful data and trends about every prospect and customer. With this, you will be able to offer timely and relevant suggestions based on factors like customer interest, profiles, and purchase history. 
3. AI-Powered Chatbots

 
AI Chatbots integrated with AI learning capabilities can exceptionally reduce the work of your live support team. In addition, the bots will continuously learn and adapt to different situations. Also, you can offer timely and relevant support at any moment. 
"Sustainability" Is Must
Fact sharing time, 65% of customers buy from brands that are genuinely committed to sustainable business practices. 
This outlines that brands and customers alike are becoming more aware of the environment. As an outcome, shoppers are more conscious about the brands they support. 
Also, a recent survey found that 50% of respondents look ahead to more sustainability in the fashion industry, along with 75% supporting less packaging. 
eCommerce businesses are already going paperless, using biodegradable, and recycling. H&M and FedEx are a few names that are committed to supporting sustainability. 
"Subscriptions" Retains Customer 
Subscription keeps growing. 
This e-commerce trend witnessed more and more businesses changing their offers from regular products to monthly subscriptions to keep customers loyal. 
This is a simple yet effective idea to motivate customers' loyalty. And, when done right, your eCommerce website or online store will enjoy sustainable and recurring revenue. The most significant advantage of the subscription business model is the uplift in customer retention. Customers end up being subscribers for years. 
Highlights of E-commerce Market in India By So Far… 
How Much has India Spent on Online Commerce 
Chosen Payment  Modes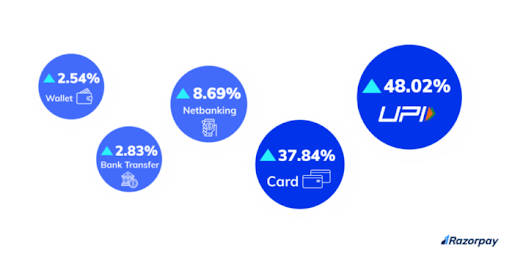 How Much Did India Spend on Food and Grocery Products?

The continuous rise since May can be because numerous traditional offline stores have figured out a way to let people buy groceries online with utmost convenience. This trend not just confine to online grocery delivery, but also is true in different domains like lifestyle, beauty and wellness and many more. 
How Much Did India Spend on Lifestyle and Fashion World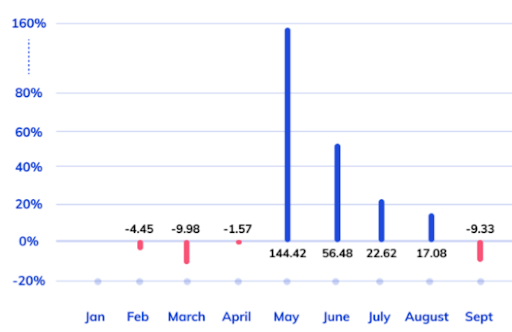 How Much Did India Spend on Home Furnishing Products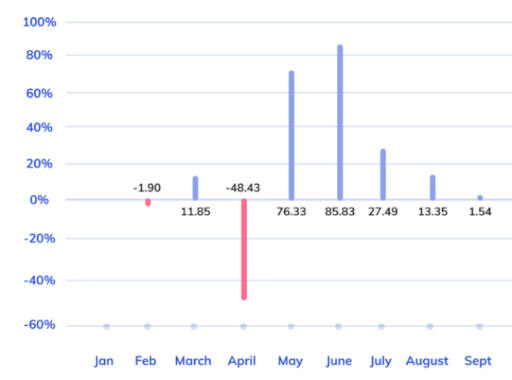 How Much Did India Spend on Beauty and Personal Care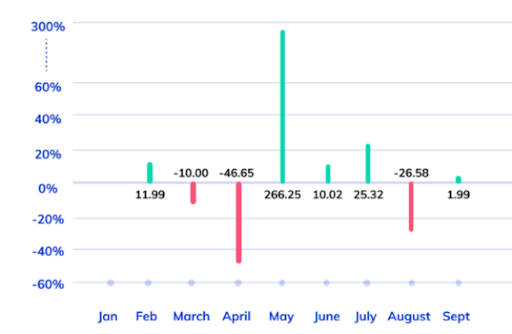 Considering these numbers, the biggest takeaway for any business from 2021 was that customers no longer fear the digital world, whether ordering online or paying online. 
And, now it's fair to say, "2023 is a beautiful time to be a dependable e-commerce business". But you might be thinking about how to make your online business successful, right? 
Don't worry! We got you covered. 
Remember "The 5 MUST" When You Set Up an Online Store 
Inching ahead, five factors are crucial to curate a place in online retail: 
Relevant Recommendations and Trusted Peer Reviews 
When you build your own e-commerce website, customers expect a personalized shopping experience from relevant product recommendations. Also, when evaluating products, they rely on peer reviews and influencer opinions, and about 70% of them relate to the trust and credibility of the reviews and ratings.
A constant Customer Engagement 
In e-commerce, loyalty could be strengthened through ongoing consumer engagement programs as the market moves from offline to online. Loyalty programs, online community buildings, and enhanced online product discovery are some proven approaches that market players are experimenting with. 
An Effective Supply Chain and Delivery 
eCommerce players need to continuously innovate and optimize their supply chain efficiency and delivery costs to improve their earnings. Especially for non-metro cities, delivery costs are often more than 20 percent of the prevailing basket value of INR 300 to INR 500 for every online order. 
Supplement Offline With Online 
Now is the high time to supplement offline with online. And, having a multichannel offering can increase penetration in product categories with lower eCommerce penetration. 
So here, eCommerce stores come in the bigger picture than brick-and-mortar players to provide an authentic, integrated omnichannel experience – from finding and trying products to returning or repairs and conducive payment choices. 
Availability of Variety 
A curated variety is essential in the eCommerce industry because of differences in regional and local choices. And, with eCommerce reaching tier-2 cities, businesses need to provide easy ways for customers to discover, find, and buy from a trusted online retailer that caters quality and price that consumer wants. 
Finally…  
Opportunities are knocking at the door! 
With new opportunities to grow and offer unparalleled user experience to customers, the online industry continues to be in full swing. 
And, if you are all set to create your online store, keeping track of emerging e-commerce trends is a must. In addition, you need to continuously find ways to leverage new tools and use emerging technologies as quickly as possible – or before anyone else.
The eCommerce trends discussed are already on the way to rewriting the way business is done. And the one who tried them ahead of others is about to gain an advantage that will take their business to an entirely new level.  
Remember, "The companies that mold their businesses around customers' unique needs have the probability of leading the $40 billion value e-commerce opportunity in India". 
THE AUTHOR
Saryu Pathania
Communication has always been one of my key strengths, whether vocal or written. I started my career as a marketing professional, and in my journey as a marketer, I realized that Copywriting is my true passion. Over the years, I have honed my skills as a creative writer by working on various content formats for B2C and B2B clients.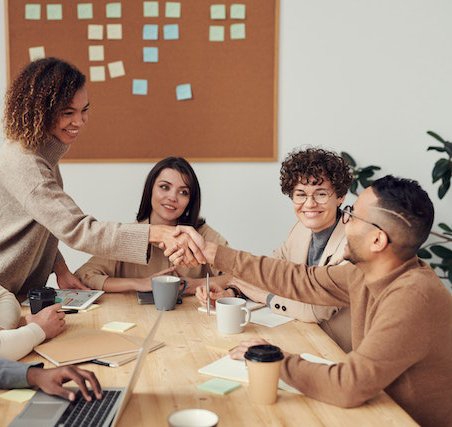 Get ready to digitally transform your business.
Let our team help take your business to the next level. Contact us today to get started on finding the perfect solutions for your business needs.