Top 5 On-Demand Delivery App Development Companies in Dubai
Summary: On-demand delivery apps are the latest trend across all industries, and Dubai is one such country that has several app development companies to help businesses. If you are also looking for the best solutions in Dubai, check out this list of the top 5 on-demand app development companies in Dubai.

The demand for on-demand delivery apps is on the rise after all industries have shifted towards it. From the food industry to healthcare, grocery, fitness, and now the education sector, businesses of all types are adapting on-demand app development solutions to provide the best experience to their customers. With this rising demand, the number of on-demand app development companies is also on the rise. Especially in Dubai, as it is a rapidly growing tech hub. 
Whether you own a startup venture, small business, or enterprise, finding the right app development company is crucial for project quality. But with various on-demand app development companies in Dubai available, how will you figure out the right one? 
To help you narrow down your search, we have listed the top 5 Android app development companies in Dubai, UAE, that have established a reputation for providing innovative and user-friendly solutions to their clients.
Top on-demand delivery app development companies in Dubai
Founded in 2016, ValueAppz is the best on-demand delivery app development company in Dubai, as it has gained intensive experience. ValueAppz covers all the top industries like food, grocery, taxi, health and fitness, beauty, education, and home services. From startups to enterprises, the company has pocket-friendly budgets for all. 
ValueAppz's in-house team has the right resources, tech stack, and skills to build highly scalable on-demand delivery apps. Its readymade solutions help entrepreneurs to launch their businesses within days. Along with these, ValueAppz also provides customized solutions to meet all business needs and goals.
Top reasons to choose ValueAppz:
Custom UI/UX solutions

Flexible pricing model

Readymade clone app solutions  
Blink 22 is a Dubai-based on-demand app development company with more than seven years of app development experience. Blink 22 specializes in emerging technologies and delivering value-driven projects. The company has branches in the UK and Singapore and aims to help startups and small and medium businesses scale their growth.
With their services, your company can too get just the right app developed to meet all your customer needs. Blink 22 promises quick turnaround, maximum efficiency, and streamlined communication during app development. 
Top reasons to choose Blink 22:
Complete transparency in the process

A large number of developers

Wide coverage of industries

Another famous app development company in Dubai is TechGropse. Its simplified development process allows businesses to get their app solutions and scale their growth quickly. TechGropse focuses on customer satisfaction and works tirelessly towards providing agile app development solutions.
Their valuable clients include Calm, Jahez, Matic, and many more. With less than a decade of experience, TechGropse has delivered more than 1000 projects and has recorded a 90% success score. The company provides on-demand app development solutions in several major industries like real estate, education, healthcare, on-demand, grocery, game, eCommerce, and fitness centers.
Top reasons to choose TechGropse:
1+ years of free maintenance and support

The easy and simplified development process

App development services for all types of businesses
Another top app development company in Dubai is Signity Solutions. Established as a web development company in 2009, the company now also provides solutions for app development. With 13+ years of experience in on-demand app development, Signity has delivered over 1000+ projects. 
The company has collaborated with clients from across the globe, and its skilled team of developers uses the latest technologies to build innovative apps for various industries. Their success has been tremendous as the company has 80% repeated client rates.
Top reasons to choose Signity Solutions:
Proven app development record

Innovative solutions for personalized business needs

Certified and experienced developers
Based in Dubai, UAE, Branex provides a range of services like web design, on-demand app development, digital marketing, and branding. The company has a team of experienced and skilled professionals who specialize in delivering innovative on-demand app development solutions across various industries. 
The company works towards creating user-friendly and engaging Android apps for its clients. Branex's key strengths include delivering high-quality solutions to meet the client's needs. It has received recognition for its exceptional work, including being named a top mobile app development company in Dubai by Clutch. 
Top reasons to choose Branex:
Cross-platform support

Competitive pricing

Experienced team of developers
  Conclusion
The names mentioned above are the top 5 on-demand app development companies in Dubai that can help you get custom on-demand delivery apps with assured quality, reliability, and security. These companies have already gained a valuable name in the market and have helped clients from across various industries. Each company has its features and its own advantages that can bring more value to your brand. Choose the one that suits your company's requirements and goals.


THE AUTHOR
Shailza
I am a passionate Digital Marketer and writer whose biggest obsession is to explore the latest marketing technologies and growth hacks for helping businesses! I love to write about different marketing strategies!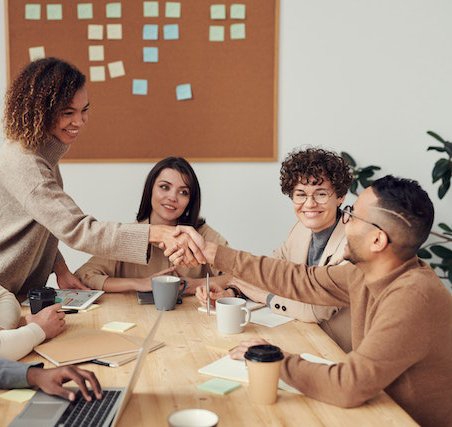 Get ready to digitally transform your business.
Let our team help take your business to the next level. Contact us today to get started on finding the perfect solutions for your business needs.