On-Demand Grocery Delivery App Benefits to Boost Business Growth
June 5, 2023
Harjyot kaur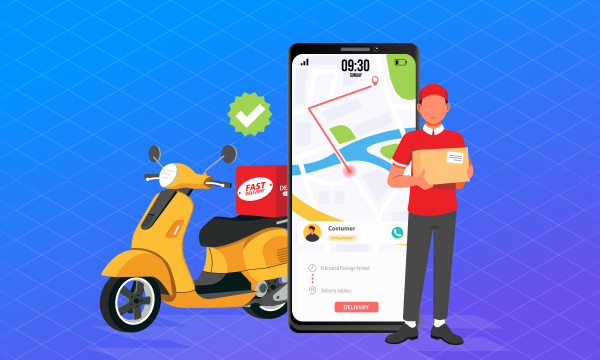 Table of Content
Follow Us
Quick Summary: Do you know the best way to stay ahead in the competition? In this digital world, you need advanced solutions to grow your brand. Building an app for grocery delivery is necessary to lead the market. Learn the top on-demand grocery delivery app benefits to grow your business.
In today's tech-led world, every business needs solutions backed by technology to succeed. One such example is the on-demand delivery apps. From food to grocery, fitness, handyman, taxi, and so on, the effect of it can be seen everywhere. 
With everything evolving so quickly in the grocery industry, it has become quite a challenge for entrepreneurs to understand how they can scale their businesses while providing top-notch services.
The simple key is building a grocery delivery app. On-demand grocery delivery apps like Instacart, Walmart, and BigBasket have proven that tech-led solutions are the best way to scale growth. Walmart generated a revenue of nearly USD 568 billion in the year 2022, making it one of the most used grocery delivery apps.
Want to know more about on-demand grocery delivery app benefits? Read along to discover how a single grocery delivery app can be advantageous for your grocery store.
Key Takeaways
Grocery delivery apps help businesses, from local grocery stores to established outlets and startups planning to enter the grocery industry.
Entrepreneurs can attract more customers quickly with the best grocery delivery app.
Brands like Instacart and Walmart are great examples of success in the on-demand grocery delivery app.
Reasons why you should invest in grocery delivery apps
Investing in an on-demand grocery delivery app is a profitable idea in 2023. Various studies and research have shown that online grocery delivery apps have generated significant revenue and will grow profoundly in the coming years. Let us look at some noticeable facts and studies.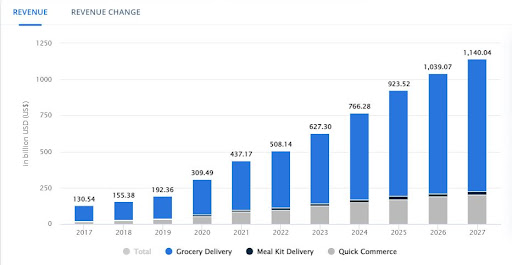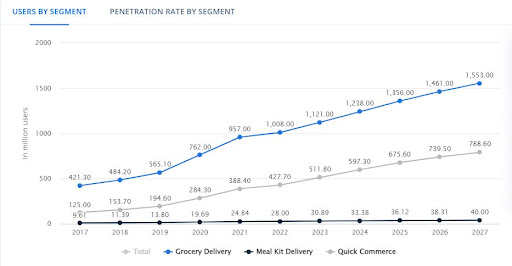 Revenue in the grocery delivery industry

is projected to reach US$1,140.00bn by 2027.

Further, the number of users in the on-demand grocery delivery apps is expected to amount to 1995.00 m users by 2027.

63% of mobile users

said that they would buy groceries from the companies that have grocery delivery apps and provide relevant recommendations. 

A leading on-demand grocery delivery app- Instacart has about 10 million active users every month. 
Top on-demand grocery delivery app benefits
What are the benefits of on-demand delivery apps in the grocery industry? The question may come to your mind when you plan to build a grocery delivery app for your store. Even if you are an entrepreneur considering investing in it, you must know about grocery delivery app benefits. Below are the top grocery delivery app benefits:
1. Brand building
The first grocery delivery app benefits include brand building. A grocery delivery app enables you to highlight your brand's dedication to customer convenience and innovation. Adopting cutting-edge technology and providing a user-friendly app positions the brand as innovative and customer-focused. Further, it enhances the image of your company and positions it as a pioneer in embracing digital solutions in the grocery sector. The app becomes a potent tool for expressing your brand values and setting yourself apart from rivals.
Secondly, an on-demand grocery delivery app benefits offers the chance for improved client connections. You may provide a smooth purchasing experience, customized promos, and personalized recommendations through the app. You can also develop tailored marketing strategies that successfully reach your audience by comprehending your customers' preferences and purchasing behaviors. 
Customers will feel valued and understood due to this level of personalization, increasing engagement and loyalty. Your brand will also be able to build a reputation for providing outstanding customer experiences as a result, which encourages favorable word-of-mouth and future brand expansion.
2. Boost sales
Over the past few years, grocery delivery applications have become popular, especially in cities. These apps have transformed the grocery shopping process and assisted companies in maximizing their sales potential. Businesses can reach more clients by providing delivery services than they could if they only had brick-and-mortar establishments. It has increased its consumer base, which in turn has raised sales.
Thanks to on-demand grocery delivery applications, customers can quickly get goods with just a few taps on their phones. Businesses can decrease the number of abandoned shopping carts that historically resulted in lost sales due to the inconvenience of in-store purchasing by streamlining the experience. 
Additionally, the app might provide clients with special discounts and promotional offers to entice them to make a purchase. All this leads to a rise in sales and the company's financial performance. In conclusion, grocery delivery apps offer a more simplified and easy shopping experience, enabling businesses to grow their sales potential and attract more clients.
3. Competitive advantage
Taking advantage of a grocery delivery app places your company at the cutting edge of technological development. It indicates your capacity to modify business practices in response to shifting consumer tastes and demands. Nowadays, customers are looking for convenience and efficiency in their buying experiences in a world that is becoming increasingly digital. Therefore, with a grocery delivery app, you can differentiate yourself from rivals relying only on traditional brick-and-mortar businesses. 
It empowers you to reach a growing market of customers who favor the ease of online buying and doorstep delivery. This competitive advantage will give you an edge in the market, allowing you to draw in and keep clients who appreciate your app's flexibility and convenience. 87% of customers agreed that they do grocery shopping online through their mobile phones. 
Additionally, a grocery delivery app allows you to meet and exceed client expectations. Consumers today anticipate flawless online interactions, tailored advice, and quick service. You can provide individualized product recommendations, focused promotions, and speedy order fulfillment by utilizing data analytics and user insights obtained through the app. This degree of individualization and reactivity increases client pleasure and loyalty, enhancing the business's reputation. 
As more consumers depend on the comfort and dependability of your delivery app, your company develops a reputation as a reliable and client-focused supplier. Thus, distinguishing you from competitors who might not provide the same individualized service gives you a competitive edge in the market.
4. Overcome geographical barriers
A grocery delivery app can help you grow your customer base beyond the bounds of traditional stores and get around regional restrictions. Let's examine a situation from everyday life to demonstrate this:
Leading on-demand grocery delivery app Instacart has overcome regional restrictions to serve customers in numerous places effectively. Instacart connects customers with their preferred grocery retailers by operating in thousands of cities across various countries. Customers may get groceries from their chosen merchants through Instacart and have them delivered right to their door, thanks to partnerships with neighborhood grocery businesses.
Consider a consumer who lives in a small town with few grocery stores. This consumer can access various grocery retailers through the Instacart app, some of which might not have a physical presence in their neighborhood. Through the app, they may browse multiple products, evaluate costs, and make purchases. The order is subsequently filled by Instacart's network of shoppers, who make a purchase at the specified retailer and deliver the groceries to the customer's address. Instacart effectively eliminates the geographical barrier and relocates the grocery shop to its doorstep by providing customers in underserved areas with various grocery selections.
5. Attract more customers
Firstly, people are drawn to grocery delivery apps for their convenience and flexibility. Many people are looking for time-saving strategies for grocery shopping due to their hectic schedules. You can meet their needs and make shopping hassle-free by offering an app that enables clients to get goods whenever they want, wherever they are. 
Buyers are more likely to use your app than more conventional shopping methods since it allows them to easily explore a large selection of products, add items to their cart, and schedule deliveries based on their preferences. Customers may download your app and use it frequently just for its flexibility.
Second, building an on-demand grocery delivery app creates potential for personalized interactions and targeted advertising. You can customize specials and recommendations to certain clients by gathering information on their preferences, past purchases, and browsing habits. Customers feel appreciated and understood due to the high level of personalization, which produces a more meaningful and interesting buying experience. 
Using this data wisely, you can provide tailored discounts, recommend complementary items, and remind customers at the right moment, increasing customer loyalty and retention and helping draw in more customers. Customers will be willing to use your grocery delivery app for their grocery needs since they value personalized care.
6. Enhanced customer loyalty
Apps for grocery delivery have improved consumer loyalty while helping businesses reach additional customers and increase sales. Shopping with a certain company is now more fun than before because of the ease and personalized experience these apps offer customers. Buyers who use the app to shop can save time and effort by efficiently completing their food shopping. As a result, clients are likely to return to the store.
Additionally, on-demand grocery delivery applications enable businesses to provide a more individualized level of customer service, enhancing the intimacy of the shopping experience. Consumers can obtain specialized offers and recommendations based on their buying habits and history. 
The company can improve its offering as long as users use the app to make purchases. It promotes a feeling of attachment and loyalty that encourages repeat business and positive word-of-mouth promotion for the company. Any successful company needs loyal customers.
7. Expand beyond operating hours
On-demand grocery delivery apps benefit your business by providing valuable tools for working outside regular business hours. Unlike conventional establishments with set opening and closing hours, customers can utilize a delivery app anytime. Because of this, customers may order whenever they want, even after regular store hours, and have their food delivered right to their homes. By offering your services outside regular business hours, you can meet the demands of clients who might have busy schedules, work odd hours, or want to shop whenever convenient. 
This increased availability reduces the restrictions imposed by physical store hours and aids in attracting and keeping customers who value flexibility.
Also, a grocery delivery app maximizes operational effectiveness and guarantees on-time deliveries. You can effectively arrange deliveries by incorporating advanced logistics management and route optimization algorithms into your app. As a result, you may process more orders at once, make order fulfillment more efficient, and speed up delivery. 
Customers gain from quicker and more dependable deliveries, especially during busy times or outside regular business hours. Quick response times improve client happiness and promote repeat business, thereby growing your clientele and raising prospective earnings.
Enhance your grocery store with an on-demand grocery delivery app
Now that you are aware of the on-demand grocery delivery app benefits and know how it can transform your business, you might be interested in building an app for your store. 
ValueAppz provides top-notch on-demand grocery delivery app development services while keeping in mind the business needs and its goals. Our app developers are skilled in providing quality work in a set timeline. Further, our clone app services will help you quickly launch your grocery delivery app. 
Let's connect now, discuss your grocery delivery app idea, and create the best grocery delivery app for your store or startup now.

Frequently Asked Questions:
Q1. What is the benefit of a grocery app?
There are several on-demand grocery delivery apps benefits like access to more customers, loyalty programs, tech-led services, quick communications with customers, and enhanced customer loyalty.
Q2. What features should a grocery app have?
Your on-demand grocery delivery app should include features like easy registration, order history, order tracking, cart, payment gateways, scheduled orders, search filters, and customer feedback.
Q3. What do customers want from online grocery stores?
The users of the online grocery store look for convenience and fast services. They want access to several products through the app plus a quick delivery of the same.
Q4. How does a grocery delivery app enhance customer convenience?
On-demand grocery delivery apps are available 24/7, providing flexibility to users to place orders when they want. Also, these apps let the users shop without having to move out.
Q5. Can a grocery delivery app help increase my sales and revenue?
Yes, with the help of a grocery delivery app, you can boost your sales and revenue in no time. It is because there is a trend for these apps, as users can get everything delivered to their doorsteps within a few minutes.
THE AUTHOR
Harjyot kaur
As a technical content writer my focus is on creating high-quality, engaging, and informative content that simplifies complex technical topics. Throughout my career, I have continuously pursued opportunities for growth and development, refining my skills and expanding my knowledge base.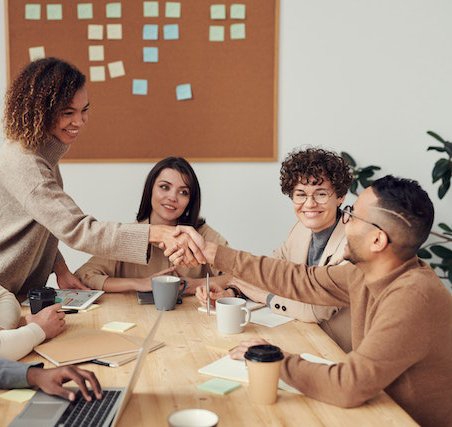 Get ready to digitally transform your business.
Let our team help take your business to the next level. Contact us today to get started on finding the perfect solutions for your business needs.