Start Your Own Grocery Business With An Outstanding Instacart Clone App
July 30, 2021
Giandeep Singh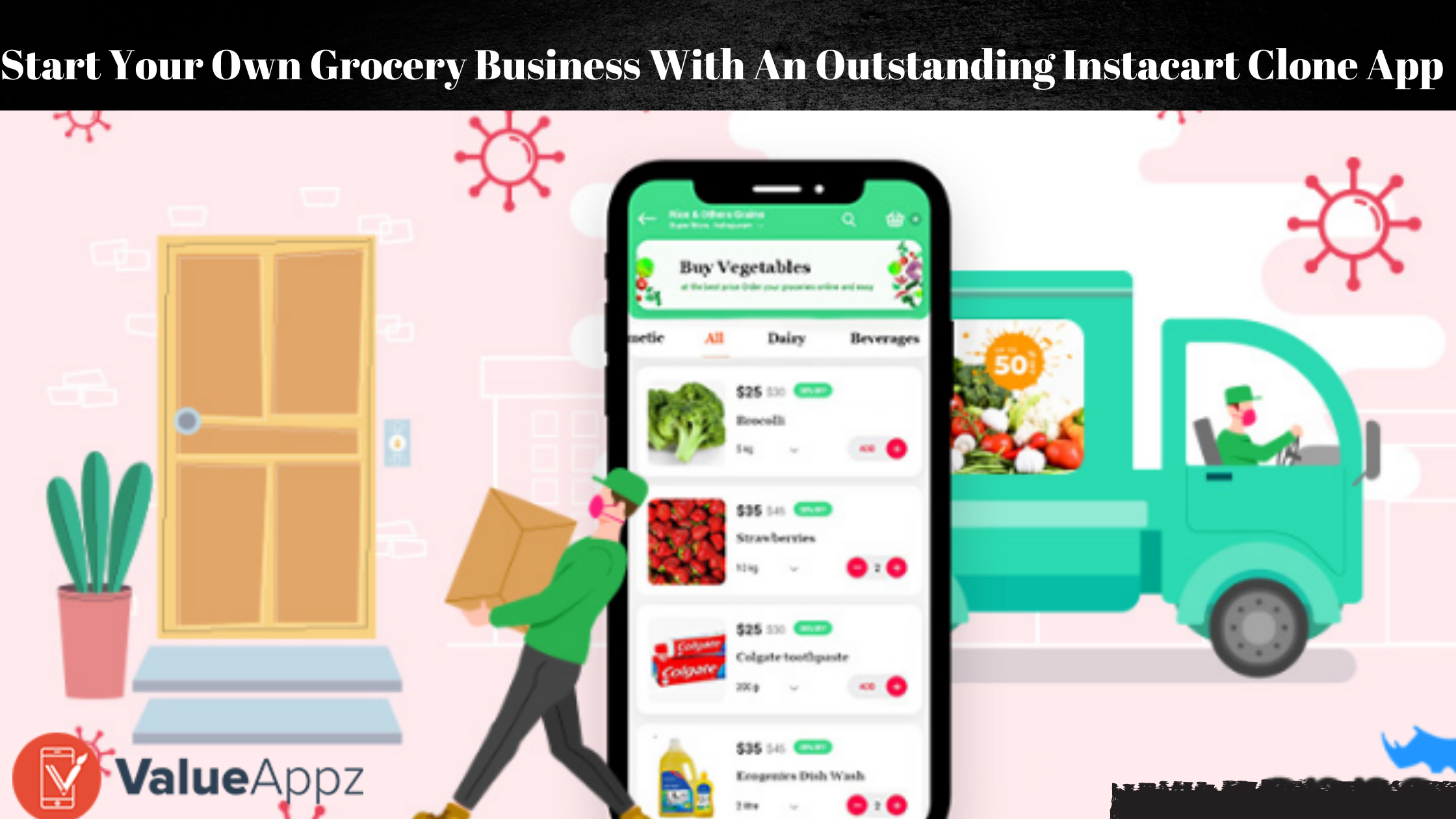 Since the onset of the pandemic, everyday groceries have enjoyed an extraordinary demand in the online delivery segment. As people were required to stay inside and abide by the appropriate covid protocols, the demand for daily necessities and essentials to individual homes skyrocketed. As a result, the revenue from food and beverage e-commerce surpassed US $15 billion in 2020 and is estimated to breach the US $20 billion mark by 2023. Moreover, the sales of grocery delivery and pick-up jumped from US $1.2 billion in 2019 to US $ 7.2 billion in 2020. 
As soon as pandemic induced lockdowns were put in place, online grocery delivery searches saw a whopping 202% increase. Presently, around 45% of millennials and Gen Z customers prefer to shop for their groceries online. As this growth trend in the online grocery delivery business is expected to continue in the future as well, the time is ripe for you to contemplate grocery delivery app development for your business. 
Reasons to invest in grocery delivery app development
Groceries are an everyday requirement in every household. Almost everything that can be found on supermarket shelves is now accessible on grocery delivery applications. A new age customer requires various options to choose from, and a new age business owner must provide these services through a well-rounded grocery delivery app. Here are some of the reasons for you to invest in grocery delivery app development: – 
It is inconceivably difficult to have an effective stockroom and coordination with the executives while manually taking orders. Luckily, applications provide a one-stop destination to effectively overlook all managerial tasks such as availability, stocking, payments etc. 

Many grocery item delivery services offer customers a wider range of items across various departments than any supermarket. Everything from raw meat, vegetables, snacks etc., is easily accessible. This allows you as a business owner to enjoy repeat orders and inculcate consumer loyalty. 

Dealing with perishable items requires additional care and consideration since they have a short shelf life. Grocery delivery apps offer mutually helpful arrangements for customers and owners. This helps the owners to ensure that the perishable items get purchased as soon as possible and minimize wastage. 

Availability, affordability, and speed are significant components for building a dependable client base. These objectives are achievable if you plan to build an online grocery application around them. 
Grocery Clone App
Now that we have discussed the benefits of a grocery delivery application, it is time to look at an extremely important aspect, i.e., the cost. The development cost for a new app from scratch is quite high and is the biggest impediment that aspiring business owners face. After all, investing thousands of dollars and months in developing a grocery delivery app is a huge ask. But you can now minimize your risks by opting for a grocery clone app. Herein, the grocery delivery app development service provider will use the existing script to create your very own app, that too at a fraction of cost and time. 
With multiple grocery clone scripts to choose from, which one can provide the best result for your business? Based on the market performance and customer feedback, the Instacart clone script offers all the required features for successful grocery delivery app development. Let us discuss further the other important aspects of the Instacart clone app and what it entails for your business. 
Instacart Success Story
Instacart is a smartphone app that offers delivery services in the retail business for transporting grocery items. Its headquarters are placed in San Francisco, California, U.S. The services of this organization are accessible in 5,500 urban areas of Canada and America. It was started by three individuals named Apoorva Mehta, Max Mullen, Brandon Leonardo and is now worth US $ 8 billion. 
Instacart assists its clients with purchasing food, snacks, condiments and all grocery items around the clock from the comfort of their homes. The business has a network of 300 independent retailers as well as retail chains. The clients can place orders through the Instacart application or Instacart.com. Clients can put in the request by choosing the city, store, and add items to the cart. On checkout, the bill can be paid through Mastercard, Visa, Android Pay and Apple Pay. 
Instacart Business Model
Instacart is a big hit in the grocery delivery application realm. The business idea runs on the basic model of hassle-free deliveries of all grocery items from the comfort of your home with a few taps on the screen. Instacart is an application that helps users to access all grocery items, check their availability, status updates and stock details while they are sipping coffee or are busy with work and other commitments. Instacart uses a crowdsourced marketplace model where users are connected to local shopper lists who shop for ordered items and deliver them.
A business concept such as Instacart is attractive to customers because who would not want to leverage the ease and convenience of cutting on the grocery trips and safely buying stuff online within minutes. Instacart implements sharing economy-based business model and provides local on-demand grocery delivery by connecting customers with personal shoppers. Instacart does not own any grocery stores. It provides a platform for grocery retailers to sell their products on the Instacart platform. 
Instacart has executed operations in many significant regions in the USA and covers over 25,000 supermarkets. The application clients can purchase over 300,000 items stocked in grocery stores, niche stores, and drug stores. The stores they cover incorporate Safeway, Costco, CVS, ALDI, Publix, Kroger, Whole Foods, Albertsons, Sam's Club, Sprouts, Wegmans etc. 
Talk to Our Experts Now And Give Your Business a Digital Makeover.
Instacart Clone App Design 
There are three application segments in the Instacart clone app for different users, 
 

Customer segment:

Customers can access stocked items across various stores and order unique items from different stores. Customers can also schedule their orders and deliveries, customize their orders according to their needs and securely pay through any available payment options.

 

Shoppers or delivery executives:

They are locally placed and receive order updates in the application. They pick up orders and deliver them to the customer at their doorstep. Shoppers are paid per hour and receive tips from customers as well. Live location status helps customers to track order progress. 

 

Stores:

Instacart works in collaboration with a variety of stores. The application administration from the store portal can assess all orders with alerts and updates. They can also inform the customer about the live availability of items and update any changes necessary through the application. 
Instacart Clone App Revenue Model
Based on the original app, your Instacart clone app will feature the below-mentioned revenue model: – 
 

Delivery Charge:

Each request handled by Instacart over $35 draws in a standard delivery charge of $3.99 for 2-hour delivery.  $5.99 is charged for 1-hour delivery. Orders under $35 are charged at $7.99 per order for 2-hour delivery, and $9.99 are charged for 1-hour delivery. 

 

Membership Fee:

Customers are provided with the option to join the "Instacart Express" membership at $99 per year. The memberships benefit the users with free delivery for a year, and customers can also avail discounts and redeem coupons. 

 

Markup prices:

Some stores sell products on Instacart with a raise of 15% on every item from their store. Instacart collects the revenue, and the stores earn more revenue from every item ordered via Instacart. 
How to build your Application via Instacart Clone Scripts
Instacart clone app development requires knowledgeable developers with in-depth knowledge of the clone app development process. It is not possible for your in-house team to manage this task on their own, and it would increase your costs manifolds and take up a lot of your precious time. Therefore, you should avail yourself of the services of a reliable and trustworthy Instacart clone app development agency with multiple years of experience in the field. This will allow you to avail all the benefits of a grocery clone app within your budget and timeframe. 
Customers are continually requesting quick ways to order their desired items from their favourite supermarkets without standing in long queues or waiting in the parking. Then again, businesses are hoping to create a steady stream of income before and during the pandemic to fulfil client interests. With evolving customer preferences, there are no doubt that conventional grocery stores need a robust online presence to gain the upper hand over their competitors. This is possible online with the help of investment in grocery delivery app development. So, choose your development partner wisely and reap the rewards for many years to come.
Let's Build Something Awesome Together.
THE AUTHOR
Giandeep Singh
I am a writer and marketing specialist who loves to explore new digital strategies to boost business growth online.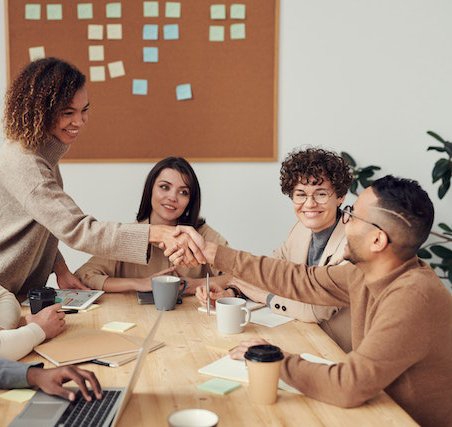 Get ready to digitally transform your business.
Let our team help take your business to the next level. Contact us today to get started on finding the perfect solutions for your business needs.