How to Start An Online Grocery Delivery Marketplace Platform?
October 6, 2020
Rohit Madaan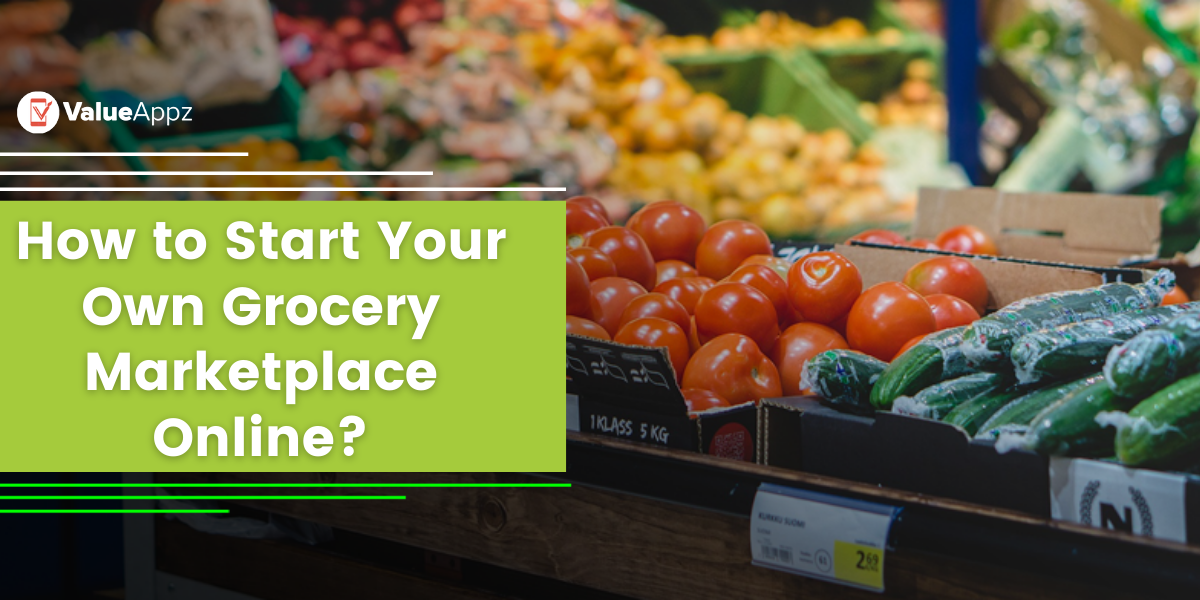 Table of Content
Follow Us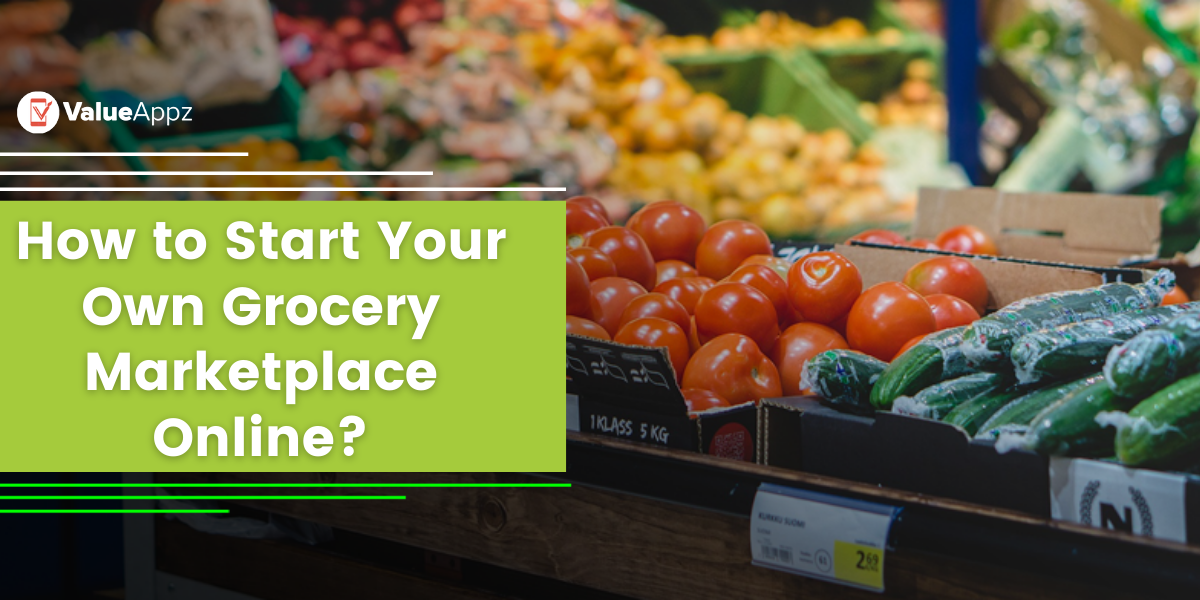 87% of grocery purchasing has suddenly shifted online.  The entire grocery market has transformed, almost overnight. 
First, COVID-19 forced this change.   Second, consumers crave for comfort – which is possible with online shopping. Of course, grocery retailers can't overlook this trend.   
The reason is obvious!  For every grocery retailer, there is a need to build a grocery marketplace platform that can supply groceries at home efficiently. 
A significant portion has to be invested in up-keeping with this digital transformation. Also, the time is limited – grocery consumers are already there. 
Online Grocery Shopping – Predominant Factor to Survive this 'NEW NORMAL'
Some are still wondering if the grocery business will survive. Will this industry grow? The online grocery industry is rising, and we are very much experiencing that. 
More than 70% of customers are happy to shop online rather than visiting the store for grocery purchases. Hence, this predominant factor is, of course, surviving and will continue to exist along with this new normal. 
There is no question about it. 
Remember, Online Grocery Marketplace is Transforming
Amazon delivers groceries – why would such a gigantic company do that? They knew the trends would change – of course, nobody expected something as threatening as COVID-19, – but the grocery market would transform was somewhat expected.
Plus, people are expecting way too much than offline stores. 
Consumers are expecting:
Better grocery deliveries

Timely services

Personalized interaction

Constant engagement

Organized and professional services
The expectation has ascended. 
For that, retailers have to build better infrastructure essential to upkeep the pace of the accelerating demands of online grocery shoppers. Retailers must either enhance the online grocery shopping experience for their customers or bear the risk of lacking behind.
Remember, it is essential to create an online grocery marketplace to survive. 
But How to Start Your Own Grocery Marketplace Online?
That's a big question for all the grocery retailers, though. 
How to create an online grocery marketplace? Well, that involves understanding numerous different factors. 
Selecting the Right Business Model to Kickstart Grocery Business Online

Deciding the Income Model for a Successful Online Grocery

Features Online Grocery Marketplace Must Posses

Potential Challenges Faced When Developing Grocery Marketplace

Opportunities to Enjoy once you have decided to Build Online Grocery

Essential Tips that can Make Your Grocery Marketplace Successful Online
Get in Touch With Our Team Now.
Selecting the Right Business Model to Kickstart Grocery Business Online
What's the right business model for your grocery business? How can one decide what's apt for their grocery marketplace platform? 
1. Aggregator Model 
This is the first grocery business model, where companies partner with supermarkets, who are already existing in the market. 
It could also be the grocery stores, who receive orders and then deliver groceries to the customers. 
The aggregator model is:
Less expensive

Cuts down the warehouse expenses

The market is readily available

Amazon follows an aggregator business model
Hence, an aggregator model for grocery business online could be perfect for those, who are not ready to put too much effort into building the market. 
2. Click & Collect/ Store-Pick Model 
Another business model for grocery business online is the click and collect model. It is also known as the store-pick model. This grocery business model survives on the idea that grocery seekers can order groceries online and visit the offline store to collect the order. 
It allows grocery seekers to pick the groceries at their preferred time. 
The Store-Pick model is:
A good option to enter the online grocery marketplace

It is less intimidating as compared to door-to-door supplies

Preferred by companies owning their grocery stores

Numerous pick-up points available for consumers to collect their orders

Tesco follows this grocery business model
3. Pure-Play & Warehouse-Pick Model 
This model is apt for those who have never worked on the grocery aggregator model. 
Besides, this model is perfect for those who don't own grocery stores for delivering groceries to their customers.
The companies are required to purchase from the manufacturing firm before they stock everything up in their warehouses. 
The Warehouse-Pick model is:
A good option to those who wish to sell grocery stuff in bulk

Apt for those who are willing to indulge in an expensive process 

Doesn't wish to have small grocery stores, but larger warehouses for bigger business

FreshDirect follows this model 
4. Hybrid Model
This grocery business model is the amalgamation of both the warehouse-pick model and store-pick. 
Now we know how both these models work, hence it is easy to understand how the amalgamation of two would work for the Hybrid model. 
The hybrid model is:
A model that doesn't own any grocery stores

Offers benefits of both the warehouse-pick and store-pick model

Peapod uses this grocery business model
Deciding the Income Model for a Successful Online Grocery 
The next step is to decide the income model for building a grocery marketplace platform. This step decides how exactly you will be earning revenue from your grocery business online. 
Here are the incomes, on which retailers generally relies: 
1. Commissions
Well, this is the primary source of income for all the grocery business marketplace. Collect commission on every transaction and earn money – that's how your grocery business earns online. 
So, once any purchase is made, the money is received after subtracting the commission amount. The amount after deduction is sent to the seller, and the commission becomes your income. 
2. Memberships
The third source of income could be memberships. Yes, you can offer memberships to the seller for listing a specific number of products on the list. 
For instance, the first membership slot would have a maximum of 50 products listed, then the next one will have 100 products, and the third one 150, and so on. 
It totally depends on you how many products you want to include in each membership. 
You can even offer quick delivery or prioritize customers who opt for the maximum or premium membership for listing products with you. 
3. Subscriptions
When you want to create an online grocery marketplace, it is also recommended to allow your patrons to subscribe to some products. 
For instance, there are a few products that your customers order every time. In that case, allow them to subscribe to such products for regular delivery, without needing to place an order for such products every time they order groceries from your store. 
Some of these products could be daily milk delivery, veggies supply, or any other essential. You can charge them a certain amount to keep all these products safe for them every day. This could also become your source of revenue when creating your grocery marketplace platform. 
Let's Build Something Awesome Together.
4. Service Charges
 Grocery retailers can rely on service charges for their income. Being a grocer, you can ask the partners to subscribe to your membership plan, or else they will have to pay a 'service charge' which will be an additional service cost on every sale made by the partner. It will positively inspire them to buy the membership plan of your grocery store, avoiding any extra payment of the service charge.
5. Merchandise
Grocers can positively earn through branded merchandise. Use your website to sell your merchandise products to initiate the income. So, you can choose a category of merchandise, which you wish to sell on your site and earn through it.
Features Online Grocery Marketplace Must Posses 
Grocery business market experts suggest that there are some essential features that one needs to incorporate in the online grocery marketplace. 
Here's the list of features:
1. Welcome Popup 
The first feature that your online grocery marketplace needs are the 'welcome popup.' Here you can find some website popup examples that you can use. Your customers should feel welcomed. And, if you have a welcome popup up there on the site, people would feel happy about being there. 
This also shows that you think about your customer. You really care about them. 
So, it is always recommended to have a welcome message for making your valued clients happy. 
2. Slider Banner Image
Attract the customers by providing a slider image that displays all benefits of your grocery business. 
That's the first thing that your customer notices, and you can really catch their attention if you have created a catchy and innovative slider banner for your website. You can even place special offers, discounts, attractive deals, and exclusive deals to attract customers. 
3. Menu Bar
It is one of the most essential features of your online grocery business. Your patrons should be able to find all the essential products in the menu bar. 
Your 'menu bar' must have all products in the easily discoverable categories without any hindrance. 
The display needs to be clean and smooth – customers must be able to scroll through the menu bar easily. You can even opt for menus and submenus to make ordering groceries an easier experience for them. 
4. Search 
Not finding the right place to find the grocery product is one of the biggest drawbacks that can hinder the growth of your business. 
With hundreds and thousands of online grocery websites, there is a possibility of your customers getting confused while customizing their order list.
Search has become an important feature that needs to be incorporated into the grocery business online. 
It should be just one click via which they can add as many products to the cart and buy them thereafter. 
5. Sign-Up Page
Make people register without leaving any page of your website. Yes, that can happen. All you need to do is just experiment with the sign-up page/process to make things work for you. 
For instance, you can always use the 'create an account' option to short acquire some small yet essential information, including the email, contact number, username, password, and other vital details of your customers. It might even include the delivery address of the customers, which is really important in the case of your business. 
The need is to experiment with the sign-up options to hook the customers and attain some essential details about them. 
Related Read: The New Technologies Every Grocer Should Know In 2020
6. Time Slot 
The success of grocery business online highly relies on the delivery time. 
Since there are competitors all around, it is almost impossible to ignore them. Hence, it is required to add some features to your website that makes you stand out. The need of the hour is to deliver the groceries in the quickest time possible.
Hence, you can opt for some irregular delivery time like late in the night or too early in the morning, when your competitors are not delivering groceries. This will help you in standing out of the crowd while building more trust and reliability amongst your customers. Design a different tab or make it visible to your customers anyhow. 
Talk to Our Experts Now And Give Your Business a Digital Makeover.
We believe that in today's time and trends, it is important to have such a feature in your grocery delivery marketplace online for attaining more customers and businesses. 
7. My Cart
One of the most vital yet undervalued features of any grocery delivery platform is its shopping cart. 
Don't build a separate 'my cart' page, as that could be a big hindrance to your business's success. Because a dedicated page can affect the overall shopping experience of your customers. 
Hence, it is suggested to use the 'My Cart' option in the top navigation bar, so that your customer instantly notices it, as soon as they reach out to your website. Just a click on this option must show all the products that the customers have added in the cart. 
It is always recommended to rely on an experienced development team for building such features for your website, so that the display, design, and functionality remains smooth and easily accessible. 
8. Multiple Payment Options
The world is going cashless, so you can't completely rely on the COD option. You need to have multiple payment options on your grocery marketplace platform to allow easy payment for your customers. 
Payment modes might include:
Cash on delivery 

Credit cards

Debit cards

Net banking
It would be great to have some virtual reward points on every purchase for your customers to build better trust and loyalty amongst your patrons. It can be a possible reason why customers purchase groceries from you over and over again. 
9. FAQs
What better than having some FAQs on your grocery marketplace platform? Of course, your customers will have certain questions in mind, and if you already have answers for them on your site, it would be easier for them to find their answers, without any hassle. 
In case you are a newbie, don't forget to add the extensive frequently asked questions to hook the customer for longer while providing them all the answers to their questions. 
Potential Challenges Faced When Developing Grocery Marketplace
Of course, when you want to create an online grocery marketplace, you will face certain challenges that might hinder the growth of your business. 
Some of which are as follows:
Operational costs

Storage costs

Delivery issues

Inefficiency in supplying groceries on time

Stock management 
In order to skip these issues, it is mandatory to do prior planning to deal with such issues. 
For dealing with all cost-related problems, it is important to do budgeting before commencing your business. Every businessman must be ready for both the situations – be it loss or profits. 
For all delivery related issues, you need to design proper training strategies to train the delivery agents. Keep a reward for them, so that they are motivated to deliver services on time. 
In short, challenges will occur when you start your own grocery marketplace platform online, it is best to plan everything keeping in mind all the potential problems. 
Opportunities to Enjoy once you have decided to Build Online Grocery
There are a few tips to remember to enjoy the maximum advantages of the opportunities available in the grocery business online. 
Automate things using the latest technologies to deliver the utmost ease to your customers. 

Implement new strategies, tools, and techniques to match the modifying needs of your patrons. 

Track orders and offer attractive subscription plans to engage your customers for better business. 
Essential Tips that can Make Your Grocery Marketplace Successful Online  
Keep these tips in mind for the utmost success in your grocery business online. 
Understand your shoppers – what they are trying to get with your services. 
Focus on customer satisfaction – as if that's done, nobody can hamper your business's success. 
Always track your performance – of course, it is easy to flaunt your grocery business delivery's success, but it is always recommended to track your progress to measure how much you have done, and what's still to be achieved. 
Understand your market – it is best to know your market, including the current trends and future ones too. 
Focus on the quality of services – a key to attaining success in the grocery business is to focus on the delivery timings. If you are quicker in delivering the services, you are ahead of your competition – simple! 
The Takeaway Message 
Building an online grocery marketplace platform is easy – but it takes a lot of understanding and planning to do that. Of course, you have customized business objectives and needs, so it is essential to have plans and strategies ready for making a better business online. 
Follow these tips, look for the opportunities, add these features to your marketplace, and make the most of your online grocery business. 
THE AUTHOR
Rohit Madaan
I am an enthusiastic internet marketer. I have expertise in PPC, SEO, Social Media, Google Analytics, Google Business Page Optimization, and Content Marketing.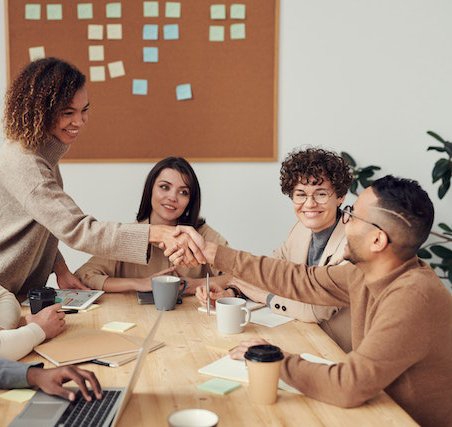 Get ready to digitally transform your business.
Let our team help take your business to the next level. Contact us today to get started on finding the perfect solutions for your business needs.