Uber Eats Vs. DoorDash-Which Business Model To Follow
September 17, 2023
Shailza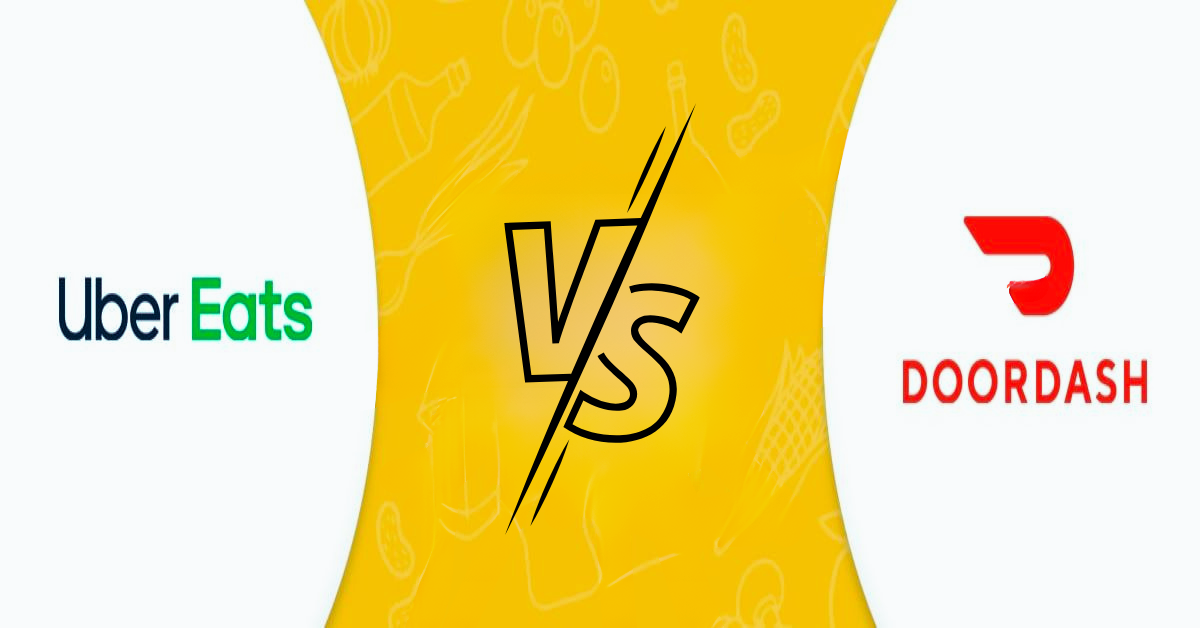 Table of Content
Follow Us
Quick Summary: On-demand food delivery services have seen a boost in their growth. Its revenue is expected to reach $466,472 million by 2026 in the USA. Two brands, Uber Eats and DoorDash, are the biggest contributors to the food delivery industry. But which is better? This blog will discuss Uber Eats vs. DoorDash in detail. Read till the end to discover the answer.
With technology making everything easy and accessible, there has been a shift in the trends in the online food delivery industry. The on-demand food delivery apps have provided the best solutions, from ghost kitchens to healthy and specialized menus, contactless delivery, third-party aggregators, and multi-cuisine platforms.
Talking about the food delivery apps, Uber Eats and DoorDash are the two biggest names in this industry. When startups and small businesses plan to invest in online food delivery apps, and on the lookout for the best food delivery app development services, they look at these brands to gain a better understanding.
But what app is better and makes more money? Which has a better user base and provides superior services? What should you consider when building an app like Uber Eats or DoorDash?
Hold on. This blog will discuss all these questions in detail one by one.
A Comparative Analysis of Uber Eats and DoorDash Business Models
Let's start by exploring some basics about the food delivery industry giants, followed by comprehensive analysis of their business models. Through a business model, one can fully see how the business operates and what makes it so popular.
What is Uber Eats?
Uber Eats belongs to the parent company–Uber, which lets its users order food from nearby restaurants through any device. Launched in August 2014 in San Francisco, California, Uber Eats has become a brand. The app makes it easy for users and restaurant owners to register and benefit from its features.
Uber Eats' Business Model
Uber Eats is an on-demand food delivery application that enables users to order food from local restaurants through the Uber Eats app. The workflow of an online food delivery business is as follows: 
Platform:

Uber Eats offers a website and mobile app that link consumers to a network of nearby restaurants and food suppliers.

Ordering:

Customers can use the app to explore menus, order food, and send money online.

Delivery:

Uber Eats arranges for delivery and sends out delivery drivers, who are frequently independent contractors, to pick up orders from restaurants and deliver them to clients.

Revenue Model:

Uber Eats receives money from a variety of sources, including delivery fees that customers pay, commission fees that restaurants pay to use the platform, and occasionally service fees that restaurants pay to offset operating expenses.

Expansion:

In order to boost its consumer base and market share, Uber Eats is constantly growing its network of restaurant partners.
➡️ Understand the Uber Eats business model in detail with our guide.
What is DoorDash?
Headquartered in San Francisco, California, DoorDash is another very successful food delivery app that provides the latest facilities to its users. The company was launched in 2013 and has earned 56% market share, making it the largest food delivery company in the United States. 
This blog will help you discover the two business models in-depth and help you understand what the best choice for your business is. Let's begin with a simple introduction to Uber Eats and DoorDash.
DoorDash Business Model
DoorDash is another food delivery service that collaborates with restaurants to deliver food to its users. When a restaurant signs up for DoorDash, it allows its existing customers to experience the food they love in a new way and attract new customers. 
Marketplace:

DoorDash runs a website that links users to nearby restaurants and meal delivery services.

Ordering:

Customers may browse restaurant menus, place meal orders, and pay online via the DoorDash app or website.

Delivery:

DoorDash uses a network of delivery personnel, referred to as Dashers, to pick up and deliver orders from restaurants to customers.

Revenue Model:

DoorDash makes money in a variety of ways, including delivery fees that customers pay, commission fees that it charges restaurants for using its platform, and service fees that it collects from restaurants to pay for overhead.

Additional Services:

DoorDash has added grocery and convenience store delivery to its list of services to diversify its revenue sources further.

Expansion:

DoorDash constantly increases its restaurant relationships and clientele to increase its footprint in different markets.
➡️ Look at the business model of DoorDash in detail to gain a better understanding.
A Deep Dive into Profits- Uber Eats vs. DoorDash- Who Makes More Money?
Revenue is another factor to consider when comparing the two market giants. Both these top USA food delivery apps have managed to grow at a large scale with their essential features and delivery app monetization strategies. Let's find out who earned how much. Is DoorDash or Uber Eats more profitable? Let's find out.
| | | |
| --- | --- | --- |
| Year  | Uber Eats  | DoorDash |
| 2022 | $10.9 billion | $6.58 billion |
| 2021 | $8.3 billion | $4.88 billion |
| 2020 | $4.8 billion | $2.8 billion |
| 2019 | $1.9 billion | $0.85 billion |
The table above shows that Uber Eats has always won the race to earn higher revenue from its competitors. One primary reason is that Uber (a well-established and widely used taxi company) is the parent company of Uber Eats, making it a trustworthy brand. Ever since these both entered the market, Uber Eats has had an advantage over the revenue.
The revenue table also depicts that a food delivery app is an excellent company investment idea. As Uber Eats and DoorDash have made lump sum revenue, choosing either model can be profitable. 
Worldwide Market Share of Uber Eats and DoorDash in Various Countries
As discussed earlier, both Uber Eats and DoorDash serve in several countries. The apps have gained popularity among the target audience worldwide. 
Worldwide Market share of Uber Eats
The image below shows that Uber Eats has its highest market share in the USA. It has a decent market share in Japan, UK, Canada, Australia, and other countries.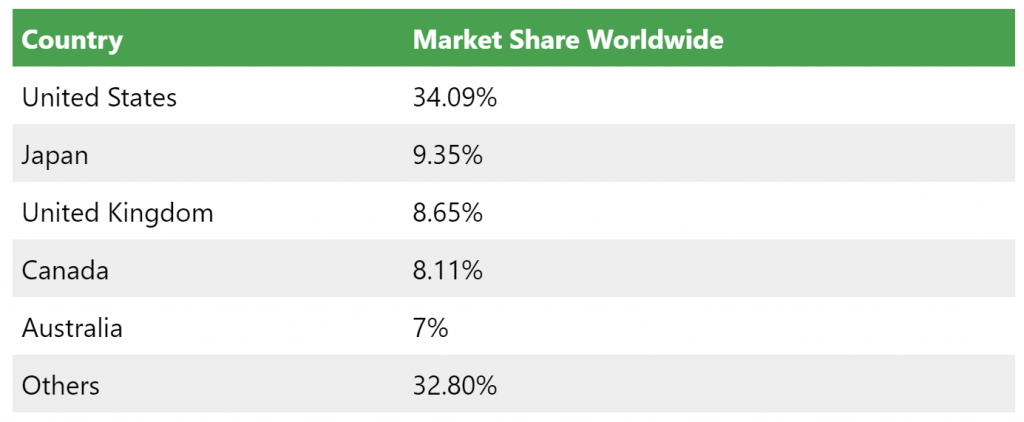 Worldwide Market share of DoorDash
Similar to Uber Eats, DoorDash has its major market share in the USA. Compared to Uber Eats, DoorDash has a lower market share in countries like Canada, Australia, UK, and other countries.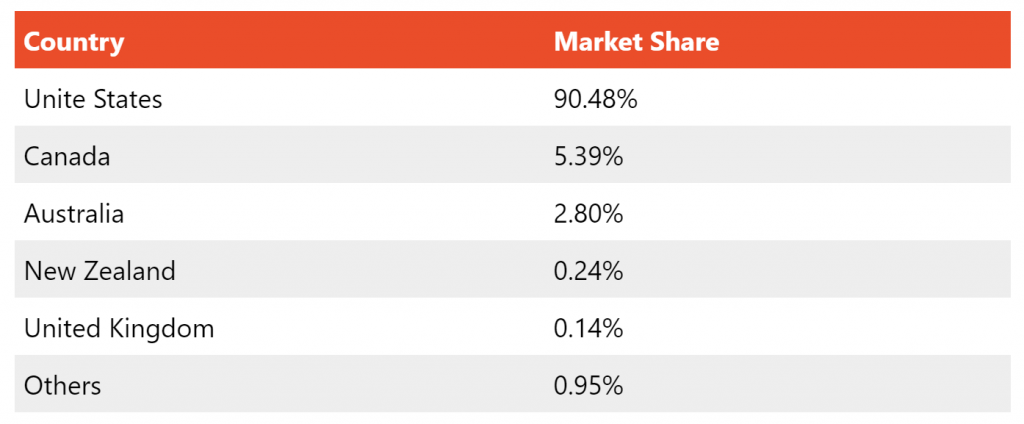 User Base Comparison- Who Takes the Lead?
The more users an app can get, the more successful it gets. When it comes to the users of the food delivery apps, Uber Eats and DoorDash have acquired the majority of the USA market. With its necessary features, easy navigation, and simplified UI/UX, people find placing and receiving orders easy. What is the most used food delivery app in the US?
Talking about the comparison, Uber Eats has always had more users on the app compared to DoorDash. The table below proves it.
| | | |
| --- | --- | --- |
| Year  | Uber Eats  | DoorDash |
| 2022 | 85 million | 32 million |
| 2021 | 81 million | 25 million |
| 2020 | 66 million | 20 million |
| 2019 | 21 million | 10 million |
The table above shows that Uber Eats has always had more users on the app compared to DoorDash in the last four years. The number also proves that both these giants have a great hold on the market and are loved by the target audience.
Uber Eats vs. DoorDash- Who Supports More Restaurants?
For successful food delivery app startup, there first needs to be restaurants registered on the application so that users can find their favorite or local eatery and place the order. Here is a table that shows the number of restaurants that have been onboarded on Uber Eats and DoorDash over the years.
| | | |
| --- | --- | --- |
| Year  | Uber Eats  | DoorDash |
| 2021 | 9,00,000 | 3,90,000 |
| 2020 | 6,00,000 | 3,40,000 |
| 2019 | 2,20,000 | 2,58,000 |
| 2018 | 1,00,000 | 1,00,000 |
As seen in the table, Uber Eats acquires more restaurants compared to DoorDash. To ensure that you get the target audience on your food delivery app, bringing on the right restaurants that the users love is crucial. 
💡 Are you feeling inspired to start your own online food delivery business but feeling unsure about the process? This guide is here to help you get started, with the process of launching you food delivery startup.
Analyzing Upsides and Downsides- Pros and Cons of Uber Eats and DoorDash
Both Uber Eats and DoorDash have some positive and negative points. Due to the rising competition, there is an increase in the service fee and other costs that pull back some customers from availing the services. The pros and cons of these apps include:
Pros and Cons of Uber Eats
Pros: 
Global Presence:

Since Uber Eats operates in so many nations, it is accessible to a diverse group of consumers and eateries everywhere.

Integration with Uber:

Uber Eats' integration with the Uber app makes it simple for consumers to switch between meal delivery and ridesharing services.

User Base:

Uber's current user base gives it a distinct advantage when luring clients to Uber Eats.

Frequent Promotions:

Uber Eats frequently runs specials and discounts to draw and keep consumers.

Variety of Cuisines:

It offers a wide range of meal choices and cuisines from nearby eateries.
Cons:
High Competition:

Due to the demand, there may be fierce competition among drivers, which could result in delivery delays.

Delivery costs:

Delivery costs might vary and may be greater in some locations, discouraging some users.

Limited Availability:

Not all areas or smaller towns can access Uber Eats.

Service Costs:

Some orders may also be subject to service costs in addition to delivery fees.
Pros and Cons of DoorDash
Pros:
Large Market Share:

DoorDash enjoys a sizable market share in the US, making it a well-liked option for customers and eateries.

Restaurant Collaborations:

DoorDash works with a variety of eateries to give customers a variety of dining options.

Dasher Program:

Rapid and effective meal delivery is made possible by a vast network of Dashers (delivery drivers).

Subscription Service:

DashPass is a subscription service that grants members access to free shipping and other savings.

In-App Tracking:

The in-app tracking feature provides real-time order tracking and anticipated delivery dates.
Cons:
Service Fees:

In some cases, there may be additional service fees in addition to the delivery fees.

Limited Global Reach:

Despite its growth, DoorDash might not be accessible in as many nations as Uber Eats.

Market-Dependent:

Depending on the area, different features, deals, and dining options may be offered.

Delivery Fees:

Much to Uber Eats, delivery charges may be higher during rush hours or in specific locations.
Uber Eats vs. DoorDash- Which Is Better?
We have compared Uber Eats and DoorDash in the above sections based on various aspects. But it all comes down to which food delivery app is better. Both these apps have a strong hold on the market and make significant revenue. In the end, we have summarized the comparison in a table.
Feature 
Uber Eats 
DoorDash

Year founded

2014

2013

Availability 

Available in over 6,000 cities worldwide

Available in over 7,000 cities worldwide

Market share (USA)

Around 25%

Around 65%

Sign-up requirements

Age: 19, valid driver's license, eligible vehicle

Age: 18 (21 in some areas), valid driver's license, insurance, and a vehicle

Vehicle options

Cars, bikes, scooters

Cars, bikes, scooters, and walking

App rating

Play Store: 4.4

App Store: 4.6

Play Store: 4.6

App Store: 4.8

Service fees

15% service fee (may vary)

10-11% service fee (may vary)

Delivery time

Approximately 35 minutes

Approximately 40 minutes

Delivery fee

Varies, starting from $0.49

Varies, starting from $1.99

Surge pricing

Yes 

Yes 

Driver payment structure

Earns about $16.5 per hour

Earns about $16.07 per hour

Support options 

In-app, FAQs, email, phone, Twitter

24/7 live chat support
Uber Eats vs. DoorDash- What to Choose For Your Business Idea?
Are you planning to start your food delivery app and are confused about choosing between the top USA on-demand food delivery apps? We have discussed in detail the stats and numbers that have clearly shown that Uber Eats has more users, better revenue, and more restaurants on its app.
But while choosing the model, you do not have to depend just upon the numbers but also look at how they have used strategies and planned the application to succeed. What might suit one startup may not be a good option for another.
Hence, before you build a food delivery app, create a business plan, discover your target market, know your business goals, and study your competitors in-depth. It's only after this that you will be able to choose the right business model for your idea.
Develop a Feature-Rich Food Delivery App With ValueAppz 
You might create your business plan and even choose a roadmap, but you will always need a dedicated team of professionals for food delivery app development. Further, clone apps can help you get your business started quickly and at a reasonable price.
ValueAppz is a pioneering on-demand food delivery app development company that provides both solutions. You may either build your own food delivery app from scratch or get an Uber Eats clone app or DoorDash clone app for your company.
Our experience, team skills, groundbreaking technology, and knowledge in the on-demand app development industry help us build robust and the best food delivery apps. To get help with your food delivery service idea, get in touch with us now and boost your business.

Key Takeaways
Rising industry: With predicted revenues of $466,472 million in the USA by 2026, the on-demand food delivery sector is expected to experience impressive growth and represents a profitable opportunity for entrepreneurs to explore
Key players: Uber Eats and DoorDash are significant players in the food delivery market, but deciding which one is superior requires carefully examining several variables.
Business models: It's essential to comprehend how Uber Eats and DoorDash operate. While connecting consumers to eateries, both platforms take different tactics to generate revenue and grow their user bases.
Profitability: Due in part to its association with the well-known Uber brand, Uber Eats consistently surpasses DoorDash in terms of revenue. It demonstrates the market for meal delivery apps' potential profitability.
User base and restaurant partnerships: Compared to DoorDash, Uber Eats has a larger user base and more restaurant relationships, which could be helpful for business owners wishing to launch a food delivery service.
Frequently Asked Questions
Qn 1: Which is More Profitable, Following the Uber Eats or DoorDash's?
DoorDash is leading the food delivery market in the United States with a market share of 65% in August 2023, followed by Uber Eats with 25%. Each model has strengths and may be more suitable for different markets or business strategies. Therefore, conducting comprehensive market research and financial analysis is crucial to determine which model aligns better with your specific business goals and target audience.
Qn 2: How do Uber Eats and DoorDash Generate Revenue?
Uber Eats and DoorDash generate revenue primarily through delivery fees, commissions from partner restaurants, and, in some cases, advertising or promotional fees. They may also explore additional revenue streams such as subscription services (e.g., DashPass for DoorDash), partnerships, and data licensing. These platforms have built diversified revenue models to ensure sustainability and growth.
Qn 3: What are the USPs of Uber Eats and DoorDash?
Uber Eats and DoorDash each have the unique selling propositions that set them apart:
Uber Eats:

 Leverages the existing Uber ecosystem, extensive user base, and strong brand recognition. Offers a wide variety of cuisines and restaurant options.

DoorDash:

 Focuses on a comprehensive selection of restaurants, including those that aren't traditional partners. Provides features like DashPass for discounted deliveries and strong emphasis on customer loyalty.
Qn 4: How Much Market Share do Uber Eats and DoorDash Hold in the Food Delivery Industry?
As of August 2023, DoorDash leads the food delivery market in the United States with a market share of approximately 65%. Uber Eats follows with a market share of around 25%. These figures may vary by region and are subject to change due to competitive dynamics and market shifts.
Qn 5: What Challenges do Entrepreneurs Face when Starting a Food Delivery Startup Similar to Uber Eats or DoorDash?
Entrepreneurs entering the food delivery industry may encounter challenges such as intense competition, high customer acquisition costs, operational complexities (including logistics and fleet management), regulatory compliance, and establishing strong relationships with restaurants. Building and maintaining a user-friendly app or platform is crucial for success.
Qn 6: What Factors Should I Consider Before Choosing a Business Model for my Food Delivery Startup?
Before choosing a business model, consider market demand, target audience preferences, competition analysis, revenue potential, cost structure, and scalability. Evaluate the strengths and weaknesses of both the Uber Eats and DoorDash models to align them with your startup's specific goals and resources.
Qn 7: What Marketing Strategies can I Implement to Compete with Giants Like Uber Eats and DoorDash?
To compete effectively, focus on user acquisition through targeted advertising, referral programs, and partnerships with local businesses. Implement customer retention strategies like loyalty programs, personalized promotions, and excellent customer service. Build a strong brand presence through social media, content marketing, and influencer collaborations.
Qn 8: What Partnerships and Integrations are Essential for a Food Delivery Startup's Success?
Essential partnerships for a food delivery startup include collaborations with local restaurants, payment processors, delivery fleet providers, and possibly technology partners for app development and maintenance. Integrations with mapping and GPS services and marketing platforms can enhance the user experience and operational efficiency.
Qn 9: How Can I Ensure a Seamless and User-friendly Experience for both Customers and Restaurants?
To ensure a seamless experience, focus on user interface design, intuitive navigation, and efficient order processing. Provide robust customer support channels and training for restaurant partners. Implement features like real-time order tracking, secure payment options, and reliable delivery logistics. Regularly gather feedback and iterate based on user suggestions for continuous improvement.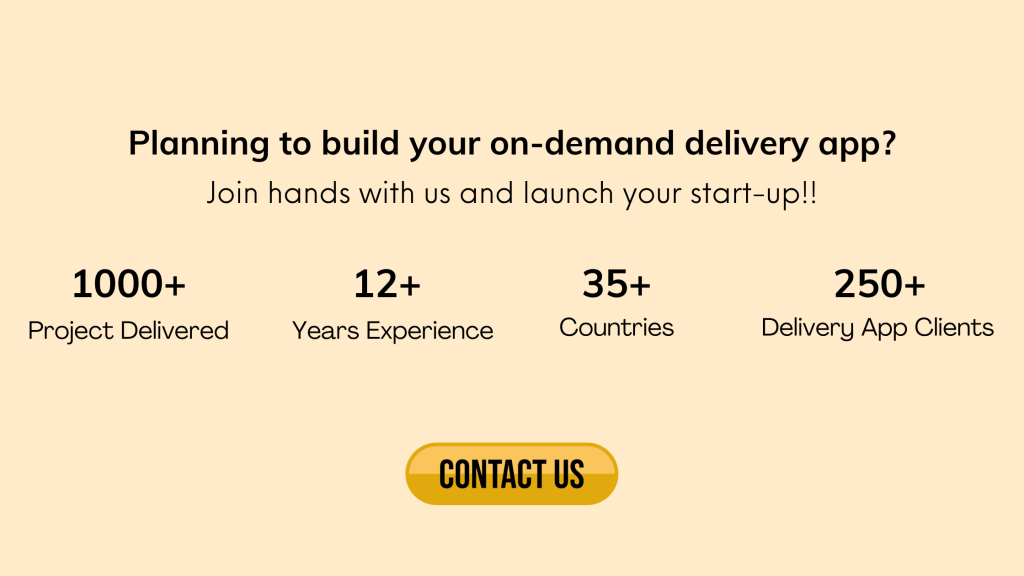 THE AUTHOR
Shailza
I am a passionate Digital Marketer and writer whose biggest obsession is to explore the latest marketing technologies and growth hacks for helping businesses! I love to write about different marketing strategies!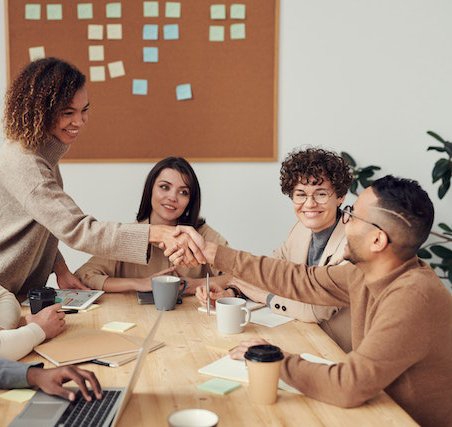 Get ready to digitally transform your business.
Let our team help take your business to the next level. Contact us today to get started on finding the perfect solutions for your business needs.