3 Step Guide to Creating A Successful B2B Marketplace
January 7, 2020
Rohit Madaan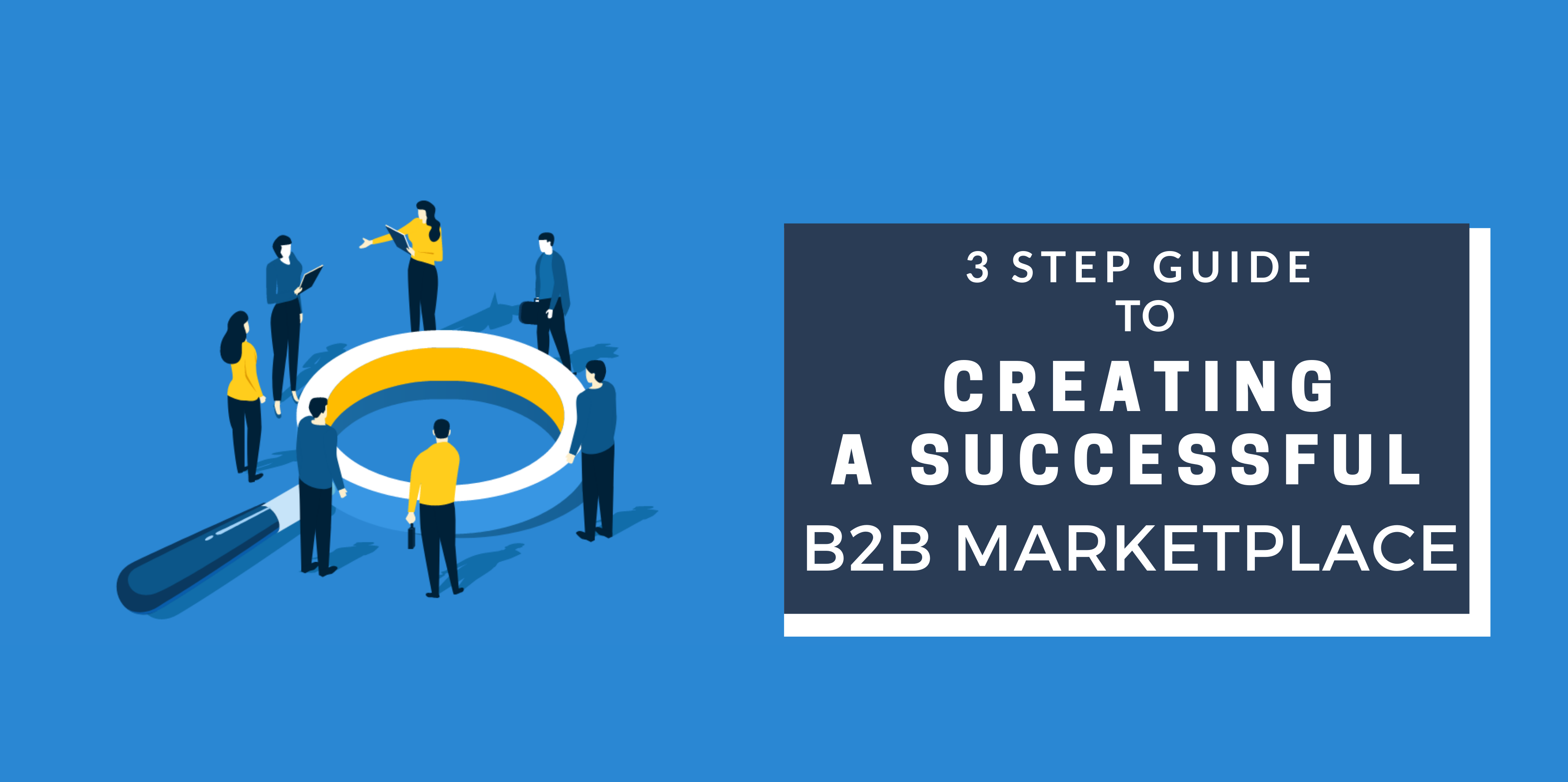 Table of Content
Follow Us
The segment of the marketplace industry dedicated to businesses is growing explosively over the past decade, especially with the globalization of the eCommerce sector. 
The B2B marketplaces benefit businesses that are seeking quality products and services at the most competitive prices, and at the same time, let manufacturers & suppliers sell their products in bulk. 
In a nutshell, a B2B marketplace allows sellers to tap into the wide audience base of B2B buyers who want convenient and hassle-free shopping experience.
Running a Successful B2B Marketplace
Running a dedicated B2B marketplace is far more complicated than marketing products to the customers.
Yes, you can say that the amount of competition in the B2B sector is still manageable compared to B2C, but the opportunities are quite limited. 
The number of methods an online B2B marketplace has to offer is plenty, right from ACH (Automated Clearing House) to eCheck.
Additionally, the catalog is quite massive and complex as each product or category is divided into numerous variants.
A B2B marketplace needs to manage their catalog responsibly to remain their business clients' reliable supplier.
The biggest problem associated with any online B2B marketplace is that it relies primarily upon the inbound sales.
This means creating an optimized site that establishes trust amongst prospective business clients is the only way to sustain growth.
On the flip side, if you want to garner outbound sales, in that case, you need to pay for the salesman's commission for closing deals.
All the above-mentioned complexities often leverage B2B brands to put their idea of setting up a B2B e-commerce site on the back burner.
But you don't have to follow their suite as here you will get a three-step guide to create a B2B marketplace successfully. So, let's check the entire guide: –
Step 1: Decide on The B2B Model
The first step in the quest of establishing a profitable B2B marketplace is selecting a business model.
If you haven't heard of this before, then, here we'll make you aware of the pros and cons of each type, let's have a look: –
This model of the B2B marketplace is about charging per transaction from the sellers registered on the online B2B eCommerce platform just like Amazon.
In other words, as a B2B operator, you'll get a fixed percentage of each transaction that takes place between the two parties.
The commission model of B2B e-commerce is quite popular amongst all the industries.
The commission percentage you charge is what attracts or pushes back sellers from listing their business products on your B2B marketplace.
Get in Touch With Our Team Now.
This B2B marketplace model is best suited if your eCommerce platform has sellers registered with tremendous business volume.
Here, the B2B platform operator can either charge weekly, monthly, yearly or any other duration.
In addition, the B2B operator can offer a number of subscription offers to the prospective sellers on the network.
For instance, a free basic trial period that lets sellers sell their products on your platform completely free of cost for certain days is a powerful marketing strategy. 
Generally, the best subscription offer could be the premium version, which is the priciest and offer unlimited access to all the features and tools for managing the account as a seller.
Step 2: Ensure Your B2B Marketplace Has An Easy Storefront Setup Process
Setting up a proper eCommerce store that puts on show the array of products the company has to offer to its business clients is an expensive venture that calls for both monetary & human resources. 
This becomes even more baffling for startups and medium-sized companies with a constrained marketing budget.
However, to their good fortune, they have the convenience of getting registered on a B2B platform and sell their stuff just by paying off a nominal.
So, the whole idea is offering the ease of setting up a store on a B2B platform is what you need to emphasize when building a B2B marketplace solution.
The B2B platform you create must present sellers the ease to create a storefront in the blink of an eye.
It should come with an easy and straightforward process for creating an online seller account, upload products with description, and happy selling!
Apart from paying significant emphasis to simplifying the procedure of building a seller store on your online B2B marketplace, you need to put in efforts to provide excellent customer support to clear your sellers' queries in real-time.
Without a doubt, the B2B e-commerce has grown into a booming market, but it is also ever-evolving.
Therefore, to be a cut-above your market curve you are required to invest in smart features and stay updated to newer technologies to encourage sellers to register on your B2B eCommerce platform.
Step 3: Choose The Right B2B Marketplace Software Or Custom Development
Since by now you are clear with the fundamentals of setting up a B2B marketplace, the next step is building the platform.
The easiest way out? Create a B2B eCommerce platform from scratch, this is unarguably the best option as you can customize the B2B marketplace solution in line with your business objectives and marketing goals. 
However, building a B2B eCommerce from scratch isn't easy as you are required to reach out for a competent panel of developers with extensive experience in this vertical.
It is an enterprise-grade job, and you simply cannot expect every coder to manage this task. Thus, you need to invest time to search and select the best B2B marketplace development agency.
Interview multiple marketplace developers, ask them questions like how they can meet your requirements, their job experience and get a customized quote to decide on what's best for you.
But, if you don't have the time or not ready to take the headache of building a B2B marketplace from scratch, then the best alternative is to go with B2B software.
The B2B software preset a complete spectrum of SaaS tools that help businesses to create B2B marketplace in less than one day. 
But, if you are seeking after the many advanced features of the B2B platform, then it is a no-brainer to customize the platform as per your bespoke needs and expectations.
Let's Build Something Awesome B2B Marketplace Together.
A good B2B marketplace must have the following characteristics: –
1) Wide Range of Features
The diverse features you need in a B2B marketplace include basic features such as user profiles, product listings, multiple payment methods, and a chat option that lets buyers and sellers communicate with one another in real-time.
These are primarily the essential features, however, if you want to establish your B2B marketplace to build a robust reputation, then you need to offer several advanced functionalities like bulk discounts on wholesale purchases, mobile-friendly interface, etc.
For integrating advanced features, you need to hire a qualified development team that can build a sophisticated B2B marketplace for you.
2) High-Level Security
The next thing you need to look into when creating a dedicated B2B platform is the security features your B2B eCommerce has to offer.
Since trust and security are essential to creating a successful B2B marketplace, you got to ascertain that the software has the best-in-industry security measures.
The platform must allow secure transactions and efficient communication methods.
3) Customizability
If you are having special requirements for your B2B marketplace, then your software must present the luxury to customize that.
Today, there are many B2B marketplace builders, with each having its own set of pros and cons.
You have to make the decision weighing these so that you don't end up building a site that you got to regret later on.
Ideally, the B2B platform builder must offer an interface that is easy-to-use and comes loaded with a range of powerful features that in turn will play a big role in earning the trust of both the buyers and sellers at your marketplace.
After going through the perks of custom and software marketplace builders, it is easy to deduce that the custom B2B eCommerce development is better than B2B software.
If you have big business goals, then you should reach out to a reliable development company that can create a compelling B2B marketplace.
How to Grow & Scale Your B2B Marketplace?
Once you build a B2B eCommerce platform, the next thing you need to do is to make efforts to grow and scale your marketplace.
However, it is important to note that the marketing of your B2B marketplace should begin just after its development. 
The B2B platform must adhere to a variety of SEO features that boost the rankings of the website on top-rated search engines such as Google.
This will help you draw organic traffic to your B2B marketplace, rather than spending big money on paid advertising.
Things to Consider While Building a B2B Marketplace
There are a number of things you must take into account during the B2B marketplace development process: –
a) Research
It is the first step when you are in pursuit of creating a B2B eCommerce platform.
You need to determine the type of marketplace you should opt for, analyze & validate the idea, and picking a business model.
b) Planning
The business analyst team of custom B2B software development will provide you with a detailed estimate of the requirements in terms of wireframes and other development needs.
c) MVP Development
Each project of the B2B platform development commences with the MVP development.
You got to make sure that both the basic and fundamental features of the platform must be integrated into the website to make it functional.
d) Marketing Strategy
You need to formulate a proper marketing strategy on how to select products and services with the objective of connecting with the proposed audience.
Additionally, as a B2B platform operator, monitoring the performance of the marketplace is indispensable for achieving success.
e) A Number of Payment Methods
To attract sellers and buyers to your B2B platform, you have to present your clients with a selection of payment options.
Make sure that you integrate different payment methods into the B2B marketplace.
Above all, it is highly recommended to go with trusted and most commonly used payment gateways such as PayPal.
Grow Your Business with Our Experience Team
f) Reviews & Ratings
Give your sellers and buyers the freedom to leave their honest reviews and ratings on your platform.
This is not only essential to showcase your prospective buyers & sellers why you are a credible B2B platform, but also you can get the essential feedback to assess the areas where your marketplace is lacking.
If you want to enhance your online B2B marketplace, then you'll have to integrate a number of advanced features for the buyers, these include the flexibility of product price comparison, the feature of advanced filters, social media sharing, and push notifications.
Now looking from the perspective of the sellers, you need to present your sellers the feature of analyzing buyer behavior coupled with the advanced product management functionality, and many such features.
Team Needed to Build a B2B Ecommerce Platform
Generally, the team working on building a B2B marketplace includes a panel of specialists that will translate your project into a reality. Some of the key roles in a B2B eCommerce platform development team are: –
Project Manager

A Panel of Web Developers; Both Front and Back-End Specialists

UI/UX Designer with A Wealth of Knowledge

QA Engineers

Qualified Analyst
Add to that, you also want to know how much you need to invest when building a B2B eCommerce platform.
Reach out to more than one web development agency to get a detailed, customized quote.
Next, you have to compare the quotes and make the best decision to kick-start with your business in the right manner.
To calculate the cost of building a custom B2B platform, you have to multiply the number of hours the development team would be working on your project with the hourly rates or you can hire someone who will charge for the entire project.
Final Words
Once you have built a B2B eCommerce platform your job is not done once for all. In fact, you need to constantly update your online B2B marketplace to improve the experience for both buyers and sellers.
Now you have a significant amount of knowledge to get started with establishing an enterprise-grade B2B marketplace.
However, always remember that hiring the right development team is one of the most important factors for the success of your B2B marketplace.
THE AUTHOR
Rohit Madaan
I am an enthusiastic internet marketer. I have expertise in PPC, SEO, Social Media, Google Analytics, Google Business Page Optimization, and Content Marketing.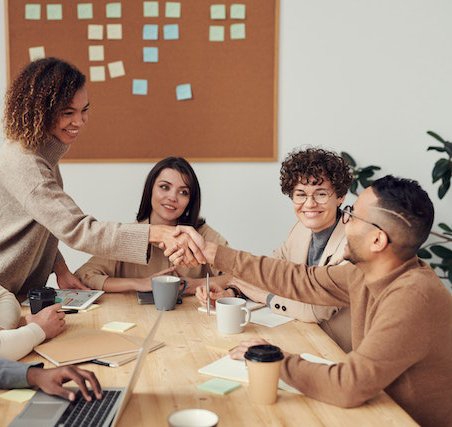 Get ready to digitally transform your business.
Let our team help take your business to the next level. Contact us today to get started on finding the perfect solutions for your business needs.