9 BIG Advantages of Starting an Online Marketplace for Local Business in 2023
May 31, 2023
Sachin Kalotra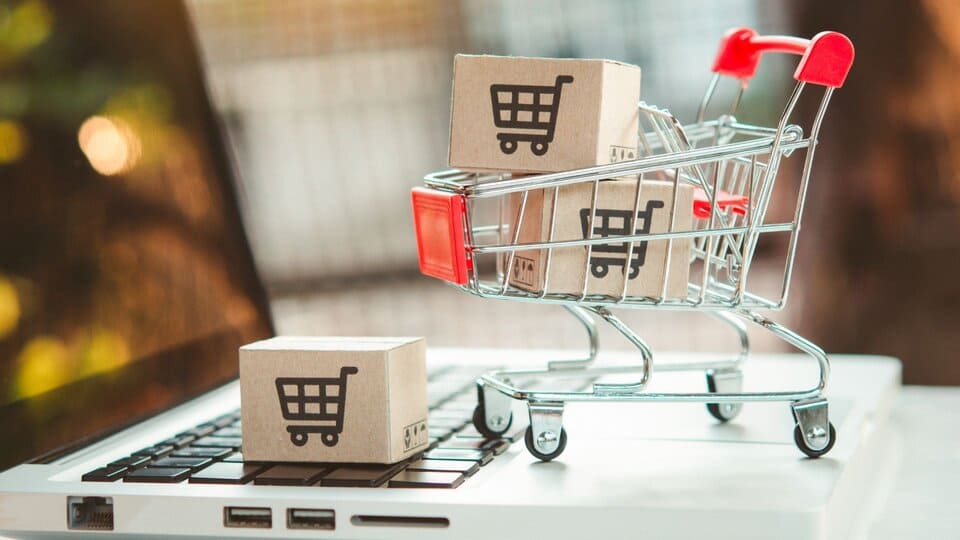 Quick Summary:
Creating an online marketplace has become a necessity for local businesses that still run offline. From attracting more customers to retaining buyers and providing personalized services, online marketplace apps can do wonders for companies. Read along to discover why your local business should invest in it right away.
If you still believe in growing your business offline, you need to read this. You may have noticed exceptional growth with an offline store where you get regular customers from time to time. But has it helped you attract more customers, or let's say, buyers from other areas? 
Let's understand this with an example. Imagine you have a grocery store located in a good area. Without any digitalization, you would only be able to attract customers from nearby (which could be in about a 4–5 kilometers radius) and lose access to others. But as soon as you take it online via an online marketplace, you can expand the business simply through mobile phones. Isn't that easy and more profitable?
One of the biggest advantages of an online marketplace for local businesses is that it enables personalization for each purchaser. Also, studies have shown that 63% of smartphone users are likely to buy from companies whose apps offer them relevant recommendations on products they may be interested in. 
It is just one advantage of the online marketplace. So next, let's discover the top 9 benefits of starting an online business. But before discussing the benefits, let us learn a bit more about online marketplaces.
Key Takeaways
Online marketplaces can help local businesses reach a wider audience without opening stores in several locations.
Online apps are designed to assist brands to be more competitive and lead the market.
Local companies can enhance their customer services through one platform without having them visit the store.
Who can gain the
benefits from an online marketplace in 2023?
The advantages of the online marketplace are not limited to any one business. It can be beneficial for all companies, from small businesses to startups or even established local businesses. So whether you own a local grocery store, run a food business, or provide offline taxi services, building an online marketplace can scale your growth.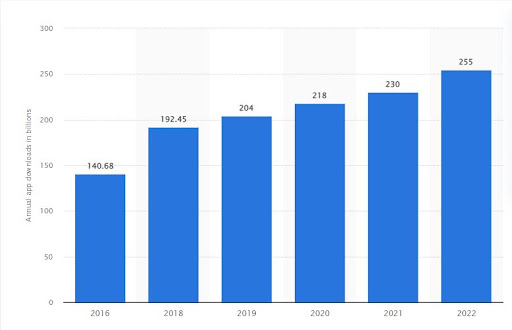 The best way is to grow your business by building an on-demand delivery app. The table above proves the craze for mobile apps over the years. Hence, whatever product or service you may offer, taking it online with an app can boost success. 
Here are a few types of online marketplaces. 
Types of the online marketplace you should know in 2023
By now, you must be interested in creating an online marketplace for your local business. But before you begin, here is a list of types of marketplaces, and you can choose one that meets your business needs. 
1. Horizontal marketplace
A horizontal marketplace primarily doesn't focus on a specific category of items to sell but sells almost everything, reaching a wide audience. 
In a horizontal marketplace, customers don't need to move to different online portals to shop for various products, but they can buy everything in one place. 
One standard example is Amazon.
2. Vertical marketplace
A vertical marketplace connects buyers and sellers within a specific industry or product category. It enables business transactions, facilitates communication, and streamlines the buying and selling process, providing industry-specific features and services. 
One good example is Instacart, which provides services in the grocery industry. 
3. Hybrid marketplace
A hybrid marketplace is a combination of a vertical and horizontal marketplace that provides both general and specialized products and services within specific industries. 
One excellent example of it is Uber. It deals in taxis and in the online food industry (Uber Eats). 
4. Hyperlocal marketplace
A hyperlocal marketplace connects buyers and sellers within a specific geographic region or locality. These online marketplaces are specifically built to sell products and services locally, like within a particular city or neighborhood. 
TaskRabbit is a great example, as it connects locals with a service provider. 
So, are you excited to transform your business online? Check out how it will empower your company. 
Recommended read: Offline Vs Online Store – What is the Future?
Top 9 advantages of online marketplace for local businesses
Still thinking, "What are the advantages of online business?" An online marketplace app is not only about taking your products and services online but is far more than that. Below are the greatest advantages of investing in it for your local business. 
1. Take your business beyond boundaries
What brand does not want to expand its reach? As discussed earlier, one of the major advantages of starting an online business is taking it beyond any locality. It means that you can quickly break geographical boundaries with an online marketplace. 
For instance, if you are a businessperson running an offline handyman business in a small town, your customer reach would be limited. Whereas by developing an online marketplace, these services can become accessible to individuals in neighboring towns and across the entire region. 
2. Enhanced visibility and brand exposure
How many people can see your brand when you run it offline? Just a few, right? But with an online app, it quickly provides access to thousands of customers to view your products and services. Further, it will also enhance the store's visibility. 
Did you know consumers spend about 4.2 hours daily using mobile apps? So, when you create an engaging mobile app, you can ensure that they spend most of their time on your app, leading to better brand exposure.
3. Lower costs and better marketing
Ever came up with strategies where you don't need to invest much yet reach a wider audience? For example, local businesses often fear investing in online marketplaces as they believe it may require expensive marketing plans. But that is not true.
Rather, online apps provide marketing tools and features so that businesses can efficiently promote their products and services. It removes the need to invest in individual marketing campaigns. 
4. Reduced overhead expenses
Running an offline store means the cost of rent, bills, and much more. Firstly, building an online marketplace enhances cost-effective solutions like storage facilities and home-based setups. Further, this money can be used towards other essential areas for better business growth. 
Secondly, it eliminates the need to build brick-and-mortar stores at several locations. With an on-demand app, you can simply establish the brand from one single platform. Hence, eradicating the need to open physical shops in every place. Online marketplaces also negotiate favorable rates for services like shipping and logistics, leading to lower operational costs.
Recommended read: Why Is It The Best Time To Invest In On-Demand Delivery Apps?
5. Boost sales with customer data
Another advantage of online marketplace is that it lets brands make the most out of their customer data. Whenever a buyer places an order, your system automatically collects relevant information and stores it. So how do you use this valuable data?
It helps collect data like customer behavior, location, preferences, and purchasing patterns. Once you have it with you, you can further improve your services and products based on it. For instance, if you operate a food delivery app, your system may tell you that your audience prefers pizzas the most on weekends. Therefore, you can send personalized messages on these days or provide promos and discounts to engage your customers.  
6. Run your business day and night
The biggest disadvantage of an offline store is that you don't have the flexibility to run operations, which means there is a fix to open and close the shop. On the other hand, online marketplace platforms let the admins run the business 24/7. Hence, the company never stops working. 
Customers can check over the products and services and add them to their cart anytime they want. It can be especially seen in online taxi services where users can book a cab from early morning to late night and connect with drivers who are available at that particular time. 
7. The online marketplace is beyond buying and selling
Unlike local brick-and-mortar stores, online marketplace apps are far more than buying and selling. The online platform allows its users to connect with the service providers through in-built communication channels. Therefore, no matter the problem, it can be quickly solved through the app.
Moreover, these online platforms also enable businesses to send personalized messages to users. These could be reminders about the item back in stock, offers, or discounts on the user's favorite item. All these strategies guarantee a strong relationship building between the two parties.
8. Third-party integrations for better automation
Another strong point of online marketplace software is that it allows for several third-party integrations. By integrating various payment systems, you can empower your buyers to pay for the services with the method they trust the most. 
Next, third-party integrations will also assist you with smooth inventory management so you can easily know what items are to be ordered, the inventories that are used the most, and what has been damaged. It means you do not maintain a different software for everything but can keep track through a single platform, leading to better automation. 
9. Constant business improvements
With a local offline shop, how would you know what services or products need improvement? Online local marketplace, on the contrary, can remove this challenge. Every time a user makes a purchase, he or she can provide ratings and feedback for the product as well as the delivery. Therefore, enabling brands to know how they are performing constantly. 
In addition to it, with the evolving technology, brands can further upgrade their online platforms. For example, the rise of AR and VR technology is on the rise. Integrating this can provide a whole new experience to the users. 
Expand your local business with online marketplace services at ValueAppz
How to build an online marketplace for your local business? Creating a marketplace all by yourself can be challenging as it needs an in-depth understanding of the market and trends, along with the latest technology, skills, and experience. 
Our online marketplace app development services can help you with building an online marketplace that stands out from the competition, engages customers from across the city, and brings out the desired results for your brand. Whatever your industry or products and services you offer, our top-notch services will help you bring your dreams to reality. 
So, contact our professionals now and get all the details to expand your local business. 
Frequently Asked Questions
Q1. What are the benefits of an online marketplace?
Some of the advantages of online marketplace for local businesses include reaching a wider audience, cost-effective marketing, third-party integrations, practical decisions from customer data, and cutting over operational costs.
Q2. How can online marketplaces help local businesses reach a wider audience?
An online marketplace is not limited to any geographical boundaries. Instead, it means that local businesses can reach their target audience across several locations, expanding their reach.
Q3. How can online marketplaces help local businesses be more competitive?
As an online marketplace lets businesses attract customers, expand reach, and provide special offers on their products and services, all these elements help local businesses compete with others in the market.
Q4. What is the purpose of a marketplace?
The main purpose of online marketplace apps is to bring buyers and sellers to one platform. It helps customers purchase products and services with a few clicks, and service providers to reach more clients.
Q5. What are the two biggest reasons people shop online?
The two biggest reasons include access to various products and the convenience of buying them without having to move out of their house.
THE AUTHOR
Sachin Kalotra
He is a versatile content writer known for crafting compelling narratives across various topics. With a passion for words and a keen eye for detail, he consistently delivers engaging, informative, and well-researched content. Whether it's articles, blog posts, or marketing copy.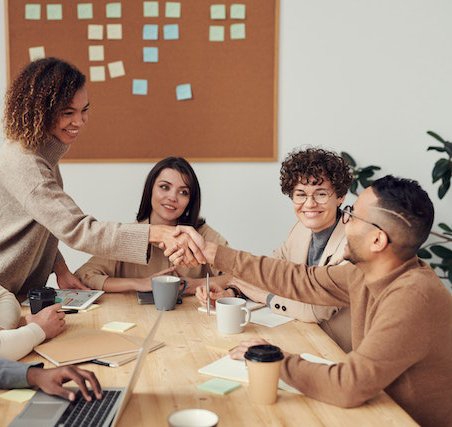 Get ready to digitally transform your business.
Let our team help take your business to the next level. Contact us today to get started on finding the perfect solutions for your business needs.