Steps for Building an App Like Uber Eats- What You Need To Know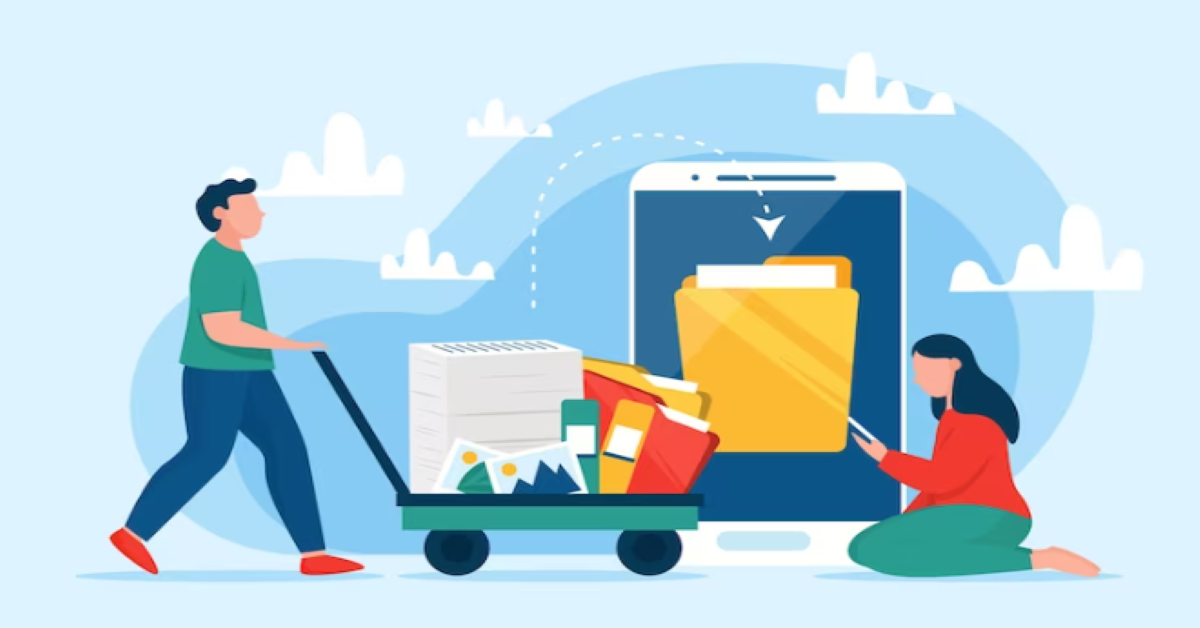 Quick Summary: The blog explores the process of creating a food delivery app like Uber. It covers key steps such as market research, feature definition, design, technology selection, payment integration, and order management. Emphasizing user-friendly experiences, it provides valuable insights for aspiring food delivery app developers, offering a roadmap for success in this growing market.
Food delivery apps have gained popularity in America, Asia, the Middle East, and Europe. It has become the perfect solution for food lovers who want to sit in their comfort and enjoy their favorite dishes. Not just for the eaters, it has also broadened the growth area for local restaurants as they can reach out to the audience quickly through the portal.
Ever thought about what these popular food ordering and delivery apps like DoorDash, GrubHub, and Zomato have in common? These are designed in a way that can attract users from all generations. Furthermore, these apps also allow restaurants, cafes, bars, and other eateries to take their business online, giving them more space to grow.
Uber Eats is one such name that has become a brand and is being loved by the audience around the world. A number of startups and entrepreneurs already in the food industry want to create an app like Uber Eats to leave an impact on the food industry. 
If you are also looking forward to building an app like Uber Eats, you are at the right place. This blog will help you understand why it is the right choice and the steps that you need to take for it.
Why build an app like Uber Eats?
Ever wondered, "Why is Uber Eats so popular?" it generated a revenue of $10.9 billion in 2022. The food market has become overcrowded with food ordering apps entering. How did Uber Eats emerge so well-known to all in such a scenario? One of the things that set Uber Eats apart from its competitors is the features that it provides to its users. The following features make Uber Eats so loved by all.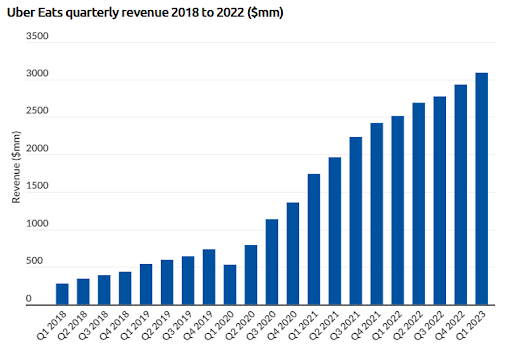 Source: BusinessOfApps
1. Integration of AI
It is no secret that AI is a crucial element for app personalization. The users want just the solutions that they are looking for. So how has Uber Eats embedded the technology? It allows foodies to check photos of the meal prior to ordering, recommends nearby restaurants, and suggests cuisines according to past orders.
2. Pre-orders
Most people are running out of time yet want the orders delivered on time. Uber Eats makes this possible by enabling buyers to pre-book an order an hour or a week in advance. Hence, creating customer satisfaction.
3. Data-driven decisions
Another notable feature is for restaurant managers. Its analytical app allows managers to make intelligent decisions, enhance food quality and delivery strategy, and optimize user satisfaction. 
4. In-detail knowledge
Uber Eats is made for all types of eaters. Whether the user wants gluten-free, veg, or non-veg cuisines, it can be quickly done with the search filters. Also, the visitor can check the dish details and see the ingredients used.
5. Deals and promotions
Uber Eats promo codes are another reason why it is so successful. The deals and UberEATS gift cards make users return to the app. 
| Year | Users (Millions) |
| --- | --- |
| 2019 | 21 |
| 2020 | 66 |
| 2021 | 81 |
| 2022 | 85 |
As of 2022, Uber Eats was available in 10,000 cities. This number rose by 4,000 in 2021. All these facts have led to a rapid increase in Uber Eats users over the years.
💡 Learn more about the Uber Eats business model.
Develop an app like Uber Eats- Steps to follow 
The above numbers prove that one of the best ways to enter the food delivery industry is by creating an app like Uber Eats. If you are thinking about "how to build an app like uber eats," we have the perfect solution. Follow the steps below and ensure a successful journey.
Step 1- Market research
You have come up with an app idea and visualize it being as successful as Uber Eats. But how do you begin? 
The steps towards building the app are doing thorough research about the market. You need to dive into the numbers and studies of the country or area where you plan to launch. You must be aware of the latest trends in the food industry, changing customer behavior, your target audience, the role of technology in making the app a success, and how you can make your application stand out from the competition. Answering all these questions will help you plan your strategy and ensure that there is no room for errors.
The next step you need to take is to create a blueprint for your app. Draw a sketch of how it will work for users, eateries, and delivery agents. When you have the idea on paper, it will give you more room to make the necessary changes and understand how the idea will turn out to be.
Step 2- Choose the food delivery model
There are two types of business models in the food delivery business. Based on your company goals and needs, pick the model that best suits you. These are:
Order Only Model: In this model, food delivery apps connect users with restaurants and facilitate interactions between them. In this case, companies are responsible for only accepting or managing orders, whereas restaurants manage the deliveries themselves. Examples of this model are Eat24 and JustEat.
Order and Delivery Model: This business is responsible for both managing and delivering orders. The Uber Eats app works as a restaurant aggregator and a delivery agent. It uses a traditional food delivery model that lists partners-restaurants in an app. At the same time, the company uses its own logistics network and delivers orders. Examples of this model are Uber Eats and DoorDash.
Before you finalize the model, you should also look at its advantages, disadvantages, scope, and what experiments you can do with it.
Step 3- Pick the features
Now that you have chosen the model for your venture, the third step includes picking the best features for the applications. Remember that you would be required to make different apps for the restaurants, users, and delivery guys. Therefore, the features would also be different for them. 
Whatever features you may decide to add, it should make the app easy to use without having the users do much. For instance, they should be able to search for a dish quickly. Or the outlet should easily be able to check any cooking instructions their customers have.
💡 Read More: A Quick Guide For Food Delivery App Development to discover the must-have features on your food delivery app to engage more customers and gain a better retention rate.
Step 4- Understand the technology stack
You may not be entirely into the technology, but it is crucial when creating an application. Based on the type of model you pick, the platform (iOS/Android) you want to start with, and the features that you want to add to the app, there will be different requirements for the tech role. 
It would also require third-party integrations for payments, locations, etc. Be aware of the technology used in building apps and approximately how much each costs.
Step 5- Select a revenue model
Once you have gained a basic understanding of creating an app like Uber Eats, you must decide on a revenue model. You may choose one or follow more than one, as done by Uber Eats. Below are some of the revenue models:
-Commission on orders
It is one of the most common models used by on-demand food delivery apps. With this, you can charge the restaurant a commission on every order they receive. For instance, Uber Eats charges 15%-30% commission on the total order value. 
-Delivery fees
Another popular revenue model is the delivery fee. It includes charging a fee from the users based on the total order volume, distance, and location. Hence, for every food order, you can earn some money.
-Branding promotions
Restaurants listed in your food delivery app will want to come to the top of the list. So, advertising and promotion models will help you earn money whenever a restaurant or brand runs its ad.
-Subscription fee
Some on-demand food delivery apps also provide subscriptions to their users. It is where customers pay a recurring fee every month to enjoy the benefits. With a subscription fee, you can both attract more customers and earn revenue.
-Surge pricing
During peak times like busy nights or weekends, Uber Eats may charge a surge price for the delivery. This method helps in earning more even with a few orders.
Step 6- Find the app development team
Once you have the plan ready, you need the right people to help you design, deploy, and test the application. A good app development team can help you build the app as per your business needs. Ask for references or make the best use of search engines to find the perfect team who is experienced, skilled, and can work within your budget.
Finding a team may consume time, but it is crucial that you and the team both align on the ideas and development process. Hence, you must also consider their soft skills to ensure smooth communication. 
The Post-Production Stage
You have your app ready and live. Now what? A number of startups fail within a few years as they do not have a foolproof plan for the future. Your work does not stop at the production stage, but it requires loads of effort once the application is live. Below are four strategies to ensure the app brings desired results for your business.
1. Gather feedback from users
One of the critical MVP purposes is to collect the user's feedback constantly. Their reviews and ratings will help you discover the areas that require improvement. For example, your users may face problems with late deliveries. Hence, you could add more delivery agents to optimize the process. 
💡 Pro tip: As a startup, you can pick the essential features to get started and add any advanced and trendy features as you grow.
2. Build your user base
You will have to grow the user base in the long run continuously. There are numerous ways to do that–make strategies to enhance your brand awareness, ask your users to invite family and friends in exchange for gift cards, lower your delivery charges, and so on. Try multiple ways to get the best numbers.
3. Connect with investors
As a business, you will have to look after marketing strategies, partnering with hotels, restaurants, and cafes, and maintaining the application for smooth functioning. All this would require an ample amount of money. Hence, you need to search and connect with investors who can provide genuine funds to help you achieve your goals.  
4. Try several monetization methods
As a startup, you must have picked one monetization model to help you make regular money. But as you grow and gain popularity, try new ways of monetization to earn better. These include restaurant advertising, promoted listings, paid content, premium services, and subscriptions. Sticking to one method can limit your growth.
How much does it cost to develop an app like Uber Eats?
The cost of building an app like Uber Eats depends upon several factors, including features to be included, the platform it is made for, the development team's location, and so on. On average, the cost can vary between $15,000-$60,000. Further, if you want to customize the app, the price may increase depending on the changes you need to fulfill the business goals. 
In short, the exact cost to make an app like Uber Eats can only be decided once the on-demand food delivery app development company has all the details from the client's side to build the app.
Turn your idea into a reality with ValueAppz
The idea of a food delivery app can be fascinating, but it requires a team that understands the Uber Eats business model and has valuable experience building such apps. You also need to answer questions like, "How much does it cost to build a food delivery app like Uber Eats?", "Are food delivery apps profitable?" 
ValueAppz is a company known for helping several clients get the desired app in their niche. Our food delivery solutions come as a package for startups looking for food app solutions at the best prices. Our team uses the latest technology to ensure quality and provides a dedicated team of developers, designers, and project managers to deliver the project on time. Get in touch with one of our professionals to start your business in the on-demand food market.
Key Takeaways
Market research: Conduct thorough research to understand the target audience, competition, and market trends before developing your food delivery app.
User-friendly experience: Focus on creating an intuitive and easy-to-use interface to enhance the user experience and increase customer satisfaction.
Define essential features: Determine the key features your food delivery app should have, such as real-time tracking, multiple payment options, ratings, and reviews.
Seamless order management and delivery logistics: Implement efficient order management and delivery tracking systems to ensure smooth operations and timely deliveries.
Continuously improve and innovate: Stay updated with market trends, gather user feedback, and consistently enhance your app with new features and improvements to stay competitive.
Frequently Asked Questions:
Q1. How much does it cost to build a food delivery app like Uber Eats?
The cost of building an application like Uber Eats depends on factors like the complexity of features, the app development team, the tech stack, and the time required for the development. The approximate cost can vary from $15,000- $60,000.
Q2. Are food delivery apps profitable?
Yes, food delivery apps have seen tremendous growth over the years as the audience prefers to order food online than dine out. The on-demand food industry has now become a multi-billion dollar industry.
Q3. How do I start a food app?
For a food app, you need to start with thorough market research that should define your business goals, target audience, competitors, and app idea. The process then moves to choosing the business model, picking the best features, discovering the tech stack, and finding the right development team.
Q4. How is Uber Eats profitable?
Uber Eats is a three-sided platform that makes money by charging fees on every transaction. Further, it has a standard delivery fee for all orders.
Q5. What is Uber Eats' business model?
Uber Eats has a multi-sided business model that connects local restaurants with users. The restaurant owner can display the menu, food images, and videos, whereas users can search for their favorite place or dish to place an order.
💡 Note: This blog is updated on 21st September 2023.
THE AUTHOR
Shailza
I am a passionate Digital Marketer and writer whose biggest obsession is to explore the latest marketing technologies and growth hacks for helping businesses! I love to write about different marketing strategies!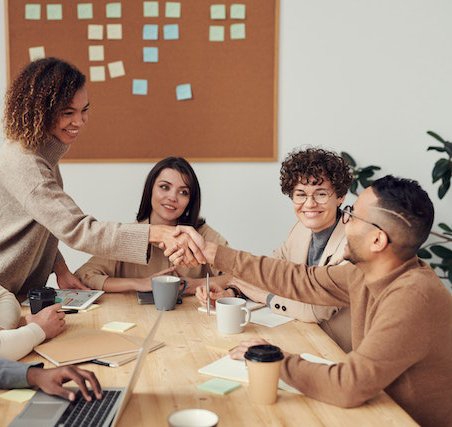 Get ready to digitally transform your business.
Let our team help take your business to the next level. Contact us today to get started on finding the perfect solutions for your business needs.