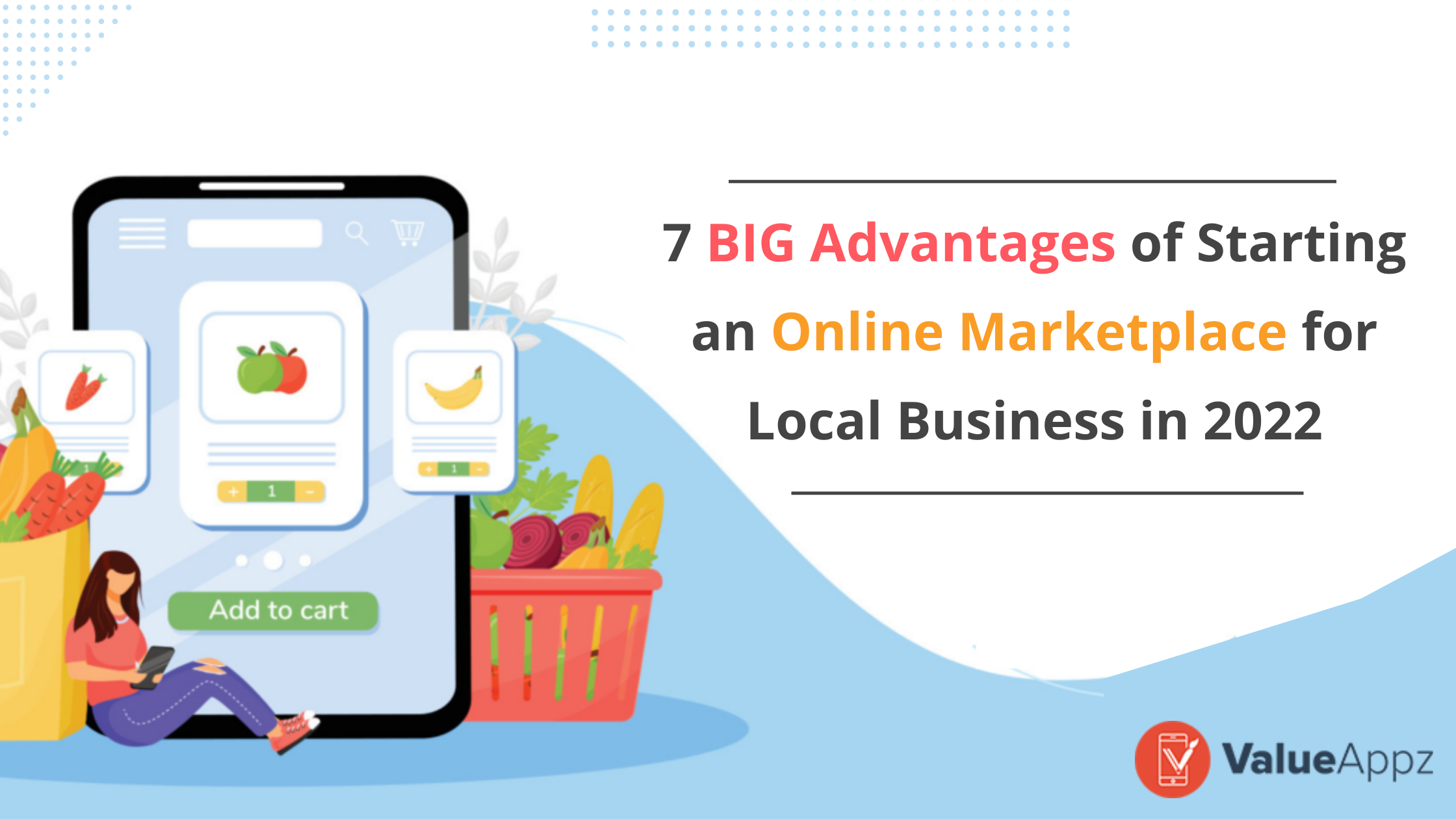 "Staying on top of eCommerce trends is not more an option – it's a necessity!"
After all, eCommerce isn't just the future; it's also the present. And with the rising dominance of online shopping, it's no more a surprise that the e-commerce share of retail sales has been on the increase in the past few years. 
The number surrounding the growth of online shopping says it all.
This year, global e-commerce sales are predicted to exceed $5 trillion for the first time. And this number is showing no sign of slowing down. This outlines that customers and businesses swapped their interactions online. Moreover, given this mesmerizing number, many entrepreneurs are interested in creating their own marketplace solution to leverage the benefits of online business. 
So, if you are excited to follow the lead but don't know where to start, don't worry! We have compiled some information to help you create a marketplace solution that will soon be a flourishing business.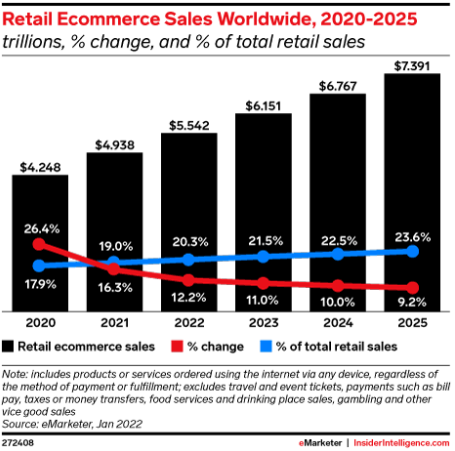 But, first thing first!
What is an Online Marketplace?

 
An online marketplace is an app or a website that acts as a mediator between customers and companies or even individuals offering services or products in the B2B as well as B2C markets. 
To put it simply, an online marketplace is a platform that facilitates shopping from many different sources. Even though the marketplace owner does not own any inventory, their sole responsibility is to present other's products and inventory to customers and facilitate a transaction.
But, if you think online marketplaces are not for local businesses, you are wrong!
There are instances where a local business runs a dedicated online marketplace for its products and services and enjoys immense control over the functioning of the marketplace.
So, if this makes you curious to have an online marketplace of your own, here are some of the most profitable low-cost hyperlocal businesses to start right away!
5 Types of Online Marketplace You Should Know in 2023
Here are some e-commerce marketplace basics to help you decide which type of store is the right pick for you.  
Horizontal Marketplace

 
A horizontal marketplace primarily doesn't focus on a specific category of items to sell but sells almost everything, reaching a wide audience. 
In a horizontal marketplace, customers don't need to move to different online portals to shop for various products, but they can buy everything in one place. 
"One standard example is Amazon."
Vertical Marketplace 
A vertical marketplace, as termed, sells products from different sources but of the same type. For example, TrueFacet.com sells only jewelry and products related to it. Moreover, this online marketplace does the crucial job of guaranteeing authenticity, and because jewelry is a high-ticket item, that's an essential value-add.
Hybrid Marketplace
In a hybrid marketplace, the owner sells their products along with those from other vendors while providing a platform for participants to complete transactions. 
Hyperlocal Marketplace 
The hyperlocal marketplace is a synonym for the local business marketplace.  
Global Marketplace 
As the name suggests, the global marketplace sells everything, which means selling all kinds of products from different suppliers. The ultimate example of that is eBay; they sell everything to everybody.
What are the Advantages of Creating an Online Marketplace?
Now that you are aware of what an online marketplace platform is, let's shed light on the benefits an online marketplace offers to local businesses. 
Cost Saving for Everyone 
You can save exponentially by setting up an online store or registering your business on online marketplaces.
Therefore, you can focus more time, attention, and resources on other elements of your business as there will be no need to worry about expenses involved with managing your brick-and-mortar store. You can easily start your company and curate an online presence with minimal overheads and out-of-pocket costs. 
Utter Convenience and Effectiveness
From managing online orders, fulfilling shipments, and providing customer service, the online marketplace is an ideal choice to put a tick on everything without much hassle.
And, because of the utter convenience and efficiency of online buying different products from one place, customers are more likely to order from your online brand, especially when they are less inclined to visit a physical store. 
Customers Come Back for More
Customers tend to return to your online marketplace to cater to their demands because of better consumer awareness and loyalty. In simple words, there'll be more recurring clients since they rely on the transparency and reliability of the marketplace solution. 
Exponential Growth in Sales  
Online marketplaces lend a hand to local businesses and reach a far bigger audience than brick-and-mortar stores.  
Agree? 
When you are online, your business can be introduced to potential buyers without any geographical constraints. Besides, an online marketplace is an ideal choice for businesses that face challenges in moving their inventory because of their location.  
But, when you create your own eCommerce marketplace, buyers and shoppers across the globe get access to your products and services. Besides, when setting up an online marketplace for local businesses, ensure to present your product in the best light and give customers a viable reason to make a purchase. 
Remember, with an online marketplace, your products get the promotion and reach they can't get offline.  
A Passive Income Source
Creating an online marketplace is a passive source of income for your business. 
Yes, you read it right! 
When you integrate a monetization strategy into your online marketplace, revenue starts pouring in. For example, with a subscription-based model, a marketplace owner charges a regular fee for providing access to the platform. Another option of listing fees requires users to make a flat payment for registering on their respective marketplace platform. 
Lastly, by implying a commission model, you will receive a fixed fee or a specific percentage of the amount from every transaction made. 
Better Profit Margins 
With an online marketplace, more customers buy your products, and in return, it helps you achieve more significant profit margins. 
A recent survey found that more than 55% of businesses that sell online achieve a profit margin of over 20%. So, it's right to say that it's not just the increased reach and sales that help businesses become more profitable. Indeed, minimal cost to create an online marketplace also plays an unskippable part in helping you achieve better profit margins. 
For better understanding, let's imagine you run a brick-and-mortar store. You have to pay a monthly rent along with other expenses that don't come cheap. But, on the contrary, if you run an online store, you don't have to worry about such costs.
Better Online Reviews 
Customers usually use online marketplaces to share their reviews about the merchant's products and services. 
So, good customer reviews on Google, Yelp, etc., are crucial to a business's success and eventually impact sales. Besides, it increases client trust in your items, which leads to an increase in new customers, and is good for your online presence as well as your local store. 
Probably, by now, you'll be inspired by the major benefits of the e-commerce marketplace. But that's not all! 
"The best part of an online marketplace is its peer-to-peer approach, meaning anyone can be a seller or buyer." 
Sounds interesting, right? 
But, before you start building a marketplace, do a little homework – Find the potential of your idea! 
How? 
Simple, evaluate your idea on the below-listed parameters to get your piece of success. 
Is there any pain point you will solve by creating a marketplace?

What is your target audience?

Is there a market for your marketplace idea? 
Let's find answers to the most pressing questions if you want to give wings to your entrepreneurial dreams. 
Create an Online Marketplace – What is The Potential of Your Idea? 
The best part about the sharing economy (online marketplace) is that anyone can step into the market with a marketplace idea and become successful. 
Airbnb is an example. 
It started by addressing the founder's problem and eventually grew into a brand operating in 99% of countries globally. So, this clearly defines that having an idea is essential, but evaluating the potential of the idea is equally important. 
So, it's high time to follow the trail. 
Is there any pain point you are going to solve by creating a marketplace?
Chesky and Gebbia (Founder of Airbnb) focus on solving their own problem rather than doing business. But, eventually, their pain points resonated with the problems of millions of people across the globe:
 The ones who had unused space in their flats and houses

Others are looking for convenient and affordable places during trips
The key to their idea's success was simple. First, they discovered the pain points of service providers and customers and then developed the best solution catering to both sides. 
"Unfortunately, every idea can't become a unicorn worth billions of dollars. 42% of startups fail because of a lack of market need. Simply put, there may be ample great ideas, but no one actually needs them". 
So, the quick-fix to ensure your idea, when turned into a product, will have users – test it! Create a prototype of your eCommerce marketplace, give it into the hands of your potential users and listen to their feedback. After all, feedback is crucial for small businesses, especially in the initial stage. 
What is your target audience?
In the online marketplace domain, there are different types of personas. In addition, these platforms usually target two entirely different audiences simultaneously – customers and providers. 
So, you must define buyer personas considering both the audiences. 
"The better buyer personas are defined, the better you can target potential customers with the right solution." 
Is there a market for your marketplace idea? 
Market volume is equally crucial in scaling the potential of your idea. So, by analyzing the market, which part of the market do you want to target. 
"Every successful marketplace need not start with a groundbreaking idea. Sometimes an existing idea addressing the needs of a specific market may be successful."
For example, some online marketplace businesses may be perplexed about stepping into specific markets, like Arabic countries, because of big differences in lifestyles and laws. But, if you are residing in one of these countries and have a deep understanding of the market, this can be a great opportunity. 
You can turn the idea into a reality for your target audience by creating a product that is even more successful than the original one!
Finally…
It's no more a secret that the online marketplace is the future of the retail world. 
Customers and businesses alike look for convenience and a trusted place where they can buy and sell things simultaneously, and that's actually where an online marketplace comes in. Moreover, creating a marketplace can address practically any niche and requirement. 
And if we believe the report, then around 75% of marketing executives believe that the most crucial advantage of a marketplace for businesses is the opportunity to reach customers in their comfort zones. 
So, if your idea is what really matters, get on the bandwagon, and start now!