The Advantages of White Label Taxi App Solutions
June 28, 2023
Harjyot kaur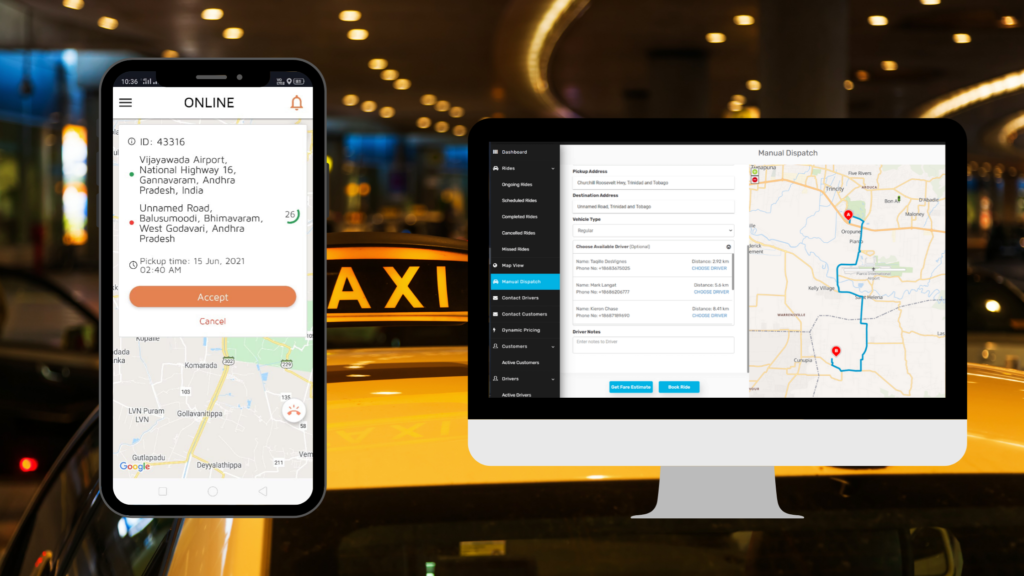 Table of Content
Follow Us
Quick Summary: White-label taxi apps have gained much popularity among entrepreneurs who quickly want to launch their businesses. And why not? These solutions provide several advantages and help brands save time and money. Discover what other benefits you can get with the white-label taxi app solutions.
Are you planning to build a taxi booking app? If you have already started to search, you would know that developing a taxi booking app from scratch needs a lot of time, money, and research. Also, it needs an in-depth understanding of the market to create an app that properly represents the brand. 
But with the white label apps, you can launch your online services quickly and that too without investing much time, money, and resources. The top advantages of white-label taxi apps include already built-in features, affordable solutions, and tried and tested apps that will enhance customer experience and boost business growth. 
This blog will help you discover the major benefits of white-label taxi app solutions and why you should invest in them. But first, let's learn about what exactly are white label apps.
Key Takeaways
White-label taxi app solutions are a cost-effective alternative to building an app from scratch, saving time, money, and resources.
With customization and branding in the white-label apps, businesses can tailor the app's user interface and features per the requirements.
White-label taxi apps are best known for providing scalability and flexibility to help entrepreneurs expand their business operations.
Understanding White Label Apps
White label apps, often referred to as private label apps, are mobile applications created by a third-party company that has been rebranded and tailored to meet the branding and requirements of a particular organization. They are frequently utilized by companies that wish to provide their clients with digital services without investing in creating an entirely new app. 
White-label apps help developers by cutting development costs and letting resellers offer branded apps without spending money and effort on their creation. In other words, these applications offer ready-to-use solutions that businesses can quickly customize and brand with their logos and colors.
So, whether you are a startup or a small business, white-label apps can help you take your services online without having to spend much time and money. 
The number of users in the taxi booking app industry is expected to rise to 1.45 billion by 2027. It means you must quickly take your taxi business online through an app to grab the customer's attention. 
Further, the industry is expected to see revenue growth. The average earnings per user is projected to rise to US$247 by 2027. Hence, entrepreneurs planning to enter the on-demand taxi industry have a great scope of earning profits. 
The stats above prove that investment in white-label taxi apps is profitable for businesses that quickly want to launch their online taxi services in the market. The section below will explain its benefits in detail.
7 Big Advantages Of White Label Taxi App Solutions
Now you know how easy it can be to get started with the taxi booking app through white-label solutions. It can save you plenty of time, resources, and money. Need more reasons to invest in white-label taxi apps? 
Here are the seven biggest advantages of investing in white-label taxi apps. 
1. Save Cost On App Development
Creating a business plan for the taxi booking app, deciding the features, building a roadmap, and developing the app from the start can be time-consuming and expensive. White-label apps are the best solution, especially for startups and small businesses that may not be able to spend much money at the beginning. 
A white-label taxi app solution is already pre-built with all the necessary features. All it requires is a little customization per the business needs and goals. 
Did you know that the taxi booking app development cost can range between $15,000-$60,000? Hence, deploying a white-label taxi app solution is relatively less expensive compared to developing a taxi app from scratch. 
Further, these solutions can also save costs in the long run as it eliminates the need to hire technical staff to manage the app. Taxi booking app development company that offers white-label taxi solutions also handles all the maintenance and updates to ensure the good functioning of the taxi app.
2. Customization And Branding
If you are a startup and want to build an app like Bla Bla Car, customization is essential. Further, entering the competitive market of the on-demand taxi booking industry requires solid planning for customization and branding. Businesses can select from various customization choices with a white-label taxi app solution, allowing them to fit the user interface to their brand. 
The first step in customizing an interface is choosing a user interface template that perfectly reflects the company's brand, including its logos, colors, and typography. The app's features and functionality can then be tailored by businesses to suit their particular requirements, such as interaction with payment systems, ride-sharing, and preferred transport types. 
Did you know that over 55% of brand first impressions are visual? White-label taxi app solutions give taxi companies more branding options, such as unique app store descriptions and symbols, enhancing brand recognition and boosting client loyalty. Customers are more inclined to download and utilize custom-branded apps, which promotes repeat business and good word-of-mouth advertising.
3. Business Scalability And Flexibility
Business scalability and flexibility are other reasons why entrepreneurs should invest in white-label taxi booking apps. White-label taxi apps give cab companies a lot of scalability and freedom. These advantages save organizations from worrying about the technical challenges of establishing and maintaining a customized app, allowing them to concentrate on growth and expansion.
White-label taxi apps' cloud-based architecture is one of the main ways it offers scalability. Based on their business requirements, taxi businesses can scale up or down using this architecture, adding drivers, expanding their operations to other cities and nations, and serving more consumers. The taxi booking app can instantly adapt to shifting market demands thanks to the cloud-based architecture, ensuring that scalability has no adverse effects on client experience.
White-label taxi apps also provide flexibility as their features and capabilities can be changed. Entrepreneurs can customize the app to match their specific requirements, including preferred payment methods, ride kinds, and channels for communicating with drivers and passengers. These adjustments give companies a competitive edge and help them better meet the needs of their clients.
4. Enhanced User Experience
On-demand taxi booking apps will be built for the users; hence, ensuring they get an excellent experience should be one of the primary objectives. As discussed earlier, white-label taxi apps have various features and functionalities that can easily enhance user experience and improve customer satisfaction. 
First, white-label taxi applications make it simple for consumers to quickly and simply book on-demand rides with a few clicks. Users can track their drivers whereabouts in real-time on a map after booking a ride, giving them an idea of the arrival time and guaranteeing that they are always informed. This feature makes the ride procedure more transparent and eases concerns about delays.
As per the Statista reports, 90% of users say that the real-time tracking feature in the taxi app is the most important. 
Second, white-label taxi apps provide payment features that let customers use their preferred payment methods—such as a credit card, a digital wallet, or a bank transfer—to conduct cashless transactions. By doing away with monetary transactions, this feature lowers the possibility of theft and saves time.
Thirdly, white-label taxi apps provide tools that let customers comment on their experiences with drivers and grade them after a trip. Hence, it makes it possible for taxi businesses to enhance their services based on client input constantly and promotes accountability and openness.
Last but not least, white-label taxi services provide safety features like background checks on drivers and real-time tracking, providing customers peace of mind while traveling with their preferred firm.
5. Low Investments And Better ROI
Taxi companies can take advantage of a number of benefits that white-label taxi app solutions provide, improving their return on investment. Businesses can reduce their development and maintenance costs by outsourcing app development to a third-party app vendor. Operations are streamlined, resulting in lower expenses overall, raising the possibility of higher earnings.
Additionally, white-label taxi apps boost customer satisfaction, operational effectiveness, and business scalability. Further, increased productivity, lower expenses, higher customer happiness, and higher income equate to better ROI. Taxi companies can experience long-term growth and maintain competitiveness in a sector that is changing quickly due to shifting consumer, and market needs by investing in white-label taxi app solutions.
Talking about revenue, one of the biggest brands in the on-demand taxi industry, Uber, generated a revenue of $31.8 billion revenue in 2022.
Let's understand this by an example. Let's say you are in the taxi industry and want to increase market share in a city with fierce competition. One strategy would be to create a unique taxi app from scratch, which would be expensive and uncertain. Alternatively, you can choose a white-label taxi app solution, which will save development and maintenance expenses and guarantee a rapid launch.
Then, to set your brand apart from the rivals, you can modify the app to offer a unique set of features and functionalities. You can also promote higher app adoption, client loyalty, and increased ride reservations with these specific services designed to suit customer requests. You can gain better ratings by providing superior customer service, which would aid in luring in new clients, hence leading to better ROI.
💡 Must read: Want To Be The Next Uber: Build On Demand Taxi Booking App
6. Launch The App Quickly
When businesses plan to enter the online taxi booking industry, you want to ensure you quickly launch in the market. Starting from scratch to launch a custom taxi app can be a time-consuming and expensive procedure. On the other hand, white-label taxi solutions providers deliver pre-built, scalable platforms for taxi apps that can be swiftly tailored to a particular company's needs. 
These technologies can give taxi companies a competitive edge by enabling them to build an app in weeks instead of months, opening up new markets. The most common functionality needed by a taxi app, such as booking, routing, tracking, and payments, are pre-built into white-label taxi apps. There is little effort required to get the app up and running because these features may be customized to fit the requirements and branding of the taxi business. 
Additionally, app developers take care of routine maintenance, such as security patches and updates, allowing businesses to concentrate on their core operations and promoting the app to increase usage.
The table below compares building the app from scratch vs going with a white-label taxi app.
| | | |
| --- | --- | --- |
| Aspect  | Developing from scratch | White label taxi app |
| Development time | An extensive and time-consuming process, typically several months or more. | Significantly reduced development time. The app is already built and ready to use. Customization and branding can be done relatively quickly. |
| Design and user interface  | Designing UI/UX from scratch can take considerable time and effort. | White label app provides a pre-designed user interface that can be customized to match the company's brand. Saves time on designing from scratch. |
| Backend infrastructure  | Building the backend infrastructure, server setup, and database integration can be time-consuming. | The backend infrastructure is already set up in the white-label app. No need to build from scratch, which saves significant time. |
| Ongoing maintenance and updates | The responsibility of maintaining and updating the app rests on the development team. | White-label app providers usually offer ongoing maintenance and regular updates, saving time and effort for the taxi company. |
7. Get Industry Expert Apps
White-label taxi apps are created to meet the demands of the taxi industry. These apps are developed by professionals in the field who have in-depth knowledge of the transportation sector and a clear awareness of the particular difficulties faced by the taxi industry. Taxi companies can get a ready-to-use app specially crafted to match the sector's needs using a white-label taxi app solution.
These apps give brands access to several features created especially to offer a seamless user experience for drivers and passengers. These services include vehicle monitoring, ride booking, payment processing, driver management, reporting and analytics, and customer assistance. 
These qualities allow companies to offer a higher caliber of service, boosting client happiness and loyalty. Overall, white-label taxi applications' industry-specific features and functionality help firms stay on top of their game in a cutthroat sector.
Quickly Launch Your Business With White Label Taxi App
Now that you know what are the benefits of white-label apps, you must be curious to get into them. When investing in it, you need a taxi app development company that has gained relevant experience and provides solid white-label solutions.
ValueAppz is a prominent taxi booking app development company that provides top-notch white-label app solutions for startups and small businesses. Our services let the clients build their apps on a budget that fits their pocket. So, contact our professionals today, discuss your idea, and create a taxi booking app that represents your brand well.

Frequently Asked Questions:
Q1. What are the benefits of white-label apps?
Some of the major benefits of white label apps include budget-friendly solutions, inclusive of all necessary features, and can be customized as per the business needs.
Q2. What are the benefits of taxi mobile app development?
The top reasons to invest in the taxi mobile app development include:
A wider customer reach.

Reaching beyond limited boundaries.

Developing brand image.

Enhancing customer experience.

Gaining essential data insights to improve the services.
Q3. What are the top 5 features of a taxi booking app?
The top 5 features of a taxi booking app are seamless registration, vehicle categories, live tracking, in-app chat, and in-app wallet.
Q4. What is the function of a taxi app?
A taxi app allows users to book a ride at their convenience, get regular updates about it, and track its live location for a better experience. With push notifications, SMS, and emails, users can stay updated with the promos and coupons.
Q5. How much does it cost to create a taxi app?
To build a taxi app, the cost can vary between $15,000-$60,000. The cost may be affected by app complexity, number of features, development team, etc.
THE AUTHOR
Harjyot kaur
As a technical content writer my focus is on creating high-quality, engaging, and informative content that simplifies complex technical topics. Throughout my career, I have continuously pursued opportunities for growth and development, refining my skills and expanding my knowledge base.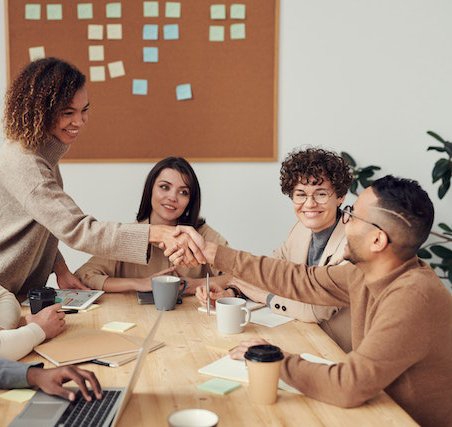 Get ready to digitally transform your business.
Let our team help take your business to the next level. Contact us today to get started on finding the perfect solutions for your business needs.