A Quick Guide For Food Delivery App Development
June 16, 2023
Giandeep Singh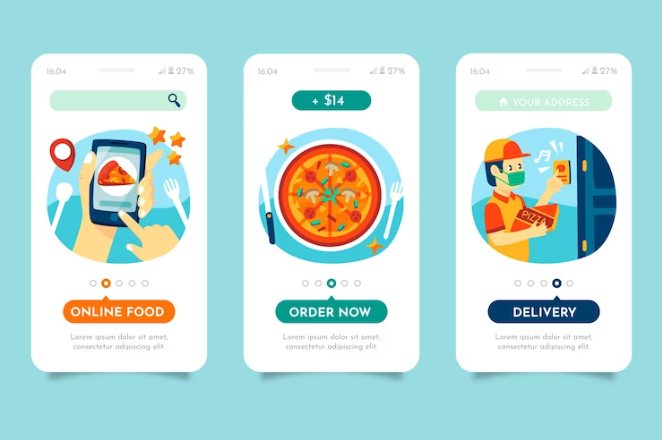 Table of Content
Follow Us
Quick Summary: Have you ever thought of food delivery app development and got stuck in the middle? Was it because of a lack of planning or market understanding? Whatever the reason, our guide will give you a complete insight into what goes into making a food delivery app.
The on-demand food delivery industry is facing rapid change. Everything from fast food to healthy meals has gone online. A customer prefers to order food online rather than spend time in the kitchen. Therefore, mobile apps act as the best solution for them to fulfill their food cravings.
These food-ordering apps are largely focused on convenience and customer experience. Users can quickly search for their favorite food, avail of special deals, and get food delivered from a local restaurant.
Further, if you own national chains of your restaurant like Domino's, you could build a restaurant-to-customer app and ensure that the audience who does not prefer to dine in can still enjoy your food.
If you want to enter the online food delivery business, you must build user-friendly app for easy online ordering. For instance, the best food delivery marketplace, like DoorDash, provides features like customization, a wide range of food options, discovering local restaurants, and much more for a smooth online food delivery experience.
Before you build a roadmap for the best food delivery service, you must understand how customers think and where this market is headed.
Changing Customer Demand and the Market
On-demand food delivery apps are not a decade-old concept; instead, the first online food ordering service started in 1995, known as World Wide Waiter (now known as waiter.com). Since then, this market has seen an uphill in its growth. 
But what makes the best food delivery apps attractive and addictive for users?
The first reason, of course, would be the convenience, but other factors like discounts, unlimited options, easy payments, etc., are also responsible for its growth.
Such features have made food apps so addictive that users now mostly prefer ordering food online rather than paying a visit to the restaurant.
The food delivery app industry is expected to reach $320 billion by 2029. Further, 60% of restaurant owners believe that offering food delivery has added great sales to their business.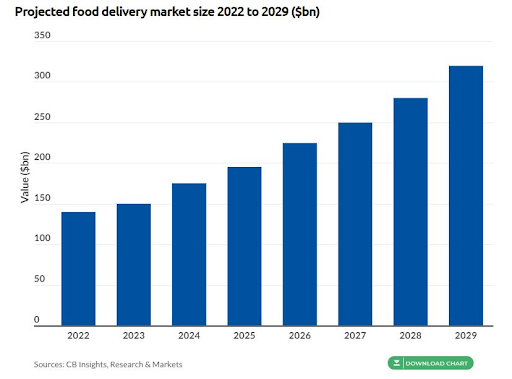 Source: BusinessOfApps

Types of On-Demand Food Delivery Apps
Models of food delivery apps can be divided into two based on the number of restaurants they provide.
These include restaurant-to-consumer delivery and platform-to-consumer delivery.
1. Restaurant-to-Consumer Delivery
Such a model is used by restaurants that provide a digital version of their restaurants. It aims at providing food to the consumers from a particular restaurant through their application.
One of the best examples of it is Domino's. Though Domino's is available on other platforms like UberEats and more, it also has its own food delivery app, where customers can directly place an order and receive it straight from Domino's (hence, not including any third party).
2. Platform-to-Consumer Delivery
The Aggregator model has already acquired the food delivery market by providing services at the convenience of consumers. Platform-to-consumer delivery apps bring multiple local restaurants on one platform, where they can place their menus, discounts, and offers. Furthermore, the users can search for restaurants, place orders, and get them delivered quickly.
The best examples of food delivery services are UberEats, DoorDash, and Grubhub, which have millions of users on their respective applications. The aggregator model gives a variety of options to choose from, making it so lovable among the audience.
💡 Read More: UberEats Business Model: How Does Uber Eats Make Money?

Essential Features of a Food Delivery Service App
What makes an app great? Or what kind of app retains its users? It is all the game of kinds of features that an application provides. Here, we will discuss the essential elements from the basis of consumers, admin, and courier.
1. Consumer Version
Once your app comes into the market to the point where it gets valuable customers, engaging and retaining them is vital. The following features can help with it.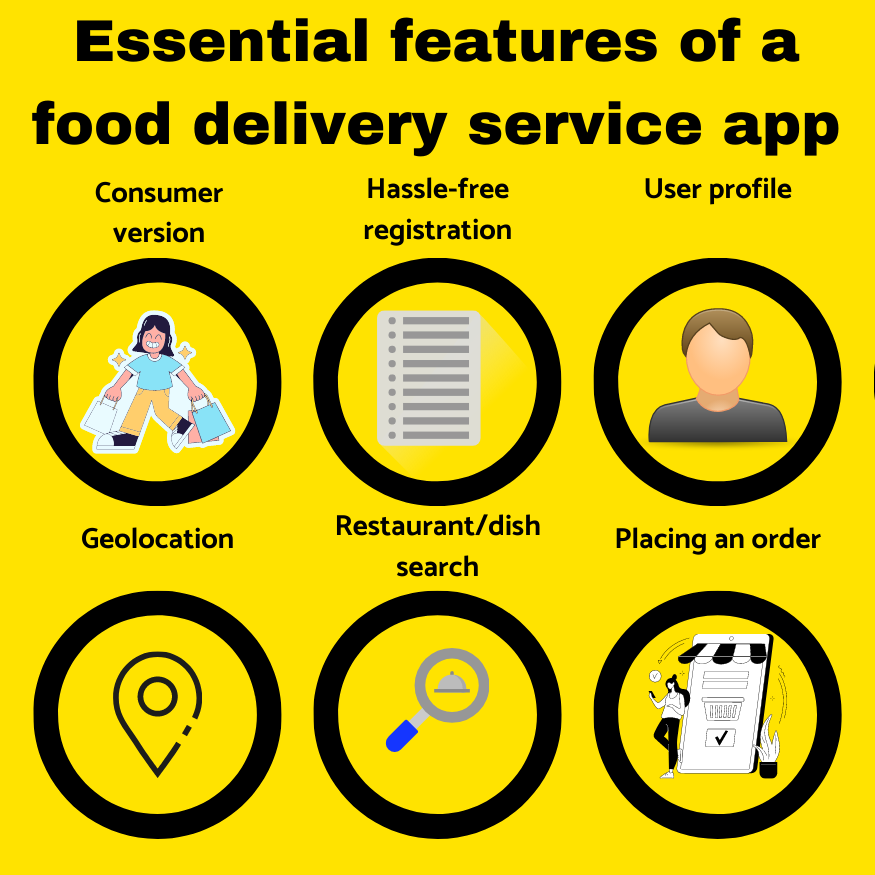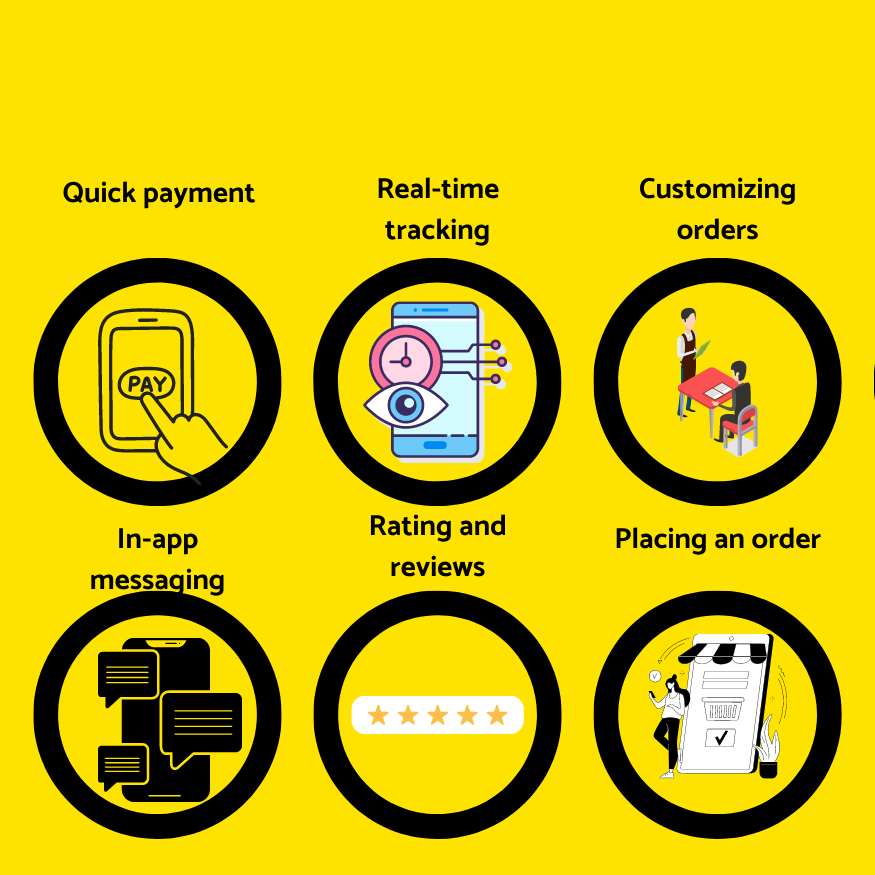 1.1. Hassle-free registration
Registration is the first step that users will take. So, it should be simple and quick. It can be either done through email and password or via social media like Google, Twitter, Instagram, and more. Whatever the app contains, the data should be protected, so the user has a sense of security.
1.2. User profile
Now that the users have registered, they would want to manage their profiles. Their profile will include personal information, favorite restaurants, order history, saved payment options, food preferences, and much more that can provide quick access to them.
1.3. Geolocation
Setting the exact location should be simplified. It can be done via auto-detecting or filling in the details manually. The location can be further categorized into the home, work, or other categories.
Their exact location will also help users to find nearby restaurants. Additionally, it will also connect the users with local restaurants.
1.4. Restaurant/Dish search
Search option directly affects user retention. The easier it is for users to find a restaurant or dish, the better the chances of them coming back. To make the feature more user-friendly, you can add certain filters like location, food category, etc.
They should be able to locate multiple restaurants quickly.
1.5. Placing an order
Making an order should be totally easy for the user. They should be able to add items to the cart, remove items or add more if needed. The total cost, including the delivery fee, should also be available in the cart with other information regarding tax, service fees, and more. Further, a feature like pre-order food will be a cherry on top of the cake. 
1.6. Quick payment
Now that the user has placed an order, making payment should not be a problem. They must get multiple payment options like debit or credit card, cash on delivery, UPI, or through other in-built payment methods.
1.7. Real-time tracking
Real tracking of the order allows users to get instant updates on their food. Whether it is in the preparation stage, packing stage, or prepared food is on its way, and estimated delivery time so that they can monitor it throughout.
Further, information regarding the delivery driver gives them access to contact the person directly.
1.8. Customizing orders
People have become conscious about what they eat. A customization option in the application will help in user retention. Restaurants and food delivery providers must adjust to the users' options. For instance, some may be allergic to a food item, or others may want gluten-free food.
1.9. In-app messaging
The feature is crucial as it will allow users to contact customer care in case of any problem. An in-app messaging feature will also help them communicate with couriers.
1.10. Rating and reviews
Consumer feedback is an essential part of the app. They should be able to rate both the food and the delivery. It provides them a space to share positive and negative experiences with others. Also, the admin can use this to enhance their app.
1.11. Push notifications
Through push notifications, users can get information regarding discounts, coupons, special offers, and estimated delivery time, ensuring that they get every important data. It is also used for providing every-minute details on their current order.
2. Restaurant Version
Restaurants are another part of this three-sided business model. Hence each restaurant should be able to display menus, provide information, and quickly get in touch with its customers. Its features should include the following: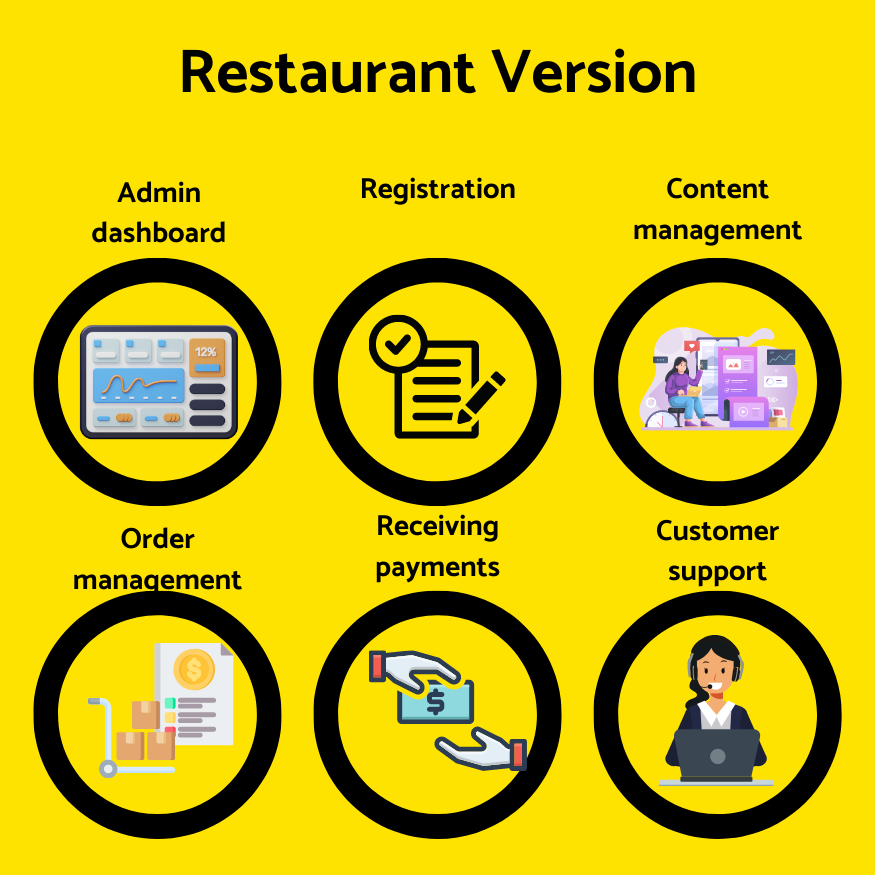 2.1. Admin dashboard
It is the primary feature as it ensures access to multiple management tools like controlling delivery orders, public data, and other content. 
2.2. Registration
This feature will help a restaurant create a representative account that will be displayed on the search. Restaurants usually undergo authorization with login (company name) and password.
2.3. Content management
Content management features will let the restaurant edit public information like restaurant name, working hours, address, dish prices, delivery rates, menu, photos, videos, and much more.
2.4. Order management
This function will help restaurants track the order in real time. It can contain information about order status, whether it's accepted, ready, delayed, or canceled. 
2.5. Receiving payments
As restaurants receive the payment after the order has been placed, a payment feature is essential for a transaction fairness guarantee.
2.6. Customer support
Restaurants should be able to track their customer's concerns via live chat. They should quickly receive any questions from buyers and answer them instantly.
3. Courier Version
Food delivery app development for delivery partners is equally important as they will use it on the go. It must include all features that make food delivery an easy process and where they can contact in an emergency.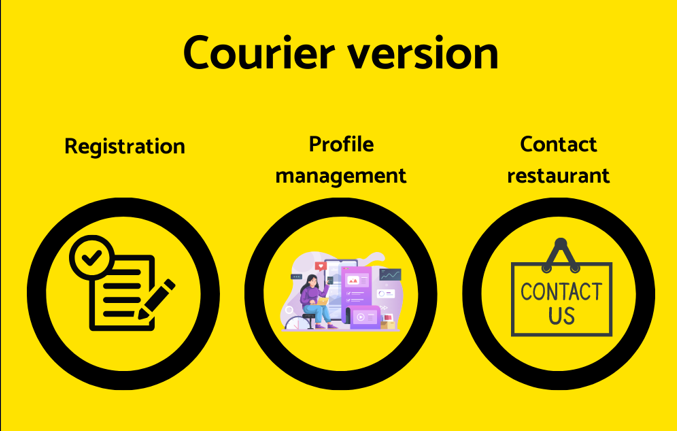 3.1. Registration
As much as it is necessary for customers and restaurants to make a profile, so is it for the delivery people. It can be done either by email and password or via social media accounts.
3.2. Profile management
The profile usually contains information about name, working hours, photo, and others. The feature should be easy to use so that any changes can be made hassle-free.
3.3. Order management
Such a feature will help delivery workers to view, accept, or reject delivery orders.
3.4. GPS support
It is imperative to ensure that the driver delivers food to the correct address without the delivery person getting lost in the way. 
3.5. Contact restaurant/customer
The delivery person should be able to contact a consumer or restaurant in case needed while they deliver food.
Food Delivery App Development- Step-By-Step Process
Proper industry research is the core step before actually getting into the business. Below are the main KPIs that should be considered to ensure the app's success.
1. Discover the latest market trends
There is always something familiar in the best food delivery apps as they follow the latest market trends. It is crucial to check these trends and make sure that your app, too, has them. Some examples are smartwatch support and virtual assistance.
Once there is in-depth knowledge about what is going on in the food delivery market, you can build a proper plan (choosing between one of the two food delivery platforms) identifying the target audience and locations, which is further divided based on the priorities. 
2. Engaging yet simple design
What catches the eyes of the users at first? The UI/UX presentation of the app enhances the user experience and engagement rate. You must follow the UI/UX guidelines for a great food delivery app. Just a few taps should allow them to order delivery.
The app should have plain colors, an engaging interface, only the required features, and be easy to use. The simpler the design, the better it will be for customers, restaurants, and delivery partners to work with.
3. Set the right logistics system
Firstly, the restaurants and delivery locations should be accurately mapped to ensure efficient and prompt delivery and to estimate the suitable delivery fee. A real-time tracking system should be implemented to monitor the delivery process and provide updates to customers.
It's essential to have a flexible and scalable fleet of delivery personnel, either in-house or through partnerships with local delivery companies. 
The app should consider factors such as traffic conditions and delivery routes to optimize delivery times. An efficient and reliable payment system should also be in place, allowing customers to make secure transactions. A food delivery app can provide customers with a seamless and enjoyable experience by putting these systems in place.
4. Hire the right development team
Choosing the right food delivery app development team for a food delivery app is critical to the project's success. When evaluating potential teams, it is crucial to consider their experience in building similar apps and their understanding of the food delivery industry.
Look for a team with a proven track record of delivering high-quality, user-friendly, and scalable applications. 
It's also essential to assess their technical expertise and proficiency in relevant technologies such as GPS tracking, real-time updates, and payment systems. By choosing the right development team, you can ensure that your food delivery app is built to meet your requirements and provides a seamless experience for your users.
5. Get customers on the app
Now that your food delivery app is ready, it is time to bring the right audience to your platform. Attractive promotions through social media, ads and referral programs can ensure you build a solid user base in no time.
Further, it is also crucial to retain the customers and bring new customers that have been onboarded on the app. They can be kept here longer with customer loyalty programs, excellent customer service, offering various options, incentives, and rewards like no delivery fee on the first order and customer feedback.
How to Make Money With a Food Delivery App?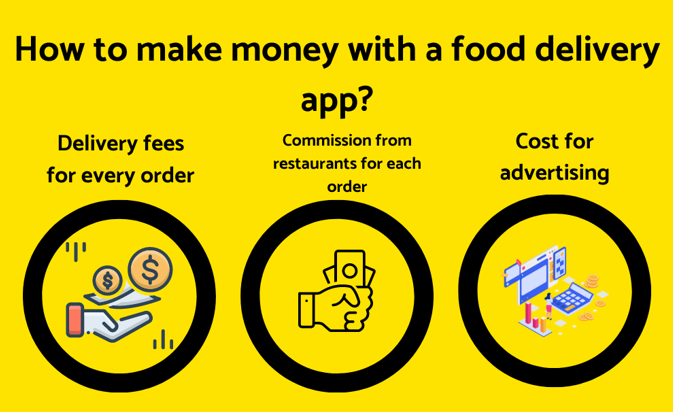 When you think about food delivery app development, there must be a question like, "How will I make a profit from it?". Well, there are three ways to make money from food delivery apps. The most popular among them is earning through a delivery fee. These are
1. Delivery fees for every order
Earning money through delivery fees is the most popular way among food delivery companies. There can either be a fixed delivery fee or can be charged depending on the distance between the restaurant and the customer. 
2. Commission from restaurants for each order
It is a stable way to get money. A commission fee can be fixed based on the size and popularity of the restaurant, and you can change it depending on the orders a particular restaurant receives. So, every time the restaurant gets an online order, a specific commission can be charged.
3. Cost for advertising
Charging for advertising is an effective monetization method. Restaurants would want to enhance their brand recognition on the food delivery apps, and one way that will help them is by creating effective ads. They can be charged a service fee for advertising to increase their chances of engaging more customers.
How Much Does Food Delivery App Development Cost?
Estimating the exact amount for food delivery apps can be difficult as it can only be decided after considering factors like the complexity of the app, maintenance, app platform, software and technology required, and the team you will hire to develop the app. 
Further, deciding a price is only possible when the development is hired, and they have examined all the factors for building the application. The more complex the app is, the higher will be the price for it.
Key Takeaways
With customers increasingly preferring to purchase food online, the market for food delivery apps is expanding quickly.
Restaurant-to-consumer delivery and platform-to-consumer delivery are the two main categories of on-demand food delivery apps.
Easy order placement, rapid payment choices, real-time order tracking, order customization, in-app messaging, rating and reviews, geolocation, user profiles, restaurant and dish search, and push notifications are all essential elements for a food delivery app.
Establishing the proper logistical system, selecting the best food delivery app development team, conducting industry research, creating an appealing design, and attracting users are all steps in the process of creating a meal delivery app.
Turn Your Ideas Into Reality With the Best Food Delivery App Development Services
We understand that finding the perfect team for the best food delivery apps can be a big challenge. You would want a reliable team that understands all the specific details you want for the app.
Our food delivery app development services are designed to help businesses of all types. ValueAppz has the right combination of technology and experts to provide quality work. With us, you could get your app built in a range of $15,000 to $60,000 (but the price can change based on the above factors).
Further, if you want an app like UberEats, Zomato, or other food delivery services, we can also provide such food delivery services.
am for your food delivery business and contact us now for more details. Let's build the best food delivery services for your app idea.


Frequently Asked Questions:
Q1. What is the process of online food delivery services?
It is a three-way model where customers choose a restaurant and add the items to the cart. Further, they add the address details, make payment, and the restaurant gets the food delivered via a delivery driver to their doorstep.
Q2. How can I succeed in the food delivery world?
Ensuring that all the necessary features are added to the app and promoting the application creatively can help your food delivery service app succeed.
Q3. How can I get more clients?
To get more clients, make sure to provide USPs like low delivery costs, getting the best of the restaurant industry, and making the app hassle-free to use.
Q4. What was the first food delivery app?
The first food delivery app was the Worldwide Waiter also known as Waiter.com that was founded in 1995.
Q5. How to make a food delivery app? 
Research and analyze your niche

Choose your business model

Monetize your app

Choose the app functionality

Select the tech stack

Develop the food delivery app

Estimate the food delivery app development cost
THE AUTHOR
Giandeep Singh
I am a writer and marketing specialist who loves to explore new digital strategies to boost business growth online.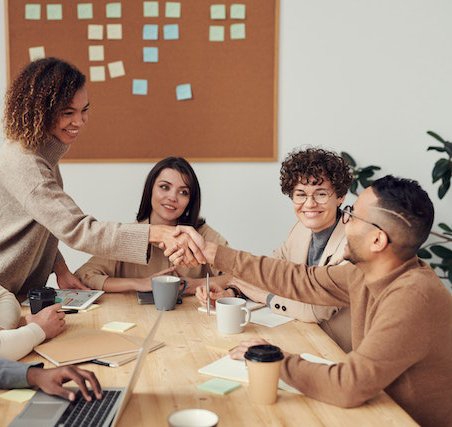 Get ready to digitally transform your business.
Let our team help take your business to the next level. Contact us today to get started on finding the perfect solutions for your business needs.