On-demand food delivery apps have gained popularity globally, and millennials are turning to mobile on-demand food delivery services. It has captured America, Asia, the Middle East, and Europe market. Online food delivery platforms have become the first choice for people due to the wide range of choices it offers and convenience. 
A wide array of options and option to pay with a single tap have made life easier. Even the big ride-sharing agents like Uber have joined the fleet of the on-demand food delivery industry. A survey conducted in the U.S. revealed that more than 20% of Americans use food delivery system at least once a week.
UberEats became the top food delivery app for 2018 that was downloaded by 66+ million worldwide, mainly the U.S. and India. It lets users order food and drinks from the local restaurants via the UberEats website or an app. Earlier, UberEats was launched as a part of the main Uber app in 2014 as UberFresh but, soon turned into its own app UberEats. UberEats has since rebranded itself as Uber Eats.
The food delivery app industry is expected to reach $32 billion by 2020.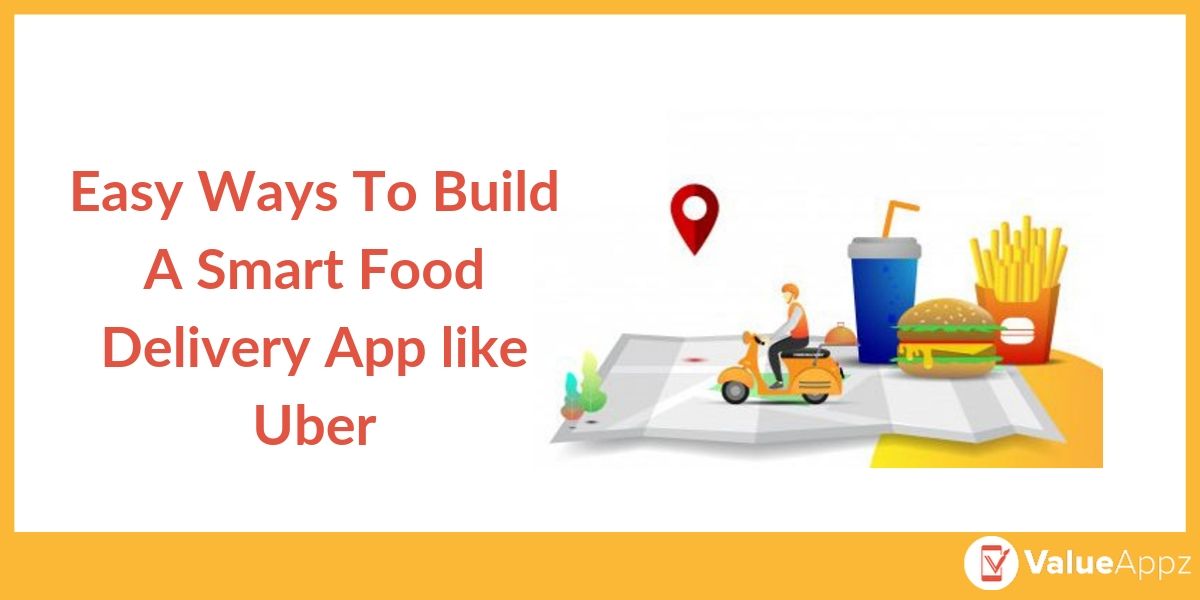 After looking at the stats, even you wanted to jump in the food delivery platform and come up with your app. In this article, we have highlighted easy ways to establish a smart food delivery app like Uber.
How to make a smart food delivery app like UberEats?
The market is overcrowded, and you can't expect your app will do wonders in a day. You need to overcome various challenges and know your audience thoroughly. Your innovation can turn the tables. For creating a food app like UberEats, you need app developers that can help you with the technical stuff. Apart from this, you need to follow these simple steps to make your food delivery app successful.
1

. Find the right audience:
You need to be aware of the hot trends of the restaurant industry. Also, you need to define your target audience. For instance, if you want to target corporates, then you need to deliver freshly cooked foods. However, if you want to target college students, then you have to provide fast food options.
2. Choose Food Delivery Model:
You need to select a food delivery model that suits your business. There are two models from which you can choose.
Order the only model: In this model, companies are responsible or ordering and managing orders.
3. Order and delivery model:
In this business is responsible for both managing and delivering the orders. The UberEats app works both as a restaurant aggregator and a delivery agent. It uses a traditional food delivery model that lists partners-restaurants in an app. At the same time, the company uses its own logistics network and delivers orders.
Features you need in your app:
1. Easy registration and Account set up:
You need to have an easy account set up process. Otherwise, the user might leave your app. The registration process should be time-saving so that users can sign-up in minutes. Also, integrate your social media platform with your app so that users can log in quickly through social media. While developing an app, you need to take care of this basic feature.
 

2. 

Finding popular restaurants and cafes:
You need to provide multiple options in terms of restaurants in your food delivery app. So, do proper research on your targeted area and include all the popular restaurants.
Give them multiple search options as people like to search for top nearby restaurants using their GPS. They can also browse different restaurants by offers and discounts. Also, provide them a detailed list of the restaurant information, prices, menus, images, addresses, reviews, and more.
They should be able to select the items from menus and add those in the cart Above features are essential for your on-demand food delivery apps like Foodpanda, UberEats, Zomato and more.
3. Ordering and Tracking:
The food ordering process should be simple so that anyone can order. Users should be able to add and remove food items into their carts. The overall food ordering process should be quick. Moreover, users should be allowed to track their food via GPS. This allows them to stay updated with the whereabouts. They should be able to track:
When the order reached the kitchen.

When it was out for delivery.

Estimated time the order will take to reach the user's location.
With this feature, you can provide a hassle-free ordering experience to your users.
Secured payment: Give your users multiple payment options that are secured, fast, and safe. Choose payment integrations like Stripe, Paypal, and CC Avenue. 
4. Notifications:
With push notifications, you can notify your customers about order status and offers.
5. Reviews and ratings:
People love to share their experiences when they dine or order from a restaurant. Let users share their experience via reviews and ratings. 
6. Technology stack for Food Delivery App Development:
Depending on your business model, you might need to implement different technologies. For creating Uber-like apps, here is the tech stack.
| | |
| --- | --- |
| Feature: | Integrations and technologies |
Restaurant Listing:
Grubhub API
FourSquare API
Payment Gateway:
Square API
Braintree
Stripe
PayPal
Find user Location:
Core Location Framework
Google Places API
Google Maps
Registration and Login:
Facebook SDK Login
Storage
Amazon Cloud Storage
| | |
| --- | --- |
| Analytics: | Google Analytics |
Push Notifications:

Amazon SN

S
Urban Airship
Firebase Cloud Messaging
How much it costs to create an app like UberEats?
The cost of developing an app like UberEats or Grubhub will cost you around $30,000 to $40,000. Further, the cost may vary as per the features and resources you incorporate in your app.
You will be charged for mobile app design, development of both Android and iOS versions, app testing, and app launch.
If you opt for a web app for your restaurant, the cost will extend to$50K to $60k.
You can scale your mobile app and prepare it for future food delivery.
What is the future of the online food delivery app?
1. Expansion of Business Model:
Restaurants are heading towards an advanced version of food delivery. Postmates work on an advanced business model, so it's better to do an in-depth understanding of postmates business model.After, that discuss it with your app development company.
2. New food ordering channels:
Users will be moving to new food ordering platforms like Social media, Virtual Assistants, Smart Objects-TV, Wearables, and Car dashboard.
3. New delivery options:
The future of on-demand food delivery are drones, parachutes, and robots.
4. Augmented reality or Virtual reality:
Technology will be used as an engagement mode for keeping people busy while their food is being prepared.
5. Big Data:
Big data will give a food delivery app number of benefits such as better delivery time estimate, understanding consumer sentiment, personalized marketing, and better demand prediction.
So, start planning wisely to build marketplace app and recruit employees, contact restaurants, and advertising.
To remain ahead in the race, you need to adopt current food ordering industry trends and create a food delivery system. Get in contact value app, a food app development company, and we will do the brainstorming for you. Drop us a message at the value app, and our mobile app development experts will contact you for the same.