How Cloud Kitchen Business Models Have Transformed the Food Delivery Industry
September 12, 2023
Harjyot kaur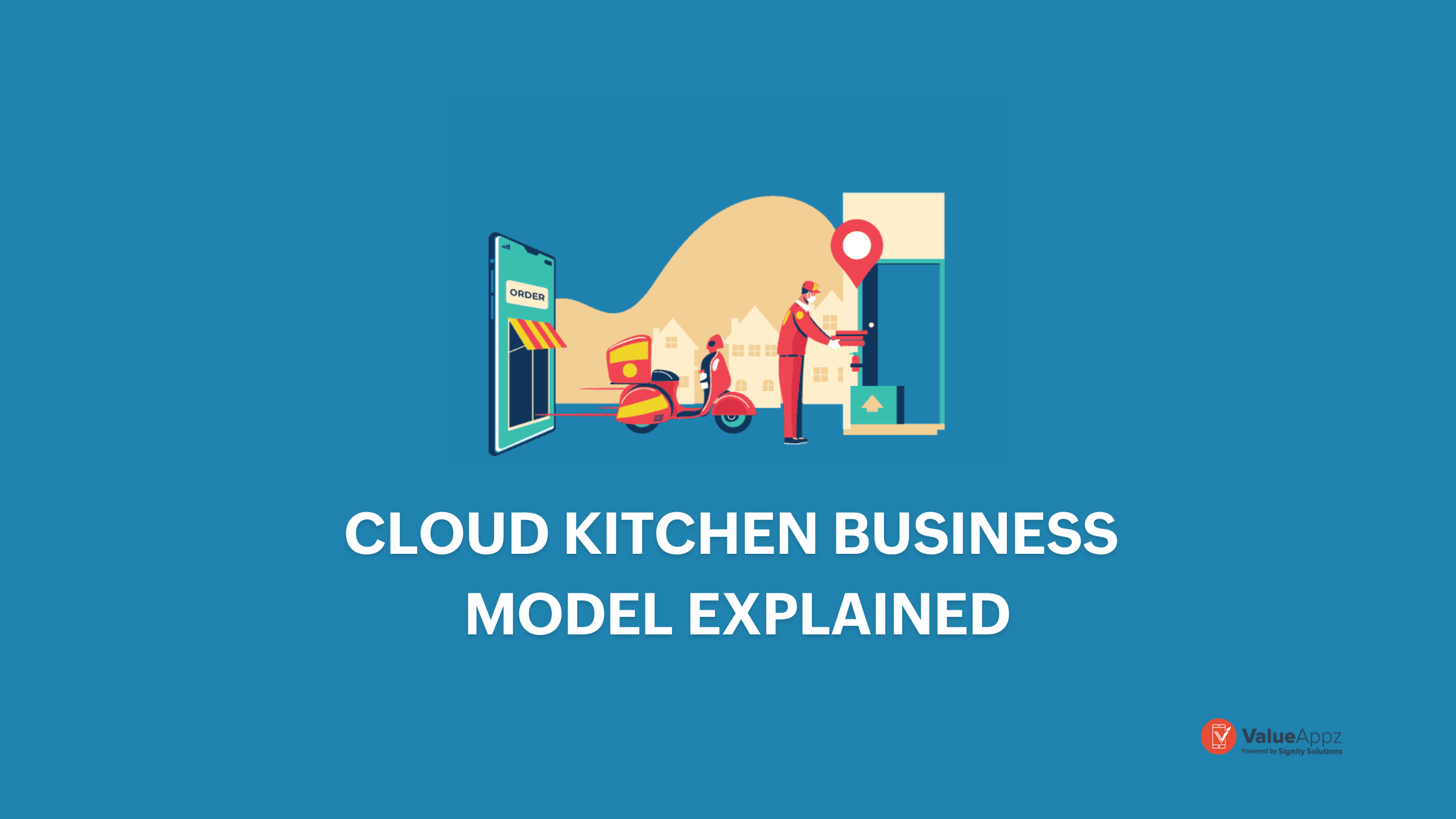 Table of Content
Follow Us
Quick Summary: Though cloud kitchens gained popularity a long time ago, their demand is on the rise at present. With a shortage of space, huge investments for an outlet, and changing trends in the food industry, businesses have started to invest in cloud kitchens. Whether you are an existing restaurant or a startup looking for opportunities in the online food industry, this blog will help you with everything to understand ghost kitchens' cloud kitchen business models and benefits in detail.
In today's rapidly evolving market, transitioning to online platforms is imperative for businesses looking to establish a strong brand presence and expand their services. This shift is especially pronounced in the food industry, where many food businesses now rely entirely on online platforms to drive their sales. This transformation has been made possible through the advent of Cloud Kitchens.
As per the reports, the value of the cloud kitchen market is expected to reach US$ 117.89 billion by 2031. All this is because customers want to get their food delivered rather than moving out of their homes.
What is A Cloud Kitchen?
Also known as the virtual kitchen, ghost kitchen, and dark kitchen, these models are a great fit for food delivery startups and existing businesses that want to expand quickly. Unlike traditional restaurants, cloud kitchens do not offer a physical dining area for customers. Instead, the food is prepared in the kitchen and delivered to the customers. They take orders for delivery-only meals through their own website or delivery apps like Uber Eats, Grubhub, DoorDash, and Deliveroo.
How Does A Cloud Kitchen Model Work?
Here is a brief explanation of how a cloud kitchen operates:
Location:

The virtual kitchen is strategically chosen in a densely populated area or areas with high demand for food delivery services. Choosing the right location ensures that the cloud kitchen performs well by engaging the right audience for its services.

Online Presence: Ghost kitchens rely heavily on online platforms such as food delivery apps and websites to receive customer orders. Some dark kitchens also build partnerships with various food delivery platforms to reach a broader customer base.
Food Preparation: Once the order is received through online platforms like apps and websites, the kitchen staff starts to prepare the food. The emphasis is given to preparing efficient and standard food to ensure consistency and quality.
Delivery Logistics: Cloud kitchens must ensure safe delivery once the food is ready. They often have their in-house delivery fleet or third-party delivery services like Zomato. The food is packed appropriately to maintain its quality during delivery.
The whole process mentioned above allows ghost kitchens to ensure that they operate efficiently, enhance food delivery services, and build a solid customer base. 
This article will explore why investing in cloud kitchen models is a smart move and why it will be helpful in the long run. But, before that let's discuss, what makes the cloud kitchen model different from traditional restaurants. 
Cloud Kitchens VS Traditional Restaurants
Restaurants have been around for decades and are here to stay. Food lovers get an excellent experience when they visit their favorite eatery places. However, with the evolving technologies and changing trends, restaurants must quickly adapt to these changes.
| | | |
| --- | --- | --- |
| | Cloud Kitchens | Traditional Restaurants |
| Physical Space | Typically operate without a physical storefront or dining area. | Need for a physical location with dining areas for customers. |
| Business Model | Focus on food production and delivery/takeout orders. | Emphasize on-premise dining experiences. |
| Overhead Costs | Reduced overhead costs as there is no need for a large physical space or front-of-house staff. | Higher overhead costs due to rent, utilities, and staffing for the dining area. |
| Flexibility  | Can easily adjust to changes in demand and expand to new locations without physical constraints. | Limited flexibility due to physical space and location. |
| Menu  | Can streamline menus for delivery and takeout, focusing on optimizing packaging and transportation. | Offer a wider range of menu options for on-premise dining. |
| Scalability  | Easier to scale and expand to new locations due to the absence of physical constraints. | Expansion may require finding suitable physical locations and meeting capacity demands. |
| Cost Efficiency | Minimize wastage and optimize operations, leading to potential cost savings. | Higher risks of food wastage and inefficiencies in traditional restaurant operations. |
| Reduces Risks | Lower risk of customer no-shows and wasted food as cloud kitchens operate without dine-in areas. | Depend on customer reservations and face the risk of no-shows and potential food waste. |

Stats About the Growing Market of Cloud Kitchens
Before we understand what ghost kitchens are, their models, and how to build a dark kitchen for your brand, let's look at its growing market. The global cloud kitchen market size was valued at US$ 51.96 billion in 2020, and this is projected to grow at a CAGR of 12.4% from 2021 to 2028.
One of the main reasons for this continuous growth is the changing preferences of the target audience. Customers now prefer online food services over dining experiences. 
Before investing in virtual kitchens, you must also understand what food has the highest demand. It will help you choose the perfect food delivery solution that gives you a market lead. The graph below provides a clear picture of it.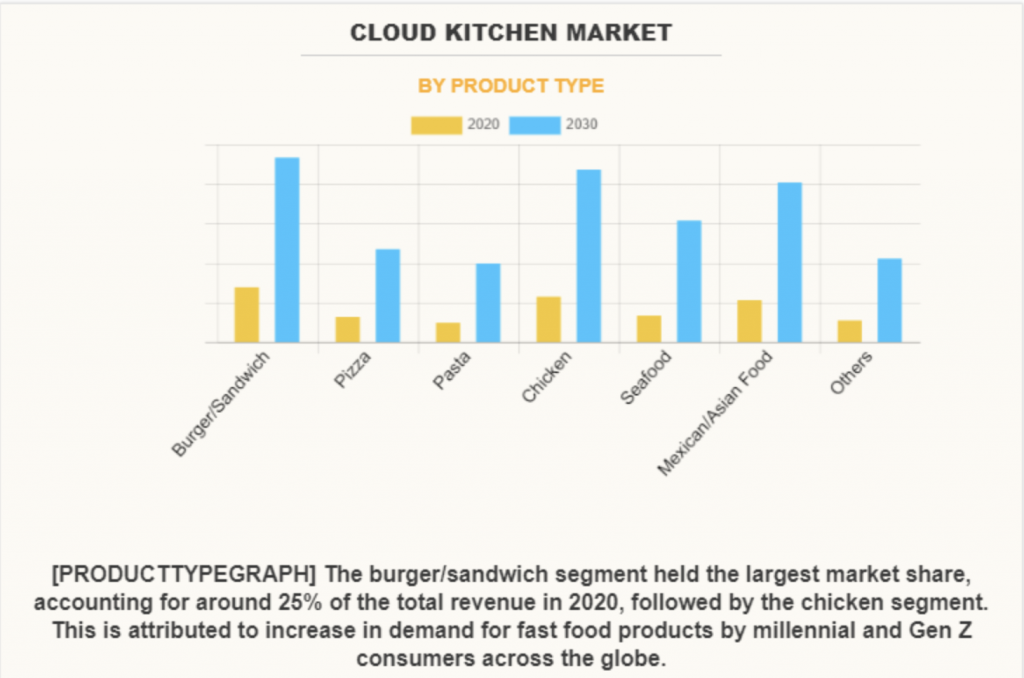 Different Types of Cloud Kitchen Business Models
If you are a startup looking to invest in cloud kitchens, you should know various ghost kitchen business models. Your chosen model will depend upon the business needs, budget, and other factors. 
1. Single-Brand Cloud Kitchen
Single-brand or standalone cloud kitchens are independent kitchens owned or rented by a brand without offering a dining space. Instead of requiring a physical eating area like typical restaurants, it concentrates on cooking and serving a particular brand or concept of food. 
These kitchens are explicitly designed to manage large-scale food production while maximizing efficacy and efficiency. Single-brand cloud kitchens can serve a broad range of customers by operating only online and offering convenience and unique culinary experiences.
2. Multi-Brand Cloud Kitchen
Multi-brand ghost kitchen runs various culinary brands under one roof. These cloud kitchens offer a wide range of dishes from different cuisines or food categories rather than concentrating on a particular brand or theme. These kitchens can maximize productivity and accommodate broader consumer demands by using shared facilities and resources. 
It enables operators to reach a larger audience and optimize their revenue potential by allowing the simultaneous production and delivery of various food brands.
3. Kitchen Pods
Within a shared kitchen facility, separate cooking spaces are provided via modular, self-contained kitchen pods. These pods often include the infrastructure and tools required to function autonomously within a more extensive kitchen, including cooking appliances, storage, and hygienic facilities. Kitchen pods offer a versatile and affordable alternative for enterprises that need their own cooking area but may not want to invest in a full-scale standalone kitchen.
4. Commissary/Shared Kitchens
Commissary or shared kitchens are commercial kitchen facilities that several restaurants or other food entrepreneurs share. These facilities have storage spaces, high-end culinary equipment, and other essential infrastructure. Commissary kitchens' main benefit is that they provide a cost-effective option for individuals, small-scale food businesses, and startups that need access to a fully operating kitchen but cannot afford to set up and operate their own premises. 
Additionally, shared kitchens offer a cooperative setting encouraging networking, knowledge exchange, and future collaborations between food businesses.
5. Franchise Model
The cloud kitchen franchising model allows individuals or organizations to run a cloud kitchen under an established brand name while leveraging a tried-and-true business model and support system. Franchisees profit from the franchisor's established brand, standardized operating practices, supply chain networks, and marketing assistance.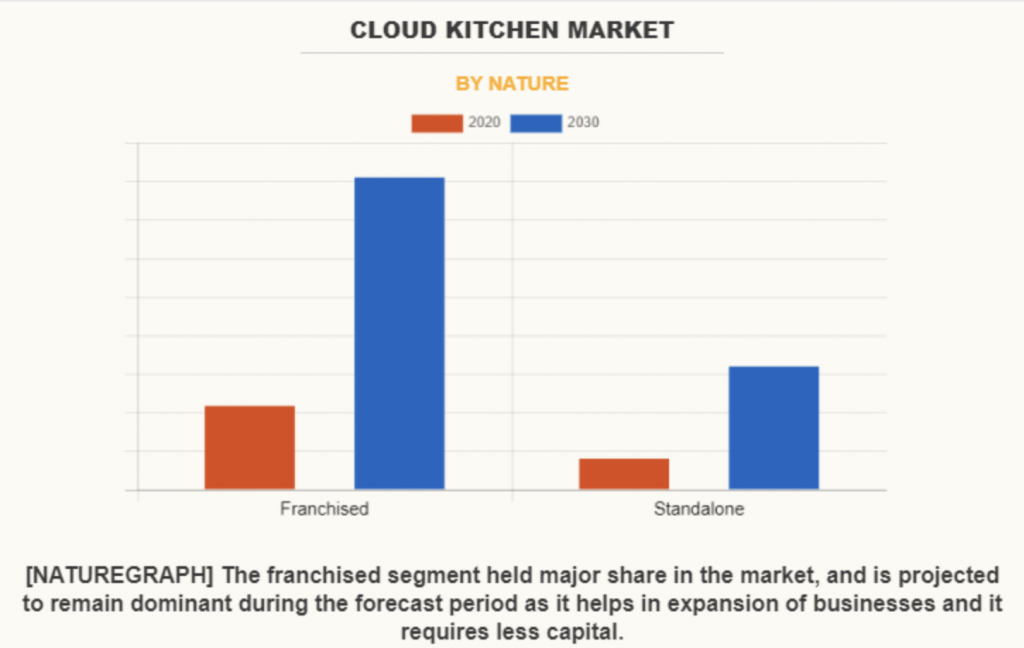 They can benefit from a lucrative business model while using the flexibility and scalability provided by cloud kitchens by paying initial franchise fees, ongoing royalty fees, and adhering to the franchisor's rules and requirements in exchange for these payments.
6. Aggregator-Owned Cloud Kitchen
A virtual restaurant idea owned and run by a third-party aggregating platform or food delivery service is called an aggregator-owned virtual kitchen. In this arrangement, the aggregator partners with other restaurant brands or food suppliers to provide a variety of menus while owning and managing the kitchen area, furnishings, and resources. 
The aggregator manages order management, logistics for delivery, and customer service, giving customers a central location to access a variety of food brands and cuisines. It enables greater productivity, cost-sharing, and market reach for the aggregator and the associated food companies.
How Do Cloud Kitchens Make Money?
Are cloud kitchens profitable? How do businesses in cloud kitchens make money? There are several ways that cloud kitchens can earn money. Some of the cloud kitchen revenue streams include:
1. Sales of Food and Beverages
The primary source of income for virtual kitchens is the sales of food and beverages. Once the customers pay the order online, it is prepared in the cloud kitchen and delivered. In this way, revenue is generated like the traditional restaurants.
2. Delivery Fees
Cloud kitchens earn money from delivery fees by charging a fee to customers for the delivery services provided. For every order placed through cloud kitchen, the customers may be required to pay a separate delivery fee that covers the cost of logistics, packaging, and the actual delivery of the food. The price is charged based on factors like distance, location, and order size.
3. Commission Model
Some cloud kitchens operate on a commission-based model. For each order or sale generated by the food businesses operating within the cloud kitchen, they have to pay a percentage/commission for it. This module helps the cloud kitchens earn money for every order placed through it.
4. Subscription Services
Another way that dark kitchens earn money is through subscription services. They offer food businesses or restaurants a subscription package to access and utilize their kitchen facilities. Depending upon the package, companies can get various benefits like discounted rental rates, exclusive kitchen access, storage space, and more.
5. Franchise Fees
By allowing aspiring business owners to use their established brand and business plan, Cloud Kitchens can generate revenue from franchising fees. Franchise fees are up-front sums of money paid to the cloud kitchen operator by people or companies in return for the right to duplicate and run a franchise location. These fees often cover the costs of brand licensing, initial coaching and support, access to recipes and SOPs, and ongoing assistance.
6. Marketing and Partnerships
Another cloud kitchen revenue stream is marketing and partnerships. Some dark kitchens further partner with food delivery apps, aggregators, and other businesses to promote their brands and services. These partnerships can include marketing collaborations and co-promotions to generate additional revenue.
Why Choose a Cloud Kitchen for Your Food Business Startup?
There  are so many competitive advantages of cloud kitchens models. Restaurants, cafes, hotels, and other eatery places face numerous challenges while preparing food, serving, and keeping the place up to date. Adapting to the latest techniques and strategies is essential to stay ahead of the rising competition. Below are the ways that cloud kitchens can help with this.
1. Reduced Overhead Costs
Cloud kitchens save restaurant owners and entrepreneurs money on overhead costs like rent, utilities, and equipment. In a traditional restaurant, these costs are significant and can sometimes make it challenging to earn a profit. By avoiding these expenses, virtual kitchens can offer meals at a more affordable price, which can attract customers and increase business.
2. Increased Efficiency
Cloud kitchens are designed for efficiency. They are optimized for online ordering and delivery and have a streamlined workflow that allows for faster preparation of meals. The streamlined workflow helps reduce time spent on prep work, leading to faster order fulfillment and improved customer satisfaction.
3. More Flexibility
The cloud kitchen model provides greater flexibility for entrepreneurs and restaurant owners. They can tailor their kitchen space to fit their specific needs and adjust their menu according to the ever-changing consumer demands. This flexibility allows for better experimentation with new concepts and menu offerings without the high cost of opening new locations.
4. Focus on Online Ordering
Cloud kitchens are built to maximize online ordering and delivery platforms. With more customers turning to online order and food delivery services, having a strong online presence has become critical for a restaurant business. Additionally, cloud kitchens can partner with third-party delivery platforms like Uber Eats and DoorDash, which have larger customer bases than traditional restaurants.
5. Wider Customer Reach
With a cloud kitchen, a restaurant owner can reach a broader market segment. In addition, customers can order from these kitchens from anywhere, at any time, and the orders can be delivered to remote areas where a physical restaurant's reach may not have been possible otherwise.
6. Low Investments and Better Returns
Low investments and better returns are some of the most significant benefits of cloud kitchens. A traditional restaurant may need a hefty investment for a lease on a storefront, renovation expenses, furniture, equipment, and staffing costs, among others. In contrast, cloud kitchens are designed to be lean and cost-efficient, with shared equipment and utilities. Furthermore, better returns are also achievable from cloud kitchens due to their ability to reach a broader customer base more efficiently.
Steps to Start a Cloud Kitchen Business
Want to build your own cloud kitchen business and earn profits? Below are the simple steps that can help you get started with a solid cloud kitchen business, no matter what business model you choose.
1. Planning and Research
The first step towards building a cloud kitchen business is thorough research and planning. You must be able to identify your target market, analyze competition, and determine types of cuisines or food concepts. All these will further depend upon the location that you choose.
On the other hand, you must also invest in a food delivery app to enhance your business growth. It can be really easy when you follow the right steps to build a food delivery app.
2. Choose Business Model
You must pick a suitable business model once you identify and answer the important questions above. Do you want to build a single-brand cloud kitchen, collaborate with kitchen pods, or choose another model? The business model you choose will depend on your business goals and how you want to grow your brand in the future.
3. Build an App and List Your Business
Building a dedicated app for cloud kitchen is another important step towards establishing your business. The app will let you connect with the audience quickly, take their orders, and deliver them to the right address. Also, you must list your business on the top food delivery apps like Zomato, Uber Eats, etc., to gain a better customer base.
One of the best cloud kitchen case studies is the Eat Sure, which works purely on the cloud kitchen business model. With its strategies, Eat Sure generated revenue of ₹859 crores (US$110 million) in 2022.
3. Find a Suitable Space
Choosing the right place for your cloud kitchen is highly crucial. Brands should look for a commercial kitchen space that meets their specific needs in terms of size, location, permits, and infrastructure. Further, you must also ensure that the space has all the necessary utilities like water, electricity, ventilation, and more.
4. Get the Necessary Permits and Licenses
Once you have chosen the location, you will also need to obtain the necessary permits. The permissions will depend upon the area you select. These are very important to ensure your business does not get involved in legal trouble.
5. Create A Menu
Creating a menu that aligns with your target market is another critical step. When creating the menu, ensure it meets your audience's preferences. The menu should be diverse, offer high-quality ingredients, and be efficiently prepared and delivered even under the limitations of the cloud kitchen model.
6. Set Up Kitchen and Hire Staff
Now it's time to set up your kitchen with the necessary tools and equipment. Also, to provide good quality and tasty food, you would also be required to hire an experienced staff who can operate your cloud kitchen.
7. Plan Cloud Kitchen Marketing Strategies
Once everything is set up, you must take your brand to the target market with engaging marketing strategies. It should include reaching out to the people through social media platforms, building a website or app, and other tips to increase food delivery business sales.
Important Factors to Consider When Starting A Cloud Kitchen Business
Before you start building your cloud kitchen business, there are a few factors that you must consider to avoid any mistakes and to launch your brand smoothly. Some of the factors include:
Market demand:

Analyze the market demand in your area for restaurants that deliver food and operate online. To ensure enough consumer demand to support your cloud kitchen business, research your target audience, their tastes, and the competition.

Location:

Pick a prime spot for your dark kitchen that is convenient for delivery partners and efficiently serves the intended audience. To ensure effective delivery operations, take into account a location's closeness to densely inhabited areas, neighborhoods in high demand, and transit hubs.

Equipment and infrastructure:

Determine your cloud kitchen's equipment and infrastructure needs. Make sure the cooking area conforms with health and safety laws, has adequate ventilation, and has utilities. To satisfy your food business's particular requirements, invest in high-quality cooking equipment, storage space, and packaging materials.

Operational efficiency:

Planning and streamlining your operations will help you run them as efficiently as possible. Improve procedures such as order management, inventory management, food preparation, and delivery logistics. Use technology to automate and streamline business processes, such as order management software and delivery tracking tools.

Cost study:

To determine whether your virtual kitchen business is financially viable, perform a detailed cost study. Consider the

cost to develop a food delivery app

, kitchen rental, machinery, personnel, utilities, license fees, marketing, and continuous operational expenses. To attain profitability and sustainability, ensure your revenue estimates match your costs.
Boost Your Restaurant Growth with Cloud Kitchens
Ghost kitchens provide an attractive investment opportunity for restaurants looking to minimize costs and maximize profits and for startups who want to enter the online food industry. With a focus on efficient operations and technology-driven management, virtual kitchens help restaurant owners deliver quality food to consumers while reducing overhead expenses. 
Empower Your Cloud Kitchen with a Customized App Solution
Whether you are a startup wanting to enter the online food market or an existing brand planning to invest in cloud kitchens, we are here to help you. With our excellent food delivery app development services, we can provide the perfect platform for any cloud kitchen business looking to attract customers and expand its customer base.
With ValueAppz's expertise and experience in building robust mobile apps, restaurants can enhance their delivery operations and lend a great experience to their customers.
Contact us now to build a solid food delivery app for your cloud kitchen and get started.
FAQs Related to Cloud Kitchen
Qn 1. Is Cloud Kitchen Profitable?
Yes, cloud kitchens offer a lot of potential for profitability. Also, its operations can be scaled much faster than dine-in restaurants.
Qn 2. What is the Average Monthly Cost for a Cloud Kitchen?
The average monthly cost depends on several factors: location, size, equipment, and services rendered. 
Qn 3. Can a Single Person Run a Cloud Kitchen?
A cloud kitchen only requires a few people to run the operations. You can quickly run the business with 4-5 people who would focus on preparing and delivering food orders.
Qn 5. How do Cloud Kitchens Work?
Cloud kitchens, also known as ghost kitchens, are models of food businesses with no physical storefront. They operate solely by preparing and delivering food.
Qn 6. Are Cloud Kitchens Suitable for all Types of Restaurants?
Cloud kitchens work best for restaurants that have a strong delivery business or for those whose business model is delivery-only operations.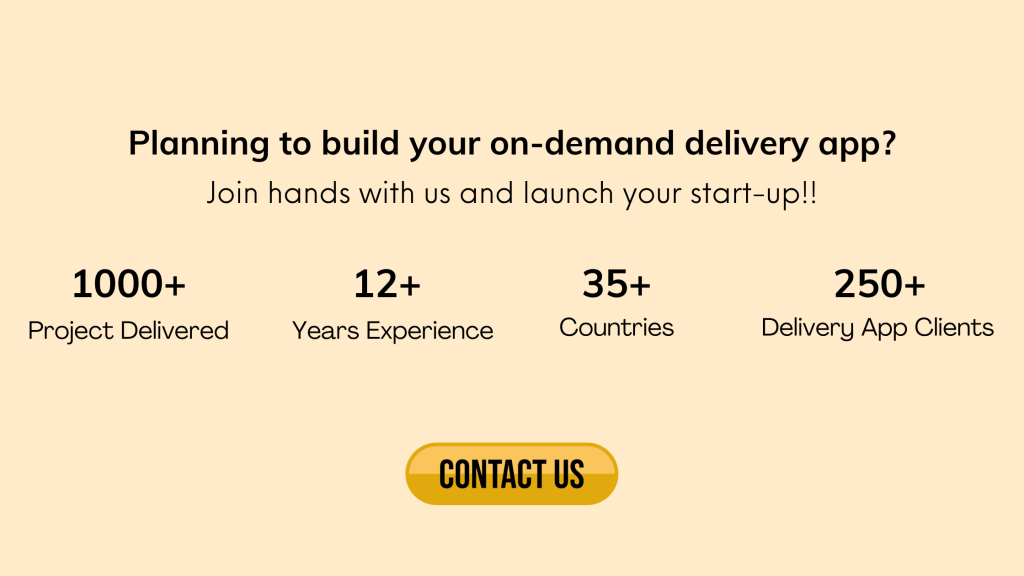 THE AUTHOR
Harjyot kaur
As a technical content writer my focus is on creating high-quality, engaging, and informative content that simplifies complex technical topics. Throughout my career, I have continuously pursued opportunities for growth and development, refining my skills and expanding my knowledge base.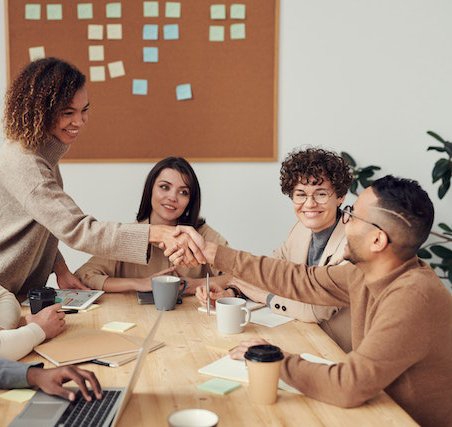 Get ready to digitally transform your business.
Let our team help take your business to the next level. Contact us today to get started on finding the perfect solutions for your business needs.