Streamline Your Food Delivery Operations With A Food Delivery Software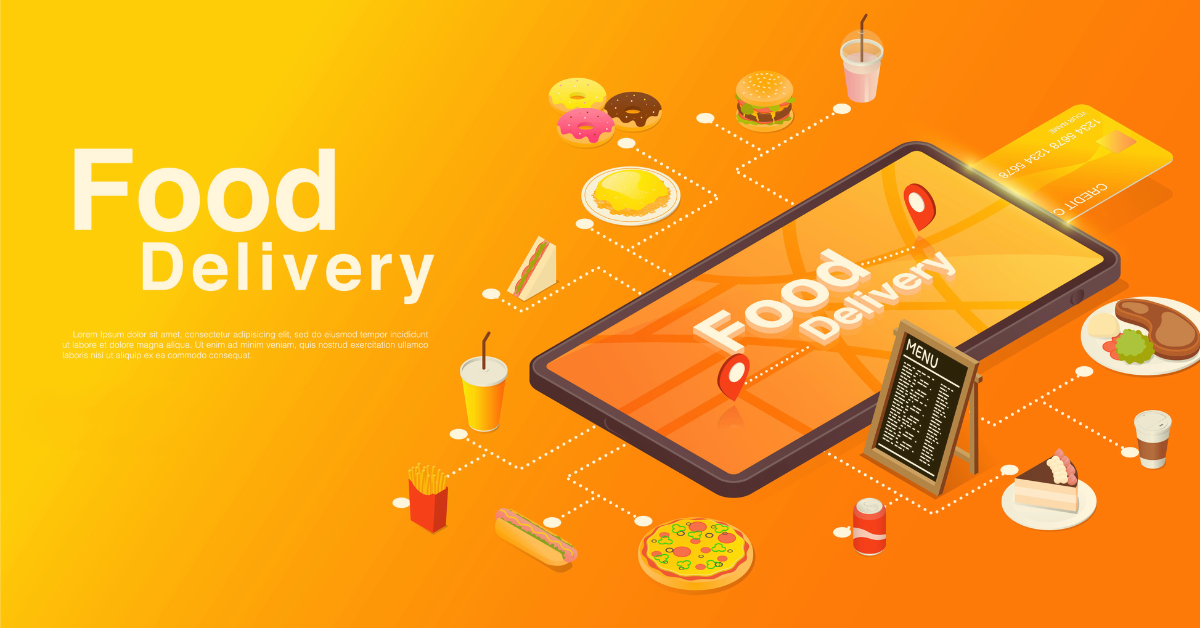 Quick Summary: Want to grow your food business quickly? Integrating food delivery software to automate the process and enhance work productivity is the best way to improve operations. With this blog, learn how to streamline food delivery with robust delivery management software.
The food delivery market is projected to grow in the coming years. The demand for food will be higher as technology has helped customers get their food faster. With such rising demand, how will you ensure that you stay competitive, bring new customers, and keep them coming back to you?
The answer to this is streamlining your business with food delivery software. A food delivery management software acts as a centralized platform for managing several parts of the food delivery process. It can simultaneously handle order management, inventory management, team coordination, and payment processing. Businesses in the food industry have started to use it to optimize their delivery operations, boost work productivity, and provide a better customer experience.
Food delivery software is a valuable tool for businesses looking to save time and money. It automates various operations, reduces manual errors, and improves the overall efficiency of the delivery process. With this software, restaurants, cafes, hotels, and other eatery outlets can easily manage their operations from one place.
By integrating state-of-the-art food delivery app development into your business strategy, you can streamline your operations and gain a competitive edge in the market. This software optimizes efficiency across the entire delivery process, ensuring that your business runs smoothly.
Is There A Demand for Food Delivery Software?
Yes, the demand for food delivery software applications is on the rise. The demand has increased the need for efficient and reliable online food delivery software that provides reliable results. With the boost of the food delivery industry, enterprises are now under pressure to keep up with customer demands and provide a seamless experience.
The revenue in the online food delivery industry is projected to deliver a yearly growth rate of 12.33% and reach a market volume of USD 1.45 trillion by 2027. Further, the number of users is expected to increase to 2.64 billion by 2027.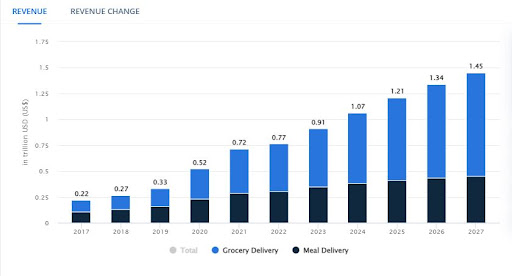 There are various factors why the demand for food delivery software is increasing:
Customer convenience:

Customers are increasingly looking for easy ways to order food, such as from their cell phones or laptops. Thanks to food delivery software, consumers can now get food from their favorite restaurants without leaving their houses.

Real-time tracking of food:

Customers want to track the status of their food orders from start to end. It has been possible due to food delivery software as it tracks orders in real-time, allowing clients to follow their food from when it is cooked to when it reaches their door.

Order management:

Order management software streamlines the entire order management process, from accepting orders to assigning drivers and tracking deliveries. It minimizes manual errors while saving time for restaurant employees and delivery drivers.

Cost saving:

Food delivery software allows restaurants to maximize their delivery routes, reducing the time and distance that drivers travel. It saves money for both the establishment and the customer.

Increased business revenue:

Food delivery software can assist restaurants in expanding their client base and reaching new customers who would not otherwise visit the restaurant. It can further result in higher revenue and growth for the company.

Why Should Businesses Adopt Food Delivery Management Software?
The ever-rising demand for online food delivery services is the first reason you must invest in food delivery management software. With the help of the software, your restaurant can attract a wider audience and even those who may be unable to come to your eatery due to long distances. Other causes why you need to invest in food delivery service software include:
1. Streamline your Business's Operations
Food delivery management software can help food companies to simplify their operations by automating duties like order management, dispatching, and delivery tracking, among others. It can also help save time and eliminate errors. All these will ensure that a restaurant or café is able to streamline its operations for better productivity. 
2. Enhance Work Efficiency
Food delivery software assists businesses in increasing their productivity and minimizes delivery times by automating processes and offering real-time tracking and updates. It will boost client satisfaction and lead to repeat business. When the majority of the tasks are automated, the work efficiency will automatically be higher.
3. Optimize Delivery Routes
Online food delivery software can assist food companies in optimizing delivery routes, lowering fuel costs and increasing overall efficiency. In the long run, it can help firms save money. In addition, with the integration of third-party channels like GPS tracking, you can ensure that the orders are always delivered to the right location. 
4. Improved Inventory Management 
How do you efficiently keep track of your business inventory? Food delivery software can assist in keeping track of and managing inventories with greater accuracy. As a result, it will further help reduce waste and increase profitability.
5. Enhanced Communication 
Maintaining smooth communications among several teams can be challenging. With on-demand food delivery software, teams can coordinate better, including the kitchen, delivery drivers, and customer support. Further, it will reduce errors and boost customer satisfaction.
6. Provide Real-time Tracking
Customers love to get quick and real-time updates on their orders. Online food delivery software can provide real-time tracking. Updates on order status and delivery times. Further, it will help customers feel more informed and satisfied as they get access to every-minute updates.
7. Stay Competitive
Businesses must employ technology and techniques to stay ahead of the competition as the food delivery market gets more cutthroat. Restaurants may stay competitive and satisfy the growing demand from customers for quick and effective food delivery services by making an investment in food delivery management software.
Food Delivery Business With and Without Online Food Delivery Software
Whatever food delivery business you may own-a restaurant, café, hotel, or any other eatery place, growing with the latest technology is crucial. And the newest trend in the food industry is connecting your brand and its services with order management software. Many entrepreneurs have already adapted it and are taking full advantage of the software. 
Here is a comparison of how your food outlet will be with and without the restaurant food delivery service software.
| | | |
| --- | --- | --- |
| Feature  | Restaurants without food delivery management software | Restaurants with food delivery management software |
| Order  | Orders are managed manually, which can be time-consuming and prone to errors. | An automated order management system that tracks orders, assigns drivers, and updates customers in real-time. |
| Delivery management  | Delivery is managed by staff or third-party delivery providers, which can lead to delays, missed deliveries, and poor customer experience. | Automated delivery management system that optimizes routes, assigns drivers based on availability, and provides real-time updates to customers. |
| Inventory management  | Inventory is managed manually, which can lead to stockouts or overstocking, causing wastage or lost sales. | Automated inventory management system that tracks inventory levels, alerts staff when supplies are low, and helps reduce food wastage. |
| Analytics and reporting  | No real-time analytics or reporting, which makes it difficult to track performance, identify areas of improvement, and make data-driven decisions. | Advanced analytics and reporting that provide insights into sales, customer behavior, delivery performance, and more, enabling informed decision-making and continuous improvement. |
| Customer experience  | Customers have to place orders by phone or in person, leading to wait times and lower customer satisfaction longer. | Online ordering platform that is convenient, easy to use, and provides real-time updates on order status and delivery. |
| Cost and time savings  | Manual processes can be time-consuming and labor-intensive, leading to increased costs and reduced productivity. | Automation can help save time and reduce labor costs, resulting in improved efficiency and profitability. |
| Scalability  | Limited ability to scale operations due to manual processes and lack of technology. | Ability to scale operations rapidly and efficiently due to automation and advanced technology. |
The table above clearly proves that with effective food delivery scheduling software, your food business can skyrocket its growth once you integrate it into your business. 
Looking to take your food delivery business to the next level? Our custom food delivery app development services can help simplify your operations, improve customer experiences, and give you a competitive edge. Contact us today to turn your vision into an advanced online food delivery platform!
How Uber Eats and GrubHub Benefits From Food Delivery Management Software?
To learn best about on-demand delivery software, we can take a glance at the top players in the food delivery industry. From starting with a small to building a large customer base, brands like Uber Eats and GrubHub have come a long way. 
Let's understand how each of these benefits from the software.
Uber Eats:
Uber Eats began under the parent company Uber and quickly grew to become a significant player in the on-demand food delivery market. What made Uber Eats grow so fast and lead the food market? First, it adopted food delivery management software to streamline the business processes. The company also used software to manage orders, dispatch drivers, and provide real-time tracking and updates to their customers. Additionally, with the help of the software, Uber Eats optimized its delivery routes, reduced delivery times, and improved efficiency.
👉 Must read: Steps to Building an App Like Uber Eats- What You Need To Know
GrubHub:
GrubHub is one of the oldest and most established food delivery services in the food industry. It adopted food delivery software to boost its operations and stay competitive in a crowded market. With the help of food delivery software, the company manages orders, dispatches drivers, and provides real-time tracking and updates to its customers. Also, the software enables GrubHub to optimize delivery routes, reduce delivery times, and improve overall efficiency.
Order management:

With the order management software, these top players ensure that orders are automatically assigned to the drivers based on their location and availability. Further, it ensures that all orders are fulfilled quickly and efficiently by assigning the drivers located near them.

Send notifications to their customers:

From reminding their users about the latest deals to providing notifications about the food status, both Uber Eats and GrubHub provide crucial information to users through push notifications. 

Restaurant management:

The software also enables these companies to help restaurants and other eatery places to manage orders and inventory. It allows restaurants to easily track sales, manage inventory, and fulfill orders efficiently. 

Driver tracking:

With food delivery route management software, companies can monitor the location of their delivery guys in real time. Further, it allows optimizing delivery routes and ensures that all orders are delivered on time.  
Build a Food Delivery Management Software with No Code Solutions
Want to build robust food delivery software? Not to worry. Our solutions at ValueAppz will help you build food delivery system that brings out the best results for your business and enhances productivity. We are a combination of:
Talented and experienced teams

Latest technology

Right industry skills
We have helped several clients across the world to build software that helps them boost their food delivery services, engage customers, and earn better returns on their investments. Contact one of our professionals and get online food delivery software dedicated to your business.
Frequently Asked Questions:
Q1. What is Food Delivery Management Software?
Food delivery management software automates delivery management processes and ensures that all orders are delivered in the shortest time. In addition, the software enables businesses to automate all the processes for better work productivity.
Q2. How to Make Food Delivery Software?
To build food delivery software, research and analyze your business niche. Next, choose the business model, monetize the app, choose features and functionalities, and contact a software development team. 
Q3. What are the Advantages of Using Delivery Management Software?
With delivery management software, your business can automate several tasks, improve team coordination, and efficiently meet all the delivery deadlines. Further, the software also allows us to gain essential business insights for improvement.
Q4. How can I Improve My Food Delivery Business?
To enhance your food delivery business, the first thing to do is integrate food delivery software for better work productivity. From automating tasks to enhancing work efficiency and improving food deliveries, the software can help in several ways. 
Q5. How Does Food Delivery Management Software Work?
Food delivery software works by integrating with a restaurant, cafe, hotel, and other food outlet's POS software and delivery tracking software. It then uses this data to automate several tasks like assigning orders to delivery guys and sending real-time push notifications to the users.

THE AUTHOR
Shailza
I am a passionate Digital Marketer and writer whose biggest obsession is to explore the latest marketing technologies and growth hacks for helping businesses! I love to write about different marketing strategies!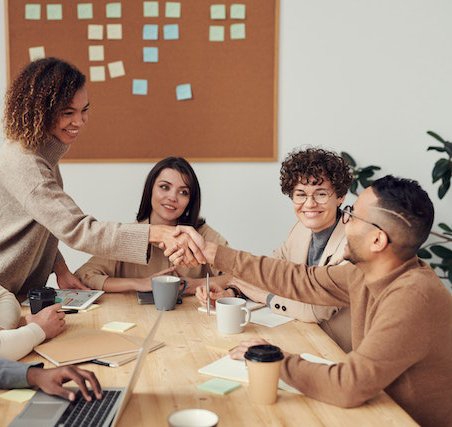 Get ready to digitally transform your business.
Let our team help take your business to the next level. Contact us today to get started on finding the perfect solutions for your business needs.