From Food Halls to Ghost Kitchens, Collaboration is on the Menu for Grocers & Restaurants
December 24, 2019
Harjyot kaur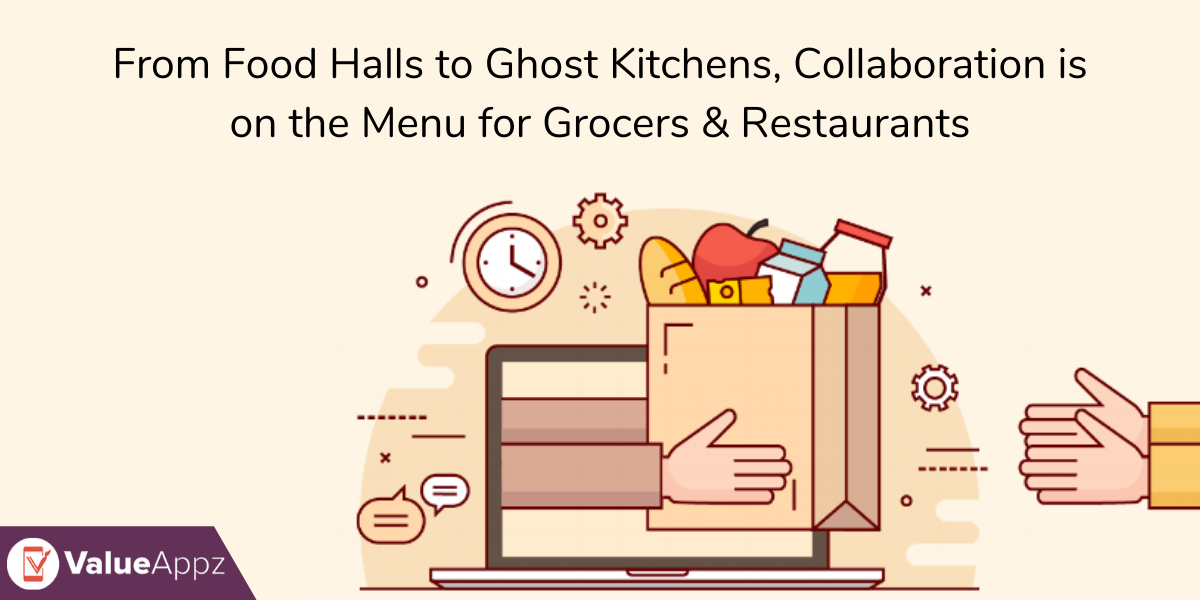 The transformation of the restaurant industry in this digital age is simply astonishing. Nowadays, most of the restaurants have either a dedicated online food ordering app or associated with any food delivery portal.
For a very long time, there has been continuous competition between the grocers and restaurants for the customers on both physical and digital platforms. However, recently, some grocers and restaurants started collaborating while keeping their differences aside.
Amazingly, the results of such collaborations seem to be equally profitable for both grocers and restaurants. And yes, this has unlocked a whole new set of opportunities for both the restaurant businesses and grocery stores.
Let's Take a Look at Some of the Benefits: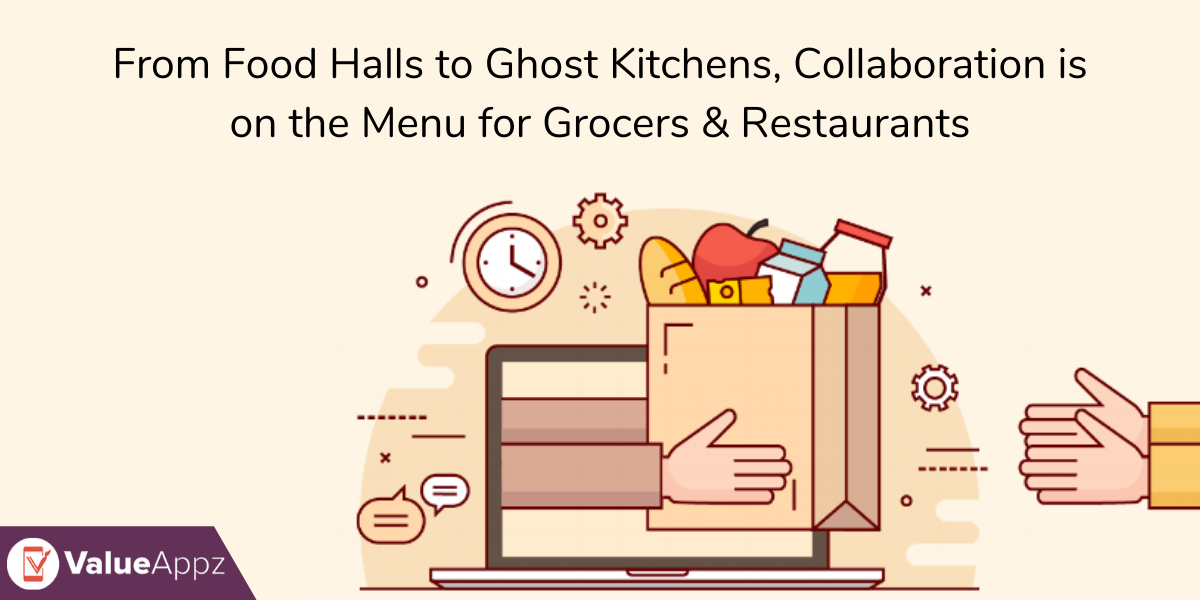 1. Greater Visibility
With cross-promotion, both the retailer and the restaurant can create a winning association and enjoy more productive marketing efforts. By collaborating either on a specific range of consumer food items or a campaign/event, both of them can share mutual benefits.
This increased visibility includes the media, news, and influencers. Before the launch of the collaboration, it is highly advisable to integrate the press and media approach. 
2. Increased Sales
If you will implement the product launch, event, or brand campaign properly, the sales of both parties can increase significantly and will result in more profits.
3. Better Impact
With both the grocer/retailer and restaurant uniting, you can boost the brand power. And the exposure of each brand augments to a whole new level.
So, in a nutshell, the collaboration is a powerful marketing strategy. It means to enhance visibility, draw more sales, and bring more impact. The next time a restaurant owner or a grocer wants to gain a new customer base and expand their sales, they can easily think of having a collaboration.
It is also a great option to have a collaborative on-demand marketplace app. 
4. Offline Meets Online
Retailing in the restaurant is the next big thing that helps them to expand their offline customer base. This not only strengthens the customer base but also gives restaurants entry to newer markets. Collaborations between retailers/grocers and restaurants are also common during the festive season, such as Christmas. 
In-store restaurants is not a new concept for supermarkets. Several retailers have teamed up with a range of foodservice operations, spanning from Subway to the Wolfgang Puck. In the last few months, two international supermarket chains have collaborated with Wahlburgers, an eminent foodservice business.
This concept has bought something new to the hospitality industry, and render a celebrity touch to the stores. 
Get in Touch With Our Team Now.
Yes, the restaurants and grocery retail stores are battling it out to topple one another. But a few companies are going extra miles to find out the new ways to get along. 
Instead of cross-cutting each other's customer base, many grocery stores and restaurants are relying on each other's core strengths. 
Restaurants are offering branded meals to their foodie customers, and similarly, the retailers are also selling the restaurant products in-store. There are plenty of global examples showing creative partnerships. Now the products of Kroger, an online ordering store, products are sold at the Walgreens and Potbelly Sandwich Shop.
So, you don't need rocket science to what new possibilities are opened up when the restaurants and retailers unite.
Few Sayings: 
Anne Mezzenga, co-founder of consulting firm Red Archer Retail and former head of marketing and partnerships for Target's Store of the Future project, in an interview with the Grocery Dive told. "If they can start collaborating more with restaurants, that can really elevate both sides at a local, regional level."
"When partnerships work, they're interrupting normal shopping behaviors for consumers and allowing them to do more things in one place," Mezzenga said. "It saves them a trip and ultimately provides convenience, and that means they're going to want to come back."
One amongst the most prevalent means by which restaurants and grocery stores are strengthening their partnership is by grabbing the mealtime traffic opportunities. Usually, the topmost grocery chains implement this strategy.
In Toledo, Ohio, the two stores of Kroger grocery retail will be offering their customers quick-serve outlets that will be managed by the Hungarian hot dog joint, Tony Packo. The first outlet will be up and running the next month, while the second will be inaugurated in 2020.
"[Kroger] does an exceptionally good job with grocery and deli. But they were less satisfied with their hot food sales," Radel, an executive vice president with Tony Packo's told Grocery Dive. "They wanted folks that specialize in restaurants to come in."
"We're going to be sharing refrigerator and freezer space," he said. "We want to make sure we're not stepping on anyone's toes. And that we can get regular feedback on how we're doing and how things are done."
The retail giant Kroger has applied the same concept to its other international stores. It has partnered with a popular fast-food chain, the Rapid Fired Pizza that prepared pies in less than three minutes, have joined hands to build outposts inside the stores of Kroger across Ohio. 
"But while restaurant operators can take the burden of menu development and execution off grocers' shoulders, managing two separate businesses under one roof can be challenging," said Wade Hanson, a principal with Technomic.
Final Words
In today's digital era, the opportunities are plenty. Either you can build your own food delivery app for the branding of your place by gaining a competitive edge over the market rivals or you can sign up for an online food delivery portal, the decision is yours.
Also, you must think of building a partnership with a local grocery store when you can set up your small outlet with the prospect of expanding your business.
Let's Build Something Awesome Together.
THE AUTHOR
Harjyot kaur
As a technical content writer my focus is on creating high-quality, engaging, and informative content that simplifies complex technical topics. Throughout my career, I have continuously pursued opportunities for growth and development, refining my skills and expanding my knowledge base.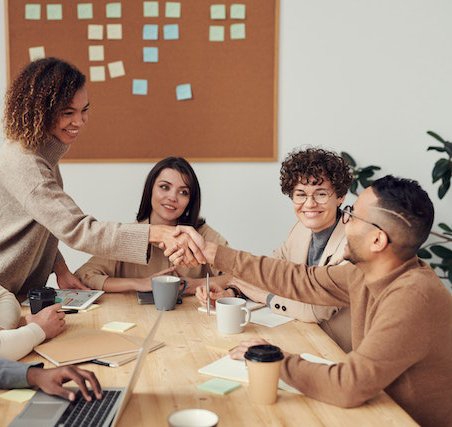 Get ready to digitally transform your business.
Let our team help take your business to the next level. Contact us today to get started on finding the perfect solutions for your business needs.