In recent years, technology has changed the way businesses are carried out. The emergence of the internet has paved new avenues of social media and mobile technology, which in turn has led to the growth of internet marketing accompanied with the use of different kind of apps. Change is inevitable and it is very important for organizations to mold and adapt it in order to be safe from becoming redundant and eventually, fade away. Businesses whether big or small need to have a competitive edge over their competitors and this can be done only when they are open towards embracing technological changes and resorting to advanced measures of mobile technology to enhance growth, productivity and customer base.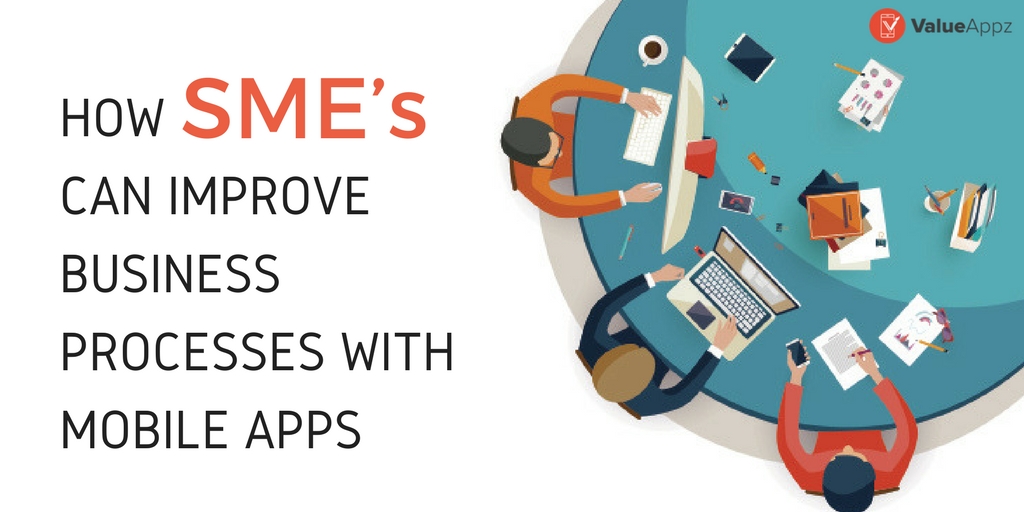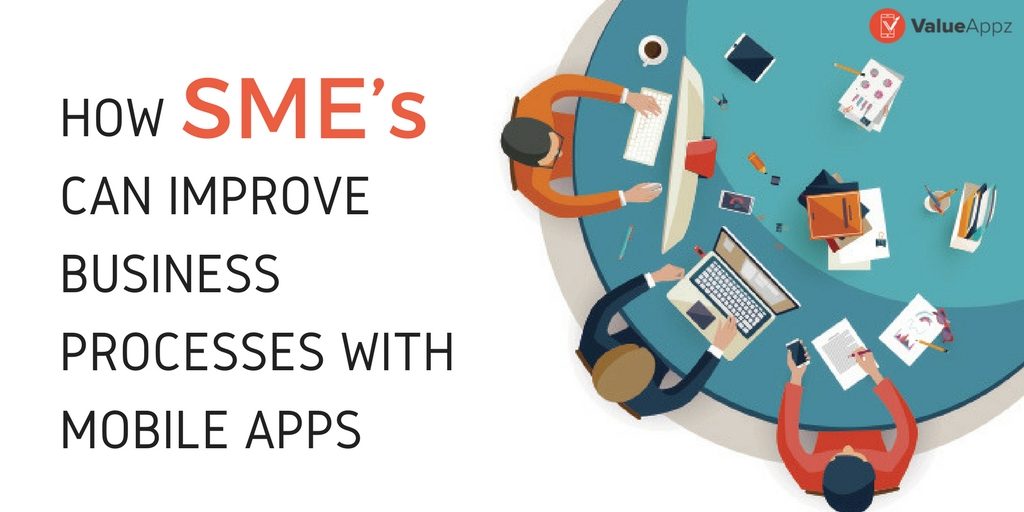 SME's particularly can benefit a lot if they incorporate the use of mobile technology and apps in their businesses as it helps extensively in connecting with customers and marketing the products and services to the target customer. Furthermore, the use of apps also improves the working process instantly. It is often seen that plenty of firms do have their desktop websites but, are inhibitive about getting their apps done. This can outshine these businesses as customers are more inclined towards using handheld devices like smartphones, tablets. A business mobile app increases the online visibility of a brand. In addition, navigating a mobile app is far more convenient than surfing a website. Hence, in order to retain existing customers and attracting potential customers, it is necessary to resort to the use of mobile apps. Mobile apps have also contributed in reducing cost with less paperwork, data maintenance, and manual work.
Let's have an extended look at how apps can enhance the productivity and work towards streamlining processes of SMEs.
Effective interaction with customers: As technology has transformed the whole business procedure, the communication between a firm and its customers has also changed drastically. In the age of instant technology, customers expect instant services and look towards getting instant solution for their issues and concerns. In this context, mobile apps can work towards improving customer service processes. Mobile helpSME's in engaging its customers with real conversations in real time. Furthermore, they also helpto keep a track of all the customers' requests and interactions and control it accordingly. In addition, business mobile apps also help firms in getting deep insights and in acquiring client's information in real time.
Enhanced process of payment: SME's are often subjected towards the concern regarding the cash flow. However, with their own mobile apps for in-app purchase, etc. available, small businesses can work towards improving the process of payments through apps which providethem with a uniform view of the finances incorporated in firms. Furthermore, apps reduce the manual work by instantly extracting data from the firm's receipt and invoices, also giving a detailed view of the pending payments and dues. They help record billable hours, manage finances in one place and make the payment process easier. It won't be wrong to say that mobile apps take away all the chaos regarding balancing books and payments from SME's and let them completely concentrate in exploring and enhancing their business.
The increase in productivity: The right kind of mobile app for your business can help you excel and pave new avenues of success – it also can extend to optimize internal processes by features like sharing files with teammates, document reviews, chats, statuses, reports, etc.Some features, if implemented also assist in prioritizing and managing tasks to be done in a day. Furthermore, few tools help in acquiring client's signature online and submitting expenditures instantly. Mobile apps avoid unnecessary wastage of time and increase the productivity and efficiency of the workforce.
Helps in cloud storage and connections: Cloud-based apps help organizations in getting their work done from any location and at any point of time. Employee empowering apps have features that allow employees to save company files and send the needed information to clients instantly. In addition, VPN apps allow employees to connect with the office networks through their Smartphone or tablet. They also allow syncing important files in mobile, tablet and desktop and let employees work on the current version of the document.
Marketing with cost effectiveness: Apps can serve as cost-effective marketing tools. Apps allow businesses to acquire quick access to all the channels of social media accompanied with analytics to garner traffic and followers. Also, you get to know customer journey and behaviors, you understand customer preferences and purchase or cart history in case of a shopping cart enabled the app. You can send personalized messages and push notifications – so you connect more with the customer and the customer also engages more with your brand. So you save a lot of hassle and cost of marketing through a powerful mobile app.
Deep business view: With a lot happening around the app, a lot of processes linked to the app – it becomes like a pivot of your business. An app if developed smartly also helps in better decision making – it provides a deep analytical view of various business activities like high-performing products or services, more demanding seasons, under-performing products or services, customer interactions and touch points, and a lot more.
Mobile apps are here to stay and SME's with a vision and mission of reaching new heights of success should understand the importance of apps.So that, they can explore new dimensions of success and implement them not just to have a great competitive edge, but also to streamline various processes and save a lot of costs. If you wish to know how the cost of mobile app development is way less than its benefits or how the benefits outshine the mobile app development costs – click here.
For any further questions that you might have or to solve any business challenge through a mobile app, we can quickly catch up for a free consultation call that we are providing for businesses like yours. Just drop us a line at info@valueappz.com or click here to contact us.