How to Create a Restaurant App: An Essential Guide for Business Owners
October 7, 2023
Mohit Yadav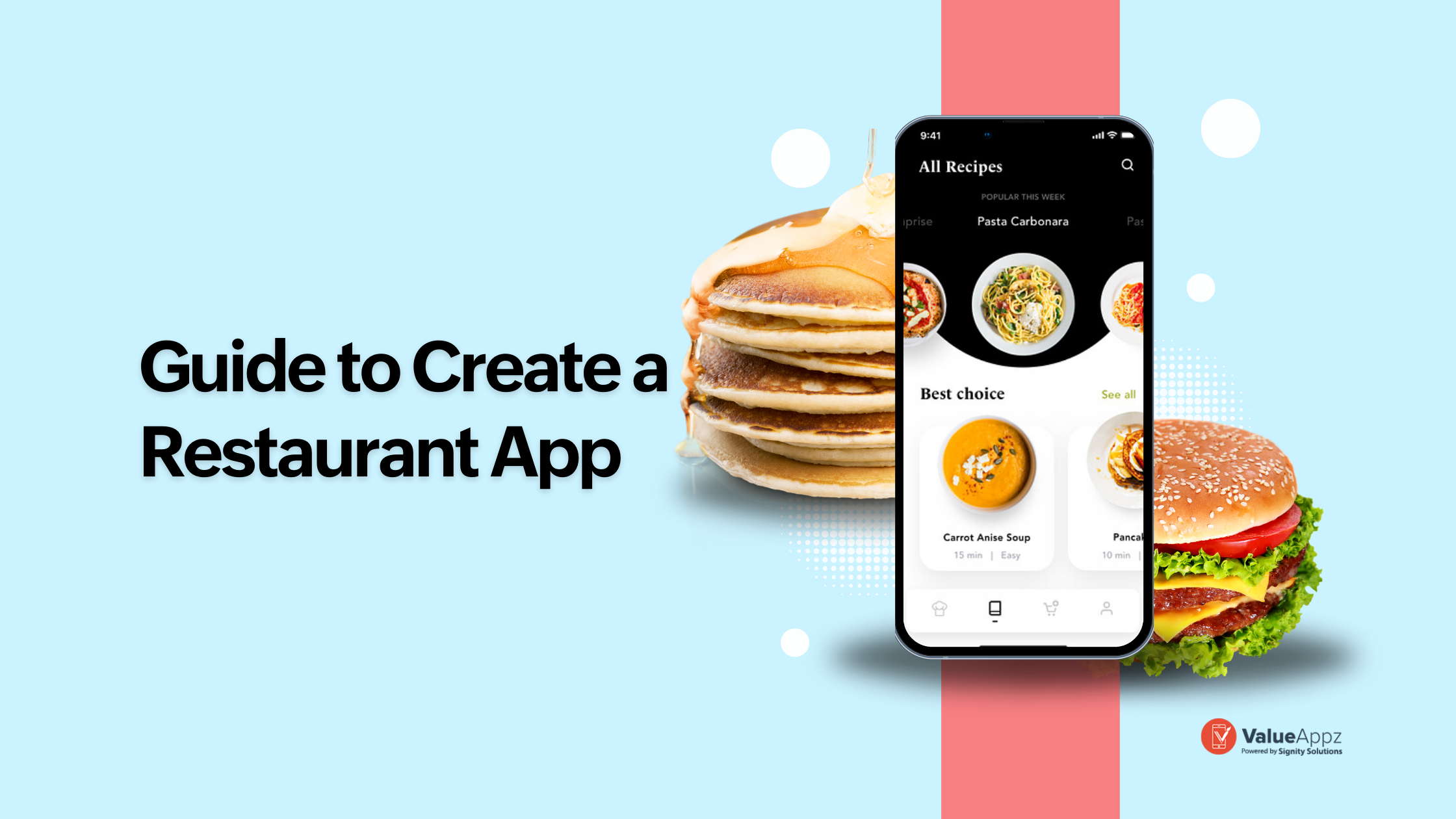 Quick Summary: Restaurant apps are more than just food ordering. From booking tables to sharing reviews and so on, these have a lot to provide. Further, it has become crucial for restaurants to invest in an app to attract and engage the target audience. Discover in detail the types of restaurant apps and how to create a restaurant app.
The on-demand food delivery app industry is growing rapidly, and restaurants are quickly registering their services on platforms like Uber Eats, Zomato, and Grubhub. 
But is it a good idea? While these apps can help restaurants reach a wider audience, there is a downside to relying solely on third-party delivery apps. Your competitors are registered with them, which means they could potentially steal your customers with better deals and marketing strategies. 
Domino's mobile app has 7.9 million active customers who place their pizza orders directly from the platform. Having their own branded app allows them to retain their customers without worrying about their competitors. 
If you're wondering what type of restaurant app to invest in and how to build it, you've come to the right place. This blog will help you answer all your questions and clear up any confusion about restaurant management apps.
Why Should Restaurant Owners Invest in a Restaurant App?
As discussed above, restaurant owners must adapt to the latest changes and trends. For every entrepreneur, their primary aim is to boost sales and bring in new and more customers. So is the target of the restaurants.
Rather than collaborating with third-party apps, you can build a personalized restaurant app and connect with your audience online. According to the reports, about 52% of US diners trust a restaurant's branded app or website more than third-party food apps.
Another report stated that about 92% of top restaurants offered mobile order-ahead and loyalty rewards programs or a combination of both. 
The numbers also prove that there was a 54% increase in direct online order volume, year over year. Hence, investing in a restaurant app can give your business the boost it needs. But what type of app should you choose for your restaurant? Check out the section below.
Choose the Right Restaurant App Model
So, do you want to enter the online food industry and take your restaurant success to another level? But did you know there isn't only one type of restaurant app but many? Before you plan to invest, you must look at the following types of restaurant apps to decide the perfect idea for your business.
1. Food Delivery App
The first most popular type is the food delivery app. With this application, you can allow your users to place their order through an online platform from your restaurant and get it delivered to their doorstep within a few minutes. Many restaurants like Domino's and Mcdonald's have their own food delivery app and are doing so well in the market, making them one of the most popular online services.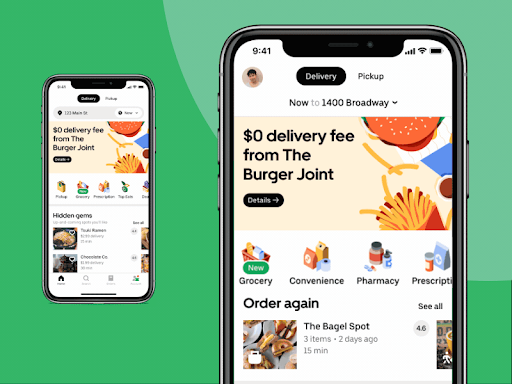 Source: Pinterest
Features to add to the food delivery app
User registration and profile management

Menu browsing and item selection

Customization option for food orders

Payment integration

Order tracking and delivery status

Push notifications

Multi-platform compatibility

Social media integration

Cart management

User reviews and ratings
2. Restaurant Booking App
This app allows customers to skip long waiting lines at restaurants. Restaurant booking apps allow them to pre-book their table and seat and ensure that no one occupies it even when they are late. Some of the excellent examples include OpenTable and Resy.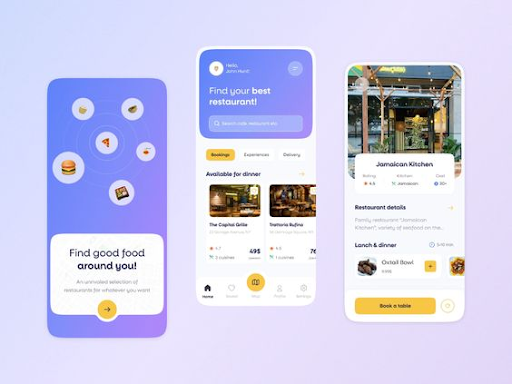 Source: Pinterest
Features to add to the restaurant booking app
User registration and login

Restaurant search and filter options

Table availability and reservation

Restaurant profile and details

Booking confirmation and reminders

Reviews and ratings

In-app messaging or chat support

Payment integration

User profile management

Push notifications for updates and promotions
3. Restaurant Menu App
A restaurant menu app gives customers instant access to the menu through a QR code. Further, restaurants can add dish photos and food descriptions and give some recommendations. With AI technology, you can also get valuable insights to learn about your customers and their food preferences.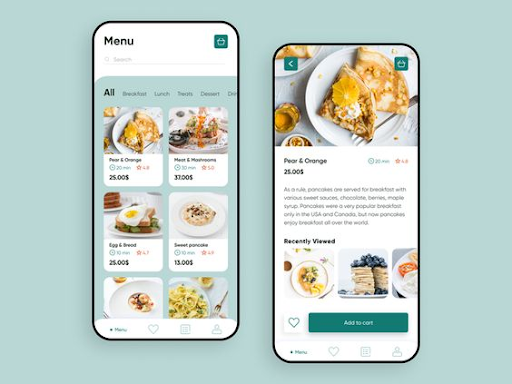 Source: Pinterest
Features to add to the restaurant booking app
Menu browsing and item descriptions

Customization options for dishes

Online ordering and payment integration

Delivery and pickup options

Table reservation and booking

User reviews and ratings

Loyalty programs and rewards

Push notifications for updates and promotions

Multi-platform compatibility (iOS and Android)

Contact and support information
4. Loyalty Programs and Rewards App
No restaurant wants to lose their loyal and repeat customers in search of new. Hence, loyalty programs and rewards apps are the best solution. Through this app, you can provide information about specific discounts and offers. It will save customers' time and engage them more in your restaurant and its services. One great example of this is Starbucks.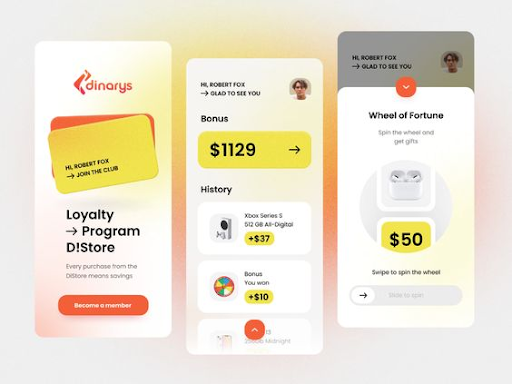 Source: Pinterest
Features to add in loyalty programs and rewards app
Loyalty point accumulation

Rewards redemption

User profile management

Personalized offers and promotions

Referral program

Tiered loyalty levels

Push notifications

Transaction history tracking

Social media integration

Gamification elements
5. Review App
Positive reviews and feedback are essential for restaurants' growth. Creating a separate app and allowing customers to leave their feedback on it is a great idea to boost growth. Platforms like Yelp and TripAdvisor let users share their ratings openly, enhancing their word-of-mouth marketing.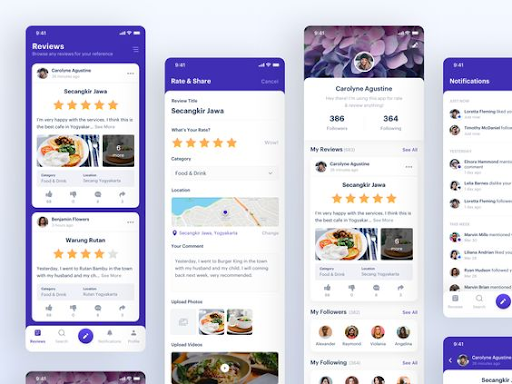 Source: Pinterest
Features to add to the review app
User registration and login

Search and filter options

Submitting reviews and ratings

Review of moderation and management

User profiles and activity history

Integration with social media platforms

Notifications and alerts

Commenting and liking reviews

Sorting and categorizing reviews

Flagging and reporting inappropriate content
6. Cooking and Recipe App
Everyone wants to know the secrets behind restaurants' tasty food. Many brands like Starbucks, Red Lobster, and Olive Garden have cooking and recipe apps for their customers. Creating this app will help you engage your customers better, enhancing their interest in your restaurant.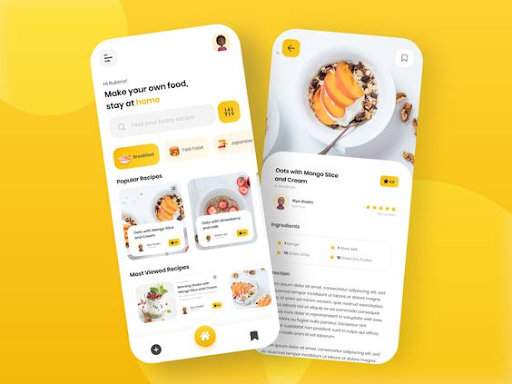 Source: Pinterest
Features to add to cooking and recipe app
Recipe browsing and search

Recipe details and instructions

Cooking timers

Ingredient lists and measurements

Favorite/save recipes

Meal planning and scheduling

Shopping list integration

Dietary filters and restrictions

Social sharing and user profiles

Video tutorials or step-by-step guides
Steps to Launch a Restaurant App
As a restaurant owner, you may be excited to take your services and food online through an online platform, but how do you create a restaurant app? Here are 8 steps to build and launch your restaurant app on a budget that fits your needs.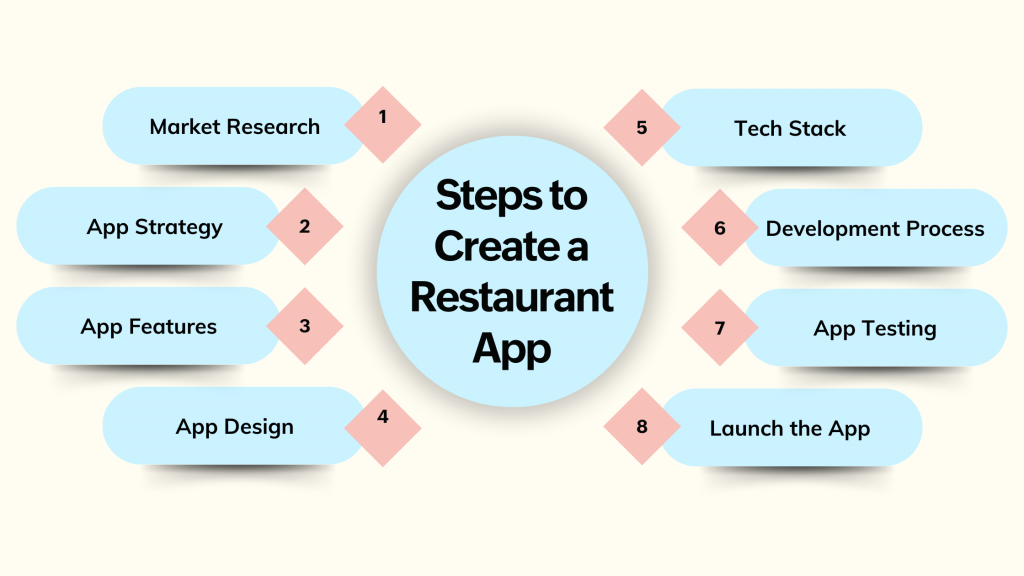 1. Conduct Market Research
The first step towards building a restaurant app is thorough research. It includes analyzing market competitors and the latest food trends. Your research should also cover defining the target audience for the food delivery app. Consider your app's unique values and how it will stand out in the market.
Further, conducting market research will also enable you to identify the needs and preferences of your potential customers. Deep analysis can also help you with the next steps that involve design and development.
2. Develop App Strategy
The second step is to build the app strategy. It should cover your aim for the following years and the goals that you want to achieve through this app. Your app strategy should also outline how this food delivery app will help attract customers to your restaurant.
As mentioned in the sections above, there are various types of restaurant apps, so you have to decide what you want to build. For this, you can look at multiple apps to understand how they work and if they are what you want to develop for your restaurant's growth. Once you decide that, the following steps get easier.
3. Define the App Features
Once you are clear with the app strategy, it's time to decide on the features and functionalities. These play a crucial role in making the app a success. Features like search and filter, food categories, real-time order tracking, etc., make the app even more engaging and valuable. So, do not forget to add all the necessary features while building the food delivery app.
Whatever type of restaurant app you plan to build, adding basic features like social sharing, customer reviews, personalized recommendations, etc. are essential for its success. It is also important to assess each feature's feasibility and technical requirements to guarantee that it aligns with your overall goals.
4. Design the App
Design is another critical element for the app's success. The design should be simple yet engaging. It should allow your users to navigate quickly through the app and place their orders. Use colors that represent your brand voice and tone. You may look at the top food delivery apps to get inspiration. 
Furthermore, prioritize a user-centered design approach to make sure that the app's interface is visually appealing and intuitive. To optimize user flow, you should also acknowledge key elements like menus, search bars, and CTAs. Incorporate attractive food images and smooth animation to improve the user experience.
5. Choose a Tech Stack
The next step is to choose the right technology for the app development. Select the platforms on which you want to launch your app and pick the technology accordingly. For example, you may choose programming languages such as Kotlin or Java, frameworks like Android SDK, etc.
While selecting the technology, consider important factors like scalability, performance, and security. You must consult with tech experts to choose the best technology that aligns with your app's goals and budget.
6. Development Process
The sixth step is to build the app. You can hire a food delivery app development company with years of experience, skills, knowledge, and a proven track record. Before finalizing the team, research properly and ask for references from your business partners and friends. Make sure that the budget stated by the company fits your business needs.
Build a clear development roadmap and define milestones and deliverables for a smooth and efficient development process. It is vital to regularly communicate and collaborate with the development team to address any challenges and updates during the development process.
7. Test Your App
Before you take your app, live, testing the app to guarantee that each feature and functionality works as planned is essential. You may test the app with a small group of users and collect their feedback. The development company will then work with you to enhance the app per the suggestions.
Conducting thorough testing will ensure your restaurant app is compatible with various devices, operating systems, and screen sizes. It will also help identify performance issues like slow loading time or crashes that must be addressed before the app launch.
8. Launch the App
Finally, it is time to launch your food delivery app. To attract customers and spread awareness, create robust marketing strategies pre- and post-launch. The development team will help you take your app live on the Play Store and App Store.
During the testing phase, continuously monitor user feedback and reviews to make better decisions. It should also be followed after the app launch for regular restaurant app updates. With a well-executed launch plan, your app will have the potential to pull in a loyal customer base.
And that is how you can build your restaurant app in simple and easy steps.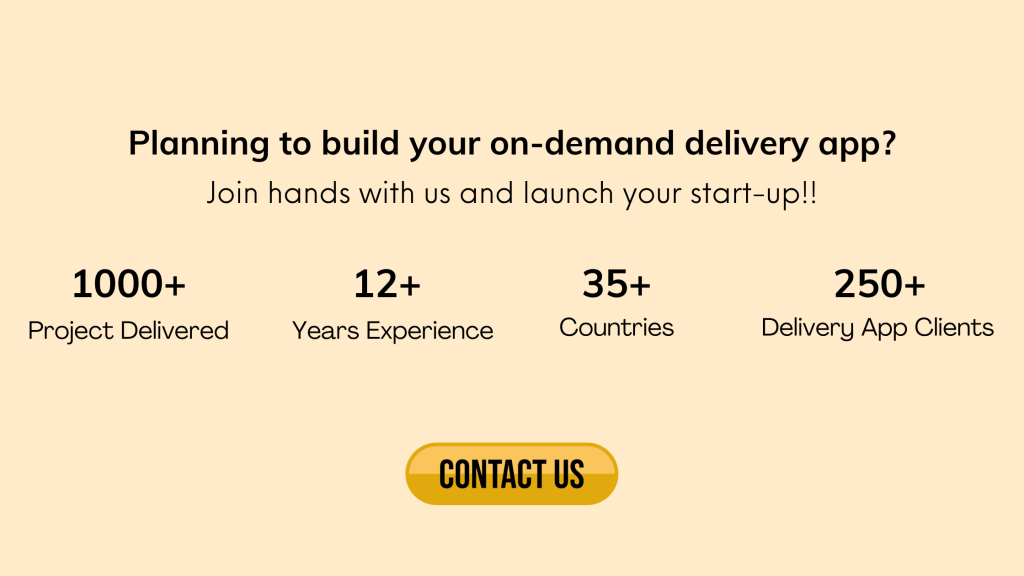 Build Your Restaurant App with ValueAppz
Now that you are clear about the type of restaurant app, its features, and its design, you need a team of professionals for its development. ValueAppz is a leading on demand delivery app development company with over 12 years of experience.
We have helped thousands of global clients build robust and scalable apps on a budget. Working with us will ensure quality, timely delivery, and cost-effective solutions. From planning the roadmap to designing, developing, and post-launch assistance, you get everything with ValueAppz.
Contact us now to build your restaurant app.
Key Takeaways
Online ordering, reservations, menu browsing, ratings, and feedback are just a few of the convenient features of restaurant apps. They improve customer service and increase sales.
Rather than relying entirely on third-party delivery services, restaurant businesses could benefit by investing in a branded app. Customer trust in restaurant-owned applications is frequently higher.
There are many kinds of restaurant apps to consider, including food delivery applications, restaurant booking apps, restaurant menu apps, loyalty and rewards apps, review apps, and cooking and recipe apps.
The following processes should be followed to develop a restaurant app: performing market research, defining the app's features, designing it, selecting the best technology stack, developing, testing, and releasing it using efficient marketing strategies.
User registration, menu browsing, customization options, payment integration, order tracking, reviews and ratings, loyalty programs, and more are necessary elements for a restaurant app.
Frequently Asked Questions
Q1. How do I start a restaurant app?
Steps to build a restaurant app include:
Idea and concept development

Market research

Define the app features

Choose a tech stack

Design the User Interface

Develop the app

Test and launch the app
Q2. How much does it cost to make an app for restaurants?
The cost to build an app for a restaurant can cost between $15,000 to $60,000. This cost can further vary based on the number of features, design, app complexity, platforms, and many more factors.
Q3. How do restaurant apps work?
Restaurant apps work by allowing customers to browse menus, place orders, make reservations, and make payments through the app. Many restaurant apps also enable users to book a table, look at the menu, and check the recipes.
Q4. How long does it take to build a restaurant app?
The total time needed to build a restaurant app depends on the complexity of features, design requirements, and availability of resources. On average, the entire development process can take between 4 to 9 months.
Q5. How do I promote my restaurant app?
Use digital marketing strategies like social media ads, target online campaigns, and influencer partnerships to promote your restaurant app effectively. You can also connect with the existing customer base through email marketing.
THE AUTHOR
Mohit Yadav
As an expert in Digital Marketing, I always look forward to keeping up with the latest trends and customers' changing demands. Hence, I focus on content that updates the readers in-depth about the industry.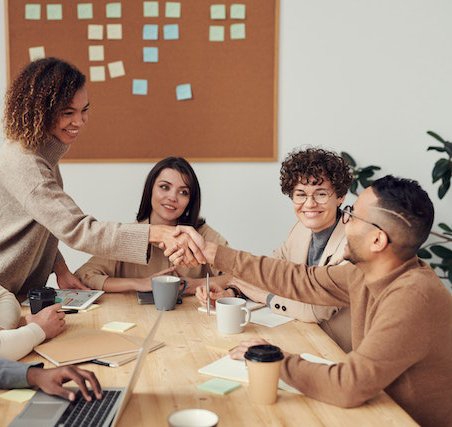 Get ready to digitally transform your business.
Let our team help take your business to the next level. Contact us today to get started on finding the perfect solutions for your business needs.