According to the Pew Research Internet Project, it is believed that by the end of the year 2020, mobile apps will become a dominant factor in the lives of people and World Wide Web will not be considered as useful as it was in the past. It won't be wrong to say that we live in a world full of apps with the web being just a part of it. With people spending 90% of their time on app usage, the competition between businesses opting for mobile apps has intensified. Users have a lot of choices so engaging and retaining them with your app is a tough task. In fact, a study revealed that more than 20% of apps are abandoned by users' right after its first usage.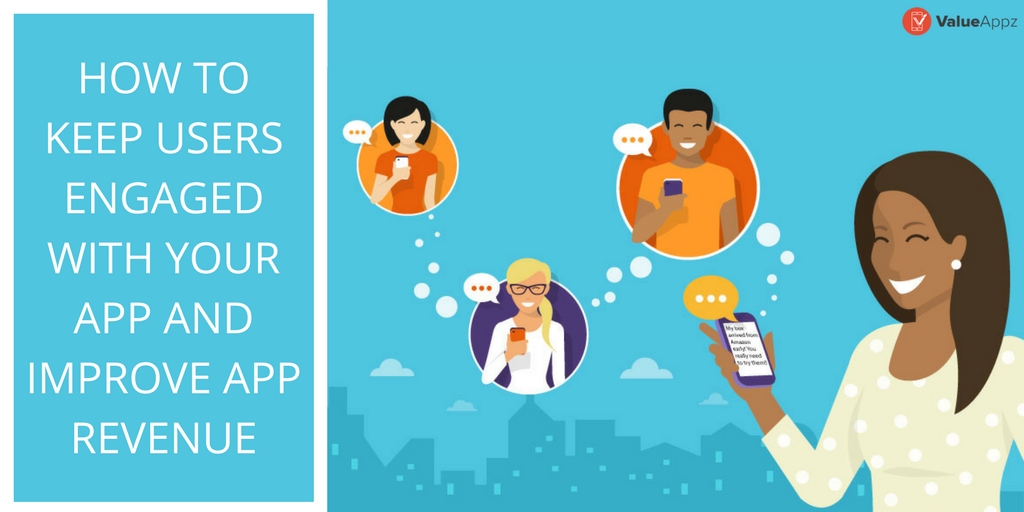 With an average Smartphone user having around 50 apps in his/her Smartphone, making your app stand out in the crowd is not easy. However, it's not impossible too. With effective strategies, you cannot only engage your users but, also boost their customer loyalty, retention tendency, enhance your sale and earn ample revenue. Wondering how would you do that? Don't worry. We have your back. Let's get you updated with a few smart tips and help you with your user engagement and retention.
Provide great first-time user experience: It is important to let your user's first experience with your app be great. With figures showing a majority of apps being used only once, it becomes imperative to make the first experience of user worthwhile. It can be done by giving your users a guided tour of your app where the app can be introduced and its functions can be demonstrated. Furthermore, a simple and insightful app design along with overlay help screens will aid users in getting acquainted with the app and significantly enhance your app engagement.
Make onboarding seamless and easy: It is seen that a plenty of first-time users discard an app if the process of account creation and login is complicated. So, it is critical to optimize the overall process of onboarding and make it seamless for users as easier onboarding process enhances the user lifetime value by around 500%. Giving people the options of logging in through their social media accounts and emails can make the login process easy. Apart from this, letting users browse your app without the compulsion of account creation also instills a sense of ease within the customers and helps in keeping them engaged and earn considerable revenues.
Send smart and tactical push notifications: Push notifications are a great way of engaging and retaining customers. There are times when the users download the app and forget about it. In such situations, you can give them a friendly reminder through push notifications and entice them with new updates, features, events and offers. However, it is critical to be smart and tactical while sending push notifications to your users. Sending unnecessary and irrelevant push notifications can annoy your users and they might even delete the app. So, make sure to engage your customers with push messages which are valuable and meaningful.
Rewards and incentives always work: The fact that the majority of users download the app in lure of acquiring offers and discounts is enough to make you understand the importance of rewards and incentives. It is a sure short to success when it comes to customer engagement. Offers like coupons, access to specialized content, usage based rewards not only satisfy the first time users but, also engage and retain them leading to a huge boost in sales and revenues.
Resort to mobile deep linking: Deep linking allows mobile apps to send its users directly to a particular page or screen when the app is opened for the first time. Instead of wasting their time in navigation, making them land on a page relevant to them enhances the user experience and increases the customer engagement.
Never miss on app updates and user feedback: Missing on app updates can make you lose a substantial amount of your users who might switch off to other similar apps in search of something new and interesting. So, keeping up with app updates by fixing bugs and introducing innovative features is vital for user engagement and retention. Apart from this, allowing your customers to give their valuable feedback and reviews is also a great way of escalating engagement. It lets your customers know that you value their opinion, needs, and preferences.
Incorporating above mentioned tips can certainly work wonders for your app's user engagement and retention. It will also help you have a competitive edge over your competitors along with enhancing your revenue generation.
Want to give your app idea the wings of reality? Why not brainstorm about it in detail? Connect with our dedicated team of experts at ValueAppz and we'll surely help you pave new avenues of success. For any queries feel free to drop a line at info@valueappz.com or click here to get in touch, and we would be happy to help.