How to Succeed In The Food Delivery Business in 2023
December 21, 2022
Saryu Pathania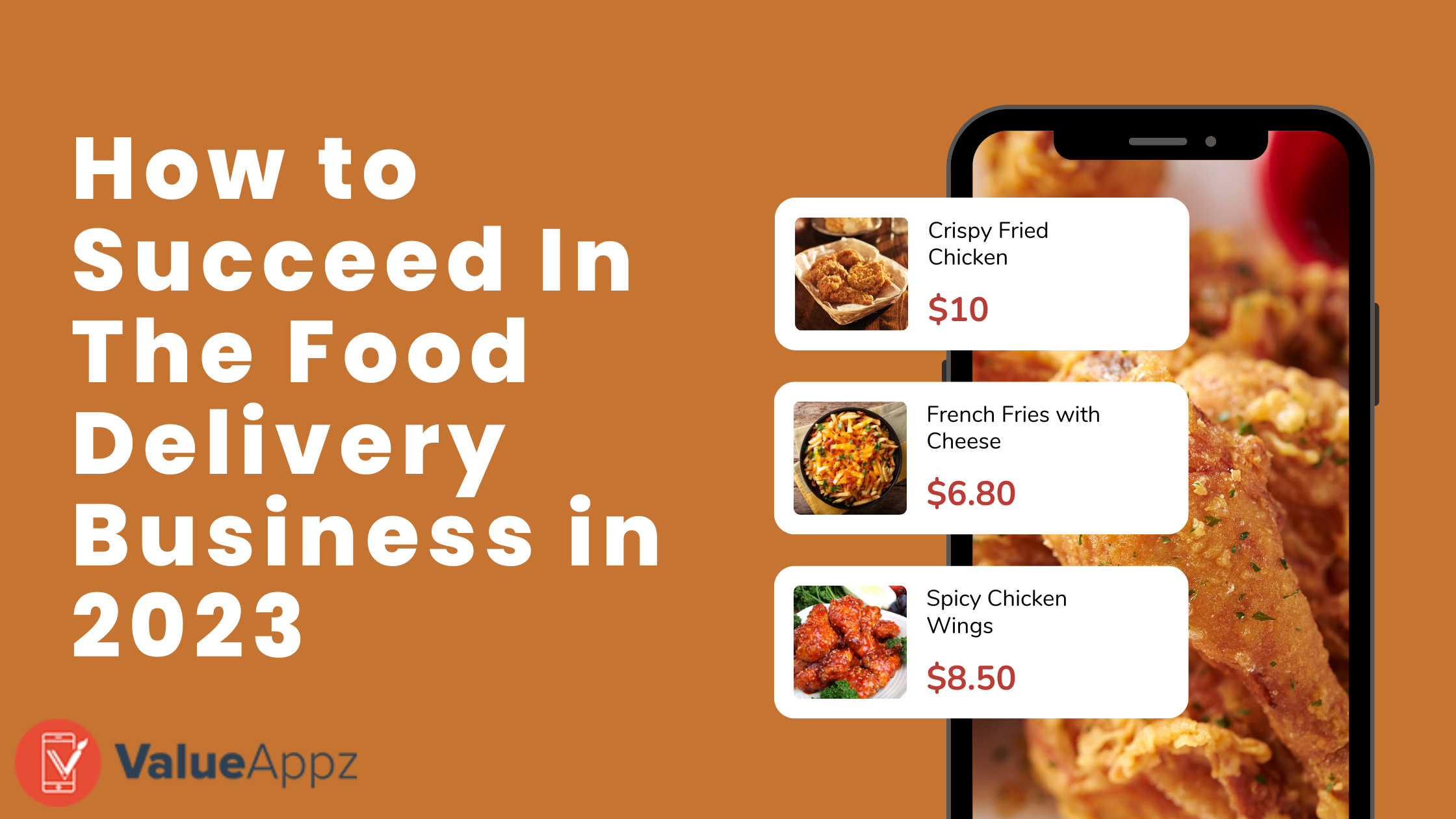 Table of Content
Follow Us
Quick Summary: In 2023, success in the food delivery industry requires embracing technology, prioritizing customer satisfaction, ensuring food safety, diversifying menu options, and adopting sustainable practices. Stay competitive by staying ahead in these key areas.
The pandemic had a significant impact on the world markets. As people shifted to digitally native business in the middle of the lockdown, they discovered the convenience of having things delivered to their doorsteps. And that facilitated an economic shift in the world markets and a mindset shift for the consumers.
The meteoric success of food delivery businesses across the globe was the result of unprecedented support from convenience-driven consumers.
Food delivery businesses have been in the limelight for the past couple of years. The global food delivery market was valued at $80.37 billion in 2020, growing at 6.5% per annum. As of 2022, a whopping 23.7% of the global population started ordering food online.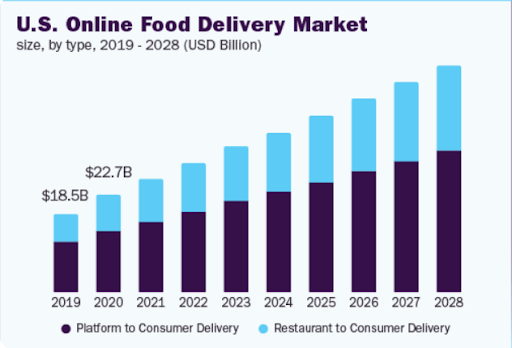 Credits: Grand View Research
Therefore, it's safe to say that food delivery businesses are a lucrative affair, but highly competitive as well. So here we are with a primer on how to succeed in the food delivery business in 2023.
Why Running Your Own Food Delivery Business is a Great Idea!
A food delivery business is a great way to offer convenience to customers by providing a one-stop solution, eliminating the physical effort involved with visiting a restaurant, waiting in long queues, ordering meals, and then staring at the clock until the order arrives before you can drive back home and enjoy your meal. 
Let's take a glance at some interesting statistics:
34% of consumers between 18-24 years of age use online food delivery services that don't offer free delivery.

63% of consumers agree that it is more convenient to get food delivered than to dine out with family.

As of August 2022,

90% of all orders come from digital avenues

for Domino's
If you have a physical restaurant, it's imperative that you consider having a food-delivery app for your restaurant, the first reason for that being the limited capacity of your restaurant. 
You can only serve a limited amount of people due to the capacity limits, but with an online avenue to extend your service, you instantly get access to more people at a limited cost of replication.
Moreover, here are a few statistics reaffirming the notion:
60% of restaurant operators say that offering delivery options has resulted in increased sales.

Digital orders account for 28% of all orders in the US.

Research from Preoday, reveals 70% of consumers say they'd rather order direct, preferring that their money goes straight to the restaurant, not a third party
So in a market that is more amenable to online avenues, a prudent step as a restaurant owner, or a budding entrepreneur, would be an on-demand food delivery app.
➡️ Ready to conquer the food delivery market? Dive into our comprehensive guide to develop a food delivery app for expert insights! Start Building Your Success Today.
Ways to Monetize Your Food Delivery Business
There are three ways you can earn money from your food delivery business if you have your own food delivery app:
  1. Delivery Charges
If you choose an order-only model for your app, you won't be able to garner profits in the form of delivery charges, because delivery is taken care of by the restaurant itself. The app is only used as an interface between the restaurant and for collecting and managing orders. If you go for an order and delivery model, you can add delivery charges to your revenue model.
  2. Commissions 
On average, food delivery apps charge a variable commission from restaurants for being listed on the app. The commission usually varies between 5-15% based on the exposure levels. The commissions go down to 5-10% after the restaurant garners customer interest.
The commission usually depends on factors like order frequency, competition percentage, penetration in a new town, and restaurant location.
  3. Ad Space
Food delivery apps have a lot of white space that acts as a canvas for other brands or restaurants to display ads. Most apps rent ad space to brands and restaurants based on a variable price depending upon where the ad is placed. 
For instance, an ad placed on the home page costs higher than an ad placed inside the cart. 

The Trifecta of Food Delivery Apps
The food delivery business involves a four-way interface between customers, restaurants, an admin panel, and delivery partners. So, it's only natural that a food delivery business has a separate app to serve and manage interactions between each pair. 
You will need three apps to successfully run a food delivery business. One for customers, one for restaurants, and one for delivery partners(if you choose the order and delivery mode for your app).
  1. Customer App
The customer app is the most dynamic app of the bunch that acts as an interface between restaurants and customers. A customer app should offer the following features to the customers:
An easy-to-use interface to browse through restaurants and place an order

Flexible payment options to accommodate all payment avenues (Apple pay, credit/debit cards, Google Pay, and other local payment options)

Menu for every restaurant

A dashboard where customers can track their orders, chat with support, and connect with restaurants and delivery partners
  2. Restaurant App
The restaurant app is the interface between restaurants and delivery partners. It helps restaurants keep track of all orders and assign delivery partners for each order. A restaurant app should offer the following features:
The option to list restaurants on the app and features to edit profiles and item descriptions.

A dashboard to monitor order updates(Delivered orders, orders under processing, or new orders)

An interface to monitor delivery partners' location and assign them new orders
  3. Delivery Partner App
The delivery partner app is the interface between the delivery partners, restaurants, and customers. A delivery partner app should offer the following features:
A central dashboard to monitor nearby orders and accept them based on current location.

A messaging feature to interact with restaurants and customers to keep them updated on the order status

An account repository to showcase delivery partner history.
You can consider adding appealing UI/UX elements from leading food delivery apps like Uber Eats, DoorDash, GrubHub, Zomato, and Takeaway(DOT)com to your app and have the last mover's advantage in your industry.
  4. Admin App
The admin app or the administrative panels is a central dashboard for admins to keep track of total orders, sales, revenue, and commissions collected from operations. An admin app should offer the following features:
A central dashboard to monitor sales, revenues, and commissions

A control panel to customize payment options, and restaurant listings, incorporate third-party logins in the app, add or remove restaurants from the app, and manage other backend integrations.

A primary customer management interface to monitor customer activity and collect user data like email for newsletters.
Tips to Start and Run a Successful Food Delivery Business in 2023
Starting and running a successful food delivery business can be a challenging but rewarding endeavor. Here are a few tips to help you get started:
Have a clear business plan, a clear picture of your target market, and your financial goals.

Decide whether you will deliver food directly to customers or partner with restaurants to offer delivery services.

Partner with local restaurants or food suppliers to provide a variety of options for your customers.

Create a website and social media accounts to promote your business and make it easy for customers to place orders.

Hire good marketers who can provide you with the highest ROI on every dollar you spend on marketing

Remember that the food delivery business is all about convenience, so make sure orders are delivered timely.

Respond promptly to customer inquiries and complaints, and be willing to go the extra mile to ensure customer satisfaction.

Control expenses by negotiating favorable terms with suppliers and keeping overhead costs to a minimum.

Keep an eye on industry trends and adapt your business accordingly to stay competitive.

Consider offering catering services or meal subscriptions to expand your business and increase revenue.
How to Take Your First Step?
The basic premise of your food delivery business is the app. Now as a business you can consider hiring an in-house team of developers to help you develop your app from scratch and help you maintain it. However, that's a costly endeavor, and therefore not an optimal choice for someone looking to start a new business with a limited amount of resources and funds.
The ideal step would be to hire a food delivery app development company like Valueappz that offers ready-to-use B2B and B2C marketplace products with custom UI/UX elements and flexible pricing to accommodate all budgets. With 24X7 technical support and an agile customization approach, bugs and new updates are taken care of instantly.
And the best part about choosing Valueappz is that it follows a zero-commission model, so you lose $0 in commissions per order.
With hundreds of clone scripts for in-demand industry apps like food delivery and top-of-the-line feature integrations like real-time tracking, route optimization, fleet personalization analytics, and live chat support, you can launch an app like GrubHub, Doordash, Uber Eats, and Zomato in a matter of seconds!

Key Takeaways
Embrace Technology: Stay updated with the latest tech trends, including AI-driven logistics, user-friendly apps, and data analytics, to enhance operational efficiency and customer experience.
Prioritize Customer Satisfaction: Focus on delivering exceptional service, accurate orders, and quick deliveries. Personalization and loyalty programs can foster customer loyalty.
Ensure Food Safety and Hygiene: Strictly adhere to food safety standards, including training staff, quality control, and using food-grade packaging to build trust among customers.
Diversify and Partner Locally: Offer a diverse menu and collaborate with local restaurants to cater to a broader customer base and tap into regional preferences.
Sustainability and Eco-friendliness: Implement sustainable practices, such as eco-friendly packaging and efficient delivery routes, to attract environmentally conscious consumers and align with global sustainability goals.
Frequently Asked Questions:
Q1. How to Start a Business From Home?
Starting a business from home in the food delivery industry involves steps like identifying your niche, obtaining necessary licenses, setting up a dedicated workspace, creating a business plan, and marketing your services online. Leverage online platforms and delivery apps to reach a wider audience.
Q2. How to Start a Food Delivery Business?
To begin a food delivery business, define your niche, conduct market research, create a business plan, secure necessary licenses and permits, establish partnerships with local restaurants, develop a user-friendly app or website, implement efficient delivery logistics, and focus on customer satisfaction and safety. Adapt to emerging trends and technology for success in 2023.
Q3. What Are the Key Technology Trends Impacting Food Delivery Success in 2023?
In 2023, key tech trends for food delivery success include AI-driven route optimization, advanced mobile apps, and blockchain supply chain transparency. Contactless payments and IoT delivery tracking are also crucial for convenience and trust.
Q4. How Can I Ensure Food Safety and Hygiene in My Food Delivery Business?
To ensure food safety and hygiene in your food delivery business, follow these key steps:
Regularly train staff on safe food handling.
Implement strict quality control measures.
Use food-grade packaging and maintain cleanliness during packaging.
Enforce temperature control during storage and delivery.
Conduct routine inspections of partner restaurants.
Promote contactless delivery options and educate customers about safety measures.
💡 Note: This blog is updated on 21st September 2023.
THE AUTHOR
Saryu Pathania
Communication has always been one of my key strengths, whether vocal or written. I started my career as a marketing professional, and in my journey as a marketer, I realized that Copywriting is my true passion. Over the years, I have honed my skills as a creative writer by working on various content formats for B2C and B2B clients.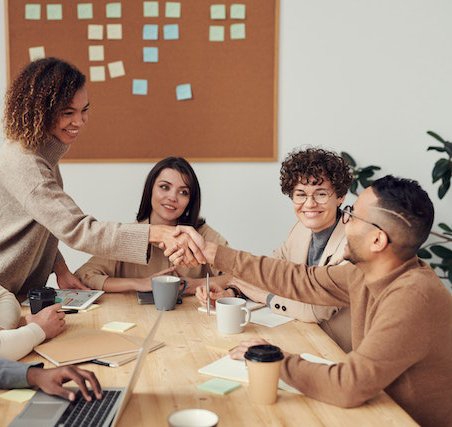 Get ready to digitally transform your business.
Let our team help take your business to the next level. Contact us today to get started on finding the perfect solutions for your business needs.