Top 10 Best Home Service Handyman Clone Apps to Try in 2023
June 14, 2022
Amrita Singh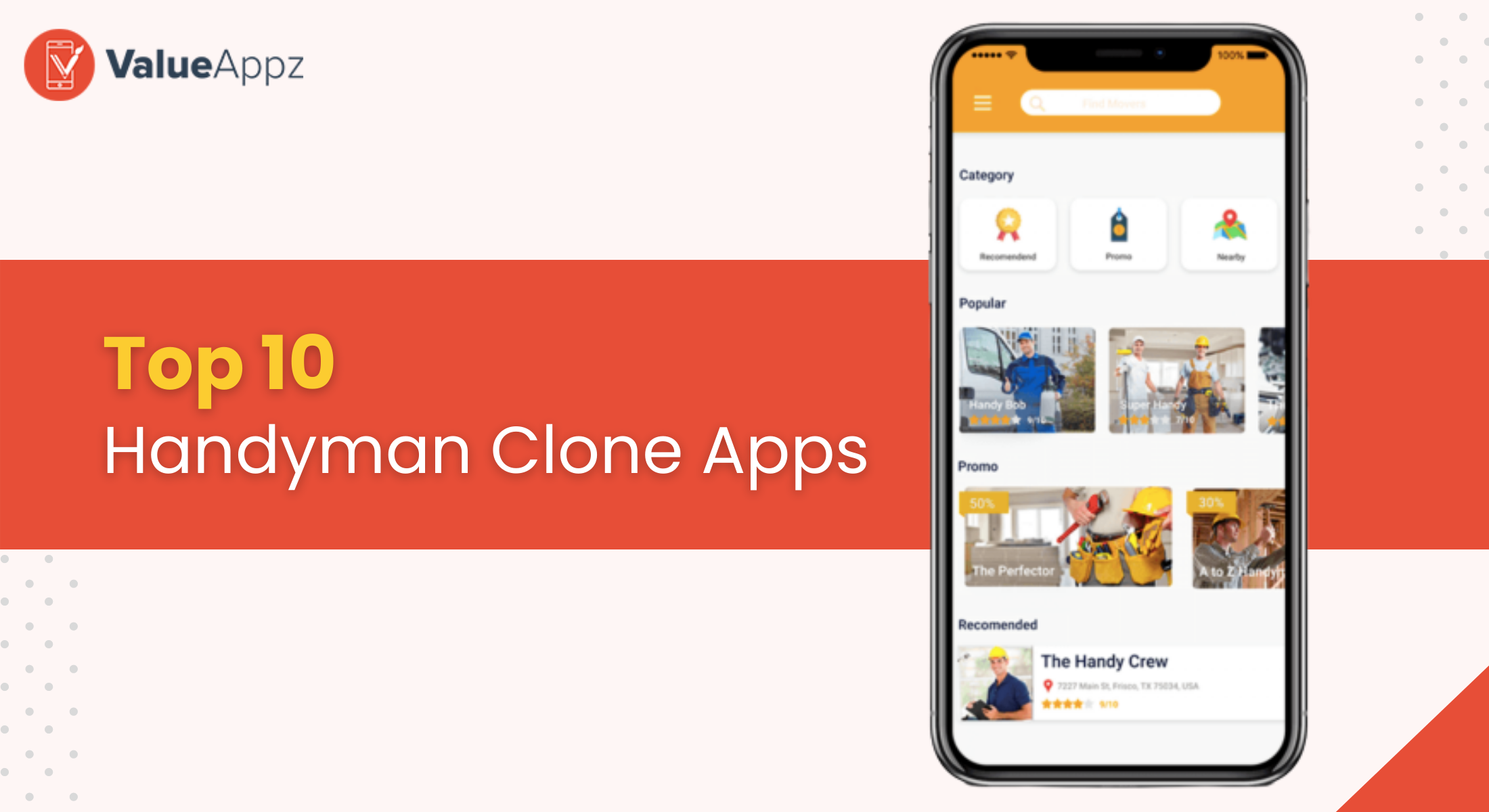 Quick Summary: Discover the top 10 home service handyman clone apps for 2023, offering convenience and efficiency for your household needs. Explore diverse platforms providing skilled professionals at your fingertips, revolutionizing home maintenance with user-friendly interfaces and a range of services.
Someone rings a bell! You opened the door to the professional who came to repair your leaky faucet from your smartphone. Or, The hanging shelf at your home reminds you to book a handyperson to fix it.
After all, we all know electronic malfunctions, home issues, and transportation breakdowns don't come knocking on the door. They all happen suddenly.
So, whether wiring, cleaning, remodeling, gardening, plumbing, etc., there is an app for everything. The handyman app makes the hiring process for any household job simple and quick.
In a nutshell, the "HandyMan App" is a promising idea since it fits the direction of the modern economy and caters to today's users' expectations. So, if you are striving to start your own business, creating a handyman app for your business is a better option.
But, before you brainstorm on developing a handyman app, it's important to know how your industry is faring at present and whether there is demand for your type of business.
💡 Recommended read : Complete Guide To Start A Successful Handyman Business.
Stats Related to Online Handyman Services
According to a report by Future Marketing Insights, the handyman service market is projected to reach a value of US$1.8 billion by 2033, with a healthy compound annual growth rate (CAGR) of 16.5% through 2033.
| Attributes | Handyman Service Market |
| --- | --- |
| CAGR (From 2023 to 2033) | 16.5% |
| Market Value (2023) | US$ 390.9 Million |
| Growth Factor | Digital platform reshape the delivery and accessibility of handyman services. |
| Opportunity | Urbanization and busy lifestyles fuel the market expansion of handyman services. |
| Key Trends | Outsourcing home repairs and renovations boosts the handyman services industry. |
The market is expected to experience significant growth driven by factors such as the growing service industry, increased demand for renovation and other handyman services as residential home prices rise, and the need for maintenance and repair of modern gadgets and equipment.
Now, after looking at these mind-boggling figures, you can be sure to create an on-demand handyman app to serve the masses. But, if you are still perplexed about on-demand app ideas, we have pocketed some successful handyman apps dominating the world, which you can look forward to.
10 Best Handyman Apps of 2023 You Should Look Upto
1. Uber Clone App
At present, 93 million customers use the Uber platform, with 3.5 million drivers serving the growing user base in 2020. 
Simply put, the era of on-demand services started with Uber and Airbnb. And, considering this, no one wants to be left behind in this fast-opportunistic world, even for merely some seconds.
The transport industry is ever-evolving, so you can plan for taxi booking apps, e-scooter apps, bicycles, cargo logistics apps, and many more. People who love traveling rely on the best travel and commuting apps, making them easy to fit in their pockets. With a handyman app like Uber, you can have your own targeted niche to cement your footsteps in the hierarchy.
2. Taskrabbit Clone App
Are you looking forward to powering up your domestic repair business while establishing a robust online presence? If yes, you must develop a TaskRabbit clone app for your business.
Taskrabbit app helps customers get assistance around the house from a trusted tasker. It allows them to hire a reliable tasker from handyman work, furniture assembly to moving, yard work, and much more.
When you build a TaskRabbit clone app for a business, you are helping people tackle all the tasks in their busy schedules. The app allows the service seeker to choose their tasker based on the reviews, skills, and price mentioned. They can schedule the appointment when they want and chat, pay, and tip the tasker using this reliable app.
If you are into such a business, we highly recommend you build a handyman's service app like TaskRabbit clone app to take your business to the next level today.
3. Urbanclap Clone App
Urban company, earlier known as Urbanclap has given a platform to both – the skilled professionals and the users to meet at a reliable platform called the UrbanClap app.
So using this app, the users book an appointment with different service providers who are well trained right before they list themselves on this app.
The best part about UrbanClap is the transparent pricing that lets users see the exact price to avail of the services even before they book them. Since there are no hidden charges, users know the exact amount to pay for the services.
Moreover, only the well-trained experts are available as service providers on UrbanClap, which gives peace of mind to the users when availing of the services through this platform.
The best part is that you, too, can build such a platform by utilizing the UrbanClap clone app services from a reliable app development company to satisfy the demand of the users for different services

4. GoFantastic Clone App
The Mantra of the GoFantastic app lets its customer live, work, and play while they clean, fix, help, and take care of everything.
What does this everything include?
It includes services like cleaning, handyman, pest control, home organizing, waste removal, and more.
Moreover, this platform allows booking 25 + professional services in less than 30 seconds — which is quite comforting and convenient for any customer. The customer can easily select the desired service on the app, see the exact price they need to pay, and even schedule appointments for later.
Are you also into such service-providing business? If yes Gofantastic clone app is just perfect for you.
5. Thimble Clone App
Business insurance can be a pain if you have no idea how it works. Also, it can be a time-consuming process for a newbie entrepreneur.
You need a Thimble clone app to make business insurance simple if you are into business.
A Thimble app makes business insurance seamless to succeed on your own terms. Moreover, this app allows you to get a policy in 60 seconds without hassle.
The app lets you get general and professional liability coverage allowing you to pay monthly, cancel at any time, and even pause for 30 days if your business is slowing down.
You can even purchase an on-demand policy by the hour, day, or week. Besides, this covers 120+ professions, gives rated insurance, instant certificates of insurance, and monthly or on-demand policies.

6. Porch Clone App
If you haven't heard about the Porch app, it helps move, improve, and everything included in between. It helps in moving, insurance, and improving your home.
This platform allows customers to compare quickly and set up movers, TV, internet, and Home Insurance in one place.
We all know that moving can be stressful — hence they help organize and manage everything by checking everything off your to-do list.
It is a personal phone service that connects the customers with home service providers to move, improve, repair, and do related tasks when moving.
If you are into a similar business, developing a Porch Clone app can help simplify your business tasks, establish a strong market presence, increase productivity, and help your customers get improved services. Moreover, the app allows you to track sales, profits, transactions, bookings, and almost everything in the business.
7. Housejoy Clone App
Another app for a variety of at-home services to simplify the everyday living of the customers, right from home construction to home maintenance, carpentry, cleaning, appliance repairs, interior services, a salon at home, pest control, and numerous other services.
Housejoy app is a perfect platform that allows customers to book the services quickly and easily, avail hassle-free experience, enjoy on-time arrival and delivery, certified experts, transparent and affordable pricing,
The customer just needs to install the app, select their location, choose the service, add it to the cart, and book an appointment.
So, if you are looking to curate your nook in the best handyman apps in the household repair business, create your in-demand app to establish a strong market presence to keep your competitors at bay.
8. Thumbtack Clone App
What if we tell you that you can create a platform for services like massage therapies, DJ, landscapers, cleaning, house painting, fencing, and numerous other services?
Thumbtack app helps customers in hiring professionals for all these services. In addition, the app allows customers to find professionals and house services quickly to find the most appropriate one for their needs.
This platform helps customers save time by searching through hundreds of professional profiles that suit their needs. And one can get almost any service on this app — be it a talented house design expert or a service provided to clean their home thoroughly.
You can also create a reliable platform for every professional service provider and customer. They are looking for comfortable services right at home by developing a Thumbtack clone app.
9. Jiffy Clone App
Don't customers like it when small household jobs are done without hassle? Of course, they love it! With the Jiffy app, customers can connect with certified professionals in their area to complete the job at transparent rates.
So the customer request the services, the app connects them to the professionals nearby, and once the appropriate service providers are connected, the appointment is booked. Yes, it is that simple!
Home cleaning, electrical work, plumbing, decks, fences services, or any other service the customers want is available at this app.
If you are into a similar business and wish to create a reliable platform for both your country's service providers and customers, get a Jiffy clone app developed for your business now.
10. Joboy Clone App
Joboy helps bring the best of experts in-home and local services, lifestyle services, beauty and health services, repairs and maintenance, home sanitization, and many other professional service providers right to the customer's home.
The app is built to keep customers looking for different services on their platform. So they allow access to all the services from home repairs to technology services like domain hosting and website designing services.
Are you willing to develop a platform for such similar services? Or have you been doing that already? If yes, creating a Joboy clone app can help you manage both service providers and the customers almost seamlessly in one place.
You can also build a handyman clone app similar to the app to transform the unorganized services sector by utilizing the technology, helping customers avail themselves of the best services, and building a robust platform to connect verified professionals and users.
Handyman Clone App Market is Trending!
After going through all the best handyman apps, it's obvious to feel inspired to create a handyman app for your business. After all, household chores never go out of fashion.
So, creating a platform that bridges customers with service providers is unskippable now. And, being into this business, your company needs such a dynamic platform now – a trusted handyman clone app will do it for you.
To make this a successful reality, all you need to do is a partner with a reputed and trustworthy development company. And, ValueAppz is your one-stop solution to help your business grow and create an online presence.

Key Takeaways
Diverse Options: Explore a variety of handyman clone apps offering a range of services tailored to your household needs.
User-Friendly Interfaces: Experience convenience with user-friendly interfaces making it easy to connect with skilled professionals.
Efficiency and Convenience: Enjoy the efficiency of accessing reliable handymen swiftly, simplifying home maintenance tasks.
Enhanced Accessibility: These apps revolutionize home maintenance, providing quick access to skilled professionals anytime, anywhere.
Innovation and Advancements: Witness the innovation in home service apps, utilizing technology to streamline and improve the user experience for household repairs and services.
Frequently Asked Question:
Q1. What are Handyman Clone Apps?
Handyman clone apps are platforms that replicate the functionality of successful home service apps, offering a range of skilled professionals for household repairs and maintenance. They mimic the features and services of popular apps, providing users with similar convenience and accessibility.
Q2. How Do These Apps Differ from Traditional Handyman Services?
Handyman clone apps differ by leveraging technology to connect users with skilled professionals swiftly and conveniently. Unlike traditional services, these apps offer streamlined booking, transparent pricing, and diverse options, simplifying the process of finding reliable help for household tasks.
Q3. What Services Can I Expect from These Handyman Clone Apps?
These apps typically cover a wide array of services, including plumbing, electrical work, carpentry, painting, cleaning, and more. Users can find professionals skilled in various trades to address their specific household needs.
Q4. Are These Apps Available in My Area?
Availability can vary by location. While many apps aim for widespread coverage, it's recommended to check the app's service area or use location-based features to confirm availability in your specific area.
Q5. How Secure Are Payments Made Through These Apps?
Top handyman clone apps prioritize secure payment methods, often integrating encrypted transactions and secure payment gateways. They maintain robust security measures to safeguard user financial information.
Q6. What Sets Apart the Top-Rated Handyman Clone Apps from the Rest?
The best apps stand out due to their intuitive interfaces, extensive professional networks, reliable customer support, transparent pricing, and user reviews. They often offer additional features like real-time tracking, scheduling flexibility, and quality assurance measures to ensure customer satisfaction.

THE AUTHOR
Amrita Singh
With a background in Digital Marketing spanning over five years, I bring a unique perspective to my writing and have developed a keen understanding of the ever-evolving digital landscape. I focus on creating content that is relevant and easy to understand.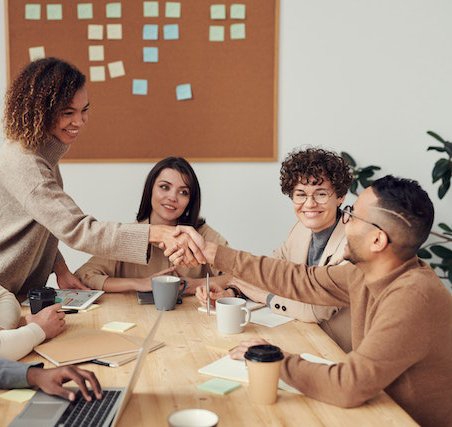 Get ready to digitally transform your business.
Let our team help take your business to the next level. Contact us today to get started on finding the perfect solutions for your business needs.