How to Build a Handyman App in 2023?
July 18, 2023
Giandeep Singh
Table of Content
Follow Us
Quick Summary: A robust on-demand handyman app helps you be visible to your customers 24×7, deliver great value, build brand recognition, beat the competition, and create customer loyalty. With our blog, discover the steps to build a handyman app that gives you a competitive advantage and brings a better business ROI.
Introduction
Taking your handyman business online can be the best move in 2023. Every day people need help to fix the leakage, move their furniture, get a deep house clean service, or get an appliance repaired. 
When in an uncertain situation, they do not go out looking for the right service provider but pick their phone, open the handyman app, and book the perfect professional to get the work done. Everything from searching to hiring a handyman service provider, payment, and feedback, is all done via the application.
Easy access and usage have made apps so popular that people don't think twice before using them. If you, too, are into handyman services, you must develop an app to cover a broader range of audiences.
Key Takeaways
Building a robust on-demand handyman app will help you reach your target audience, deliver a better value, and build a strong brand recognition.
Conducting thorough market research will provide in-depth information to the trends and demands of the handyman service market.
Developing a solid plan lets you outline business objectives, target audience, and development timeline.
Include all the necessary features to ensure that users can get all solutions at one platform.
Wondering how to build a handyman app? This blog will answer your question in detail but first let's take a look at the market of online handyman apps.
Insights into the Handyman Market
To better understand the market value of handyman services, here are some latest facts and research about it.
Smartphones have become everyone's best friend. There are 1.96 million apps available for download on the App Store and 2.87 million apps on the Play Store. Businesses have realized the app's importance and are getting online.
Further, an average smartphone owner uses up to 10 apps per day and up to 30 apps each month.
Coming to the handyman service market, it is expected to grow to USD 1.65 billion by 2032 from a value of USD 339.0 million in 2022. In the North American market, handyman services are expected to rise with a market share of 36.5%.
Source 
Further, the studies also prove that even after the pandemic, the growth drivers of handyman services remain active. Before you plan to build a handyman app, you need to know about its types of models.
💡 Recommended read : Complete Guide To Start A Successful Handyman Business.
Types of on-demand Handyman apps
Handyman apps can be divided into two categories based on the dedicated services.
1. Single service aggregator mobile app
The first category is single-service aggregator apps. As the name suggests, the app is designed solely for a single service. It could be a car repair, beauty, house cleaning, etc. Such an app is easily managed as there is only one service, and it connects with professionals from one specialty.
2. Multiple service aggregator mobile app
Handyman apps under such a category provide multiple services. They could provide services like plumbing, carpentry, repair, construction, furniture shift, and more, all under a single application. Hence, managing such apps is difficult as it has to collaborate with various professionals with different skills.
💡 You may also like: Complete Guide To Start A Successful Handyman Business
Steps to Build a Handyman App
This section will answer the question, "How to build a handyman app" in detail. To build the app, it requires a strategic plan that aligns with the business needs. Starting from the planning stage to the development process, you must be clear about the app, its functioning, and the purpose to develop and launch the app. Below are the steps that you must follow to create a successful handyman app.
1. Identify the target audience
Discovering the right target audience is one of the primary steps for building a handyman app. List the services you will provide and search for the audience accordingly.
A handyman app's target audience can be homeowners, renters, and small business owners who require maintenance, repair, or installation services for their properties. This demographic is typically busy, looks for convenience and value, and is open to using technology for finding and hiring a handyman service provider. 
They are likely between the ages of 25 and 55, have a moderate to high household income, and own or rent a home or small business property. By understanding the needs and preferences of this target audience, the handyman app can effectively cater to their requirements and provide a seamless and satisfactory user experience.
Consider points like, you are providing cost-effective solutions or is it for the premium audience. What specific services would you like to provide through the app? What areas will your app be functional in? Answering these will give you the right audience to market and reach.
2. Build a Solid Plan
A successful on-demand handyman app development begins with a solid plan. Without a plan, it would be like a trip with no destination, which can be fun but eventually lead you nowhere. 
Hence, having a solid plan is a must.
Begin by understanding what you want to achieve with your on-demand handyman app. What are the goals and purpose, and how will it simplify the user's experience?
You must answer the following questions to begin the plan:
What is the objective of building this handyman app?

How much will handyman app development cost?

What target audience am I supposed to reach?

What kind of work should I be doing through this platform?

Finally, how much time will I invest in developing this app?
Once you have answers to these questions, you can review your business plan. Remember, there is always a scope for modification in the business plan (except for the main business idea). 
💡 Check out the top 10 handyman apps that have become successful with their solid plan: 10 Apps That Every Handyman Business Needs
3. Competitor Research and Analysis
Once you have the plan, you need to look at how the competitors work. What strategies do they follow and how are they aligning with the latest trends? Start your competition research and study the market thoroughly. 
💡 Pro tip: Google searches the keyword 'handyman' and type your city name ahead of that. You will get all the results related to similar businesses prevailing in the market. 
You must study the following things about your competitors:
What services do they offer?

How much are they charging for different services? 

What is their area of operation? 

Who are their customers? 

How are they advertising their business? 

What strategies make them unique and better? 
Armed with such deep knowledge of the market and competitors, you can build a robust strategy for your business. 
4. Understand the Legislation of Your Area
You don't want to damage the reputation of your organization, right? Hence, knowing which services require what certifications or licenses to operate without interruption is essential. 
Also, figure out if there are any limitations regarding how much you can charge as a handyman.
Overall, it is critical to understand that laws impact businesses, and you must know about the legislation in your area of operation. 
💡 Must read: Challenges Of Handyman Business And Solutions For It
5. Pick Services After a Thorough Market Study 
The fourth step towards building a handyman app is deciding the services. First, however, you need to study the trending hot market trends.
You can even pick a super-specific niche to be unique in that particular business. 
Moreover, you might be good at certain things, but focusing on one is what we recommend. And, once you have enough customer base for your primary services, it would be easy to launch a few new ones and earn good profit. 
6. Set the Prices Wisely 
Undoubtedly, a critical decision for any businessman ever. When building a handyman app, you need to decide the prices that suit you and your customers. 
However, these figures will keep fluctuating from time to time. Mostly, prices are fixed for six months, and you can modify them. Or, you can keep it constant like it was initially. The choice is yours.
Most handyman businessmen do opt for hourly rates for specific jobs. Here are some points you can consider:
Consider how much time will be needed to do the job, including all other activities and traveling. 

Next, keep in mind the skills. You can keep your charges high for any job requiring specialized skills. 

If tools, equipment, or training costs are high, we recommend keeping the prices high for those services. 

If the services involve preparation like moving in furniture, preparing the work area, or even buying supplies. Consider all these as in your billable time. 

Do you need any license to do the job? If yes, you might need to pay the annual fee. Hence, consider the cost of maintaining credentials. 
💡 How to earn money with a handyman app? Must read: How To Get Started With Handyman App Monetization?
Proceed to develop a robust marketing strategy now. Since you are clear about all the prominent factors involved, preparing the strategy that works will be easy. 
Look at your business from all perspectives — including the threats, challenges, opportunities, and target audience demand. 
You need to focus on pain points at first — because you want to solve the most painful problem of your customers. Hence, you need to figure that out first.
Then, you must think about possible solutions (in the shape of efficient services). 
After that, promote your brand name in virtual and real-life places. Spend enough time since that is a prominent task for your business.
Must-Have Features for a Handyman App
Now that you know the steps to build a handyman app, here is the list of must-have features in the app to engage the users and provide a seamless experience. 
1. Let customers easily find a handyman nearby 
Your app will be incomplete without this feature. Hence, it has to be up there on your handyman app. 
No service provider would walk or drive 300 miles to do the job. Or, no customer would wait for such a long time to get things done. 
Hence, your handyman app's must-have feature allows customers to find the handyman as near as possible. 
Also, it must display at least a few service providers rather than just one. Therefore, the customers must see the alternatives with accurate details to choose the suitable one. 
2. Multiple payment options
Not all customers use the same payment modes to pay for the services. Hence, your app must have multiple payment options for a seamless customer experience. 
Moreover, it should be easy to use. No customer would want to get stuck with a complicated payment module that confuses them. Hence, the more the payment method is simple, the better. 
You must have the option to accept payments from debit/credit card, internet banking, or all other modes of payment. Besides, a trusted payment gateway like PayPal or Stripe is necessary to make it easy and convenient for customers to pay. 
3. Live tracking is a must
Using this feature, the customers can track the handyman in real time. Besides, they even get some details about the handyman to verify them. 
Further, customers even get complete reports about the handyman's activities. 
Once the job is accepted, the user can easily track the handyman's movement and the exact time he would reach the customer's place to deliver the services. 
4. Appointment scheduling 
Your app must have this feature for those busy customers who don't have enough time to check for bookings. 
Your on-demand handyman app must have the option to schedule appointments. So that customers can book an appointment as and when they want. Moreover, they will not have to worry about going to the app again and again to check the availability. Just schedule the appointment and forget. 
Besides, your app must send them a notification to remind them about the appointments. It would help them know about the appointment, no matter how busy their schedule is. 
5. Keep the prices transparent 
Your on-demand handyman app must maintain complete transparency with the users. There must be no hidden prices, as that usually puts the customer off. 
Your customers must clearly understand the prices they need to pay. Besides, they must even see all coupons, discounts, and offers on the app (if available).
There should be no cancellation or service charge before they choose to hire your services. 
6. Customer loyalty programs
Users like to stick to the apps when they have something extra to enjoy. You must include customer loyalty programs on your on-demand handyman app to ensure the target customers open the app repeatedly. 
Send promo codes and discounts to the users. Use push notifications to notify them about such offers and referral codes to attract more and more customers to your business app. 
💡 Note: The best idea to know what a customer wants is to become one. You can download your competitors' apps and see how they are operating. Analyze all features and factors that help them keep their customer's content.
How Much Does it Cost to Develop a Handyman App?
The cost of building a handyman app depends on several factors. Firstly, the price of the app depends on the platform it is intended to support– Android, iOS, or Web. Other factors include:
Development time needed to build the app

Number of features to be added to the app

UI/UX complexity

Product management, and so on.
The approximate cost could vary from $15,000 to $60,000, but it can change depending on the above factors. Furthermore, the price also depends on the type of team you hire, their skills, experience, the technology they use, and so on.
Want to Grow Your Handyman Business? Let's Build the App
Now that you know the market size, types of handyman business models, steps for developing the app, and the cost of development, you need a team of professionals to turn your ideas into reality. ValueAppz is a leading handyman app development company that has helped several clients get their on-demand apps. 
Contact our team at ValueAppz to first discover the scope of your idea and then begin the process. Get the best work done at the right price. Contact us now.

Frequently Asked Questions:
Q1. How much does it cost to develop a handyman app?
The cost of building a handyman app can vary between $15,000-$60,000. The cost can further vary depending on app complexity, features, platforms, and time needed for app development.
Q2. How to create a handyman app like Uber?
You first need ideation and a strategy for creating a handyman app like Uber. Visit our page to find the right team for developing an Uber-like handyman app.
Q3. Can I build a handyman mobile app by myself?
Developing an app alone can be tricky as you will have to pay attention to several details. You can hire a team that does it for you at the correct cost.
Q4. How to make a profit in the handyman business?
By providing competitive pricing for the services, creating various service packages, billing for additional time and expenses if needed are a few ways to earn profits in the handyman business.
Q5. What are the essential features to include in a handyman app?
Some important features to include in the handyman app are searching for a nearby professional, service pricing, categories, and in-app chat and calls.

THE AUTHOR
Giandeep Singh
I am a writer and marketing specialist who loves to explore new digital strategies to boost business growth online.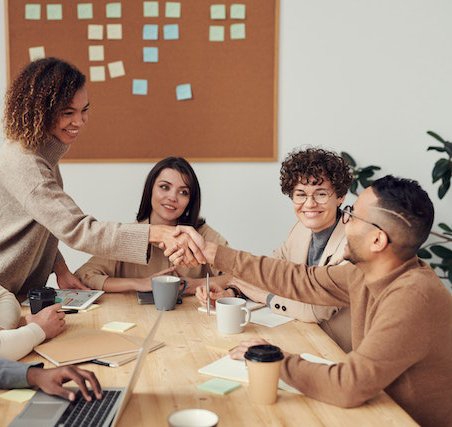 Get ready to digitally transform your business.
Let our team help take your business to the next level. Contact us today to get started on finding the perfect solutions for your business needs.