There are many factors that have enabled the rise of the demand for online grocery stores – hectic lifestyles, unavailability of organic products with local grocers, the spike in the smartphone market, introduction of payment options like mobile wallets and cash on delivery etc. Now users don't have to depend on pen and paper for making grocery lists nor meddle with their wallets for change. Online grocery stores have made lives so easy for the customers that even their mobile app versions have been received with much enthusiasm.
If you too as a store-owner are planning to develop a Grocery Mobile App, here are some must-have features you should include: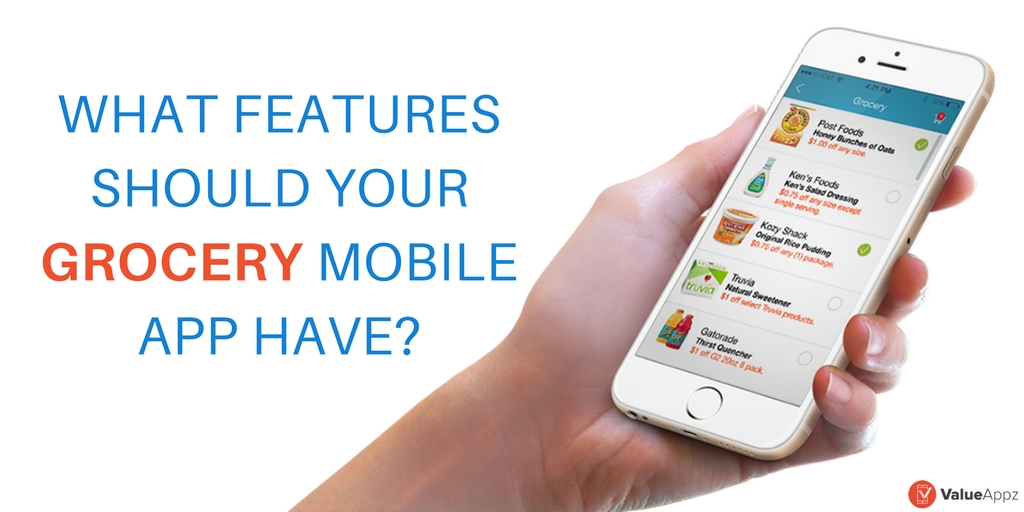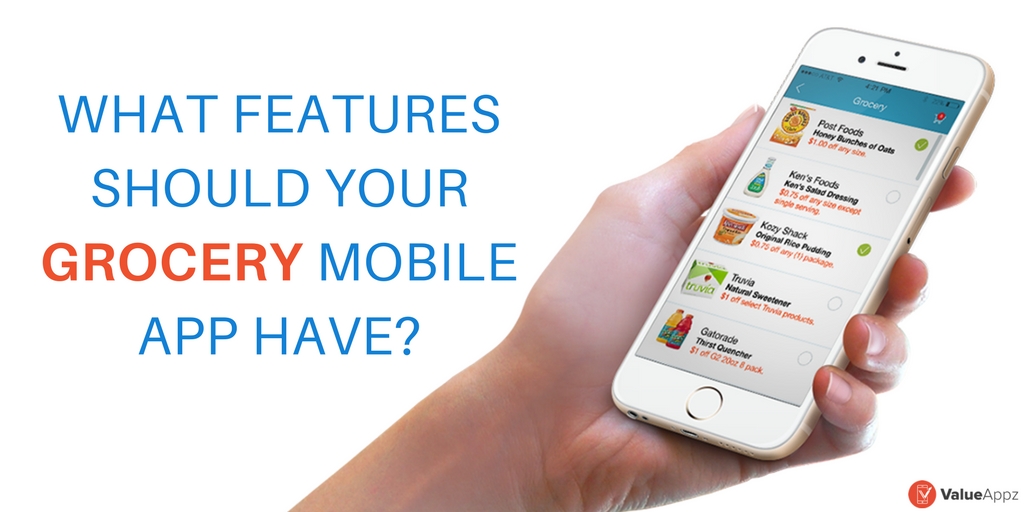 Have Strategic Navigational Menus: By the term 'Menu', we not only refer to the main navigation on top of the Home screen, but also to a variety of products accessible through distinct categories in the mStore. Considering 'grocery' is an extremely broad term, it is important to streamline all products into appropriate categories and subcategories. The User should be able to reach his desired product within three easy clicks and his search results should show relevant products.
Highlight Promotional Offers And Bundle Packs: Any decent grocery 'supermarket' is expected to provide its customers discounts, offers, and bundle packs. This is where the value to the customer comes in. While searching for products, users must be able to see notifications or prompters with recommended bundle packs along with the details of savings on the deal.
Smart Search Features For Faster Shopping Experience: When a user types in a product name or a category name in the Search box, it is a great idea to provide 'autocomplete' suggestions to him. The app can also have an 'Add to List' button next to the suggested product, wherein with just one-tap,the User would be able to add a product to the cart without even visiting the individual product page.
One Click Shopping Lists: There are four kinds of grocery lists that could be integrated into the app:
• 'Remind Me'Lists: This is the list of products purchased in the past. So, the User has an option of re-ordering the same products. Before checking out, the app can throw prompters to the User, showing him products based on his purchase history 'Youmay also Like to Buy'. This can be further classified into 'Recent' and 'Favourites' product prompt lists.
• My Lists: Most grocery mobile apps provide multiple 'create grocery list' options. With it, a User can easily create and store different kinds of grocery lists and with just one click he would be able to add all products of the list into the cart.
• Recipe Lists: Here, User can be given an option of creating a 'Recipe List' in which all ingredients required for a particular recipe are entered. He can then automatically add all ingredients into his cart using'one-click select' option. It would be great if the app could merge recipes from any source on Internet into a shopping list or share them with friends available on the grocery mobile app.
• Bar Code ScannerList: Through a mobile device's camera, the User can scan product bar codes of preferred products right from his refrigerator or kitchen and make them into a list.
User Information: A grocery mobile app should be able to leverage on User data and throw following relevant information to him:
• Coupon Code selectors: During the check-out process, the 'one-click select' option for coupon codes should be provided to the User depending on his cart value, location etc. It is always better to mention all coupon code details together instead of expecting Users to remember codes and their rules.
• Payment Details: For a seamless payment process, the app should provide pre-selected and/or pre-inputted payment details along with options of redeeming accrued loyalty reward points. This way the User transaction history data can be used to ensure quick payment processing.
• Notifications: Updates about 'now in stock' products (previously searched by User), gift card options, birthday discount coupons etc. adds to a great User experience.
Through these features, a grocery app can optimize its processes and increase the loyalty quotient of its Users. If you too are looking for a feature-rich grocery mobile app of your own or are looking to optimizing your existing grocery app with great features, we, at ValueAppz, can help you. Having an experience in building more than 350 high performance industry focusing apps, we have helped small, medium and large enterprises become mobile-ready in a mobile-first world.Just drop us a line at info@valueappz.com or click here to get in touch.