Tips For A Profitable On-Demand Beauty Service Startup
December 26, 2019
Rohit Madaan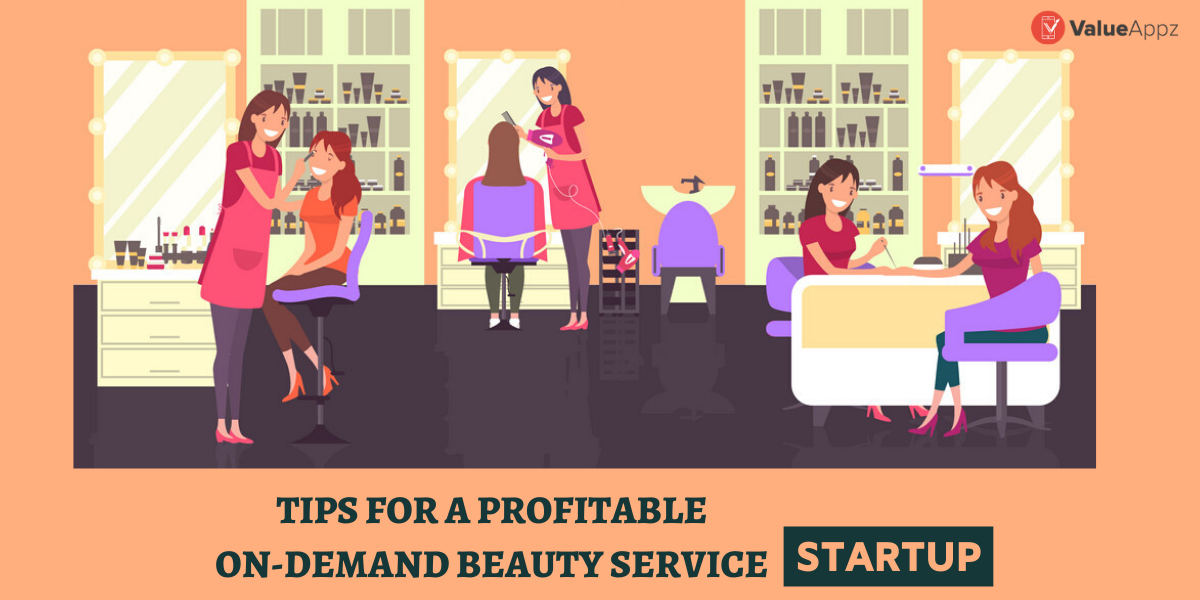 With the rise in on-demand beauty service startup It's extremely lucrative to create an on-demand salon service app. After all, there are rising innovations in the world around us due to which it become  easier to do business online. Also, there is a high demand for nail art, haircut, face painting, makeup, and other services in this busy environment.
Therefore, merging these two realms is a perfect idea. It will help create and link a large customer base with qualified professionals.
The on-demand beauty applications have seldom been short of customers, and in this millennium, the interest for on-demand apps is only intensifying. To say that today's generation searches for the the easiest way to get things done because of the busy schedules.
Why Choose an On-demand Beauty Service?
As per the GlobalData, beauty and health industries are among the fastest-growing industries. Moreover, there worth will increase to £ 26.7 billion by 2022. But it's not just the market value of the on-demand beauty applications that are growing. Although new salons continue to pop up, the' Uber effect' has made its mark on beauty. And, on-demand service loving customers are continually trying to decorate their hair or nails at their homes in the time slot that works best for them.
While such an On-demand salon service app provides the customer with convenience and comfort, this low-overhead business model also means good things for beauty therapists and cosmetologists. For example, you will be able to deliver your services with less starting capital without the financial burden of renting and running your salon.
You will have more room for wiggle to charge competitive prices, which in turn will attract more customers. Not only that, but practicing as a self-employed beauty therapist means you're not going to have to leave your day job. On the contrary, you can test the market, visit customers on weekends and at night. Then you can consider taking the plunge and going full-time as demand for your services grows.
Naturally, as a beauty professional, not just anyone can succeed. As well as the relevant qualifications and skillsets, you will need excellent communication skills so that you can clearly explain your services to customers, as well as timeliness, patience, attention to detail, and a friendly attitude.
Read on to set up an On-demand beauty service app for our step-by-step guide.
1. Find a Good On-demand Beauty Service Solution
Firstly, you need to find out the target audience and their needs if you are thinking about doing business through an On-demand salon service app. This task usually goes to busy people who are unable to schedule a trip to a beauty salon and make time for it. There are also beauty professionals who are looking for a good chance to earn in their spare time.
It is also possible for you to develop an On-demand beauty service app that will allow users to book a stylist, makeup artist, hairdresser, or any other specialist for a particular day or the near future. You should find the key features of your venture on two sides to bring this idea to life: for consumers and specialists.

Placing an order starts with a professional order in most on-demand applications for haircuts, clothing, and makeup. Glamsquad wanted to use the opposite approach to create beauty products at home app. Selecting an appropriate lookbook hairstyle comes first, then appointing a professional and finally selecting the date, time, and place of execution. The customer will explain important details in the request and identify the favorite shampoo and cosmetic brand in the profile. It is an on-demand b2b marketplace platform.
2.Focus on Establishing and Boosting Your Business' Online Presence
Potential customers will not entrust you with any part of their physical appearance unless they are sure that you will do a great job. And, they're going to see what you can do first and foremost–and the internet is the first place they're going to look at.
Set up with a professional website of high quality, loaded with pictures of your past work. Make sure it's optimized for search, so if someone searches for a nearby beautician on Google, it appear near the top of the search results list.
You'll also want to open accounts on social media. For such a visual sector as beauty, Instagram, and Pinterest are excellent tools. Ask clients if you they take a picture of their finished look to share on social media, and document your successful practice. Just make sure that you share photographs of high quality with great lighting.
Check for the beauty hashtags your target audience uses and be sure to use them as well–this will make it easier for users to find you. A great place for social channels to play with contests, campaigns, and special offers to inspire shares, so be imaginative with them!
Note, it's about participation with social media, and that's both directions. Be sure to answer any questions and comments from the customer. If you're on Facebook, you can also try to find and share your offer with local groups in which beauty services are shared or discussed, or popular with your target demographic.
Get in Touch With Our Team Now.
3.Make an On-demand Beauty Salon Business Plan
One of the first steps to successfully open a hair salon is the development of an On-demand beauty salon business plan. Here are some ideas you want to take into account:
Learn your audience and competition (in the previous paragraphs, we've already touched on that).
Be realistic in your estimates of your finances. Dreaming big is great for inspiration, but in an On-demand beauty salon business plan, it can let you down.
Give facts as to why you think your salon is going to succeed. You've got to believe it. Read some articles on how to be motivated by being a successful salon owner.
4. Don't make empty claims.
Do not use positive or superlative adjectives. An On-demand beauty salon business plan is expected to be formal.
Be practical with your plans' timelines.
Before you start your own salon company, don't forget about the documents you need to prepare. If you're going to sell goods, you'll need a federal employer identification number, a business license, and a resale permit. All the people you employ require training as well, so make sure they have it. A hairstylist, for example, requires a license for cosmetology. This gives them the right to makeup, facials, manicures to cut, and color.
5. Get a Clear Idea of All the Benefits of On-Demand Beauty App
Get your own hair salon booking app or nail salon booking app. This fundamentally changes the traditional model as guests pick a beauty salon on their own and go there deliberately. The implementation of such an application enhances price competition among service providers and provides both sides with a higher level of comfort.
The key benefits of an on-demand beauty app include:
It has an easily accessible dashboard that connects vendors with the customers
Generally, on-demand apps have a separate seller panel, which allows vendors/beauticians to track down their orders. Besides, the seller panel can also provide a detailed insight into the business stats.
The app also has a separate admin panel, which is only accessible by the owner of the app. Through this panel, the app owner can manage both the vendors/service providers and the customers.
On-demand beauty apps developed on the latest technologies are affordable, responsive, and work promptly on devices.
Flexibility is yet another trait of a well-developed beauty app, and it helps in keeping the customer journey more interesting as per their individual preferences.
As a rule, the On-demand beauty service app audience consists of engaged people who keep up with the times. Be sure to consider the interests and peculiarities of your target audience.
Visitors are more likely to reorder the service; most processes are automated, which is very convenient and will save time for both sides.
App offers services that will improve the loyalty of consumers and the prestige of the company;
The ability to send push notifications, attach ads and collect payments from each service held;24/7 uptime
Customer care will be smoother, which will also have a positive impact on the reputation of the company; the ability to communicate with people through feedback systems and online chats.
Estimate the Cost of Development of On-Demand Beauty Application
Estimate the cost of development for the on-demand beauty app features before finalizing the decision to develop an on-demand beauty app. The development costs of applications usually vary depending upon the requirements of the business. In general, the cost of the development of an app relies on the number of features you want in it.
In other words, the overall costs of the app increase with the increase in several features supported by the application.
Glamsquad, an on-demand app that provides consumers at their place with professional and affordable beauty & makeup services. On-demand app also lets users to select a hairstyle or makeup look before making an appointment. Glamsquad will assign a beauty professional based on the style chosen by the user.
Create an on-demand salon booking app solution you require professional. The cost of an app like Glamsquad will be affordable to make your business profitable.
Wrapping Up
One thing people want when they ask an organization for products is instant gratification. Beauty on-demand services are the new trend and will quickly catch up in nearly all of the world's geographic areas. Several entrepreneurs have already shown the way in this sector and have shown how lucrative the beauty industry is on-demand. Nevertheless, a concept can be rendered or destroyed by technology. Remember that you can hire professional developers who can build your on-demand salon appointment booking app while considering all your requirements.
Talk to Our Experts Now And Give Your Business a Digital Makeover.
THE AUTHOR
Rohit Madaan
I am an enthusiastic internet marketer. I have expertise in PPC, SEO, Social Media, Google Analytics, Google Business Page Optimization, and Content Marketing.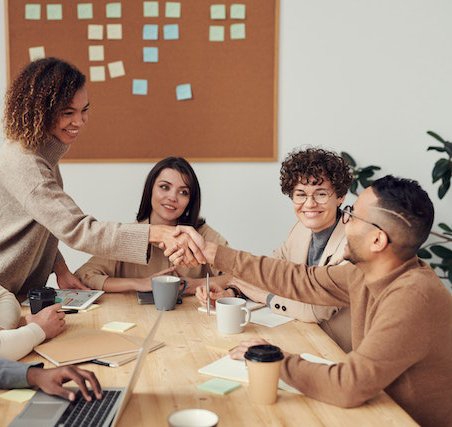 Get ready to digitally transform your business.
Let our team help take your business to the next level. Contact us today to get started on finding the perfect solutions for your business needs.