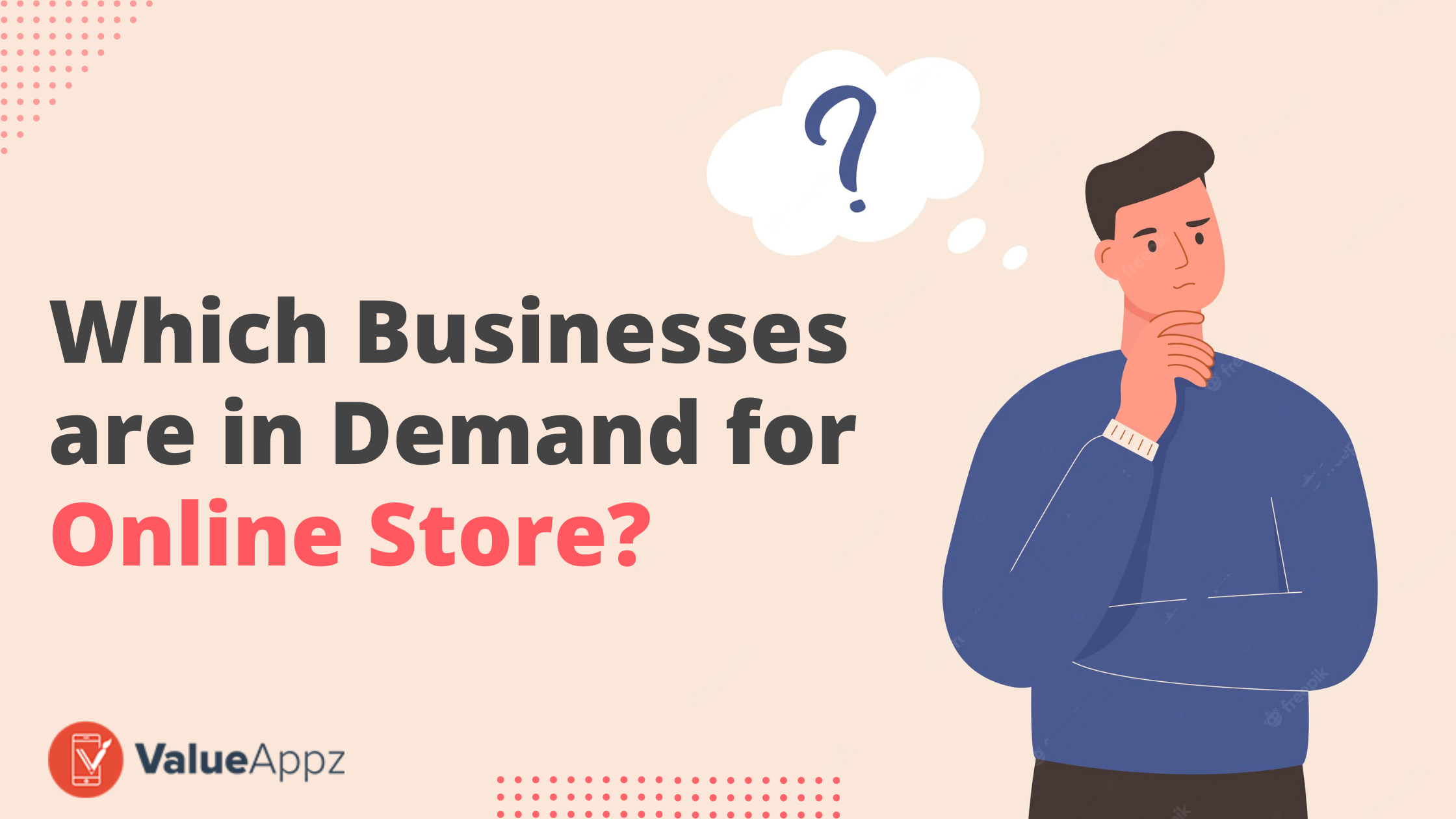 Nowadays, creating an online store is more accessible than setting up a shop on the high streets. Though you may wonder why an online business why not a retail store? 
Here are three main ones:
It's reasonably low-cost to start (Yes, it's a steal)

Significant growth and potential

Can run 24*7*365 
So, if you are trying to figure out an online business that offers the promise of financial security and independence, breaking in can be intimidating at first. 
Then, how do you run an online business that's actually profitable?  
When starting an online business, the foundation of your success comes down to your skills and expertise, your target audience, your pocket, and time-constraint. 
"Start once with zero, Sell excellent products and services, Take care of customers, and successfully build a profitable business."
If you need some inspiration, we've put together a collection of simple ways to start your online business as soon as possible. Let's have a look! 
Create Your Online Clothing Line
From sportswear to business attire, discounts to luxury, many of these different categories are worth billions of dollars in their own right. In 2021, the revenue of the global clothing market reached 1.5 trillion USD dollars and was estimated to rise to $2 trillion by 2026. 
In India, the online fashion retail industry is expected to grow by $22.97 billion from 2021 to 2026, with the market's growth momentum accelerating at 18.83%. This clearly portrays a lot of potential for the online fashion industry to cash in on.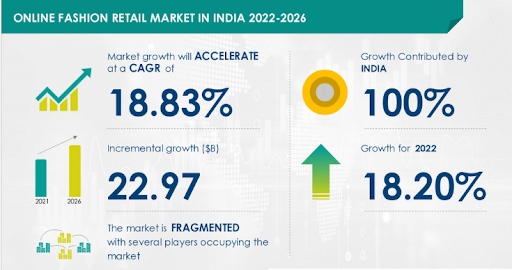 As soon as you create an online shop, you'll be able to start selling instantly.  
Start a Dropshipping Business
There's no doubt that drop shipping is among the best online business opportunities. After all, there is no need for a warehouse to keep up with inventory to run your business. It's an excellent way to kickstart a business on a budget. 
In simpler terms, dropshipping is a business model that lets you buy products directly from a manufacturer and ship them directly to your customers.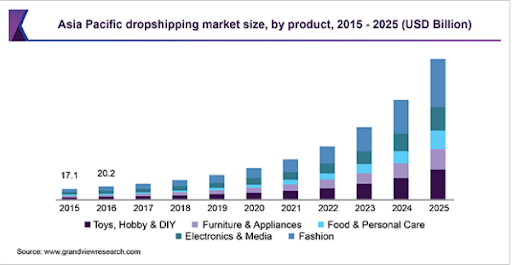 Dropshipping business opportunities are never-ending. Also, according to the Ministry of Commerce & Industry, the e-commerce market was valued at USD 38.5 billion in 2017 and is predicted to reach USD 200.0 billion by 2026, at a CAGR of 51%. 
Importantly, it eliminates the risk of finding out that there's no market for your product after placing a bulk order with the manufacturer. 
Sell Services Online (Home Care)
By now; it's impossible to imagine a world without the internet. 
So, the "Selling Service Online" business idea is a great way to cement your footsteps in today's technology-driven era.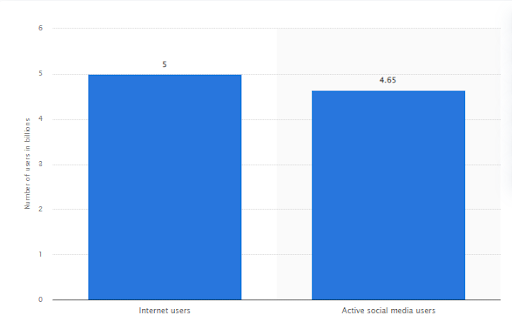 Whether you are a motivational speaker, coach, or consultant, you can quickly sell your services by setting up an online store. Then, all you have to do is find the clients looking for the respective services.
After all, 63% of the global population is actively using the internet for almost everything, and you can't stand to miss a chance, right? 
The easiest way to do this is by having an online address with your online store or professional website. Here you can show examples of your work and why your customers love to work with you.
Pet Care Online Store 
There are a handful of things more important to pet owners than their furry bundle of joy. 
And an online pet store is one of the most fun business opportunities catering to pet owners' unique demands. Aside from being a fun business opportunity, the online pet market has quadrupled since 2013. 
Furthermore, the worldwide pet care market has surged to $261 billion in 2022-23 from $245 bn in 2021. Besides, there is an estimated CAGR of 6.1% that will accelerate the numbers to $50 billion by 2027.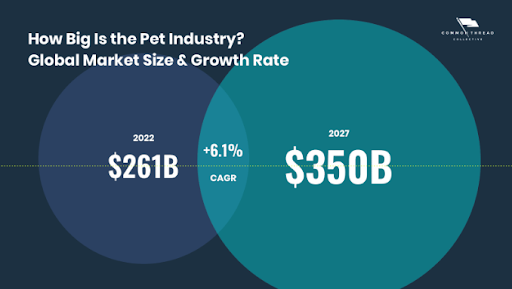 In this booming industry, finding a niche that's big enough to offer sustainable cash flow and simultaneously small enough to brand yourself uniquely is essential. 
With that in mind, let's uncover some fantastic ideas for pet products and services you can provide when you create an online shop. 
Pet food

Pet sitting and walking

Pet supplies and products

Pet clothes

Pet daycare

Homemade pet treats
Finally, don't think twice about starting your own online pet store. As long as people love their pets, they will value services to help make them happier and safe.
Online Grocery and Foods 
The profitability of the online grocery niche depends on vendor relations and a relentless drive to increase the customer base.
The wide range of products and the colossal target market make the online grocery and food industry an excellent eCommerce startup idea. Moreover, the online grocery market in India is expected to grow at a CAGR of 37.1% from 2021 to 2028.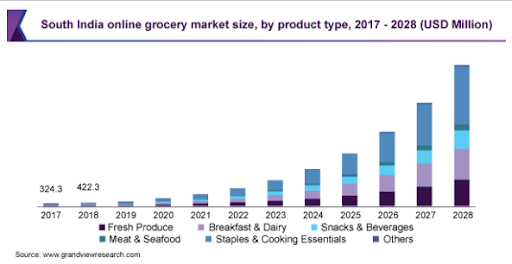 So, whether you are a startup or already have a grocery store, you can make an online store easily and quickly. And as the profit increases, you can scale your business to make it the most profitable e-commerce business.
Print On Demand 
It's high time to consider print on demand as a model for your business.
So, physical products can be the right canvas to monetize your creativity, whether you are an artist, entrepreneur, writer, or designer. From posters to t-shirts, tote bags to books, you can draw your creativity on everyday products and sell them online. 
Not to forget, the Print-On-Demand (POD) industry has grown by 12% over the past four years. Moreover, a survey from Printful suggests that 45% of print-on-demand owners witnessed a surge in sales in 2020, with no sign of slowing down in the future.
So, considering these numbers, it's fair and square to say that Print-On-Demand is a great way to uncover potential opportunities.
Sell Your Art Online
Whether you are a musician, photographer, or painter; there are untold business ideas and ways to make your masterpiece into a revenue stream with beautifully crafted eCommerce websites.
For example, if photography or painting is your ace, create an e-Commerce website free to sell your work as prints, canvases, and framed posters. This is a fantastic approach to turning your art into something tangible that people can take home and keep in their space.
Even if music is your thing, you can sell your beats, songs, and more online.

Flip The Thrift Store Finds Online
Did you know the second-hand clothing market is valued at $40 billion? 
These whopping stats make it a prime opportunity if you have some old clothes in your closet and want to earn some extra cash. If you love hitting up thrift stores and getting great hands-on deals, flipping your thrift store online is a great business idea. 
Your potential customers want to have some cool stuff but don't want to dig through old soccer jerseys to grab that one amazing find. So, without any delay, take advantage of this, create an online store and position yourself as a trusted curator who can step out and find those great vintage pieces for others.
Online Fitness Coaching
If you are a health and wellness expert, you have invested in helping people lead healthy lives. But, on the contrary, you have heard clients talk about the costs and inconveniences of working out in gyms. 
One of the best things you can do now is to offer online fitness classes in a cost-effective approach. On top of all, the global online fitness industry is expected to reach a market value of approximately $52 billion by 2027, making it an excellent eCommerce business idea. 
Start off by offering home workouts and step-by-step curate your nook in the hierarchy. 
Natural & Organic Products 
People are becoming more conscious of the way they live. From food to furniture to cosmetics and clothes, consumers are choosing the "organic option."
Let's look at the demand for these products among online shoppers. For this, we used Google Trends.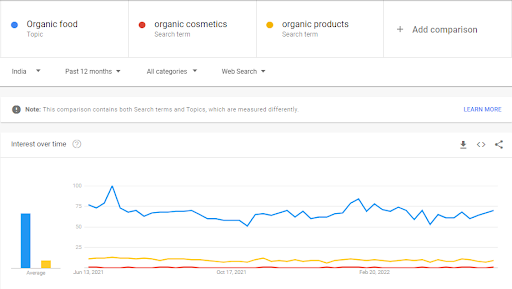 This image shows that organic food and products are popular searches with a consistent trend in the last 12 months. At the same time, organic cosmetic products observed moderate popularity online. 
According to the Expert Market Research report, the organic food market solely will reach a value of nearly Rs 19,500 crore by 2026, with a CAGR of 20.5%. So, all in all, selling organic food and products is a profitable venture, especially when you create an online store to accelerate your business growth. 
Finally… Get Your Offline Business Off the Ground and Start Online
The great online business ideas have one thing in common –
They do market research and understand their audience's needs and business model before creating an online store. 
So, if you have been thinking about setting up your first online business, this is the time to step out, explore your options, and get started. Don't worry; you don't have to go all in. Start with your 21-day free trial and scale from there.