How to Earn More With On Demand Handyman Business?
January 3, 2020
Rohit Madaan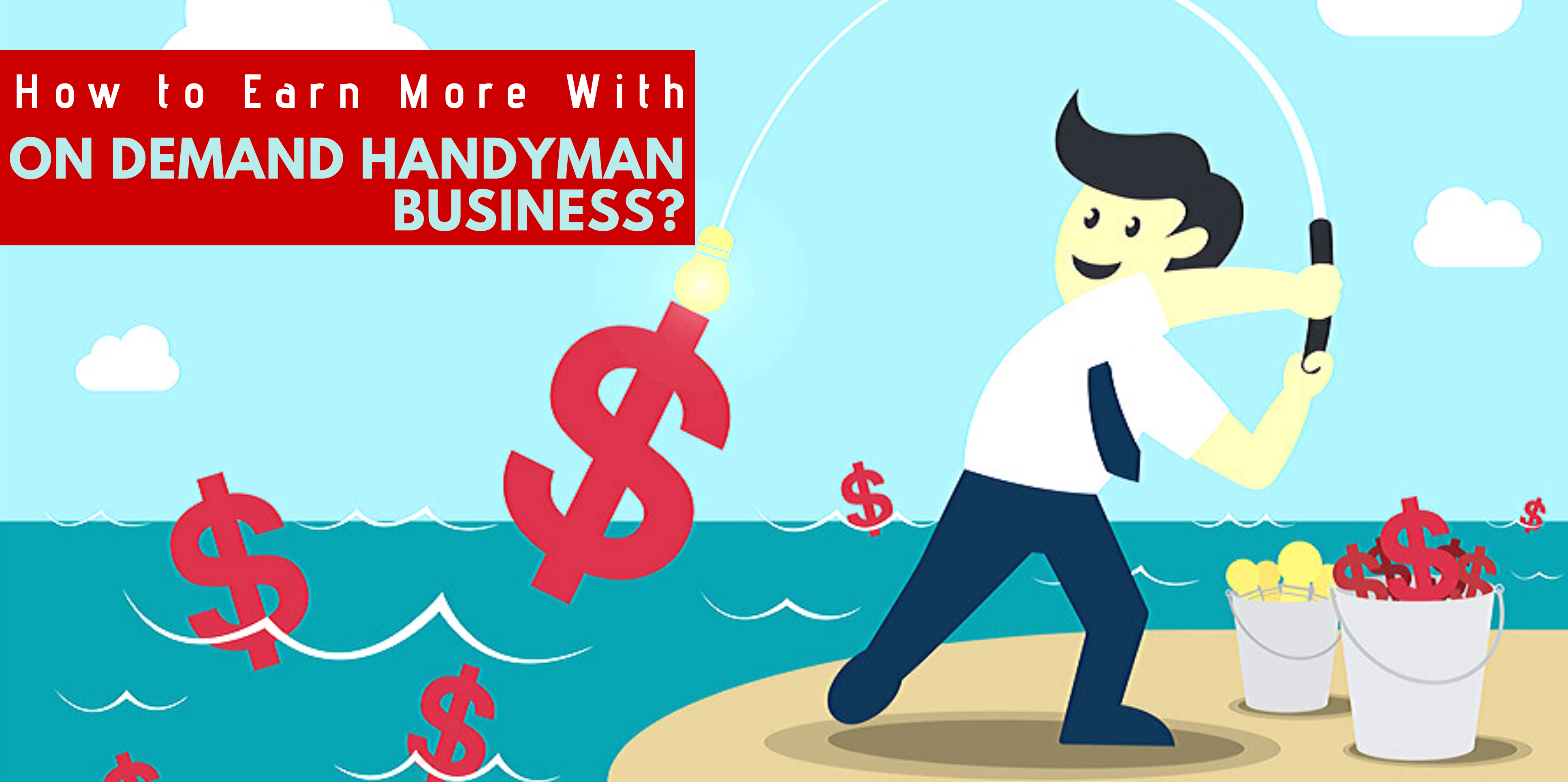 Table of Content
Follow Us
Carpentry services, general appliance repairs, painting jobs, and plumbing are just some of the services that an on-demand handyman business might offer.
In the last decade, the on-demand handyman market has seen a surge in terms of both growth and scope.
In fact, the on-demand handyman services segment is projected to grow faster in the future.
As per an IBISWorld report, the on-demand home services market size grew to $5bn in revenue in 2019, which is expected to rise in the coming years.
To deduce, the future is obviously bright for the on-demand handyman services market.
As such, more and more professionals and organizations are looking to cash in from the lucrative opportunity by entering the handyman services market.
Recommended read: Apps That Every Handyman Business Needs
Now, an on-demand home services marketplace can be either a group of professionals or just a single person.
While some on-demand handyman businesses offer a wide range of services, others stick to some select offerings.
If you're already selling your on-demand handyman services and looking to take it to the next level, then you've reached the right spot.
This article will go in-depth into exploring various ways that will help you make more money with your existing handyman business.
15 Ways to Make More Money from an On-demand Handyman Business
Ready to know how you can increase earnings from your on-demand handyman business? Here are some ideas
1) Add New Skills and Better the Existing Ones
You need to polish your existing skills while adding new ones to your offerings list.
Keep getting better at what you do is important to stay in the market, be relevant for clients, and to be able to charge more for your services.
While working on refining your existent skill set, you can invest some time and effort at the same time to develop new sellable skills.
Skills that compliment your current skills are an excellent choice to add to your service inventory.
💡 Must read: Strategies to Grow Your Plumbing Business.
2) Be Professional
A client would like to pay more to a service provider who is prompt, readily available for communication, and strict in terms of meeting deadlines over to someone who is just doing it all for the sake of money.
The more professional you are, the higher chances are there of receiving a good paycheck. Many of the handyman services are required inside the homes and offices of clients.
Therefore, quality is a top priority and clients will look for someone who is not only professional and reliable but also punctual and great to communicate with.
3) Do the Chores People Hate to Do
On-demand handyman services aren't only just for people who can't do, but also for people who don't want to do.
While some people hate doing the laundry, others despise the idea of doing home repairs on their own.
Such scenarios are the window of opportunity for someone looking to make big in the on-demand handyman business.
You can add such services to your offerings list to make more money than before.
4) Don't Just Work for your Clients, Work for Yourself Too
There are two ways of achieving greatness in doing something; either do something that you love or love what you're already doing. Of course, working as a service provider means that you need to focus on your clients.
You should, however, understand that you're not just selling your skills but also investing your time and effort, the former being an irreplaceable and non-refillable resource. Therefore, it's important to work for yourself. You need to keep getting better at what you do.
Get in Touch With Our Team Now.
5) Exceed Expectations/Do a Little More
You need to be up on your toes when it comes to gaining clients and meeting their expectations. Pay attention to all the small and big details that you can act for and take your service to the next level, make it a more rewarding experience for your client and yourself too.
In addition to knowing how to set customer expectations, you should also be able to do a little more than what satisfies your clients. People don't like an overachiever; however, every client likes one. You need to be that overachiever.
Small things that can further enhance the end results of your jobs are:
Coming up with your own unconventional ways when presenting a marketplace solution for some query

Do a little more than what you quoted for

Working late at night or early in the morning to meet crazy schedules
6) Expand your Team/Hire More People
A single man can do only so much in a single day. There is a reason why big organizations are a group of hundreds to thousands of people working in unison; It helps them make more money.
The same is true for handyman on-demand business; the more, the better.
Delegating some of your work to your staff will give you the opportunity to focus more on advertising, finding prospective clients, and ways to grow your business.
You can shift your focus from what needs to be done to how it should be done.
Now, an important question is; when is the right time to hire a staff?
It's simple; when your business is doing so good that you are putting down projects because you're already full.
Then, you need to hire more people to get more done.
Going out and hiring people can be a difficult task. Other than experience, there are just so many things that a good employee must-have.
You probably don't want to suffer loss for hiring incompetent people. So, take your time and make the best hiring.
If you think your business isn't ready for new workers yet but you still wish that you had co-workers to share the burden, then you can also run an apprenticeship program.
These apprentices can be anyone; someone new to the handyman business or a student looking to make some additional money.
The apprenticeship program must be time-confined. Once the time is up, you can choose whether to hire an apprentice as a full-time worker or let them go.
💡 Recommended read : Complete Guide To Start A Successful Handyman Business.
7) Experimentation
Experimentation is an essential step to business growth. You can always try doing something more than the typical scope of your business's niche.
Yes, there might be a risk of hurting your business in some way but that's what life is all about.
Undertaking calculated risks and checking whether they pay-off well or aren't worth your time and effort is a great way of increasing the money that you can make from your business.
So, how do you know that some experimental feature will work out in favor of your business or not? It's simple; implement it.
To save your business from undergoing a crisis due to the experimentation, you must introduce the experimental features/modifications in small increments.
If it's working then increase, otherwise go back to level zero and start all over.
Ready to Launch On Demand Handyman Business Apps
8) Have a Fully Functional, Superb Website
Any modern business must have a dedicated website. Due to the intrusion of technology into all walks of life, it's mandatory to have a website.
Having a great website not only makes it easier for clients to find your business but also offers an effective way for potential clients to know more about your services, pricing, experience, etcetera.
A website for a handyman business must have:
A list of all your offerings

All your credentials

Contact information

Experience (Customer Stories)
You can either make a free WordPress site or hire a professional website development firm to help you get an excellent, fully functional website.
Either way, you will significantly increase the exposure your business receives and the opportunities that you can have.
You must understand that in today's world where the number of internet users is increasing rapidly, taking your business online can increase your customer base and you can earn more profits.
In addition, with the help of a website, you can make your on-demand handyman services visible to more and more prospects.  
9) Look for Clients Preferring Quality over Quantity
Clients are like candy. You need to pick the best from the candy bag. Some clients are always looking for the cheapest option they can get.
There is nothing bad about providing services to such clients, however, most of the time, it's not too convenient.
You need to seek clients who are aiming for quality, and not just quantity. Such clients might be willing to pay higher to someone who will be meeting their requirements.
Obviously, finding suitable clients will be a little laborious but the end results will be rewarding.
Most clients who prioritize quality over quantity will have a general interest in knowing their service provider better.
Working for such clients isn't just a pleasing experience but also one that will present you the chance to make more money.
10) Promote your Specialty
Another good idea to increase earnings from your on-demand handyman service is to specialize in areas that you're best at.
It can be anything ranging from carpentry and product assembly to painting and appliance installation.
No matter what skill you're the best at, simplifying your business to market the skill in an easy way is a profitable move.
Homeowners looking for specialists are willing to pay higher for excellent, quality services.
Doing so will not only benefit your specialty but also offer you a chance to showcase your non-specialty skills with confidence.
11) Analyze your Business/Keep What's Working and Phase Out What's Not
In order to come up with ways to make more money with your business, you need to do continuous analysis.
You need to prepare a list of what's working out in favor of your business and what's not.
These can be anything ranging from your marketing strategy and advertisement planning to home services business model and pricing structure.
Next, you need to better things that are working well for you and eliminate those which aren't. Sometimes, it might be impractical to instantly remove things not working favorably.
In such cases, you need to slowly decrease them and then eliminate them altogether.
12) Say No to Difficult Jobs
There are deals that are lucrative and other deals that are not. You should learn to say no to chores that you have a gut instinct for turning into setbacks.
You should avoid spending your valuable time with jobs that are difficult and will turn out to be less rewarding for your efforts.
It's better to find some other homeowner over a homeowner interviewing multiple handymen just to get the cheapest quote possible.
13) Charge Accordingly
It's important to charge for your services as per your effort and time. You must not overcharge for your offerings but, you should also be wary of getting underpaid.
Typically, a handyman business offers either hourly charges or a fixed rate or both for different services. To ensure that you get the right amount for your services, follow these cues:
Expenditure

– Do you need to spend from your pocket? Factor in the amount that you have invested in buying the equipment required by the job/chore.

Skills

– What skills have you used for completing the job? Specialized skills must have higher charges.

Taxes

– Every business owner needs to pay taxes. You should consider them while preparing the final pricing for your services.

Time

– The total time that you have invested in completing the job, including preparation time and research time.
Talk To Our Experts For a Free Consultation
14) Opt for a Third-Party Service Provider
Finding the right clients and dealing with the same isn't convenient for everyone.
While some people might find it too easy to be true, others have a hard time doing so.
Thankfully, you can join a third-party service provider to let them do the heavy lifting for you, while you get more time to focus on the real tasks.
Obviously, you need to spare a significant chunk of your profit for leveraging third-party service providers.
On the flip side, however, you free yourself from worrying about performing arduous marketing, negotiating prices, and sending invoices.
Due to the immense growth in the on-demand handyman business, there is no dearth of third-party service providers.
15) Appify your Business/ Offer an On-Demand Home Services App
We're living in the age of apps. Everything ranging from educational services to personal businesses has an app.
There is an app available for almost everything today. This is due to the humongous adoption rates and mass production of mobiles.
Therefore, to tap into the scenario, your on-demand handyman business must have an intuitive, robust, and detailed app.
If you're already having a dedicated app, then you must ensure that it has the most advanced functionality and features. Regularly rolling out updates for your app is important.
You need to consult an experienced and reliable app development organization to have the best app possible for your business, such as ValueAppz, an on-demand handyman app solution provider.
The firm specializes in developing robust, simple-to-use on-demand handyman apps for businesses.
Conclusion
That completes our list of the ways that can help you increase your on-demand handyman business earnings.
Obviously, not all of them are going to work out for a single handyman business. So, you need to check which ones are relevant for you and adopt them.
The on-demand home services industry is at an all-time high, making it an excellent business niche to generate significant profits.
As a matter of fact, taking your on-demand handyman business online with a website/app is among the most effective ways of increasing your business' revenue.
Do you know of some other ways of improving the income of an on-demand handyman business? Want to share with us? Use the comments section below to do so.
Get a Quick Estimation Now And Give Your Business a Digital Makeover.
THE AUTHOR
Rohit Madaan
I am an enthusiastic internet marketer. I have expertise in PPC, SEO, Social Media, Google Analytics, Google Business Page Optimization, and Content Marketing.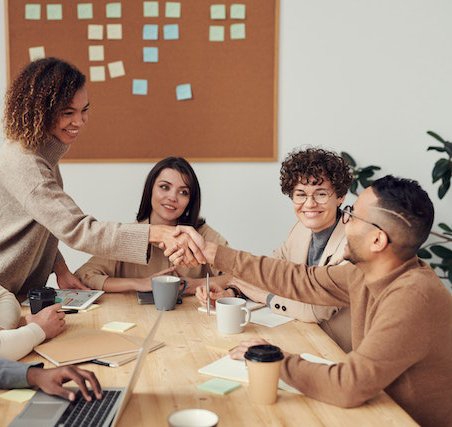 Get ready to digitally transform your business.
Let our team help take your business to the next level. Contact us today to get started on finding the perfect solutions for your business needs.